Canon has announced the RF 24-105mm f/28 L IS Z, a unique standard focal length zoom lens many thought would never happen. With the recent launch of the ultra-wide RF 10-20mm f/4 L IS and the super-telephoto RF 200-800mm f/6.3-9 IS, Canon seems to be on a roll with its unique offerings, no matter what area in the RF lens range your preferred focal lengths lie in.
Canon says this lens is a true hybrid still and video lens, offering features sure to satisfy professionals in both areas. The lens comes with a built-in lens collar, removable lens foot, manual aperture ring, full image stabilization and focus controls on the lens, an internal zoom design, and a hefty $2999 price tag.
Table of Contents
Canon RF 24-105mm f/2.8 L IS Specifications
Maximum Aperture: f/2.8
Minimum Aperture: f/22
Angle of View: 84° to 23° 20′
Minimum Focus Distance: 17.7″ / 45 cm
Maximum Magnification: 0.08 to 0.29x
Optical Design: 23 Elements in 18 Groups
Aperture Blades: 11
Image Stabilization: Yes, 5.5-stops
Filter Size: 82mm
Weight: 2.9 lb / 1.3 kg
Dimensions (ø x L): 3.5 x 7.8″ / 88.5 x 199 mm
Included: Lens hood, lens foot, protective case
Price: $2999
Initial Thoughts
For decades, the 24-70mm f/2.8 lens has been a de-facto standard zoom for professionals and high-end photography enthusiasts. In the early 2000s, Canon launched the EF 24-105mm f/4 L IS lens, which gave people a choice: Do you choose the wider f/2.8 aperture with its light-gathering benefits and softer wide-open out-of-focus areas, or do you choose to lose one stop of aperture (f/4) but gain some added reach on the telephoto end of the focal range? For many, this was a difficult choice. So difficult that I owned both!
People would ask, "Why can't someone make a lens that does both?" And the answer was always that such a lens would be too big and heavy to be practically helpful. Through those underground grapevines from which I have occasionally heard murmurings, I understand that an EF mount 24-105mm f/2.8 was prototyped many years ago but ultimately deemed too bulky. Yet here we are, with a lens many thought would never come to market, and it's the mirrorless RF mount we have to thank for that. Canon always promised the RF mount would allow lens designs not possible in a practical way with the old EF mount, and it seems that was true.
Event photographers, wedding photographers, portrait photographers, and photojournalists will be first in line for this lens, alongside those sports photographers who are eyeing up or have already purchased the RF 100-300mm f/2.8 L IS USM. When I wrote an initial commentary on the RF 100-300mm, I said "Thinking (way) back to my own days covering more photojournalistic topics, a 24-70mm f/2.8 and a 100-300mm f/2.8 would have been a dream combination. I probably could have tackled 95% of my work with those two lenses." Now I can say that if you switched that 24-70 f/2.8 for this 24-105mm f/2.8 lens, you could probably bump that percentage up to 99. It's a dream 2-lens combination for many.
Manual Aperture Ring
For the first time on a Canon RF lens, Canon has included a manual aperture ring on the RF 24-105mm f/2.8 L IS Z. The ring is clickless for smooth, silent operation during video shooting. When the ring is set to "A," it will function just like any regular RF lens, with manual and automatic aperture control available from the camera. A small lock switch can be engaged to lock the aperture ring in the A position.
Canon warns that manual aperture operation is currently limited to video cameras such as the Canon C70 and EOS R5C. It will be interesting to see whether it works with the RED Komodo video camera, which uses an RF mount. Canon goes on to say that manual aperture use will be supported in future EOS R stills cameras available in 2024, but sadly for some, stops short of saying that backward compatibility with existing EOR R cameras will be added via firmware.
It's unclear exactly what happens if you try to use the manual aperture ring on a current EOS R camera like the R5 or R6 Mark II. There is some chance that the aperture works just fine and that the incompatibility is merely in communication with the camera to let it know what aperture has been set in the lens. If this is the case, fully manual camera use should still be possible. On the other hand, it's possible the aperture ring is using a aperture-by-wire system and not directly connected to the the aperture mechanism. In which case, fully manual use on an unsupported camera will likely have no effect. Time will have to tell, because Canon isn't.
Optional Power Zoom Adapters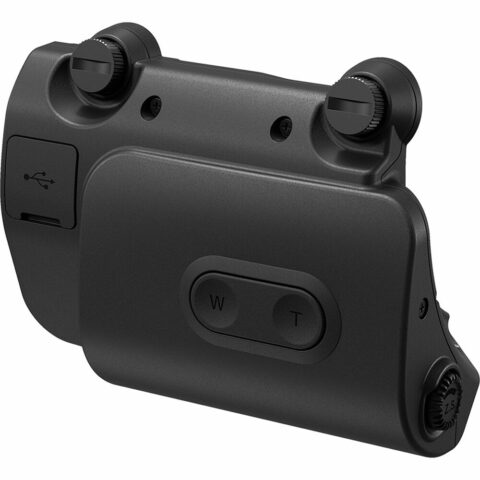 Alongside the lens, Canon unveiled two optional Power Zoom adapters: PZ-E2 and PZ-E2B. At $999 and $1299, respectively, these expensive accessories (available in spring 2024) are designed for professional video shooters who want to achieve smooth, consistent zoom movements during video recording.
The Power Zoom Adapters, whose compatibility is indicated by the "Z" in the lens name, attach to the lens via two captive screws. The zoom motor draws power directly from the camera, though a USB-C Power Deliver port on the controller can be used to add additional power. When powered via USB, the power draw on the camera battery decreases, and faster zoom speeds are available. While this is a neat if expensive looking accessory, ENG shooters will be disappointed with the flat looking W/T (wide/tele) zoom button. An unusual form factor compared to the large ergonomically friendly zoom rockers seen on all other zoom adapters of this type. Gloved use of this zoom controller looks like it would be a difficult experience, and may cause some people to opt for the more expensive PZ-E2B which features a Canon 20-pin control port for connection to broadcast zoom controllers.
Optional Lens Support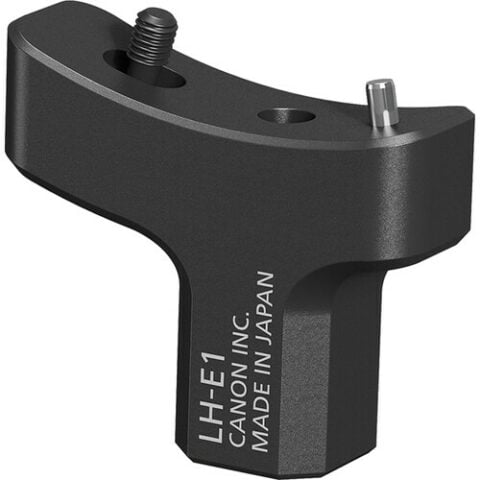 Further supporting Canon's claims that this lens is a true hybrid is the simultaneous launch of a custom lens support for the RF 24-105mm f/2.8 L IS USM Z. This $199 metal support screws into the underside of the lens, allowing connection to a long-lens rod support system in professional video rigs.
Price and Availability
The RF 24-105mm F2.8 L IS USM Z can be ordered using the links below. I expect this lens to be very popular, so I suggest a pre-order. The lens will begin shipping in December 2023.
What's Next? I Have a Strong Suspicion…
Canon has teased that this RF 24-105mm f/2.8 L IS is the first in a new line of lenses designed to cater equally to stills and video shooters. So, which lens will be next? The smart money would be on an RF 70-200mm f/2.8 L IS USM Z. While some like the current RF 70-200mm f/2.8 lens, not everyone appreciates the extending design. You cannot smoothly zoom while shooting a video with an extending lens of this type. Missed by many on the current RF 70-200mm is also the compatibility with Canon's RF teleconverters. A new RF 70-200mm f/2.8 with an extender-friendly internal zoom design, a manual aperture ring, and compatibility with Canon's new Power Zoom adapters could be on the horizon. Such a lens would also line up nicely with the rumors of a variable extender, capable of switching internally between different magnifications.