I first came across the CineBags Monitor Pack on the set of a commercial that I was working on. The Director of Photography had one for his monitor and I was sold on the design right away. Not only does it have ample space and padding for a 5″ or 7″ on-camera monitor, but it also has a ton of additional space for your cables, batteries, brackets and monitor arms. These accessories are always necessary when using a monitor, so I liked the idea of a single bag to keep everything organized.
The material of the bag is an incredibly thick, high denier waterproof nylon. It feels as though it will take a lifetime of abuse and I'd also trust it to protect my expensive and fragile electronics in some fairly terrible weather conditions. The inside of the bag is split evenly in half, with one side featuring thickly padded walls to protect the monitor. The opposite side is zippered to secure all your monitor accessories.
This is a fairly simple and easy to understand product so it'll be a relatively short review by my standards. The only real negative about the Monitor Pack is that it's quite heavy for a bag of its small size. Large metal D-rings are provided for clipping the pack to another bag, or a production cart, but I'm not sure that two were needed. I also think the large padded handle is unnecessarily thick and padded for a bag of this size. Realistically the only time you use the handle is to pluck the case from within a larger bag or pelican case. I just don't need such a chunky handle to do that.
If you primarily work locally on your productions, shuttling gear around on carts and in grip trucks, the weight won't be a concern at all. But I do always have one eye on that stuff myself because my locations are often accessed by foot, without the luxury of a cart.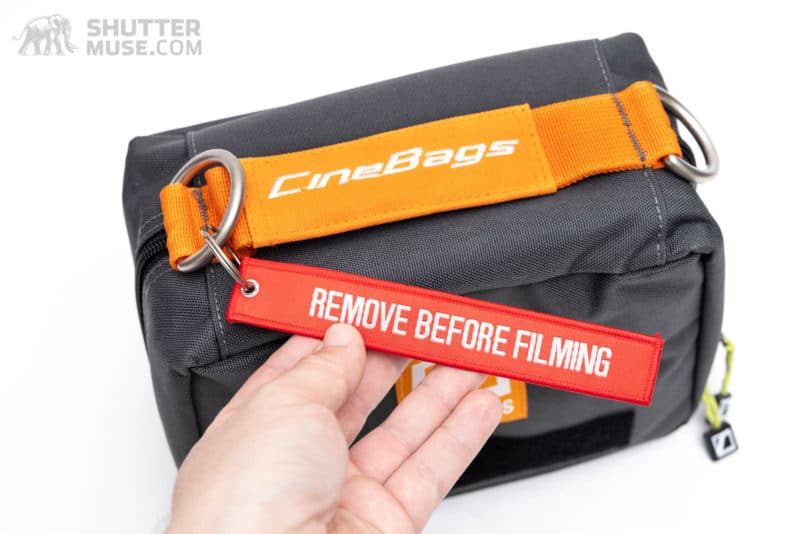 Personalizing Your CineBags Gear
When browsing the B&H website to buy my Monitor Pack, I also discovered that CineBags sell packs of coloured zipper pulls in about ten different colours. I immediately picked a colour for myself as this is a great way to differentiate my pack from the pack of the DP that I often work with. Given how few bags are out there that are designed for this purpose, it's highly likely you will come across other CineBags bags on set. Picking your own zipper pull colour is a great way to personalize your kit for just a few dollars.
Conclusion
Monitors are expensive and fragile. Even more expensive when they are both a monitor and an external recorder like the Atomos Ninja V. Finding a safe way to store and transport your monitor is important and having been on the hunt for such a product myself, I'm glad to say I found the perfect solution.
There are very few bespoke monitor cases on the market, but the CineBags Monitor Pack is by far the best I have come across. The high denier ultra-tough nylon gives you confidence in the bag's long-term ruggedness. The thick padding will protect your monitor from bumps and drops with ease. If anything, the only real negative about the Monitor Pack is that it might be a little over-built, making it slightly heavier than I would wish.
As far as price goes, the Monitor pack can be had for somewhere between $56-$62 depending on where you buy it (check prices with links below). Given how well this thing is built, I think the price is more than fair. In fact, I'd go so far as to say it's a good value because it really does have such an impressively high-quality feel to it. I'll certainly be recommending this case in al my monitor reviews in the future.
Where to Buy
The CineBags Monitor Pack is available from: