UPDATE: Think Tank refreshed and significantly improved their lineup of Stash Master Photo Cubes. The 13L model in this review has been replaced with new options in five sizes. Please see my review of the entire refresh Stash Master lineup.
The Stash Master 13L from MindShift Gear is a protective camera insert primarily designed for their BackLight Elite 45L backpack (review link). It is also universally helpful in protecting a camera in larger cases or duffle bags when traveling. I tested prototypes of the BackLight pack and Stash Master throughout the two years of its development before public launch, so I have a lot of experience with this setup and can comment on the thoughts behind the design.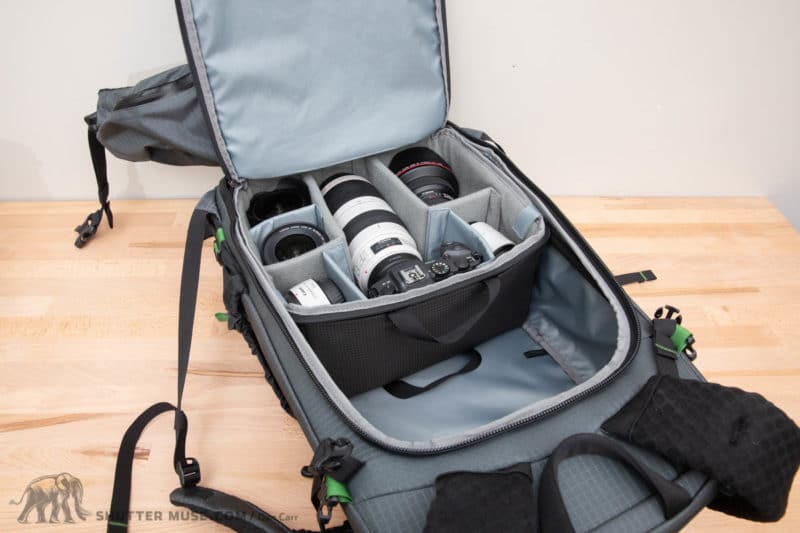 Table of Contents
Stash Master 13L Specifications
Interior Dimensions: 11.8" W x 11.8" H x 7.1" D (30 x 30 x 18 cm))
Exterior Dimensions: 12.2" W x 12.2" H x 7.5" D (31 x 31 x 19 cm))
Total Volume: 13L
Weight: 0.9 lbs. (0.4 kg)
The Elite 45L is the only pack in the BackLight range (view them all) that contains a removable camera insert in the main section of the pack. The main idea behind this was to allow someone to remove it for travel on smaller aircraft (using the emergency backpack straps on the insert), and to allow someone to make use of backpack for non photographic purposes such as camping and climbing. After all, with the main insert removed you're essentially left with a technical mountain pack that could be used for many other purposes.
When I learned of the removable insert, I began pushing the design team to create an optional smaller insert that could be used with less camera gear. A few different shapes and sizes were prototyped, and eventually, the Stash Master 13L was developed.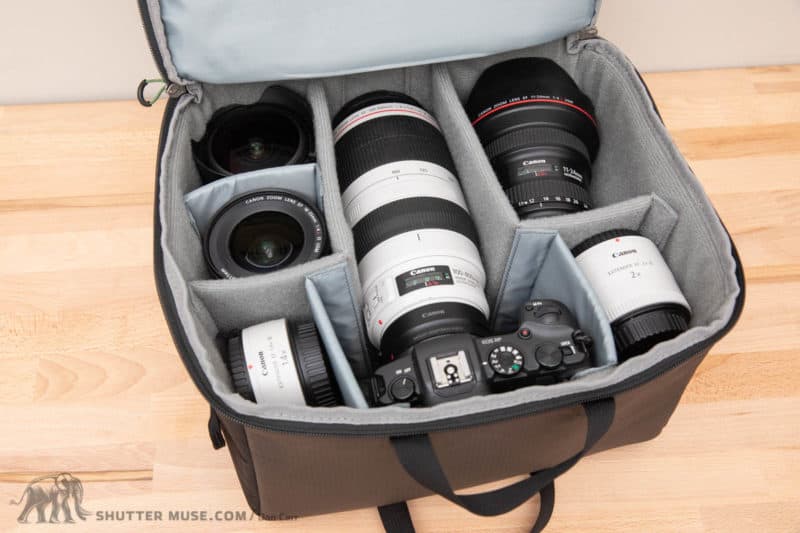 In terms of sizing, the primary size concern was that it should fit a 70-200mm f/2.8 while attached to a camera body. This is the most popular lens in the arsenal of most action and adventure photographers, and I know from my years working in that industry that you need the ability to have it ready to go at a moment's notice.
On top of that we wanted people to be able to comfortably hold a 16-35mm f/2.8 and a 24-70 f/2.8 to complete the professional zoom trifecta. In fact, what you're left with once you size out the 70-200 (or a 100-400), is plenty of space for those lenses, an extender and a few accessories such as a flash or even a DJI Mavic drone.
Compared to the Standard BackLight Elite Camera Insert
The Stash Master 13L is a little larger than half the size of the standard insert that comes with the Elite backpack. The result is that it consumes half of the Elite's main compartment because the standard insert leaves a little space at the top when you use it.
This leaves a lot of room in the top section of the bag for non-photographic gear, and you've got another 17 litres of space in the front pocket of the bag and 4 litres of space in the top pocket. I'm sure you can do simple math too (45-13), but you've got 32 litres of space left in this bag even if you fill the Stash Master with camera gear.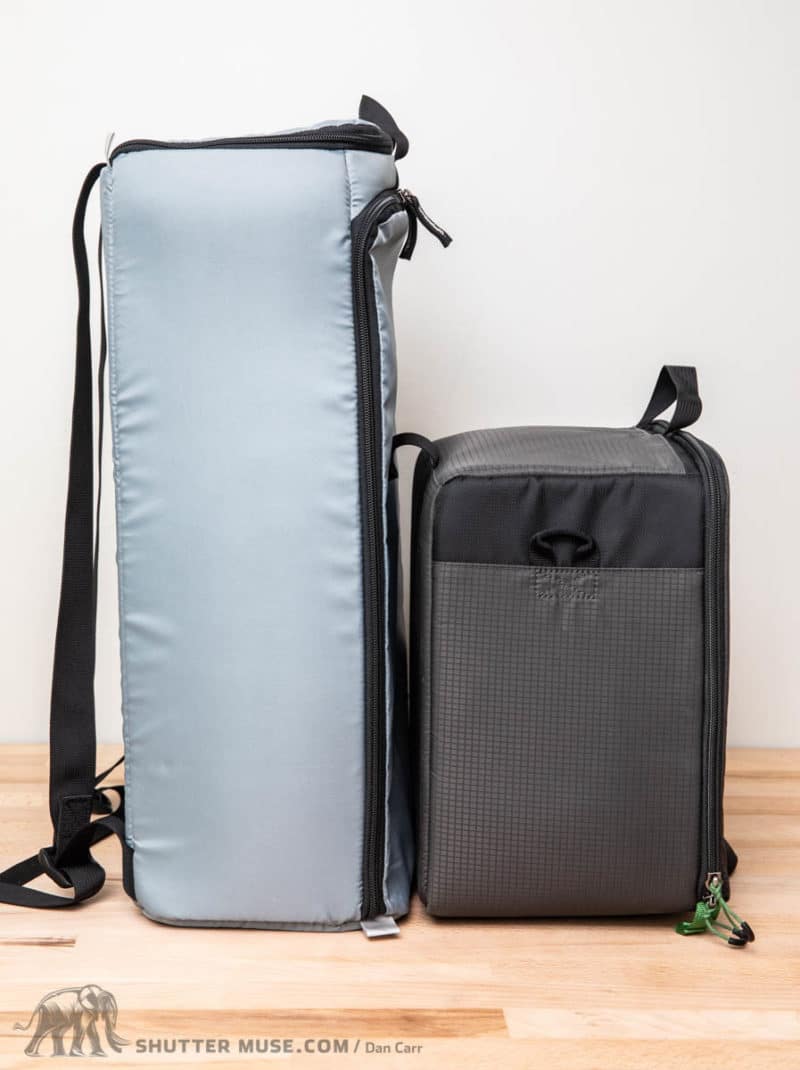 Carry More Gear
32 litres is easily enough space to pack a stove, sleeping pad (such as a NeoAir), a down sleeping bag, some food and a few other camping essentials for an overnight camping trip. If you have an ultralight 1-person tent you might fit it into the front pocket as well, put personally I put my poles in the side pocket on one side, and the tent rolled into its stuff sack on the opposite side.
Camping gear and camera gear is a full load, but the Elite is designed for a full load and the comfy harness and lumbar support make it as comfortable as you could hope it to be. On one night of prototype testing I even went winter camping on top of a mountain with full backcountry ski gear and still managed to fit everything into the pack.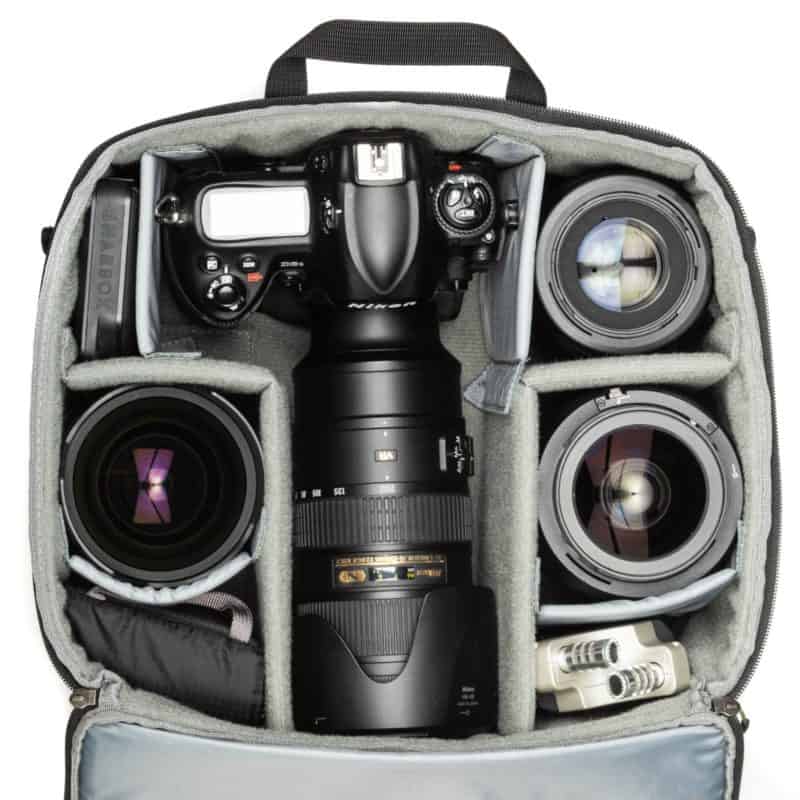 Of course there are many other types of gear you could carry when you have half the space left over. A rack of climbing gear will fit with shoes and a helmet, or simply a cavernous space for a few extra layers and some food for a long hike.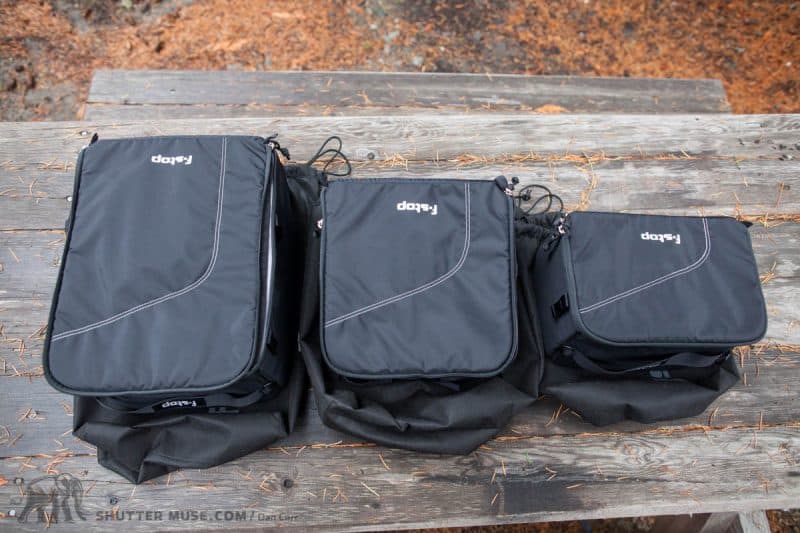 Protection in Other Bags and Cases
When travelling by plane I'm mainly using the large insert in the Elite pack for my carry-on bag, and then putting additional camera gear like tripod heads and chargers into the Stash Master. This then goes into my duffle bag or pelican case, depending on what I'm travelling with at the time.
It's a good way to keep ancillary camera gear organized amongst clothing, and it also means the Stash Master is always with me on a trip if I want to swap it out into the main pack, or if I need a simple shoulder bag for a walk around a city that doesn't require a large backpack.
Conclusion
The Stash Master gives you options, and unless you're always wanting to carry a giant super telephoto lens with you I think it's a worthwhile accessory for any BackLight Elite owner. You might even find it useful for organizing and protecting gear in other bags even if you don't have the Elite pack.
The $59 price point is actually very good for the quality of product you get, and it's a lot cheaper than the identical, well-known ICU products from F-Stop.
Where to Buy + Free Gift
US Customers get a free gift when they spend over $50 in the Think Tank/MindShift online store after clicking this link. For more details, or if you have any issues, see this post.
The following links will take you to the MindShift Gear online store where you can order and take advantage of the special offer that's described above.
If MindShift Gear don't ship to your country from their online store, your best bet is to use B&H Photo because they have excellent international shipping options, including free international shipping to some countries like Canada. You can find the Stash Master 13L camera cube here and the BackLight Elite 45L on here.
Optional, recommended accessories from Think Tank and MindShift:
These are the other MindShift accessories that I use with my BackLight Elite which you might also consider adding to your cart.