The F-Stop Accessory Pouch M is the mid-sized organizer in F-Stop's accessory pouch lineup. It's also one of the organizers that made it into our guide to the best photography accessory pouches of the year.
This pouch measures 11.02 x 5.12 x 2.76″ and has a zipper that wraps around the middle to open it. On the inside, you'll find one half has four equally sized mesh pockets, and the other half is padded and protected by a zippered mesh cover. Inside that padded half are two dividers that can be repositioned.
What I found immediately is that the padded section appears to have been designed with battery chargers in mind. The three sections in their default configuration perfectly hold three standard camera battery chargers. Sometimes these chargers are remarkably expensive to replace, so the soft padding is definitely appreciated.
If your charger comes with a separate power cord, this can be stored in one of the mesh pockets. These pockets are also perfectly sized for other power-related accessories such as travel plug adapters, USB cables, GoPro charges and small USB battery packs.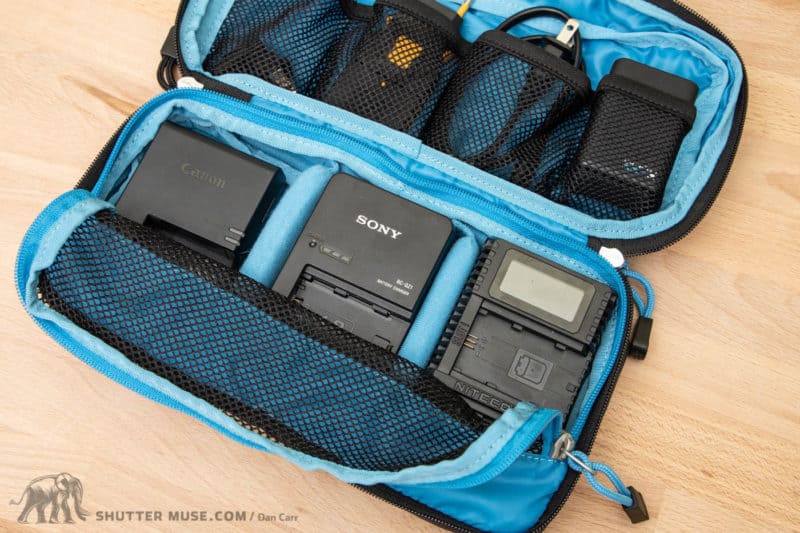 On the exterior of the case, you'll find a small handle with a plastic clip. You can use this clip to hang the pouch on a tripod or other solid objects. If you are using this while you travel, you might find a use for it by creating a hanging charging station in your hotel room.
On the front of the case, there's a small slot with a clear plastic window. In the photo, you'll see that I stuck one of my business cards, but in fact, a better use for this is probably to slip in a card that tells you what is in the case. Particularly important if you have several similar cases, or work with multiple people in your crew who don't necessarily know what was packed where.
Other Sizes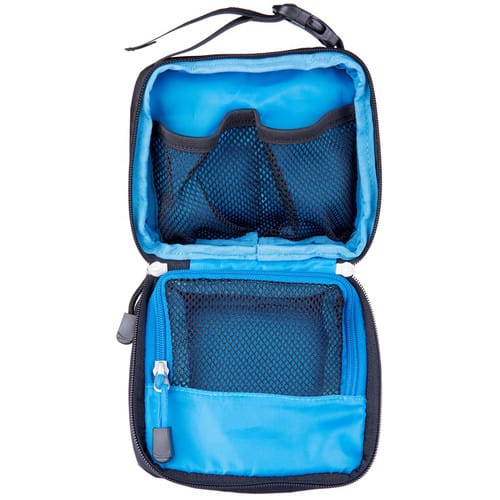 A small and a large version of the accessory pouch are also available. The Small version is roughly half the size of the Medium version in width, while the Large version is the same width as the Medium, but adds additional depth.
Pricing is as follows:
Conclusion
This medium version of F-Stop's accessory pouch series is perfect for travel with camera equipment. Travel always means that you have to carry chargers, and the padded section of this organizer appears to have been designed to carry standard camera chargers. Above that, the row of mesh pockets neatly stores your power cables and smaller USB chargers. If you want to keep your small accessories organized and protected, this is a great way to do it.