The Colorado Tripod Company is relatively new to the world of camera support, but not to the photo industry as a whole. They are in fact the same people that brought us the popular filter company, Breakthrough Photography, who has been featured in many reviews and posts on this site in the past.
Colorado Tripod Company (I'm going to have to shorten this to CTC for the rest of the post) launched several different ball heads on Kickstarter back in 2018. My understanding is that those heads are in the final stages of development. I actually have a couple of prototypes here that I have been evaluating for upcoming reviews. In the meantime, their Highline Mini ball head is shipping directly from their own store for just under $20.
Can a sub $20 ball head really be any good? I was very curious about this myself. Let's find out.

Specifications
Height: 75mm (with clamp)
Base diameter: 38mm (
Weight: 222g (8oz)
Capacity: 20lb
First Impressions
The Highline Mini's first surprise is that it comes with a neoprene case, something you don't always see on ball heads that cost hundreds of dollars. It's not a beautiful case, but it's functional and has a zippered pocket to store a hex wrench or spare tripod plate.
Speaking of tripod plates, the Highline Mini comes with one of those too. It's the same plate as the Breakthrough Photography Arca plate that I have reviewed in the past, although it has been re-branded to Colorado Tripod Company. These plates sell for $6.99, so we've already got a case and tripod plate for our $20, and we haven't even got to the head.
Initial impressions of the head are good once you unpack it. I was definitely confused as to how they have managed to create it at such a low price point. I can only assume that they are making very little money on this product and that it's being used as a way to introduce people to the brand's wider range of products. For the consumer that is no bad thing.
Features
Usually, when you look at the range of available ultra-cheap ball heads, you're going to find some heads that have a single locking knob that controls both the panning base movement and the ball head movement. With the Highline Mini, you actually get separate locking knobs for the panning base and the ball head, something that will please people who like to take panoramic photographs.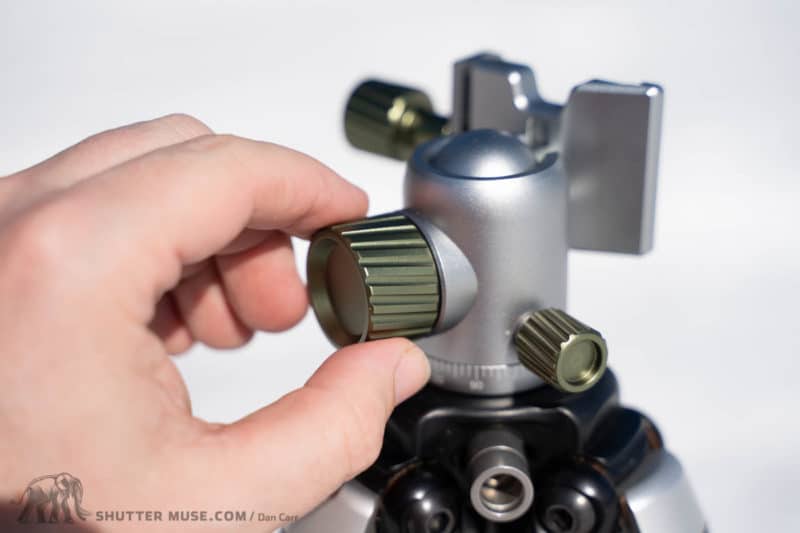 While CTC do make a locking lever clamp it is understandably not available on this cheapest model, and instead, you get screw-lock clamp that's capable of holding Arca-Swiss plates and brackets from any manufacturer. The knob on the clamp is pleasingly large, and the knurling provides enough grip, without feeling uncomfortable to the touch and torque tighten. it's worth pointing out that if you scan stores for circa-$20 ball heads, you aren't going to find another one that even comes with a quick-release clamp. Ball heads in this price bracket typically come with a simple platform and an exposed 1/4″-20 threaded stud. The Highline Mini is a significant step up from those products.
The pan lock and ball lock knobs have the same style as the clamp lock, but they do differentiate the pan and ball lock knobs by having them be vastly different sizes. This is done to make sure that you can differentiate between the two knobs by touch alone, while your eye is up to the viewfinder.
A unique feature of all Highline heads from CTC is an enlarged 90-degree drop notch for vertical shooting. Instead of having a notch that perfectly fits and captures the neck of the ball, the Highline heads all have a wider notch that allows some more adjustment to the camera angle once it's in the vertical position. They actually call this the Drop Window, instead of the notch, and a patent is pending on this feature.
This Drop Window element of the CTC head designs is much more prominent on the larger Highline Small and Highline Medium heads, where even more movement is available within the notch/window, but it's still a cool to see it on the little mini head.
Performance
The Highline Mini does an admirable job with a small-medium camera setup. I successfully used this with a Canon 5D Mark IV DSLR and 24-70 lens, as well as my Sony and Canon mirrorless systems. None of these setups came even remotely close to the stated 20lb load limit of the head, but that is always the way you should do things when considering ball head ratings.
With the head weighing only 222g (8oz), it suits being used on a smaller travel tripod very well. I actually used mine on my Peak Design Travel Tripod by using the Peak Design universal head adapter and found it to be a great pairing that gives you a lot more control than the built-in head of the PD tripod.
When considering the purchase of a smaller ball head such as this one, something that is worth considering is your own hand strength. This is something that has a great amount of variability between people of different ages and fitness levels. A smaller head with a smaller locking knob such as this one will be harder to tighten to a useable tension if you have any issues with hand strength or dexterity issues caused by arthritis. I don't count this as a negative against this particular ball head, this is designed to be a mini head – the clue is in the name – I merely mention it because I have seen people complain in the past that they struggle with smaller locking knobs as they get older. If you think that might be the case, you will want to consider at least a medium-sized ball head, and one that probably has a big chunky rubber locking knob on it.
Conclusion – Who Should Buy It?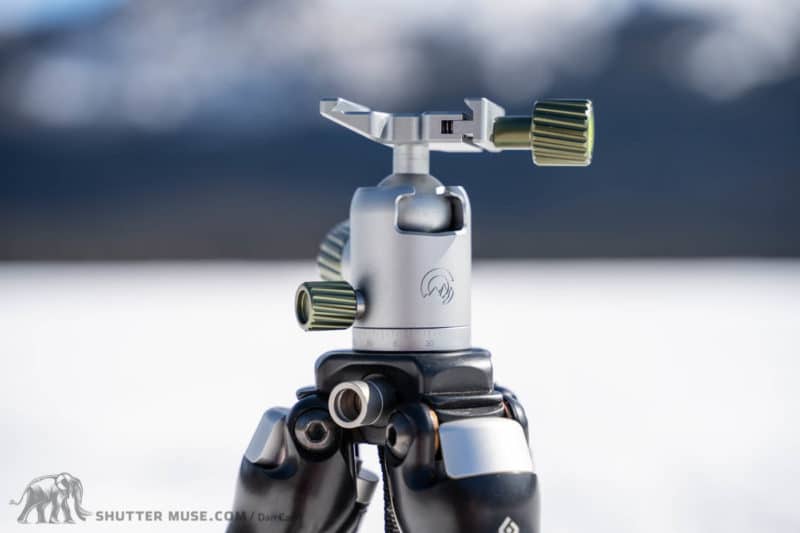 For under $20 I think this head is a steal, and there are quite a few types of photographers that can benefit from it. Firstly there is obviously going to be a market amongst those who have a very limited budget for their photography hobby, and if that's you, this is $20 well spent.
Secondly, I think there might be a market amongst people who have previously spent much more on a larger ball head such as a big Gitzo, Kirk or RRS head, but now want a smaller head for occasional lightweight travel and hiking. Having spent hundreds of dollars on a primary ball head, the option to pick up a smaller secondary head for just $20 is probably appealing. It also makes an excellent upgrade to the terrible heads that come on some tabletop tripods, and things like the Gorillapod, where your primary ball head is otherwise too large to use.
Thirdly, there is a market for people that want a head that they can really beat up and almost treat as a semi-disposable piece of gear. I regularly spend $20 in a coffee shop for a drink and a snack, so if I destroyed a ball head of this value I would not lose a lot of sleep over it. Do you need a small head to use with your GoPro while you jump your mountain bike right over it? This head is perfect. Do you need a small head to use with a remote camera in a place where it might get damaged by wildlife? It's perfect for that too. In fact, that's exactly one of the ways I tested it when I placed a camera trap outside a fox den where I had previously had a tripod gnawed on by curious creatures. If my sub $20 ball head gets chewed and scratched, no big deal. If my $500 ball head gets the same treatment… I don't even want to think about it!
I could probably think of ten more scenarios where this would be a useful purchase, but I think you get the picture. For under $20, it's one of those things you can have in your kit, and feel certain that you will find a use for it. No, it's not a magic ball head that bests the like likes of Gitzo or RRS for 1/25th the price. But it shouldn't be judged that way. However, it does keep up with smaller heads from the likes of Benro and Induro that are priced around the $80-$100 mark, and it massively outperforms other heads in the circa-$20 range from people like Oben, Joby, Slik and Giottos.
Where to Buy
At the moment the Highline Mini appears to be only available directly from Colorado Tripod Company's website. I know that at some point it was available on Amazon (where 87% of customers rated it 5-stars), but it looks like they might have shifted it to direct sales only.
A great gift: This would make a wonderful gift for any photographer! There's always going to be a use for this kind of accessory.