Photographers always need a way to organize a plethora of small items such as charging cables, batteries, memory cards, Bluetooth remotes, hard drives, tripod tools and camera cleaning supplies. One of my favourite accessory organizers in the past has been the Peak Design Field Pouch, so I was excited to see them launch its bigger brother, the Peak Design Tech Pouch.
In this review, we will take a detailed look at the Tech Pouch and what it can hold. I'll also compare it to the smaller Field Pouch so that you can more easily make a choice between the two.
Specifications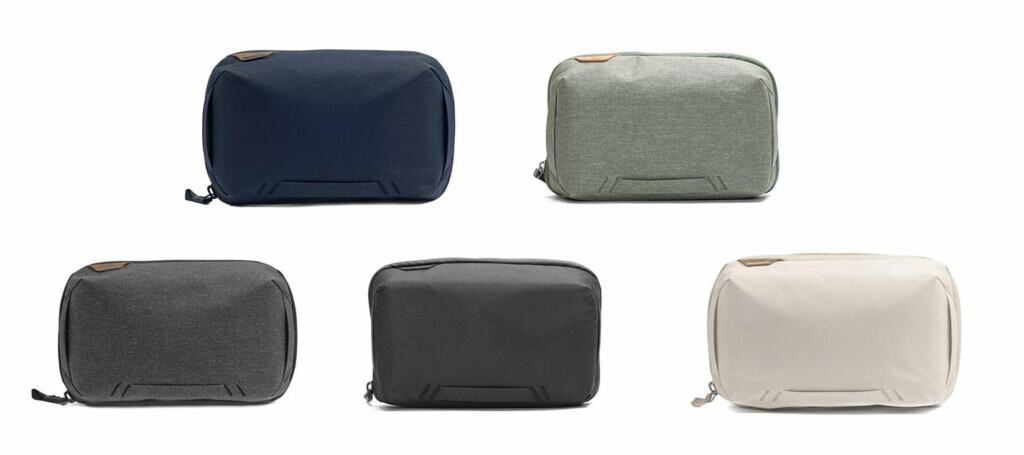 Capacity: 2L
Weight: 288g (10.2 oz)
Dimensions: 6″ x 9.5″ x 4″ (15 x 24 x 10cm)
Colour: Black, Midnight Blue, Bone, Sage, Charcoal.
Exterior Fabric: Weatherproof 200D Nylon
Warranty: Lifetime
Video Review
If you prefer to watch a video, I've got you covered. Don't forget to subscribe to the channel, and please give the video a thumbs up if you find it useful, it really helps us out.
Features and Design
The Tech Pouch is built from the same rugged, eco-friendly Bluesign materials as their Everyday camera bags. The 200D nylon features a TPU coating that makes these bags extremely weather-resistant and, if anything, they almost feel a little bit overbuilt for a bag that is going to spend most of its time inside another bag.
The overall shape of the Peak Design Tech Pouch, as evidenced in the photos, is quite boxy. A layer of EVA foam within the PU coated nylon canvas shell provides structure. This helps the bag to stand up nicely on a desk and gives your electronic accessories some protection from knocks and bumps.
The main compartment of the bag is accessed via a central wrap-around YKK Aquaguard zipper. Again, this zipper isn't technically waterproof, but it's definitely very water-resistant, and the kind of hardware usually seen on the exterior of very expensive outdoor photography bags.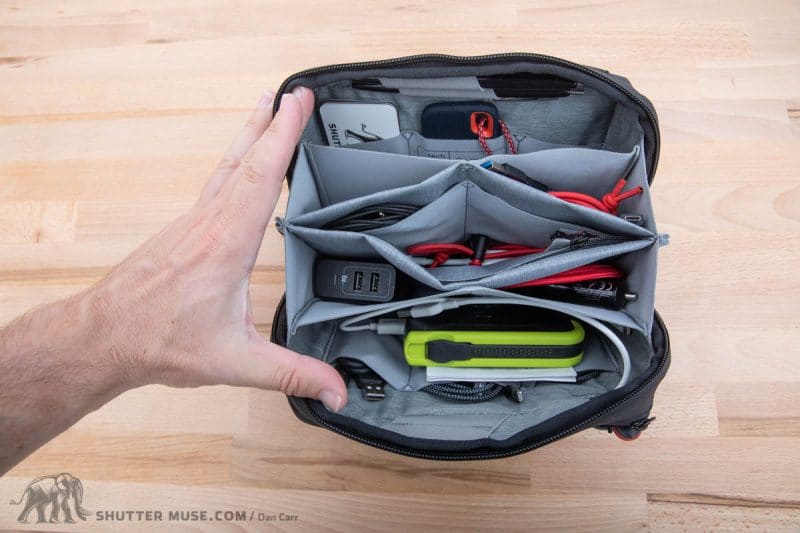 Opening the main section of the bag immediately reveals the magic behind this design as a series of pockets open before you like an accordion. These pockets are made from a very stretchy material, meaning they will accommodate all shapes and sizes when you're looking for a slot to hold your tech gear. What's also great about this material is that it's very thin. If you aren't using some of the pockets, you don't feel like their mere existence is taking up space in the bag. Everything is very flexible and conforms to the load you put inside it. I counted 18 slots and pockets in total!
In the centre of the pouch, you'll find a zippered pocket that hides slots for your smaller tech accessories. These smaller pockets are perfect for USB thumb drives, camera memory cards and small USB dongles. I appreciate the zipper that further secures the items in this part of the bag. These sorts of items are the easiest to lose, and they can also be amongst the most expensive.
As well as all of those slots and pockets, there are also a pair of elastic pen holders on each side and an external zip pocket with a pass-through hole to the interior of the pouch. The idea here is that you keep a USB battery pack in the Tech Pouch, and pass the charging cable out into the front pocket, or out of the bag entirely. I usually use this to pass a pair of cables out of the bag. One for my iPhone and a USB-C cable to charge my camera.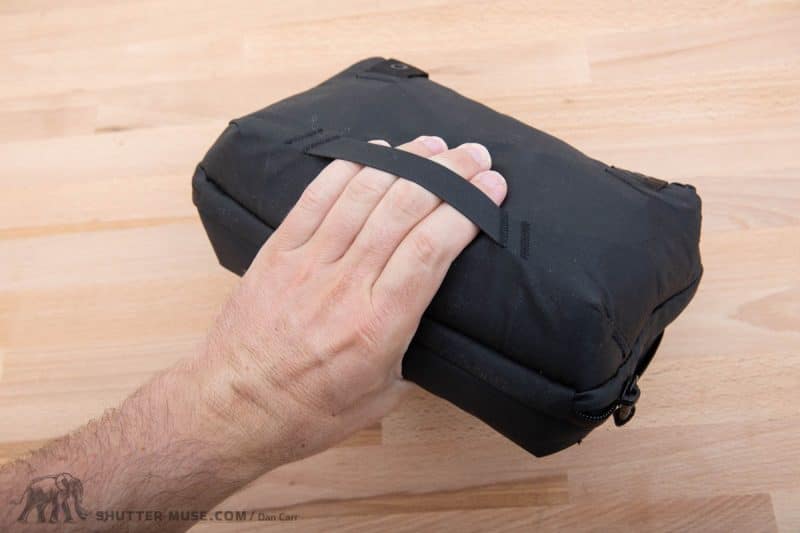 On the outside of the pouch, there are two Hypalon exterior handles. I guess these must be meant for very clumsy people. The vast majority of users are going to be moving this Tech Pouch from inside their backpack or laptop bag onto a desk, and back again. I can't see anyone carrying this around in their hand for any great distance. Tell me I'm wrong in the comments…
Adding a Shoulder Strap
On the back of the Tech Pouch, you'll find a pair of attachment points for the Peak Design Anchors that are used as a quick-release system on their camera straps. This allows you to use the pouch as a small shoulder bag, either to carry your tech or possibly even a small camera such as the Fuji X100 or Sony RX100. Given the small size of the bag, the Leash or Slide Lite staps would make the most sense. Anything larger would be overkill.
How Will You Use It?
The origami-style pockets and the cubic design of the Peak Design Tech Pouch make it the perfect desk organizer for people who work in several different places. I often bounce around from coffee shop to coffee shop, and back to my office again while I'm working. The Tech Pouch is perfect for that situation. Once I get set up at a desk or table, I have everything I need, easily to hand.
It's also a good travel companion. The sizing works perfectly for your passport and boarding passes in the external pocket, while the central tech station will hold your phone, USB battery pack and your noise-cancelling earbuds for the flight. If you pack it on the top of your carry-on bag, you can safely stow that in the overhead bin on the plan, while quickly grabbing the tech pouch out of it for your in-flight needs, perhaps with your laptop or tablet computer.
I'm sure there are many use cases I have not thought of, but one final one that I often appreciate is using the Tech Pouch in hotel rooms. The fact is that this bag can hold a lot, and I usually pack it with more than just my tech trinkets. When I get to a hotel room the pouch usually ends up on the bedside table where I can quickly extract the wall charger for my phone, as well as other small travel items such as a plug adaptor, earplugs for noisy locations and even some basic must-have travel medical items.
Tech Pouch Vs Field Pouch
The Field Pouch V2 ($44) is a small photo accessory pouch that can also be used as a camera shoulder bag to carry an extra lens or a small camera. Unlike the Tech Pouch, the Field Pouch comes with a lightweight shoulder strap to facilitate this additional functionality. If your camera doesn't fit into the bag, there are two rails on the bag's exterior to attach the popular Peak Design Capture camera clip.
The Field pouch has an expandable design and the overall volume is quite similar between the two bags. That said, the more boxy design of the Tech Pouch makes it a better fit for larger tech items such as large USB battery packs, memory card readers and hard drives.
Having used both bags extensively, my personal preference is to use the Tech Pouch when I'm setting up in a location for a period of time and need access to a bunch of tech items. This could be working in a coffee shop for a few hours, or a hotel for a day or two. The accordion design just works so well at presenting everything to you when it's placed on a desk.
The Field Pouch is better suited to organizing those items that you need throughout the day. The slimmer design of the bag makes it easier to slot into the top pocket of a backpack or the front pocket of some shoulder bags. For an even more detailed look at the Field Pouch V2, please refer to our review.
Conclusion
As far as clever organizational products go, this is easily one of the best I have seen. The use of thin and stretchy material to create the internal dividers means you can fit an incredible amount of well-organized gear in the pouch without it becoming too bulky. That said, the overall size and shape of the case are not very flexible, so I do find that it requires you to leave a specific place in your bag free from other items, in order to have a spot to stash it. On more than a few occasions I packed my bag full of camera gear, only to find that there wasn't enough room for the Tech Pouch.
If you think your bag is big enough to accommodate the Tech Pouch, you'll love it if you can swallow the slightly high price. If you're worried about space, or price, consider either the Peak Design Field Pouch or the Shimoda Panel Wraps which are both a little smaller and easier to jam into tight spaces.
Where to Buy
The Peak Design Tech Pouch is available directly from Peak Design for $59.95 with free shipping in the US and incredibly cheap shipping elsewhere. Shipping to Canada is just $4.95.
I would always recommend buying directly wherever you can, but if not, you can also buy at the following links: