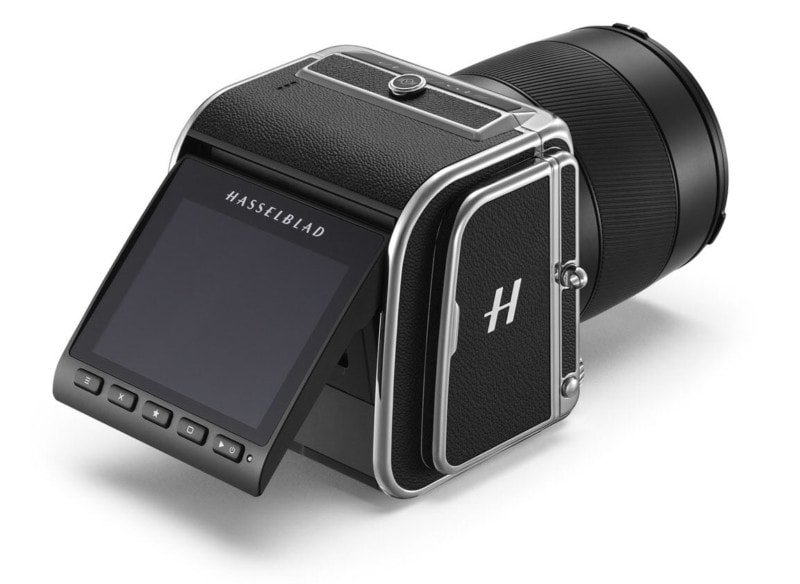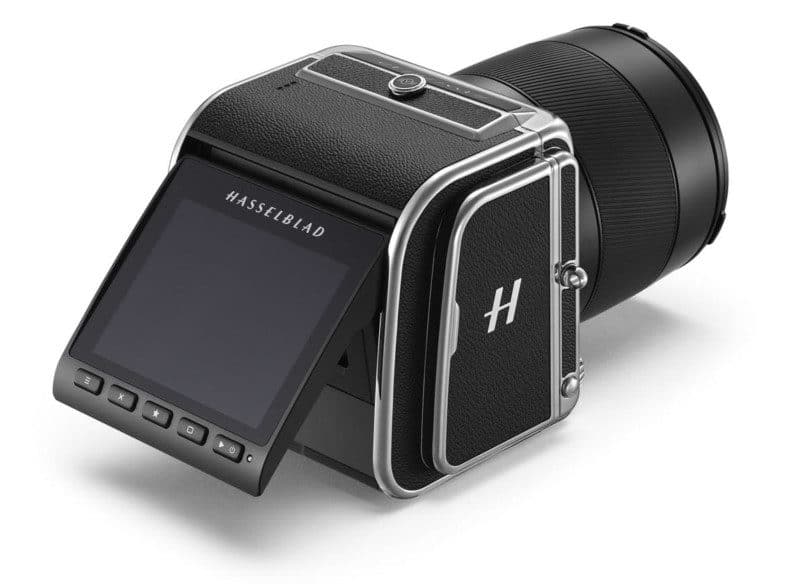 Hasselblad's X System is still in its infancy but the launch of the X1D II camera, and development announcement for the modular 907x camera has sparked new interest into the system. Whilst the original H1D camera was somewhat overshadowed by Fujifilm's almost simultaneous launch of the GFX medium format system, Hasselblad have kept their heads down and built a stellar lineup of optically excellent lenses.
Most notable is the fact that the Hasselbad XCD lenses are all quite small and light, in keeping with the svelte design of the X1D cameras themselves. This makes the Hasselblad X System an intriguing possibility for travel and landscape photographers who want a compact system that has a huge range of focal lengths available already in the native XCD lens lineup.
If you broaden your horizons even further, the three available Hasselblad lens adapters open your options up to include 3 panoramic XPan lenses, 12 modern Hasselblad H System lenses and over sixty legacy C, CB, CF, CFI, CFE, F and FE lenses.
List of Hasselblad XCD Lenses
List of Hasselblad H System Lenses (HC/HCD)
Using the Hasselblad H System adapter, all H System lenses can be used on X System cameras whilst maintaining leaf shutter support and full electronic communication for autofocus and aperture control.
List of Hasselblad X-Pan Lenses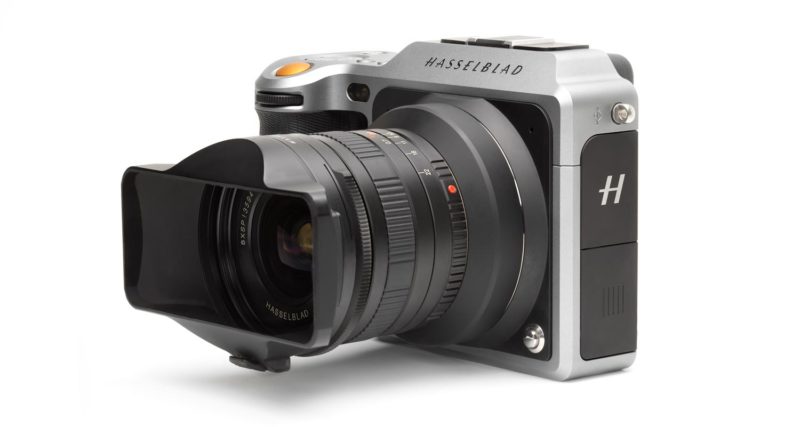 Using the Hasselblad XPan Adapter you can mount Hasselbad XPan lenses to the X Series cameras. The adapter only adds 21.4mm to the length of the lenses and weigh just 112g.
XPan lenses are not manufactured anymore, but they are readily available on the second hand market. These lenses were created for the Hasselblad XPan panoramic camera which used 35mm film. Due to their design as a panoramic lens, the camera will automatically apply a panoramic crop to the images that are created when one of these lenses is mounted.
Note that the Hasselblad XPan cameras were developed in joint partnership with Fujifilm, and Fuji also sold the camera branded as a Fuji TX-1 and later a TX-2. Fujifilm were responsible for the manufacture of all XPan lenses, and the lenses were available with either Hasselblad or Fujifilm branding on the packages. To my knowledge they were optically identical lenses, differentiated only by the pain colour. Hasselblad lenses were black, Fuji lenses were a sort of silvery colour.
| Hasselblad XPan Lens | Focal Length | Aperture Range | Angle of view (diag/hor)(panorama format) | Length | Diameter | Weight | Lens Elements | Filter Thread | MFD | Equivalent 35mm Focal Length |
| --- | --- | --- | --- | --- | --- | --- | --- | --- | --- | --- |
| XPan 30mm f/5.6 | 30mm | 5.6-22 | 98°/94 ° | 53mm | No data | 310g | 10 | 58mm | 0.7m | 17mm |
| XPan 45mm f/4 | 45mm | 4-22 | 74°/71 ° | 47mm | No data | 235g | 8 | 49mm | 0.7m | 35mm |
| XPan 90mm f/4 | 90mm | 4-22 | 42°/40 ° | 73mm | No data | 365g | 9 | 49mm | 1m | 50mm |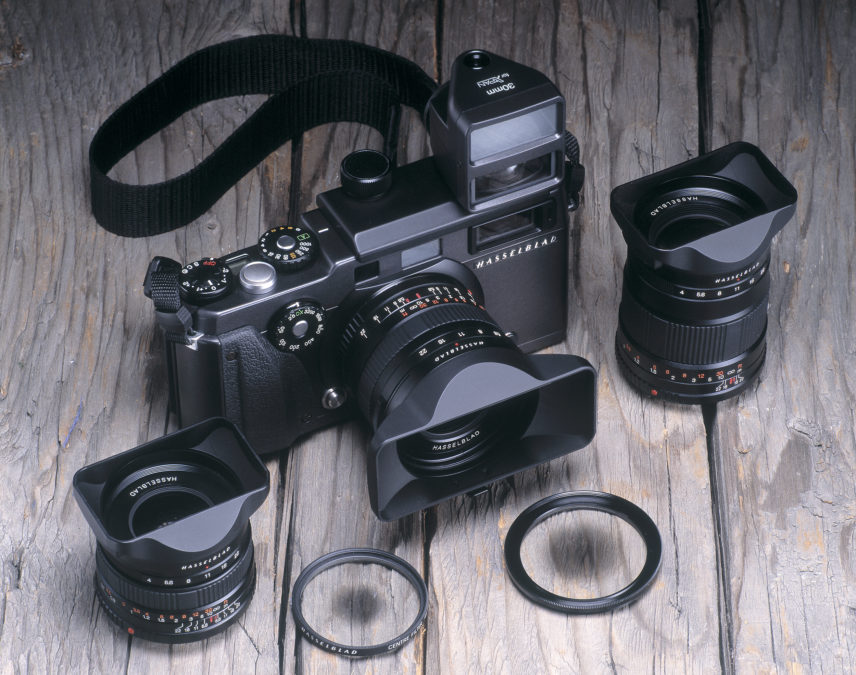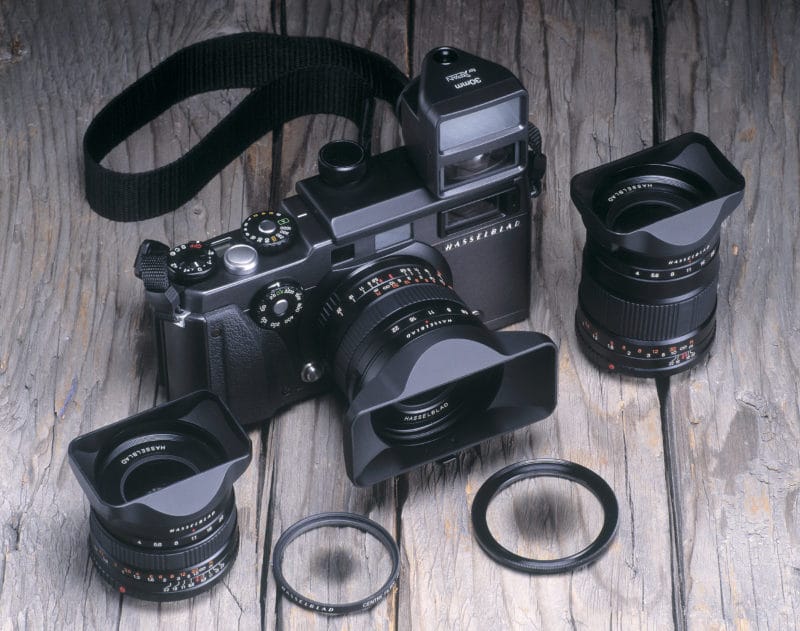 Hasselblad V System Lenses
Using the Hasselblad X-V Adapter with an X System camera will allow usage of a wide range of much older V System lenses. Lenses that are compatible with this adapter carry the designations: C, CB, CF, CFI, CFE, F and FE.
Note that all but two V System lenses were produced by Zeiss. Schneider were responsible for the production of two zoom lenses.
It should also be noted that the name "V System" was actually only put into use when the digital H System was launched. Throughout the many years of service on 500 Series cameras, people usually referred to the lenses as CF lenses.
Hasselblad V System Lenses (C)
| Hasselblad V System Lens | Aperture Range | Design | Floating Elements | MFD | IR Focus Mark | Filter Thread | Shutter Type | Flash Connector | Timer | Focus Ring | Aperture Ring | DoF Preview | Electrical Contacts | Length | Weight |
| --- | --- | --- | --- | --- | --- | --- | --- | --- | --- | --- | --- | --- | --- | --- | --- |
| Distagon 40mm f/4 CF FLE | 4-22 | 11 elements 10 groups | Yes | 0.5m | Yes | Series 93 bayonet | Prontor CF | Yes | No | Yes | Yes | Yes | No | 101.5mm | 915g |
| Distagon 50mm f/4 CF FLE | 4-22 | 9 elements 8 groups | Yes | 0.5m | Yes | B60 | Prontor CF | Yes | No | Yes | Yes | Yes | No | 95.1mm | 800g |
Hasselblad V System Lenses (CB)
| Hasselblad V System Lens | Aperture Range | Design | Floating Elements | MFD | IR Focus Mark | Filter Thread | Shutter Type | Flash Connector | Timer | Focus Ring | Aperture Ring | DoF Preview | Electrical Contacts | Length | Weight |
| --- | --- | --- | --- | --- | --- | --- | --- | --- | --- | --- | --- | --- | --- | --- | --- |
| Distagon 40mm f/4 CF FLE | 4-22 | 11 elements 10 groups | Yes | 0.5m | Yes | Series 93 bayonet | Prontor CF | Yes | No | Yes | Yes | Yes | No | 101.5mm | 915g |
| Distagon 50mm f/4 CF FLE | 4-22 | 9 elements 8 groups | Yes | 0.5m | Yes | B60 | Prontor CF | Yes | No | Yes | Yes | Yes | No | 95.1mm | 800g |
Hasselblad V System Lenses (CF)
| Hasselblad V System Lens | Aperture Range | Design | Floating Elements | MFD | IR Focus Mark | Filter Thread | Shutter Type | Flash Connector | Timer | Focus Ring | Aperture Ring | DoF Preview | Electrical Contacts | Length | Weight |
| --- | --- | --- | --- | --- | --- | --- | --- | --- | --- | --- | --- | --- | --- | --- | --- |
| Distagon 24mm f/3.5 CF | 3.5-22 | Unknown | No | 0.32m | No | None | Prontor CF | Yes | No | Yes | Yes | No | No | Unknown | Unknown |
| F Distagon 30mm f/3.5 CF | 3.5-22 | 8 elements 7 groups | No | 0.3m | Yes | 24mm | Prontor CF | Yes | No | Yes | Yes | Yes | No | 117.5mm | 1365g |
| Biogon 38mm f/4 CF | 4-22 | 8 elements 5 groups | No | 0.3m | Yes | B60 | Compur CF | Yes | No | Yes | Yes | No | No | 80mm | 540g |
| Distagon 50mm f/4 CF | 4-22 | 7 elements 7 groups | No | 0.5m | Yes | B60 | Prontor CF | Yes | No | Yes | Yes | Yes | No | 95.7mm | 790g |
| Distagon 60mm f/3.5 CF | 3.5-22 | 7 elements 7 groups | No | 0.6m | Yes | B60 | Prontor CF | Yes | Yes | Yes | Yes | Yes | No | 82.8mm | 680g |
| Planar 80mm f/2.8 CF | 2.8-22 | 7 elements 5 groups | No | 0.9m | Yes | B60 | Compur Syncro | Yes | No | Yes | Yes | Yes | No | 65mm | 510g |
| Planar 100mm f/3.5 CF | 3.5-22 | 5 elements 4 groups | No | 0.9m | Yes | B60 | Prontor CF | Yes | No | Yes | Yes | Yes | No | 75mm | 605g |
| UV-Sonnar 105mm f/4.3 CF | 4.3-32 | 7 elements 7 groups | No | 1.8m | Yes | B60 | Prontor CF | Yes | No | Yes | Yes | Yes | No | 90.6mm | 820g |
| Makro-Planar 120mm f/4 CF | 4-32 | 6 elements 4 groups | No | 0.8m | Yes | B60 | Compur Syncro | Yes | Yes | Yes | Yes | Yes | No | 99mm | 695g |
| Makro-Planar 135mm f/5.6 CF | 5.6-45 | 7 elements 4 groups | No | 2m with bellows | No | B60 | Prontor CF | Yes | Yes | Yes | Yes | Yes | No | 80.2mm | 620g |
| Schneider Variogon 140-280mm f/5.6 CF | 5.6-45 | 17 elements 14 groups | No | 2.5m | Yes | Series 93 (drop-in) | Prontor CF | Yes | No | Yes | Yes | Yes | No | 234mm | 1740g |
| Sonnar 150mm f/4 CF | 4-32 | 5 elements 3 groups | No | 1.4m | No | B60 | Prontor CF | Yes | Yes | Yes | Yes | Yes | No | 81.8mm | 785g |
| Sonnar 180mm f/4 CF | 4-32 | 5 elements 4 groups | No | 1.55m | Yes | B60 | Prontor CF | Yes | Yes | Yes | Yes | Yes | No | 103.8mm | 1075g |
| Sonnar 250mm f/5.6 CF | 5.6-43 | 4 elements 3 groups | No | 2.5m | Yes | B60 | Prontor CF | Yes | Yes | Yes | Yes | Yes | No | 163.6mm | 1000g |
| Sonnar-Superachromat 250mm f/5.6 CF | 5.6-45 | 6 elements 6 groups | No | 2.8m | Yes | B60 | Prontor CF | Yes | Yes | Yes | Yes | Yes | No | 155mm | 1000g |
| Tele-Tessar 350mm f/5.6 CF | 5.6-64 | 4 elements 4 groups | No | 4.5m | No | Series 93 screw | Prontor CF | Yes | No | Yes | Yes | Yes | No | 226.5mm | 1350g |
| Tele-APO-Tessar 500mm f/8 CF | 5.6-45 | 5 elements 3 groups | No | 4.6m | Yes | Series 86 screw | Prontor CF | No | Yes | Yes | yes | Yes | No | 329mm | 1810g |
Hasselblad V System Lenses (CF FLE)
| Hasselblad V System Lens | Aperture Range | Design | Floating Elements | MFD | IR Focus Mark | Filter Thread | Shutter Type | Flash Connector | Timer | Focus Ring | Aperture Ring | DoF Preview | Electrical Contacts | Length | Weight |
| --- | --- | --- | --- | --- | --- | --- | --- | --- | --- | --- | --- | --- | --- | --- | --- |
| Distagon 40mm f/4 CF FLE | 4-22 | 11 elements 10 groups | Yes | 0.5m | Yes | Series 93 bayonet | Prontor CF | Yes | No | Yes | Yes | Yes | No | 101.5mm | 915g |
| Distagon 50mm f/4 CF FLE | 4-22 | 9 elements 8 groups | Yes | 0.5m | Yes | B60 | Prontor CF | Yes | No | Yes | Yes | Yes | No | 95.1mm | 800g |
Hasselblad V System Lenses (F)
| Hasselblad V System Lens | Aperture Range | Design | Floating Elements | MFD | IR Focus Mark | Filter Thread | Shutter Type | Flash Connector | Timer | Focus Ring | Aperture Ring | DoF Preview | Electrical Contacts | Length | Weight |
| --- | --- | --- | --- | --- | --- | --- | --- | --- | --- | --- | --- | --- | --- | --- | --- |
| Distagon 40mm f/4 CF FLE | 4-22 | 11 elements 10 groups | Yes | 0.5m | Yes | Series 93 bayonet | Prontor CF | Yes | No | Yes | Yes | Yes | No | 101.5mm | 915g |
| Distagon 50mm f/4 CF FLE | 4-22 | 9 elements 8 groups | Yes | 0.5m | Yes | B60 | Prontor CF | Yes | No | Yes | Yes | Yes | No | 95.1mm | 800g |
Hasselblad V System Lenses (FE)
| Hasselblad V System Lens | Aperture Range | Design | Floating Elements | MFD | IR Focus Mark | Filter Thread | Shutter Type | Flash Connector | Timer | Focus Ring | Aperture Ring | DoF Preview | Electrical Contacts | Length | Weight |
| --- | --- | --- | --- | --- | --- | --- | --- | --- | --- | --- | --- | --- | --- | --- | --- |
| Distagon 40mm f/4 CF FLE | 4-22 | 11 elements 10 groups | Yes | 0.5m | Yes | Series 93 bayonet | Prontor CF | Yes | No | Yes | Yes | Yes | No | 101.5mm | 915g |
| Distagon 50mm f/4 CF FLE | 4-22 | 9 elements 8 groups | Yes | 0.5m | Yes | B60 | Prontor CF | Yes | No | Yes | Yes | Yes | No | 95.1mm | 800g |
Hasselblad V System Lenses (CFI)
| Hasselblad V System Lens | Aperture Range | Design | Floating Elements | MFD | IR Focus Mark | Filter Thread | Shutter Type | Flash Connector | Timer | Focus Ring | Aperture Ring | DoF Preview | Electrical Contacts | Length | Weight |
| --- | --- | --- | --- | --- | --- | --- | --- | --- | --- | --- | --- | --- | --- | --- | --- |
| Distagon 40mm f/4 CF FLE | 4-22 | 11 elements 10 groups | Yes | 0.5m | Yes | Series 93 bayonet | Prontor CF | Yes | No | Yes | Yes | Yes | No | 101.5mm | 915g |
| Distagon 50mm f/4 CF FLE | 4-22 | 9 elements 8 groups | Yes | 0.5m | Yes | B60 | Prontor CF | Yes | No | Yes | Yes | Yes | No | 95.1mm | 800g |