Panasonic has just updated its Lumix S L-mount lens roadmap for its full-frame mirrorless system (October 2023). We can see two new lenses in the pipeline from the latest Panasonic Lumix S lens roadmap to add to the two already on the previous roadmap since January 2023. While the roadmap is not specific, it does provide some useful information. One lens apparently translates as "macro lens" while the other translates to "high-power zoom." My guess is that we will see the following lenses or something very similar.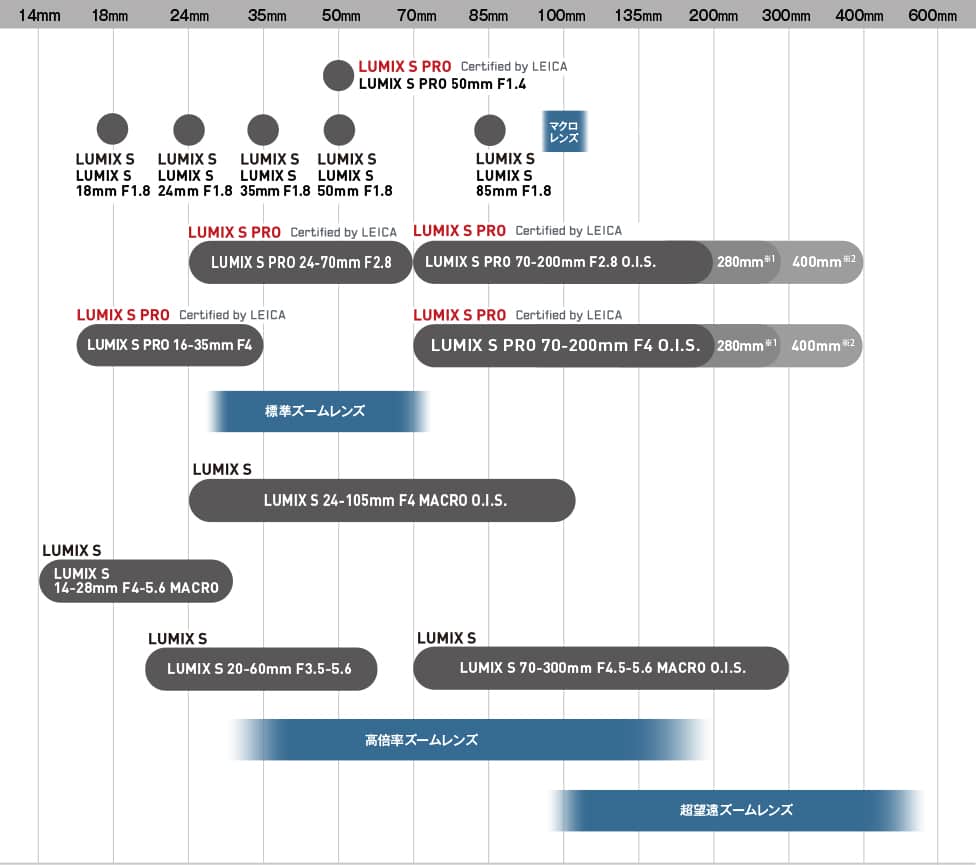 Panasonic Lumix S PRO 100mm f/2.8 Macro
Panasonic Lumix S 28-200mm f/4-5.6 O.I.S
Panasonic Lumix S 30-70mm
Panasonic Lumix S 100-500mm
A 100mm f/2.8 macro lens was on the Lumix S roadmap a few years ago, but it disappeared around 2019. Thus, it seems certain that this "mysterious" macro lens, sitting right on the 100mm marker, is the previously rumored 100mm f/2.8 Macro, now returned. As for whether it receives the PRO designation or not, I'm taking a stab in the dark here. Canon and Nikon both place their 100/105mm macro lenses in their top-of-the-line lens brackets – L Series and S Series, respectively – so it makes sense that Panasonic would do the same.
As for the "high power zoom specifications," this is harder to pin down. In the past, Panasonic's Lumix S lens roadmaps have thrown some curve balls that make prediction a little tricky. For example, a lens previously referred to as a "large aperture wide zoom" turned out to be the 14-28mm f/4-5.6. Nobody would call f/4-5.6 "fast," so you can see that we can't take everything on the roadmap for granted.
I'm very curious to see what this latest telephoto lens turns out to be. The Lumix S Series lineup's longer zoom lens section is by far Panasonic's weak point. Where is the 100-400mm lens that sells so well for Canon, Nikon, and Sony? This is a glaring gap in the lineup. Presumably one of these new lenses will fill that gap, and it looks like they might make it a 100-500mm lens like Canon.
Previous Panasonic Lumix S Lens Roadmaps
January 2023
September 2021

November 2019