CRDBAG is a Swedish company specializing in organization and storage for creative professionals. If you're a photographer, filmmaker, DIT or sound professional constantly battling an ever-growing pile of cables, dongles, widgets and kit, CRDBAG's CRDPOUCH range of organizer bags are designed for you.
How Do You Pronounce CRDBAG?
I wasn't sure about this, so I asked the company after sending me these products for review. CRD is pronounced "cord", so the company is called "cordbag" and the product name is "cordpouch". It is not named after the cords and cables that you might store inside them, nor after the Cordura material that they are made from. In fact, the name is derived from the CRDWALL product that is due to be released sometime in Q1 2022.
The CRDWALL, pictured below, is an innovative space-saving storage solution designed to work with the CRDPOUCH bags. When you see the photo, the CRDWALL name is self-explanatory.
CRDPOUCH Sizes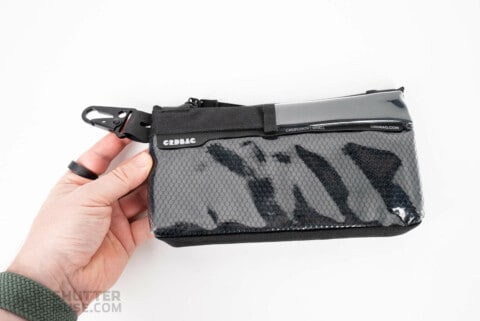 Dimensions
CRDPOUCH Small – Dimensions: 10 X 23 X 0.5 cm (3.9″H X 9″W X 0.2″D)
CRDPOUCH Medium – Dimensions: 15 X 28 X 0.5 cm (5.9″H X 11″W X 0.2″D)
CRDPOUCH Large – Dimensions: 20 X 33 X 0.5 cm (7.9″H X 13″W X 0.2″D)
CRDPOUCH Extra Large – Dimensions: 25 X 43 X 0.5 cm (9.8″H X 17″W X 0.2″D)
Pricing
CRDPOUCH bags are available in singles, 2-packs, 4-packs, and 8-packs for each size, and a kit that includes one of each size. You can also save 15% if you use out discount code: SHUTTERMUSE15. (Prices correct as of March 2023)
These are high prices for accessory pouches, but as you'll see when we delve into the features, it is justified by the durable materials and high-end hardware chosen. The CRDPOUCH bags are hitting the high end of accessory management options but are not disproportionally expensive. Instead, they are unashamedly high-end. I recommend the Shimoda Accessory Pouch or the Think Tank Cable Management bags if you want something great but a little more wallet-friendly.
CRDPOUCH Features and Design
Handling these bags, it's immediately apparent that no expense has been spared with material and hardware choices. These are the kind of bags that you buy once in your career.
Weather-Resistant Zippers
The bags use a weather-resistant YKK AquaGuard zipper with a tough Hypalon zipper pull. There is a zipper garage at each end of the zipper to prevent water ingress at the most vulnerable points. These YKK zippers are the best. No expense has been spared in creating a long-lasting product.
Spring-Loaded Clip
In keeping with the rugged design of the CRDPOUCH bags, the spring-loaded metal clip is a heavy-duty piece of hardware attached to the bag with a Hypalon loop. These clips can be used to secure the bags to the CRDWALL product mentioned earlier, or you can clip them to a line that is attached to your on-set cart. In my camera backpack, I have been using the small pouch clipped to the key clip to keep it secure.
Naming Strip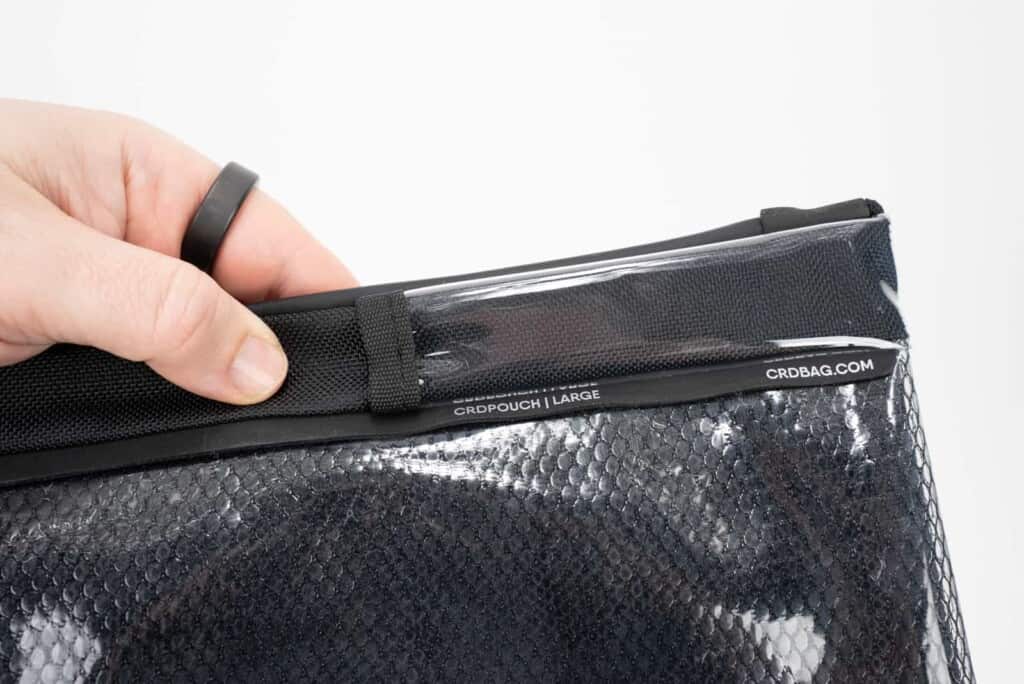 The key to an organised kit is knowing what is in each bag. A small sleeve at the top of each bag can be used in multiple ways. If you have a label maker, you can stick it here. If you want to use gaffer tape, it'll take up to a 1-inch gaffer strip. Or, if you wish to cut slips of paper, these can be slid into the sleeve.
Internal Pocket
Each CRDPPOUCH features a zippered internal pocket. The inner mesh pocket's zipper placement is the only part of the product that I feel could be improved. Due to the large zipper garages on either side of the external zipper, the opening of the pouch does not cross the entire bag. On the other hand, the smaller internal zipper does cross the whole width of the bag, which means you have to reach inside and somewhat awkwardly up into the corner to find the small zipper. It's quite fiddly, and exacerbated by the small size of the zipper. I plan to fix this minor issue by adding a small cord to each internal zipper to make them easier to grab.
Using Apple AirTags With CRDPOUCH Bags
I first discovered CRDBAG while researching an article on how photographers and filmmakers can use Apple AirTags to keep track of their gear. If you are unfamiliar with this cool piece of technology or want exact details on how you can use them to keep track of your gear, give that article a read.
The short version is that they are Bluetooth devices that create a mesh network with other Apple products to piggyback off their location data and help you to locate your gear. Not only can they help you find a lost piece of equipment, but they can also send you notifications when you accidentally leave a piece of gear behind. Both of these scenarios are useful. On a busy film set, it's easy for a small bag to get packed into the wrong case. AirTags can help prevent this, and they can also notify you if you left something important at home on your way to the job.
When Apple AirTags were launched, CRDBAG immediately recognized their potential usefulness and built a small AirTag pocket into all of their CRDPOUCH bags. At least for now, at review time, they are the only brand in the photo/film world to have taken that initiative.
Using CRDPOUCH Bags With a Pelican Case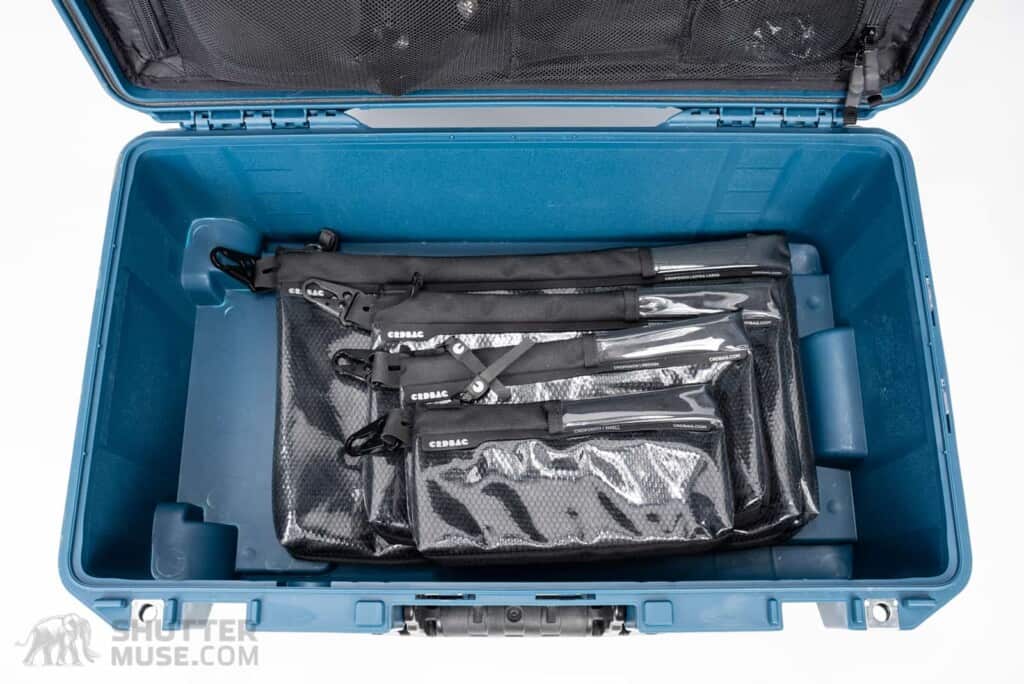 The Pelican 1510 carry-on case and the newer, lighter Pelican 1535AIR carry-on case are standard carry options for photographers, filmmakers, DITs and audio professionals worldwide. As such, the dimensions of the CRDPOUCH bags have been designed with the internal Pelican case dimensions in mind.
The case in the photos is my Pelican 1535AIR that comes with me on all my jobs. Specifically, because I know somebody will ask, this is the Pelican 1535AIR TRVL model that comes with a zippered organizer built into the lid. When considering the relative size of the CRDPOUCH bags compared to the Pelican's internal size, keep in mind that I usually run this case empty to maximize the available volume. I use a second 1535AIR with a padded insert to carry cameras and lenses. If you put a padded insert into your case or use the popular TrekPak divider system, there will be a little less room, although, by design, still enough to hold the Extra Large CRDPOUCH.
Related Reading: Best Pelican Cases for Photographer and Filmmakers
The clever sizing of the CRDPOUCH bags opens up a ton of options for the creative professional that wishes to get their kit perfectly organized. If you like to keep all of your organizers the same size, you could use roughly twenty medium-sized CRDPOUCH bags all lined up in the Pelican case. If you have more oversized items to organize, you could stack several of the Extra Large CRDPOUCH bags on top of one another. If you want to mix up your sizes, you can line up two rows of small and medium bags, or a row of large bags, with small and medium ones perpendicular to them. The photos below should help you visualize these options.
Conclusion
There will no doubt be some people that turn their noses up at the price of these bags. They certainly aren't the cheapest option. But I'm just as sure that there are also plenty of people out there who will feel their inner organization nerd being drawn immediately to the CRDPOUCH products. For some people – and I have to admit this includes me – there is something incredibly satisfying about outfitting your camera case with a well-organized set of matching cases like these. The fact that CDBAG does not sell these bags individually is proof that they are very smartly targeting those types of people. If that sounds like you, and you are the kind of person who thinks long-term and likes to buy things only once, I can definitely recommend the CRDPOUCH lineup.
Where to Buy – Save 15%
For now, CRDPOUCH bags are only available directly from the CRDBAG website. International shipping is available. The bags are available as singles, 2-packs, 4-packs, and 8-packs. A sampler kit includes one of every size. You can save 15% on your order by using our special discount code: SHUTTERMUSE15.