The Think Tank Cable Management series of photography accessory pouches has been an industry staple for as long as I can remember. Even if you aren't sure you've seen them before, you'll remember seeing the trademark "Red Whip" cable ties bundled with the cases. The Cable Management series has been updated with new features, a fourth sizing option, and a smart new look that matches Think Tank Photo's most recent camera bag designs.
In this review, we'll explore the new features of these pouches and compare the latest version to the previous V2 version to see what has been changed and how it has been improved. If you like the previous version, this review will help you decide whether to upgrade your Think Tank organizer pouch fleet. If you're in the market for new cable or small accessory cases, you'll soon find out if these suit your needs.
Disclaimer: Think Tank Photo gave me one of the new Cable Management bags to evaluate. No money changed hands, and they were not allowed to see the content before it was published.
A note on product naming: The second version of the Think Tank Cable Management pouches used the V2 moniker to differentiate them from the original versions. For version 3, Think Tank has decided not to label these new products as "V3′ pouches. They use the name Cable Management, followed by a number that denotes their size. The original "V1" pouches were available over a decade ago, so there is very little risk that anyone will mistake these new unlabelled "V3" pouches for the old originals.
Table of Contents
Think Tank Cable Management Sizing
The Think Tank Cable Management series consists of four sizes, denoted by the arbitrary names – smallest to largest- 5, 10, 20, and 30. While charging cables, USB cables, and power cables are great examples of what these pouches can hold, don't let the Cable Management name prevent you from planning the organization of a much broader spectrum of photography accessories. The Cable Management 5 and 10 are great for organizing camera batteries, memory card holders, shutter release cables, radio remotes, wireless audio devices, and small tools.
The Cable Management 20 is large enough to hold an action camera like a GoPro, with a good selection of mounts, straps, handles, and a tabletop tripod. While the largest Cable Management 30 will easily hold a pair of speedlights or other bulky items like audio recorders and shotgun microphones. Accessories like action cameras and audio devices always come with cables and several small items, which can now be usefully stored in the rear pockets.
Think Tank Cable Management Specifications
Cable Management 5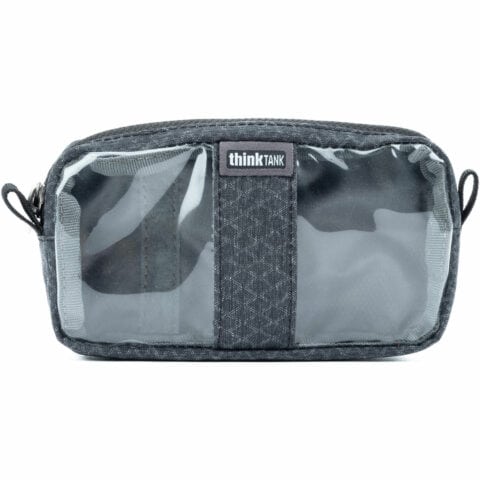 External Dimensions: 5.9" W x 3.2" H x 1.4" D (15 x 8 x 3.5 cm)
Weight: 2 oz (57g)
Nylon Poly blend 210D x 320D double diamond ripstop with DWR coating
YKK RC zippers
3 x Red Whip Bungie Cable Ties included
Price: $19.75
Cable Management 10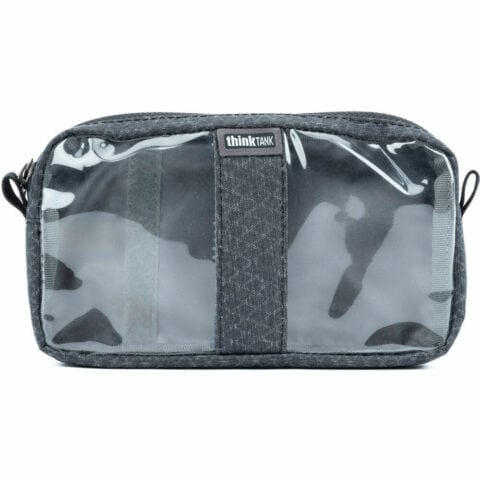 External Dimensions: 7" W x 3.9" H x 1.6" D (18 x 10 x 4 cm)
Weight: 2.5 oz (71g)
Nylon Poly blend 210D x 320D double diamond ripstop with DWR coating
YKK RC zippers
3 x Red Whip Bungie Cable Ties included
Price: $24.75
Cable Management 20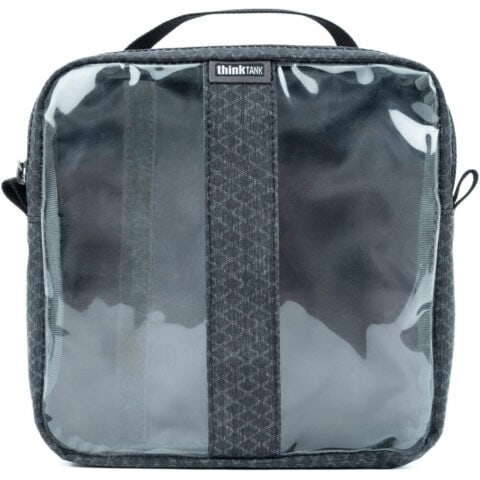 External Dimensions: 7" W x 7" H x 1.75" D (18 x 18 x 4.5 cm)
Weight: 3.5oz (99g)
Nylon Poly blend 210D x 320D double diamond ripstop with DWR coating
YKK RC zippers
3 x Red Whip Bungie Cable Ties included
Price: $28.75
Cable Management 30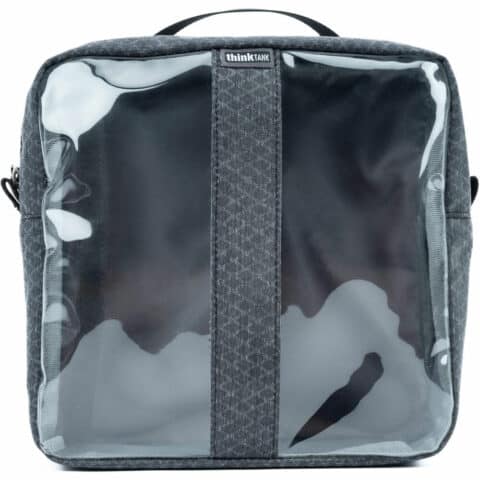 External Dimensions: 7.9" W x 7.9" H x 3.2" D (20 x 20 x 8 cm)
Weight: 4.5oz (128g)
Nylon Poly blend 210D x 320D double diamond ripstop with DWR coating
YKK RC zippers
3 x Red Whip Bungie Cable Ties included
Price: $32.75
Cable Management Pouch Design and Features
The main section of every Cable Management pouch can be divided in two by an attached foam divider. When not in use, the divider attaches to the rear interior panel of the pouch. This is great if you have items that need to be separated to avoid causing each other damage. For example, I store my GoPro or DJI Pocket on one side while the other can store my hard plastic action camera mounts that would otherwise scratch the camera's lens or screen.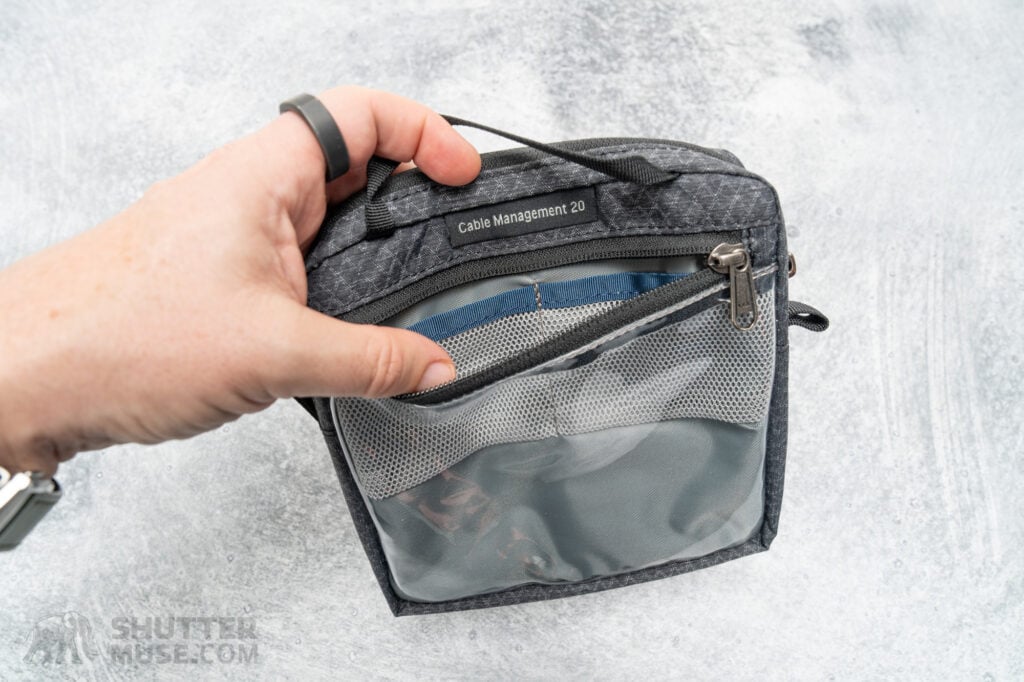 A zippered back pocket with an internal mesh pocket suspended at the top is new for these versions of the Cable Management pouches. These are perfect for storing smaller cables, tripod plates, small tools, and spare screws for your Arca-Swiss plates. Each Cable Management pouch includes three Think Tank Red Whip cable ties. A 12-pack can be purchased for just $12.75 if you need more.
One complaint I have seen is that Think Tank's Red Whip cable ties are too big and bulky, often larger than the cable they are tidying. While this may be true in some cases, those complaining don't seem to consider that the cable ties can be shortened quickly with scissors. I have made this modification to many of my own. All you have to do is untie them, snip off an inch of two, tie them up again, and burn the end with a lighter to stop the nylon sheath from fraying. Job done. I prefer the cable ties to start too long rather than too short.
What Has Changed?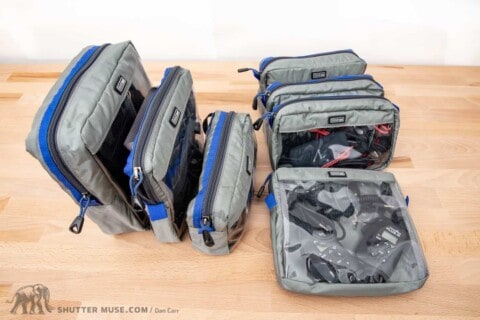 The old V2 Cable management bags were available in three sizes: 10, 20, and 30. The new version comes in four sizes, adding a new, smaller Cable Management 5 size to the lineup. From a materials standpoint, the 210D x 320D double diamond ripstop nylon on the latest version is more durable than the materials used on the older V2 versions of the pouches. From a feature standpoint, the most significant difference is the new rear zippered pocket found on the latest update. This zippered pocket adds a fresh storage compartment perfect for tiny items and further organizes those items with an additional internal mesh pocket. The rear pocket does replace the gear label window from the old V2 version, but there's no reason you can't place those labels into the pocket instead.
I have used the V2 Cable Management pouches for many years, but I can tell you right away the new zippered pocket and mesh pocket make a difference to how I'll store smaller items. In the past, I would often use small ziplock plastic bags within the Cable Management bags to hold items like tripod plate screws or hex tools. There's no need for that in the new version of the pouches. I can store those smaller items in the rear pockets. It's a minor change to my overall organization in the grand scheme of things, but it's appreciated nonetheless. If your existing cable or accessory organizers look tired, now might be the right time for an upgrade.
Cable Management Pouches Vs. Think Tank EDC Pouches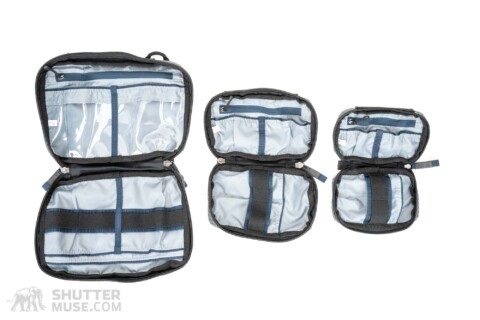 I recently reviewed the Think Tank EDC pouch range, and there is some crossover between these product ranges. Those looking for smaller pouches to organize items such as photography tools, flashlights, and a few cables should look at that review. Considering both ranges, the strength of the EDC pouches is in creating a single, simple kit that always comes with you and carries the same set of items. The strength of the Cable Management series is its see-through design that lets you quickly view its contents. This makes them perfect for buying several and organizing them into task-specific kits. You can quickly ensure the kit has all the correct items and choose the fitting kit for the day from your gear shelf.
Conclusion
Photography accessory pouches aren't the most exciting item, but they are helpful to everyone. Even if it's your first day of digital photography, you'll already have a few cables, a spare battery or two, some memory cards, a lens cloth, a battery charger, and a memory card reader. It doesn't get better from there! Before you know it, you've picked up a few filters, a filter adapter, perhaps something like a Peak Design Capture Clip, a couple of tripod plates, and a few different hex tools or screwdrivers. Sure, you can sprinkle all this through the many pockets of the inevitable camera bag, but you'll soon learn you often need the simultaneously, opening every pocket of your bag to find your smaller items is no fun when you're in a rush. And what happens when you want to switch things to that equally inevitable second camera bag? It's so much easier of everything is stored in one or two organizing pouches.
The Think Tank Cable Management pouches have always been a popular, cost-effective organization option for photography accessories ranging from tiny tripod plates to bulky speedlights. With this latest update, Think Tank has extended their organizational capabilities with a new zippered rear and internal mesh pockets. Adding a new fourth size is also welcome, as are the tougher face fabrics and the included cable ties. You can't go wrong with these pouches if you need to organize your gear better.
Where to Buy
The Think Tank Cable Management organizers are available from the retailers linked below. As always, using our links for your purchases is greatly appreciated. US readers should take advantage of Think Tank's offer of a gift when they spend more than $50.
US Customers get a free gift when they spend over $50 in the Think Tank/MindShift online store after clicking this link. For more details, or if you have any issues, see this post.