Not long ago I reviewed the unique Shimoda Panel Wraps and today we are taking a look at the Shimoda Accessory Pouch. The Panel Wraps were the first Shimoda products that I purchased, and I liked those enough for them to become a regular part of my photo kit. After checking their product catalogue I noticed that they had another camera accessory organizer, called the Accessory Pouch. I'm a sucker for having my camera gear neatly organized so I ordered a couple of them to compare them to the Panel Wraps.
For those of you waiting for a review of one of Shimoda's adventure photo backpacks, that is on its way too! I'm currently in the process of testing one of their new Action-X packs and a review will be coming soon. Stay tuned. But now, on to this review.
Shimoda Designs has offered Shutter Muse readers a 10% discount on anything purchased in their online store. Simply use the discount code ShutterMuse10 after clicking here to access the store.
Design and construction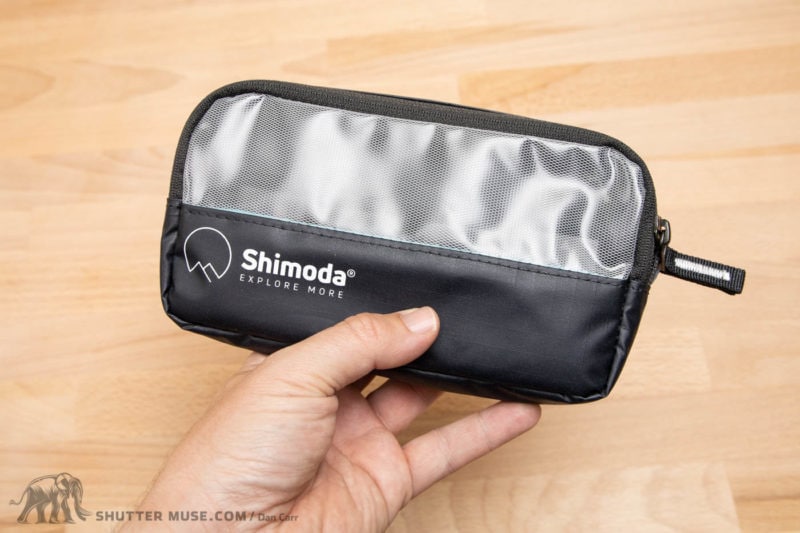 The Shimoda Accessory Pouch is clearly built to last, using weather-resistant Carbonate Ether coated PU resin for the main body, and high grade YKK zippers. It feels very much at home amongst their burly outdoor packs like my own Action-X 70. Although you don't usually need to rely on weather proofing for accessory pouches, if they are protecting important data on hard drives, or perhaps fragile electronics with exposure electrical terminals such as batteries and radio remotes, it feels good to add an extra layer of protection for such a minimal weight penalty.
In the hand this feels like a very high-end product. The durability and small details give you a great sense of what the Shimoda brand is all about.
Internal Pocket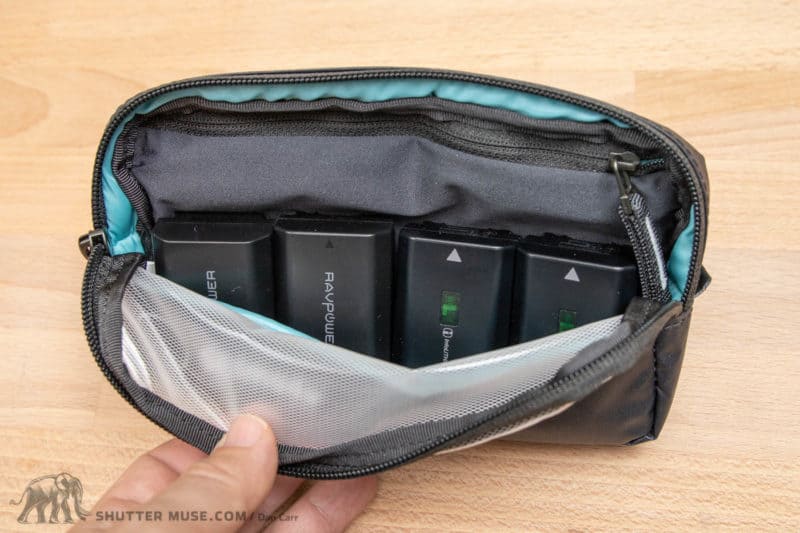 Here you can see the internal zippered pocket which is made from stretchy nylon. The choice of a stretchy material is clever. It means that anything you can fit in the main pocket, will also fit in the zippered pocket. The way I use this is that I start with all my fully charged batteries in the main pocket, and as they get used up, I move them into the zippered pocket. This makes it super easy to know which batteries need to go on the charger when I get home. You could certainly do the same thing with memory cards, or use could use the divide to organize related items such as drives and their USB cables.
Using the pouch on a belt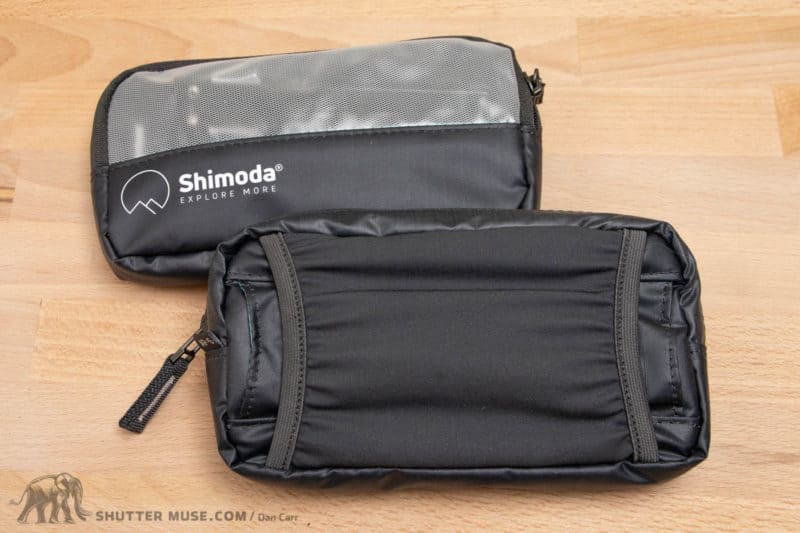 Flipping the pouch over reveals an interesting feature that I don't think I have seen in other similar products. As well as a standard thinner sleeve to pass a regular belt through, there's a second much wider sleeve. This wider sleeve is made from elasticated nylon to enable it to slide onto hip belts found on larger outdoor photo packs such as their own Action-X series packs. I like this extra detail a lot, and have been using one of my two pouches in this way. Although this is a universal feature that will work on any big photo pack, it's particularly handy on the Shimoda Action-X packs that don't have a built-in pocket on the hip belt.
Conclusion
The Shimoda Accessory Pouch is another great product from the brand. Clearly this is carefully thought out by people that use these products themselves. I love the rugged construction, the internal zippered pocket and the dual belt loop options on the back. I also like the fact that this is a very distinct product from the previously reviewed Panel Wraps. The Panel Wraps are well suited to smaller items that need the more specific organizational divide of multiple zippered pockets. The Accessory pouch is suited to a smaller number of bulkier items. This includes items such as batteries or remote light/camera triggers. When worn on the the belt of your pack, it's also the perfect size for a phone and some snacks.
Where to Buy (and save 10%)
The Shimoda Accessory Pouch is available from the Shimoda store for $22.95. You can save a further 10% on your order in the Shimoda store by using the coupon code ShutterMuse10. Please refer to these instructions if you have any problems with where to find the box to input the discount code.
–>> Worldwide distribution is available from the Shimoda store.