Earlier in the year I published a group test of the best rugged drives for photographers, and in that post I wrote about the reasons I believe photographers should be using ruggedized hard drives and SSDs. When I did that test LaCie did not have an SSD that utilized the latest ultra-small NVMe technology, and in terms of portability I handed the crown to the current range of Sandisk Extreme SSDs.
Well, LaCie now has several new contenders in this fight and the specs of the drives are even more impressive than anything I have previously tested.
LaCie Rugged SSD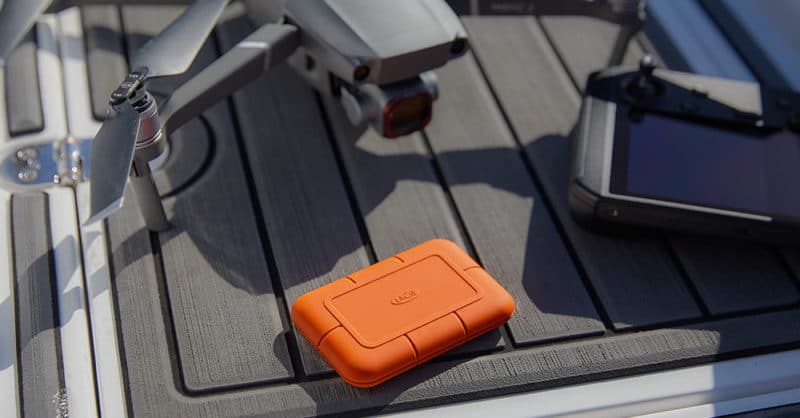 First up is the LaCie Rugged SSD, with speeds up to 950MB/s and available in three sizes: : 500GB ($179.99), 1TB ($299.99), and 2TB ($499.99).
The drives houses a Seagate Firecuda NVMe SSD and features a USB-C connection using USB 3.1 Gen 2 to reach those speeds. The drive comes with a USB-C to USB-C cable and a USB-C to USB-A cable and there's a single port on the rubber drive housing.
The LaCie Rugged SSD is IP67 rated which means it can survive total immersion in water up to a metre deep for half an hour. It'll alos survive a 3 metre drop and has a crush resistance of 2 tonnes.
950MB/s is twice as fast as the Sandisk Extreme SSDs that I have been praising so highly for the last year, and on top of that these appear to be much more rugged than the Sandisk offering. On the face of it this looks like a promising product and I have ordered one for review in the next month.
The speed of this drive should be plenty for photographers and videographers who are shooting 4k video. Just to put that 950MB/s into perspective, a good spinning disk hard drive can manage about 140MB/s and a fast SD card for recording that 4k video in the first place can probably manage about 300MB/s. So yeah, this new LaCie Rugged SSD is blazing fast, but there's more…
LaCie Rugged SSD Pro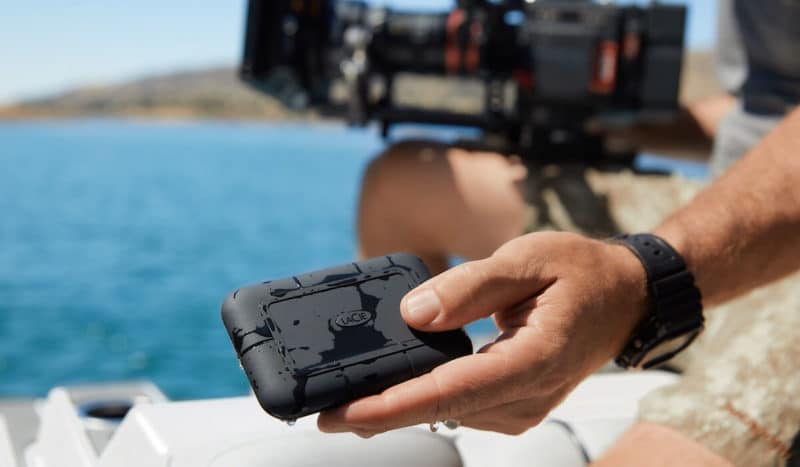 If you need to stretch things even further, there's also a Pro version of the drive in a black rubber casing. Essentially this is the same product with all the same specifications for toughness, but instead of using USB 3.1 Gen 2, it uses Thunderbolt 3. This has a much higher throughput and means the drive can reach a staggering 2800MB/s. Enough for editing 6k and 8K video! Due to the backward compatibility of Thunderbolt 3, you'll also be able to connect this drive to any computer with a USB-C 3.1 connection as well.
The Pro version is only available in two sizes at the moment: 1TB ($399.99) and 2TB ($699.99)
LaCie Rugged Boss SSD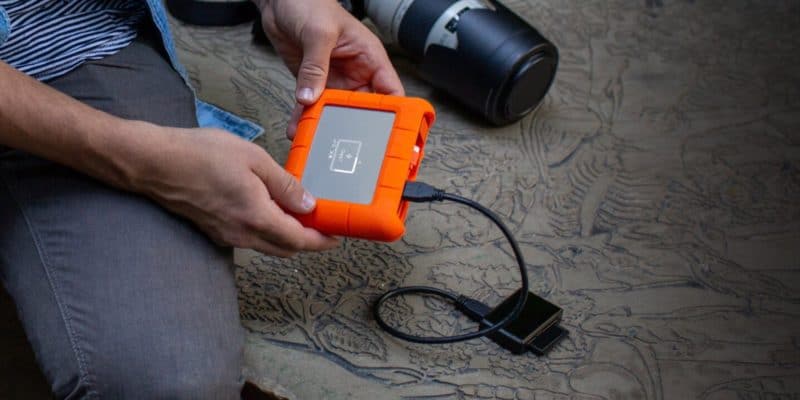 The third drive of the announcement is the Rugged Boss SSD. This interesting device allows you to Back Up Off Site (BOSS) by incorporating a built-in SD card slot and a USB port to attach any memory card reader you like. If you need to back up photos without a computer, this might be the product for you.
Products like this do exist on the market, and LaCie even has a previous generation of BOSS, but all other options feature slow hard disk drives. The Rugged Boss SSD features a 2.5″ SSD, and whilst it doesn't reach the NVMe speeds of the Rugged SSD and Rugged SSD Pro, it'll still get to 430MB/s which is significantly faster than a regular drive.
What's interesting about this drive is that you appear to be able to plug a second drive into it to create duplicates of your backups, and all the images on the drive can be browsed with an iPhone or Android app.
Backup progress and battery life details are shared via a small screen on the front of the drive, and the device comes with a host of cable options to ensure capability with your computer and your mobile device.
The Lacie Boss SSD will come in a single size: 1TB ($449.99)
Look out for a review of this in the coming months as well!