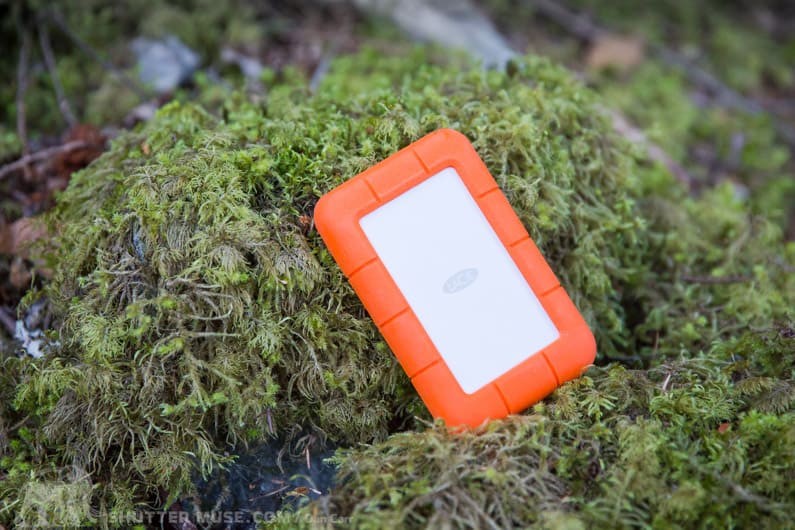 LaCie's Rugged drives have been around for many years and this year they introduced a new variation that has a built-in Thunderbolt cable. I've used Rugged drives my whole career and I needed a new drive so I picked one of these up before a recent kayaking/wildlife photography expedition. The drive is available as both an SSD or a 5400rpm hard drive. The SSD comes either as a 250GB or 500GB drive whilst the hard drive version ups that capacity to either 1TB or 2TB. I often need a lot of disk space when I'm on the road so I grabbed the 2TB hard drive version. Of course the speed of a hard drive is less than an SSD, but the capacity is much more important to me. The 500GB SSD is nearly twice the price of the 2TB hard drive version and 500GB is simply not enough space for my typical needs when I'm shooting both stills and video, and wanting to bring along some of my archive images with me as well.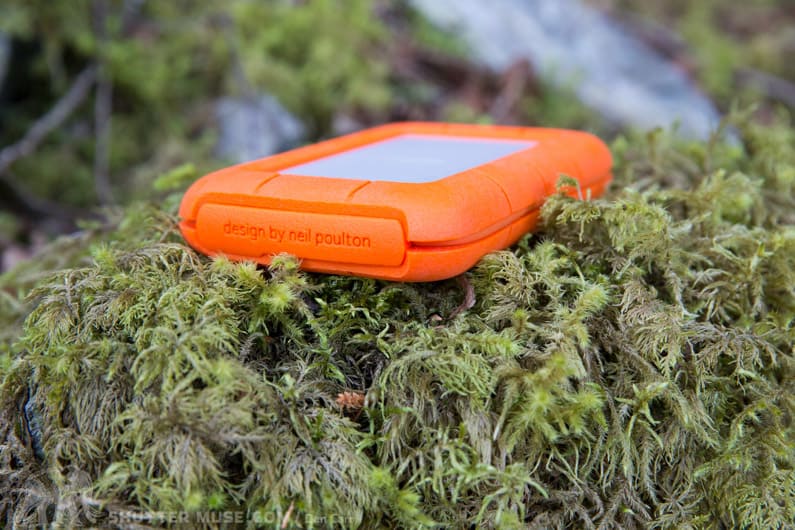 The Rugged Thunderbolt drive is IP54 water resistant and also drop rated to 2m. I don't plan on dropping mine, or dunking it in water, but it gives me an overall confidence in the drive that it'll stand the rigours of world travel and I won't need to baby it all the time. There's nothing I hate more than having a piece of gear that needs to be looked after, I just like to open my bag and throw things in! In fact when I first unboxed this drive I was quite surprised at how solid it felt. It's much more solidly constructed than the other, older, Rugged drives that I own. My older ones have proven themselves dependable, but they did have a slight hollow feel to them. Not so with this newer one. This drive feels really solid!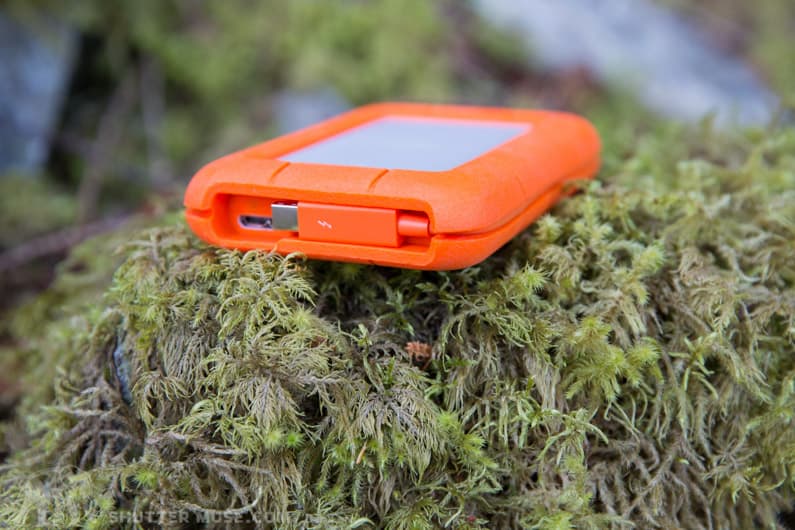 The main feature of the drive is of course the built-in Thunderbolt cable and I love this. One less thing that I might forget when I'm packing! It wraps neatly around the drive and my only complaint is that the removable rubber cover isn't captive to the cable in any way and it likely to get lost at some point. They do give you a spare one in the box……. which suggests this is something they have considered themselves as well so I'm not sure why they couldn't figure out a way to attach it more securely. A question I was asked by a reader when I first purchased this drive was what happens if the cable fails? This would be a problem, but I really can't remember the last time I've had a cable failure. If that were to happen then I could switch, in an emergency, to using the USB3 connection that's also on the back of the drive. I can see how some people might take the built-in cable to be a negative for that reason, but in reality I think I'm much more likely to forget to bring a cable, than I am to have one fail on me. For me then, I'd rather have it built into the drive for that simplicity. With USB3 on there as well, it's not a concern. There are some drives out there that have captive cables and no other options, like the WD MyPassport Pro. That would be more of a concern for me and I'd probably shy away from relying solely on a drive like that, at least for trips away from civilization for any great length of time.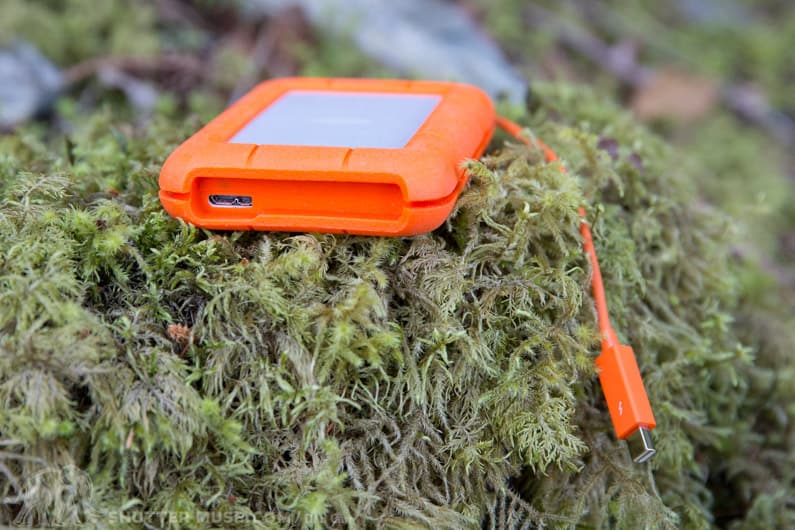 Video Review
Speed Test
I always run drives through AJAs disk speed testing tool to see how they compare to my previous drives. This time I happened to have a portable Seagate drive that offered both Thunderbolt and USB3 as well. Not only did testing confirm that the LaCie is as fast (if not faster) than they claim, but it also underlined its performance compared to other similar drives. In fact it was almost twice as fast a my Seagate drive. That's mighty impressive when you consider that they are both 5400rpm hard drives running over the same interfaces. It just goes to show that simply looking at drive speed and interface type when making a purchase, doesn't tell the whole story. In fact I was surprise to see LaCie didn't offer a 7200rpm version of the drive, but having seen the speed they've got out of the 5400rpm version I think I now know why they didn't bother. This is actually faster than some 7200 drives I've had in the past as well! Certainly no complaints in the speed department with this drive, excellent value for money.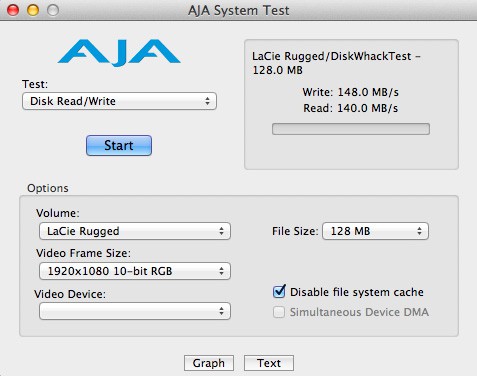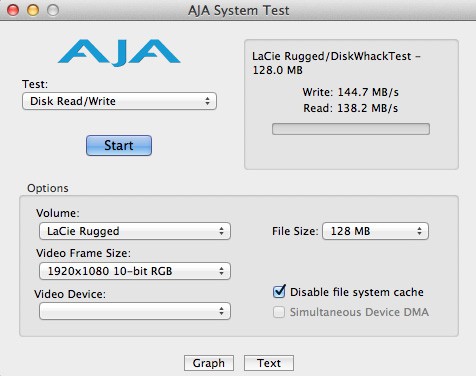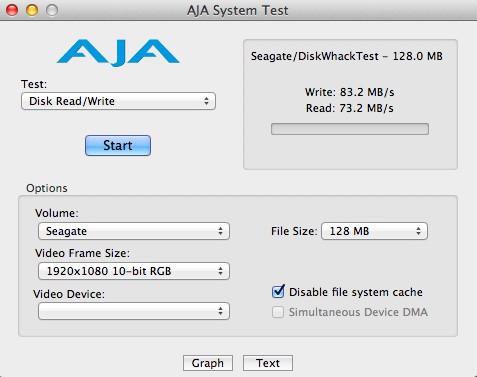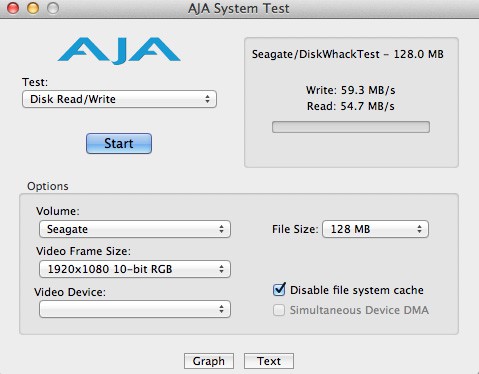 Bonus Drive Tools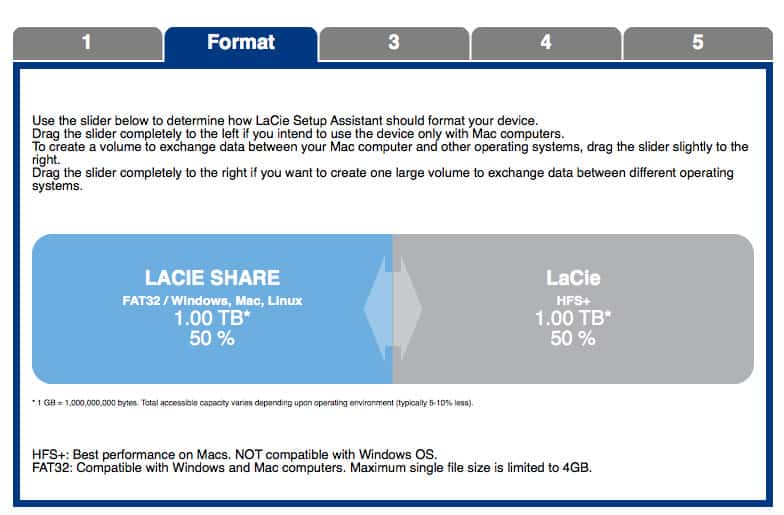 The Rugged drive comes with an installer on it that lets you add a couple of interesting tools very easily. The first tool essentially lets you format the drive in two partitions so that you can easily use it with both a PC and a Mac. Whilst I'd normally do any formatting using my Mac's built-in disk tools, it's no bad thing that they offer this option and draw attention to the fact that sometimes a partition is useful for this reason. A simple slider allows you to dictate the sizes of your partition and it's all set up with just a couple of clicks.

The second tool was of more interest to me and this one creates a secure password protected and encrypted vault on your drive. It appears as a separate drive in your file system and requires you to input a password when you want to access any files that live in that area. If you travel a lot and want to take private documents with you, like scans of your passport for example, then this could be an excellent little addition to your drive.
Conclusion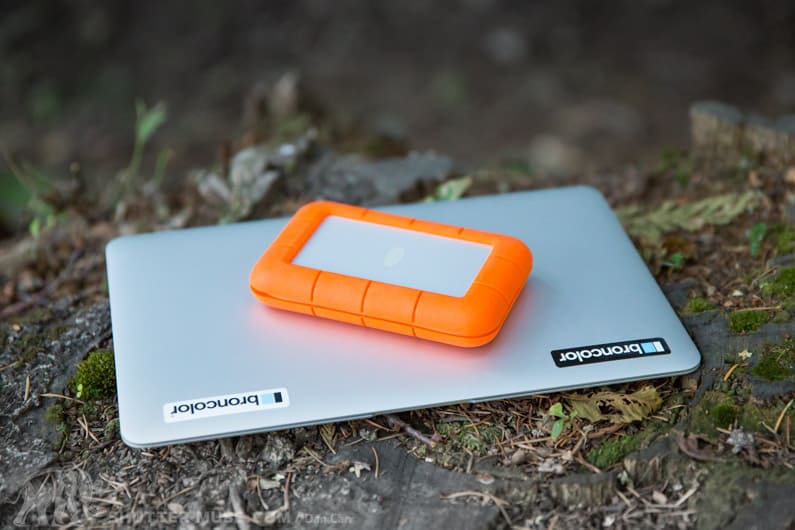 I pretty much knew what to expect when I ordered one of these drives but I ended up being even more impressed. It was faster than I thought it would be and it feels even more solid than previous versions of the drive that have served me well for many years. I've already had the opportunity to work this drive pretty hard and it's going strong, just as I would expect. I'm sure that as my other portable drives reach the end of their lives, I'll replace them with more of these LaCie Thunderbolt drives so I guess you can't really get a better endorsement than that.