The Shimoda Panel Wrap series offers photographers a simple way to organize various smaller photographic accessories in a padded, foldable pouch. The stored accessories are easily visible through transparent plastic windows. For this review, I purchased all three sizes of Shimoda Panel Wrap at full price through regular retail channels. I'll show you all the features and explain how I use these organizers when packing my camera bags.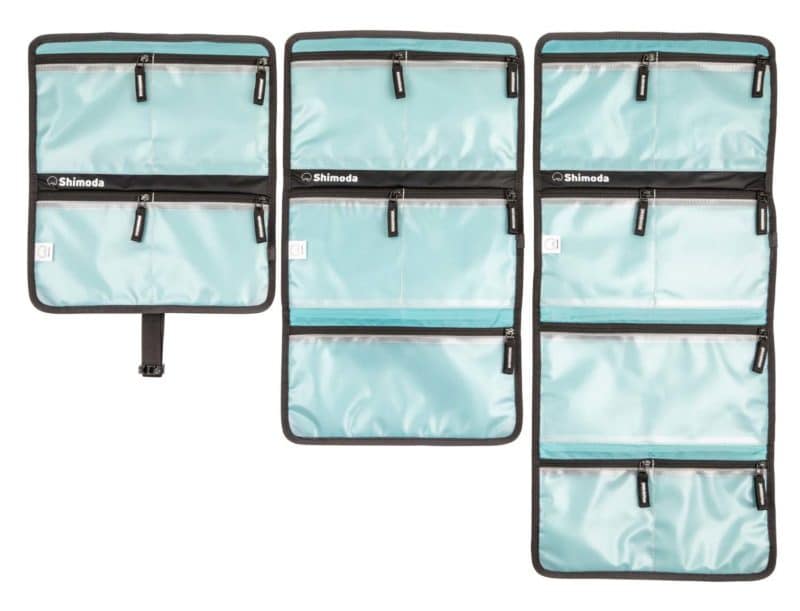 Table of Contents
Shimoda Panel Wrap Design and Function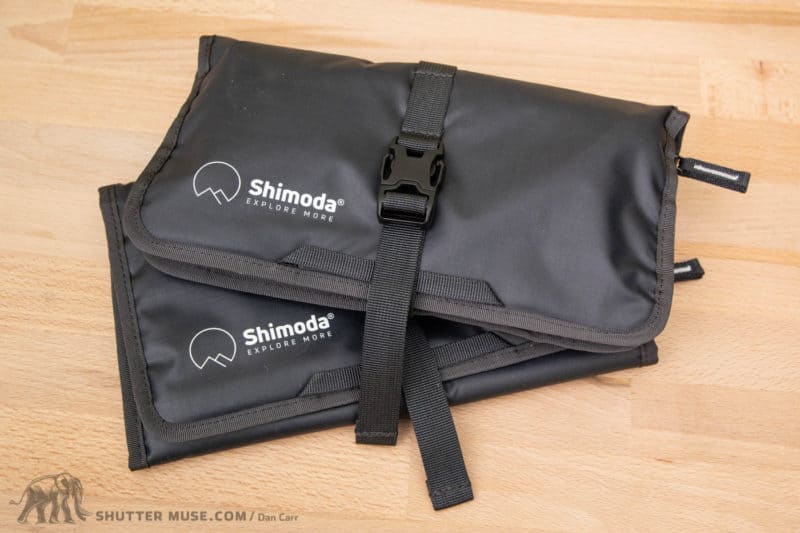 The Shimoda Panel Wraps are made from durable, water-resistant nylon that matches the aesthetic and ruggedness of Shimoda's Action X v2 and Explore v2 backpack lineup. What drew me to these products was the visibility and organization of small items once they were packed into zippered pockets. As long as you don't overstuff the pockets, it's easy to see what you have in your wrap. This design makes it perfect for organizing small tools, tripod-related screws, spare eyepieces, camera cleaning items, and less bulky cables. The two larger models also feature a full-width pocket wide enough for a shotgun microphone.
Landscape photographers take note: If you're often working from a tripod, a nylon loop makes it possible to hang the panel wraps from your ball head or tripod legs. The square pockets in the wraps are also well-sized for screw-on filters.
Another thing that drew me to these Panel Wraps is their shape and size. They are perfect for sliding into the smaller nooks and crannies of a camera bag or slipping into the top lid pocket of a photo backpack. The supple material is critical here. Although they are lightly padded, the wraps don't have any structure to them, so they can be compressed and squeezed to fit in a variety of places, unlike a product such as the Peak Design Tech Pouch, which is cubic and more rigid, requiring a similarly cubic slot in your bag.
Shimoda Panel Wrap Suggestions
I've always organized my gear into various organizers based on specific types of shooting. I have a bag full of microphone gear for video shooting projects, a bag of flash cables for any shoots that involve off-camera lighting, bags for underwater photography, and photography from a kayak… the list is long.
This is a strategy that has always worked well for me. When I head out, I grab the bags relevant to my day, and I also make sure I have my photography EDC kit, the organizer that comes with me on every shoot, no matter the subject. With three available sizes of Shimoda Panel Wrap, you can undoubtedly use these bags to create similar shoot-specific organizers.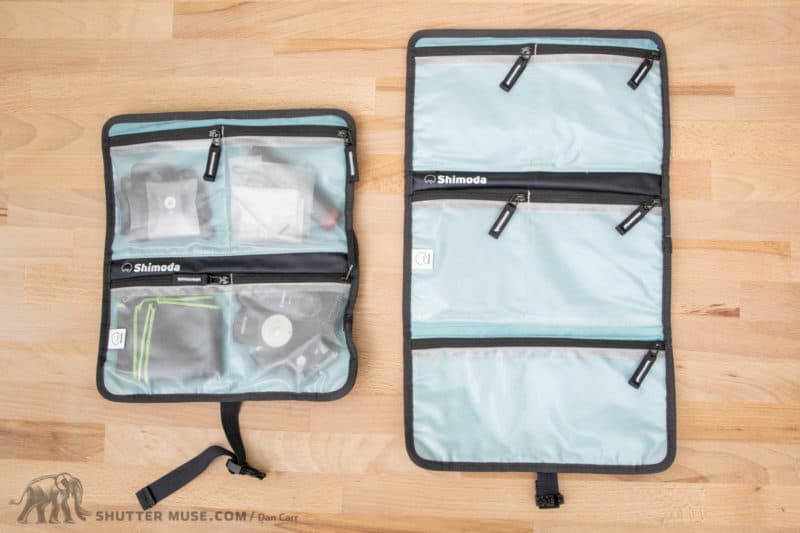 Conclusion
I'm a happy customer, and now, I always keep one of these in my camera bag. My one minor criticism is that the wraps should be offered in a few different colors or at least have additional colored straps to aid identification. Once packed and compressed, it's hard to tell the difference between a couple of them in your bag, even if they are differently-sized models. My current solution is to tag the strap of one of them with some colored gaffer tape. If you're looking for a smarter way to organize photo accessories (what photographer isn't?), these Panel Wraps should be on your list.
Where to Buy + Save 10%)
Shimoda Designs has offered Shutter Muse readers a 10% discount on anything purchased through their online stores. US, UK, French, or German residents should use the discount code ShutterMuse10 after clicking here to access the store. Australian readers should use the same code on the local Shimoda distributor's site, Maxxum, instead.
I recommend shopping directly with Shimoda, if you can, to take advantage of that 10% discount. However, using one of our other links is always appreciated if you can't do that. Shimoda doesn't ship directly to Canada, so fellow Canadians should buy from B&H Photo using the links below to take advantage of their free shipping and easy pre-paid duties.