The original Peak Design Field Pouch was launched many years ago alongside the very first Everyday Messenger bag and has been a fan favourite ever since. A few small tweaks were made along the way, but never enough to justify the V2 name, until now.
In this review, I'll show you all the ins and outs of this updated Field Pouch V2, and I'll also compare it to the original version so that you can see what has been improved and whether it's worth upgrading if you are a V1 user. Due to popular demand, I'll also dedicate a section to comparing the Field Pouch V2 to the Peak Design Tech Pouch.
Specifications
Size (empty) – 9.4 in (24 cm) x 7.5 in (19 cm) x 0.4 in (1 cm)
Size (full) – 10.6 in (27 cm) x 9.8 in (25 cm) x 4.3 in (10.92 cm)
Weight (empty) – 6 0z (170g)
Volume – 1.5L (expandable to 3L)
Pockets – 1 zippered + 8 internal stretch pockets
Materials

Shell – Weatherproof double poly-coated DWR impregnated 400D nylon canvas
Liner – Heavy, soft felt for bump and abrasion resistance

Additional – Leather touchpoints are sourced from suppliers with a gold rating from the Leather Working Group.
Colours – Black, Charcoal, Midnight Blue
Price – $44.95
Video Review
If you prefer to watch a video, I've got you covered. Don't forget to subscribe to the channel, and please give the video a thumbs up if you find it useful, it really helps us out.
Peak Design Field Pouch V1 Vs V2

From the outside, the updates to the Field Pouch are not immediately obvious, but on the inside everything has changed. The Field Pouch V2 has new stretchy pockets for your smaller items and a new zippered pocket that runs the full width of the bag. This wider pocket also has some stretch. Overall, the internal organization has been improved, and the stretchy pockets allow for a wider range in the shape and size of the accessories that can be carried. It's a definite improvement.
The Field Pouch V1 had a single central anchor point for use with Peak Design's Capture camera clip. For the Field Pouch V2, there are two anchor points for the Capture, and they are now located on the side of the bag. Of course, you are not expected to use both of them simulatenously, though I guess you could. Two are provided so that the camera can be positioned at your front, no matter which should you carry the bag over.
Another big improvement is the inclusion of a lightweight shoulder strap. With the Field Pouch V1, you had to purchase a strap if you wanted to use the bag over your shoulder. I always recommended the lightweight Leash camera strap or the Slide Lite for this purpose, but that did add a minimum of $40 to the overall cost. Not insignificant when the bag was also costing $40! For the Field Pouch V2, the cost has gone up by $5, but you now get a strap included with the bag. Seems fair to me.
Note: For the Field Pouch V2, Peak Design are now using recycled and Bluesign approved fabrics.
Should you upgrade?
The updated bag has some thoughtful updates, but overall, it's a relatively minor change. If you are happy enough with your original V1 Field Pouch, it means you didn't have any problem getting your accessories in the original pockets. In which case, it doesn't make a lot of sense to upgrade to the V2. The exception would be if you were considering buying a Leash camera strap for your V1. but hadn't gotten around to it yet. If that's the case, you might as well spend $5 more and simply upgrade to the V2 with its included shoulder strap.
Field Pouch V2 Features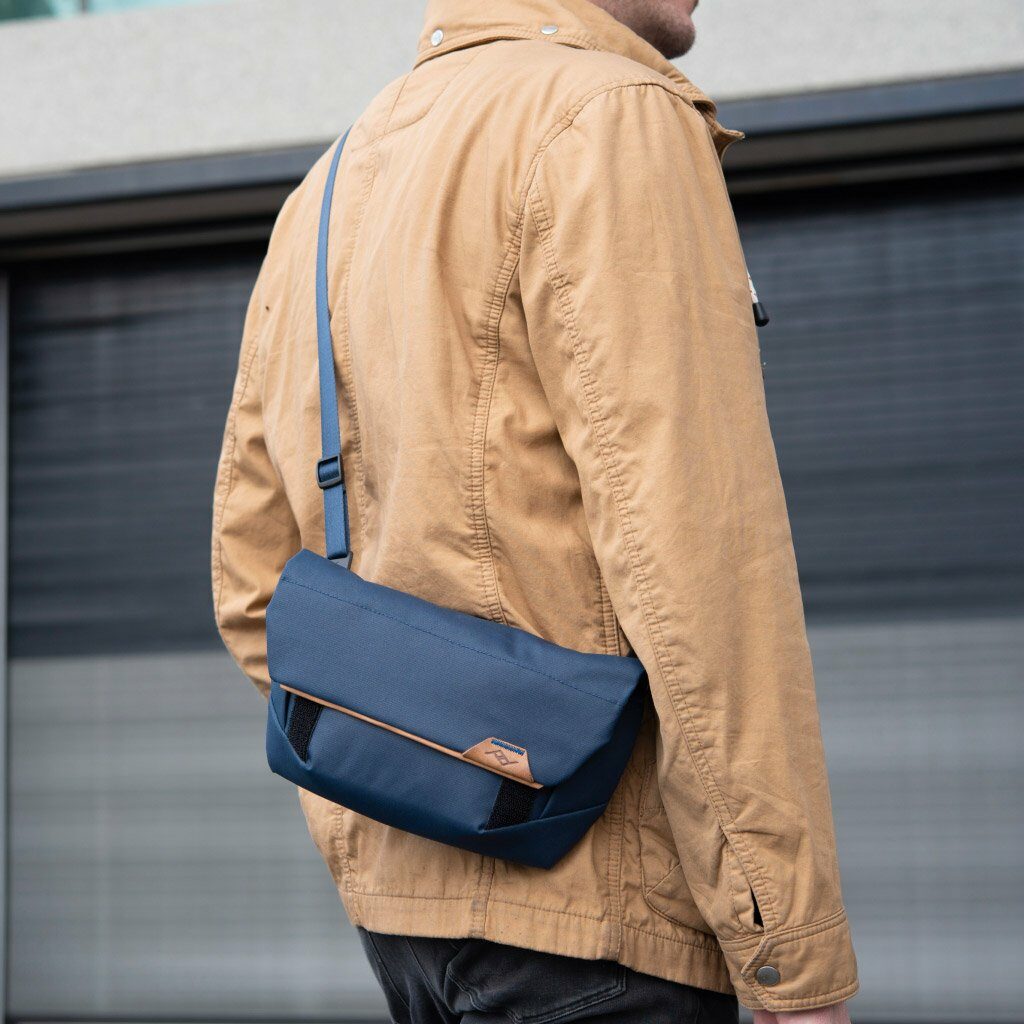 Expandable Size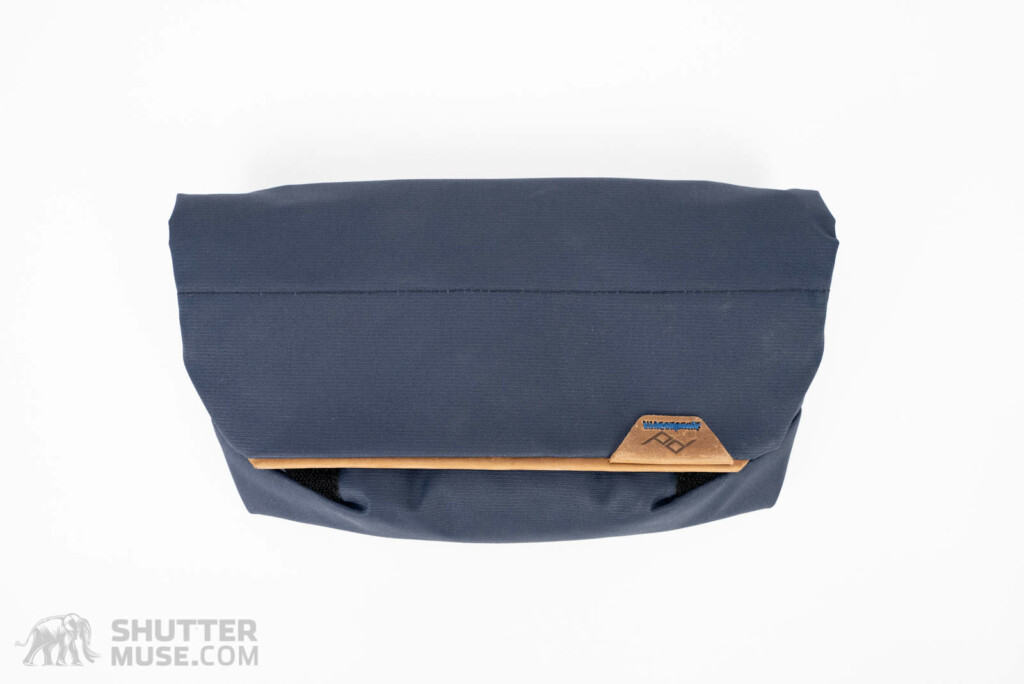 The Field Pouch uses a hook and loop system to adjust the internal volume. When compressed into its smallest size, the bag has a volume of 1.5L. When expanded to use the full length of the hook and loop closure, the volume is doubled to 3L.
Shoulder Strap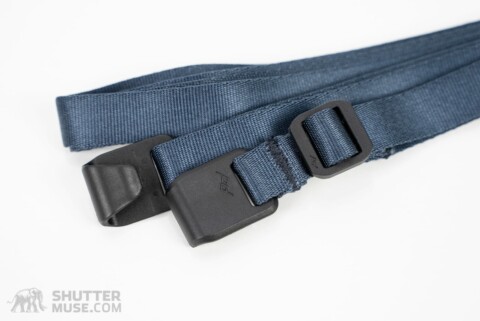 A basic shoulder strap is included with the bag. As you can see, this strap is relatively thin so you would not want to go carrying any lead bricks around in the bag. For a collection of small accessories, though, it does the trick. And you could always up the ante by pairing it with a Slide Lite strap if you did want something with more width.
Capture Clip Integration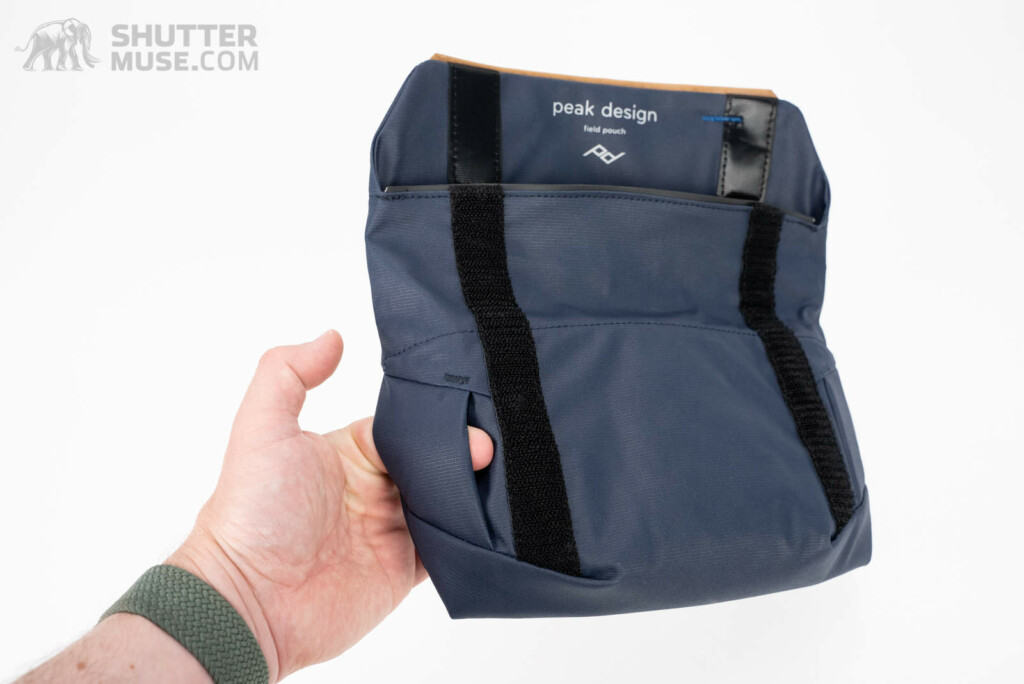 The Capture Clip integration is a nice feature, and I do prefer the new side placement to the centre placement on the V1 bag.
Belt Loop
You can wear the bag on a belt like a fanny pack. The smaller slits are for using with a regular belt from your pants. If you use the larger holes, you can more easily thread it onto the waist belt of a backpack.
Internal Pockets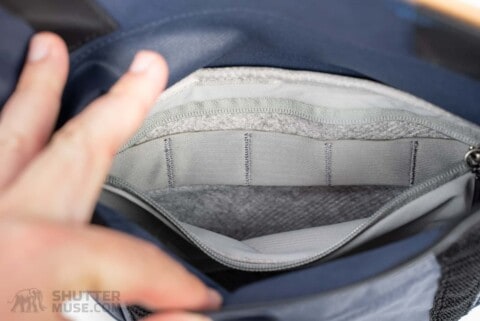 The interior of the bag has a stretchy zippered pocket, behind which you will find a series of small elestic pockets that are suitable for items such as memory cards or USB thumb drives. The zippered part of the pocket will stretch to accommodate large items like USB battery banks, or awkwardly shaped items such as sunglasses.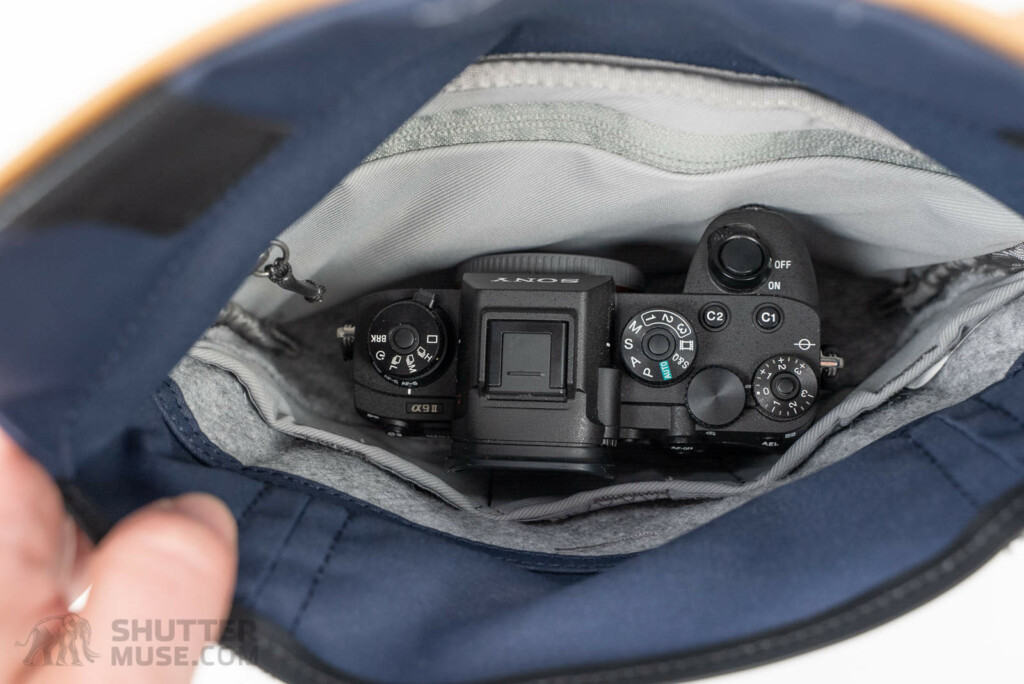 Field Pouch V2 Storage Capacity
If you want to use the Field Pouch to organize your small items for day-to-day usage, there is plenty of room for memory cards, a couple of spare camera batteries, a couple of filters, your phone charging cable and a USB battery pack to keep your phone or camera topped up throughout the day. On top of that, you could easily get your sunglasses in there, your phone, a lens cloth, a pen and a small notebook. As far as EDC gear goes, the Field Pouch has you covered.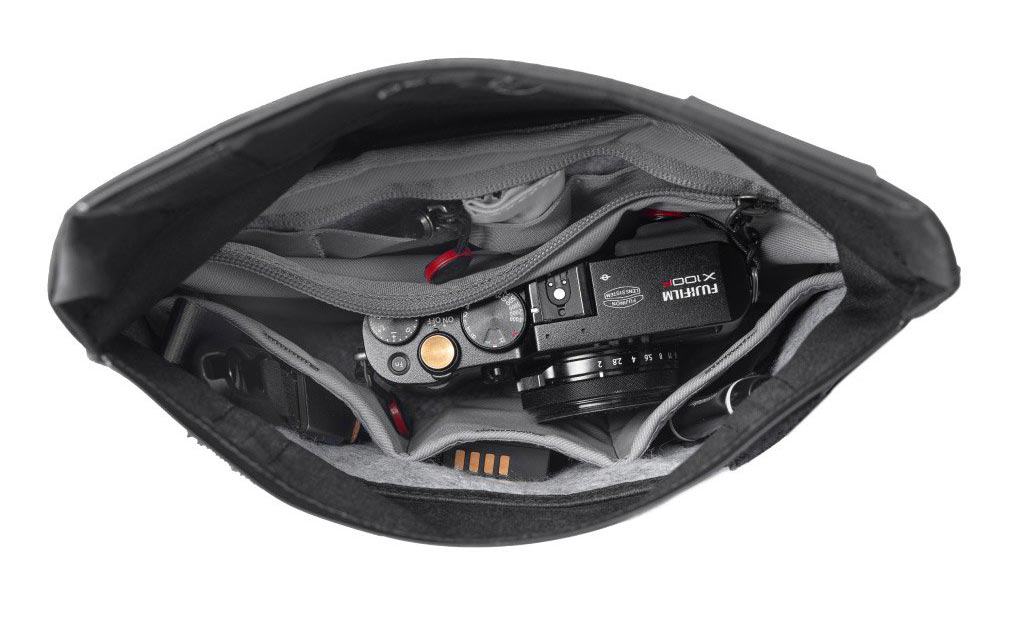 If you want to use it more like a camera bag, you have two options. Firstly, you could put a small camera inside the bag. For this to work, you would need a camera that is similarly sized to a Fuji X100, Sony RX100 or Ricoh GR. If your camera is too big to go inside the bag, you have the option of adding a Capture clip and putting it on the outside. For me, this is only a realistic option if your camera is a small mirrorless camera with a lightweight prime lens. Anything more than that and the width of the Field Pouch's shoulder strap just doesn't cut it.
In my testing, I also noted that the Field Pouch is an excellent travel organizer. It is sized perfectly to hold your boarding passes and passport, plus all the necessary COVID vaccination and testing paperwork that has become the norm in today's travel. In this guise, the small pockets are perfect for carrying my collection of hotel and airline loyalty cards, and there is still room to spare for my headphone, sleeping mask and noise-cancelling earbuds.
Peak Design Tech Pouch Vs Field Pouch
The Peak Design Tech Pouch is a popular organizer that suits everyday carry just as much as it suits photographers. The Tech Pouch's accordion design has since been copied by several other companies, so you know it's good!
The Tech Pouch costs $15 more than the Field Pouch, and it doesn't come with a shoulder strap. Unlike the Field Pouch which is design to pull double duty and work inside a bag just as much as outside on your person, the Tech Pouch is designed to be packed into your backpack or shoulder bag.
Both of these bags are capable of organizing a lot of gear, but they are best used in different ways. The Tech Pouch is best for chargers, batteries, cables and hard drives that are needed at your (remote) desk. When you get the Tech Pouch out and open it up on the table, everything is right where you need it to be. The same goes for putting it on the bedside table when you're travelling and you get to your hotel for the night. I love using the Tech Pouch in this way, and I genuinely never travel without one.
The Field Pouch V2 makes a better organizer for daily use items that you are grabbing multiple times a day while you are on the go. For photographers, the smaller size of the Field Pouch makes it much easier to fit into an existing camera bag, and the inclusion of the Capture camera clip rails is a nice bonus if you are already invested in the Capture ecosystem. If your camera is small enough, such as the Fuji X100 series, you can even use the Field Pouch as a small camera bag.
For even more details about the Tech Pouch, head on over to our Peak Design Tech Pouch review.
Conclusion
There are many photo accessory organizers on the market, but the Field Pouch V2 manages to stand out from the crowd. The expandable volume, included shoulder strap, integration with Peak Design's Capture clip and rugged materials make this bag something of a chameleon.
It's right at home carrying your charging cables, memory cards, filters and batteries while tucked into the top pocket of your camera bag. And it's equally at home slung over your shoulder like a camera bag, able to carry a small camera or that second lens that you need. While the updates for the V2 might not be groundbreaking, this just goes to show you how right they got the concept of this product in the first place.
Where to Buy + Special Offer
As always, it's greatly appreciated when you shop using the links on this page. I might make a small commission when you do this, and that helps me bring you more content in the future.