SmallRig is best known for its budget-friendly camera cages and video rig accessories, but this year it launched several COB LED video lights that are clearly designed to compete with Godox and Aputure's Amaran brand. In this review, I'll be taking a look at the SmallRig 120B, a bi-colour 120W light fixture with a Bowens mount, wireless app control nine lighting effects.
Note: SmallRig did supply the light for this review, but they were not allowed to see it before it was published.
Key Features
SmallRig lists the following features for the 120B light:
At a distance of 1 meter (3.3 ft.), the maximum illuminance of the bare light source is 4,450 lux at 5600k. The illuminance level increases to an impressive 52,800 lux after attaching the hyper reflector
TLCI 96+, CRI 95+, CCT 2700K-6500K, ultra-high color rendering, truly restore the color of objects
Supports manual light control and remote control with the SmallGoGo App. Intelligent light control offers color temperature adjustment and 9 light effects
Dual power supply system, support AC adapter and 14.4V/26V V-mount battery
The noise level of the ultra-quiet fan is only 25dB±2dB at 1 meter (3.3 ft.)
When the temperature of the lamp body exceeds 60℃ (140°F), the active heat dissipation function is turned on
Standard Bowens mount: compatible with most light-control accessories
Comes with a high quality snowflake cloth portable storage bag
Design and Build
The main body of the light is made from plastic, but it feels solid, and the Bowens mount on the front has a rigid connection with a smooth release mechanism. The support beneath the light is made from metal and includes an umbrella holder, but the plastic handle that releases the tilt mechanism feels flimsy compared to the rest of the light.
An LCD screen and two plastic knobs are on the back of the light. One knob changes the light's colour temperature between 2700K and 6500K, while the other knob selects from various special effects modes. These controls are simple and intuitive, with all the relevant information appearing clearly on the LCD screen.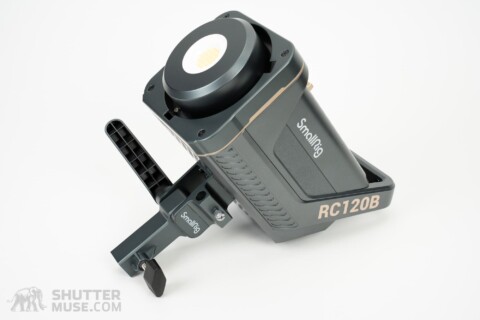 Colour Testing
For a first look at the colour accuracy of the SmallRig RC 120B, I set up a colour target in my studio and photographed the scene with four different lights. Three lights were different Godox models with a theoretical colour temperature of 5600K. I then set the SmallRig 120B to 5600K and used the same Bowens mount reflector on all four lights. The camera was set to 5600K, and all lights were given significant time to warm up before the test images were captured.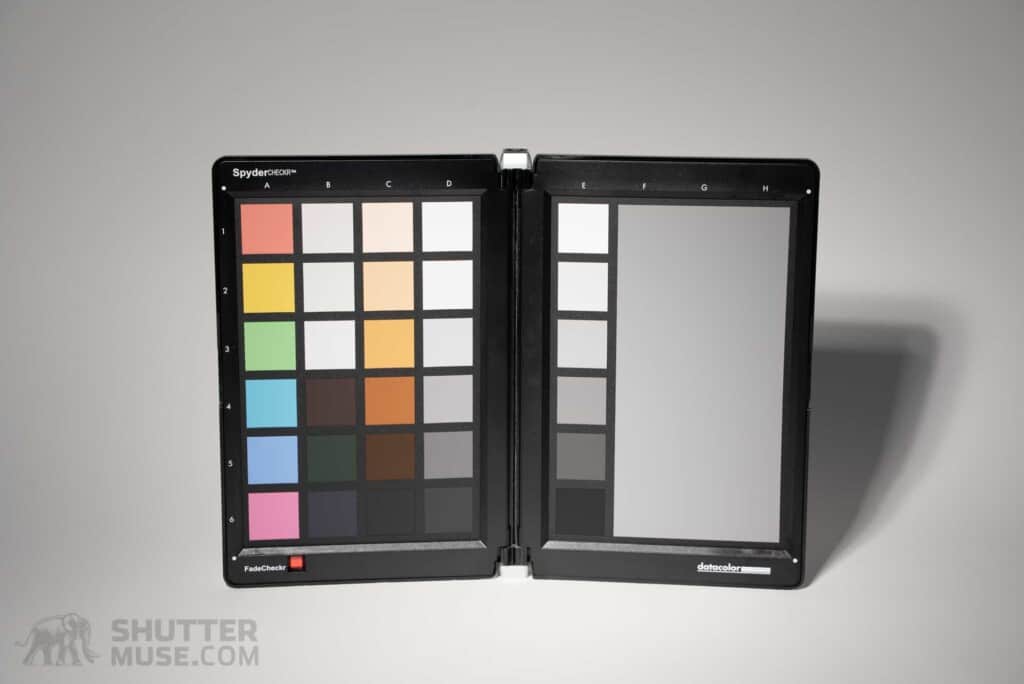 As you can see, the three Godox models produced roughly similar results. I would have no problem using those three lights together. Many review images on this site have been created using those lights. When it comes to the SmallRig 120B, the result sticks out like a sore thumb. It is nowhere near the other lights.
First, I adjusted the temperature of the 120B using the Kelvin control knob on the back of the light. While the LCD screen was reading 5600K, perhaps the inaccuracy lay with this calibration. If that were the case, it would be possible to dial in a different temperature to match the other lights. Although that would not be ideal, it might be a workable solution.
After plenty of messing around with this, I eventually landed on a 5200K setting on the light that appeared to match the colour temperatures I saw from my other lights. However, the tint was still leaning massively to the green side, and without a tint control knob on the light, there's nothing that can be done about this if you plan to shoot video under this light.
With the test images brought into Adobe Lightroom for closer inspection, I found that a tint of +14 above the camera default was necessary to get the image to a neutral tone. At this point, it was clear that further colour tests with this light were unnecessary. There was no way I could use this light to shoot a video without spending significant time trying to grade the green tint out of it. Furthermore, there is no way I could use this light alongside other more accurate lights.
While it is sometimes possible to grade video footage a small amount to correct tint and temperature from a light source, the worst thing you can do is start with lights that show uneven accuracy. There's no coming back from that as a grade to correct for your one bad light will screw up everything lit by your good lights.
This was a disappointing result. The quality and accuracy of COB lights have increased dramatically in recent years. As such, I would not expect to find a new-to-market light deliver such poor results, which leads me to believe that my light is faulty and went uncaught by SmallRig's quality control process.
Conclusion
The SmallRig RC 120B is an affordable bi-colour video light with decent build quality for the price and a nice carry case to store the head and accessories. Although the light is bright, my testing showed significant colour inaccuracies that made it hard to use.
Colour temperature inaccuracies can sometimes be corrected in bi-colour lights by ignoring the kelvin readout on the screen and simply adjusting the temperature to create the desired visual effect; however, my sample of the RC 120B also showed a significant green tint. With no tint control on the light, this can't be corrected, and I found it impossible to use the light in combination with any of the existing COB lights in my studio.
After discovering the severe green tint that this light was producing in my studio, I read and watched several other reviews of the RC 120B to see whether anyone else had experienced the same thing. It's impossible to state that all other reviewers are being entirely honest in their reviews. Still, there were enough positive reviews of this light from people I would typically trust to suggest that the light I got was a lemon. Most reviewers saw accurate colour reproduction, leading me to believe that quality control is the issue here and probably not the accuracy of all 120B lights.
This leaves my conclusion for this review less conclusive than I would typically like it to be. I can only review the product that is in my studio; from that point of view, I would not recommend this light based on what I saw in my tests. However, I'm willing to concede that this was more than likely a bad light that somehow managed to pass quality control inspections and make it out of the factory. If I had purchased this light from a retail store, I would have returned it immediately. So, at a minimum, I can conclude that SmallRig needs to work on its quality control. Unfortunately, it's hard to conclude any more than that.
Where to Buy
The SmallRig RC 120 is available in Daylight or Bi-Color versions from the following links.