The Godox SL-60 is a budget-friendly 60-watt COB LED that will be mainly used by YouTubers and beginner filmmakers to create studio content. Under some circumstances that we will discuss later in the review, it could also be used by stills photographers shooting relatively static subjects or still life in a controlled studio environment.
The SL-60 comes in two versions: The SL60W is a daylight balanced light with a temperature of 5600K. The SL60T is a Tungsten balance light with a temperature of 3300K. Both versions of the light retail for just $120.
The light shown in the photos on this page isn't a review unit. I purchased it at B&H Photo when I was looking for a key light to set above my desk while recording some screen capture photo editing tutorials. When I came across the SL-60, I couldn't believe how cheap it was! Can you really get a decent, powerful LED for just over $100? And one that comes with a remote control no less!
Let's find out…
Godox SL-60 Specifications
AC Power Supply: AC 100~240V 50/60Hz
Channels: 16
Groups: 6 Groups (A-F)
Power: 60W
Color Temperature: 5600k ± 200K
100% Illuminance (LUX): 4100 (1M)
100% Luminous Flux: 4500
Color Rendering Index: >93
TLCI (Qa): >95
R9: >80
Light Brightness Range: 10%-100%
Operation Temperature: 10-50ºC
Safe Temperature: <70ºC
Dimension: 23X24X14cm (without lamp cover)
Net Weight: 1.61kg approx
Of course, I'm testing the SL-60 light here, the cheapest of the Godox COB range. But the light is also available in three additional variations with more power: SL-100, SL-150 and SL-200. The design of the more powerful lights is nearly identical, but each one gets a little longer to accommodate a larger power supply and more cooling. If you get to the end of this review and like the look of the product, but wish it was more powerful, you have those options.
Upon unboxing this light I was impressed by the build quality. My expectations had been low because of the price point of this. You don't usually get much for just over $100, but in the case of the SL-60 was a pleasant surprise. The light is heavier than I expected, and it doesn't feel too plasticky and hollow.
On the rear of the light, you get a nicely backlit LCD screen and a rotary switch to adjust the brightness of the light in 1% increments from 10-100%. You can also use this control to assign the light to a specific channel or group for use with the supplied remote control. All the dials and switches have a pleasing enough tactile feel, and also surpassed my expectations.
Within the adjustable neck of the light is a hole to secure the shaft of an umbrella. In the supplied reflector there is also a section that can be punched out if you wish to use this within an umbrella. This is useful because umbrellas are a very cost-effective way to shape and control the softness of light falling on your subject. It makes sense that someone looking at a budget COB light such as the Godox SL-60 might also consider using umbrellas.
LED Lights for Photography
LED lights can be a great way to get started with off-camera lighting in photography. What you see is what you get, so it's easy to understand how the light changes as you move it around and use different modifiers. What's important to remember is that the brightness of the LED will have an effect on shutter speed that's available to you. A continuous 60w LED like the SL-60 is nowhere near as bright as a regular hot shoe flash, let alone a larger monolight.
This means that compared to flash shooting, you will have to use a much slower shutter speed and that can present problems with subject movement. A relatively weak LED such as the SL-60 would be fine for shooting static subjects such as food or other still life projects, but even then you are going to need to use a tripod if you need to stop down the lens to get a reasonable depth of field.
If your photo work is 100% static subjects, the SL-60 is fine. But if you want to try using continuous light for portraiture then I would recommend getting one of the brighter models. Filmmakers do not have the same problem here because video typically uses much slower shutter speeds. If you're shooting 24p video, most of the time your shutter speed is going to be set to 1/50 of a second.
Remote Control
The SL-60 comes with a remote control that has a range of about 60ft. I saw this listed in the specs for the light before I purchased and assumed it would be a simple on/off remote. Boy was I wrong! Once again, Godox surpassed my expectations here.
The remote gives you full control over the power of the light, as well as allowing you to control other Godox lights which you can group together. This means you can simultaneously control the power of multiple lights, or you can split them into groups such as key lights, hair lights or background lights. All of the information is displayed clearly on a backlit LCD screen, so you can even operate it in the dark.
Light Quality
Defining the quality of a lights output is a tricky thing. Not only is it somewhat subjective, but it's also greatly affected by the light modifier that you will inevitably place on the front of the light. However, what I can demonstrate is the spread and uniformity of the light from the supplied reflector. As you can see, there's a relatively smooth roll-off on the edges, with a slight hot spot in the middle.
I would count this as a good performance, largely delivered by what is a very nice reflector. Comparing it to photographic reflectors that I have in my office from much bigger flash brands, it looked identical an almost every way. That said, I doubt most people will use it with a reflector. One of the big benefits of a COB light is that the form factor allows you to tap into the vast array of studio light modifiers that are on the market. I would definitely recommend that you pair this light with some sort of softbox or at the very least a shoot-through umbrella.
In terms of colour temperature, Godox claims it to be 5600k +- 200k. I don't own a colourimeter to that's a tough claim to test scientifically, but at least anecdotally I never had reason to suspect this was not true. Images and video shot with the light looked good, and colour matched with daylight coming through my windows. To my eye, there was no noticeable colour shift while the light warmed up. I'm very happy with the quality of light that's output from the head, and it certainly gives you a great starting point before you put your chosen modifier onto it.
Perfect Light Modifier Pairing?
Speaking of light modifiers, I might have found the perfect pairing for the SL-60. It's called the Lantern Softbox and it's made by Aputure. This softbox has some directionality to it, but it also has a lot of spill around the edges from the globe shape that helps to spread light around a wider area. It's a fantastic solution if you only have one light, but you want to light a relatively large part of a room with a nice soft look.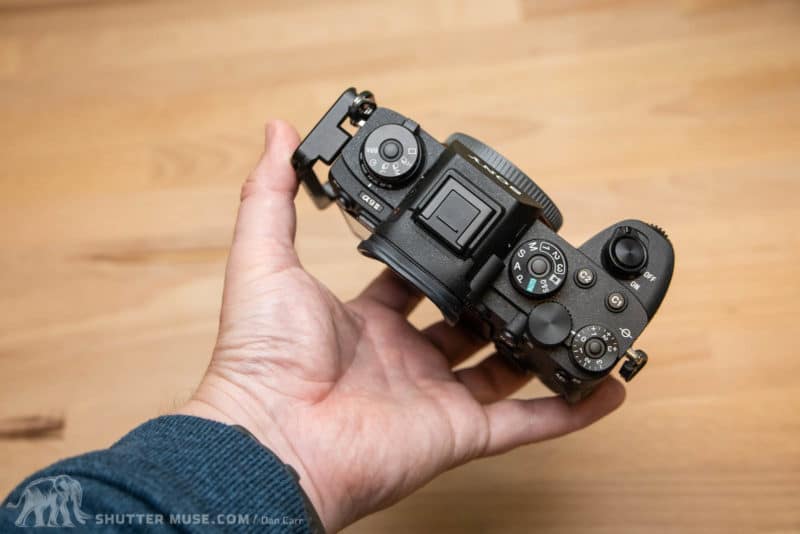 The Lantern also comes with a scrim that can be attached to the light to control and shape that spill. If you want the light to only shoot forwards, that's doable. If you want to create top-down product videos for Youtube, this modifier works incredibly well as a single-source solution. It's available on Amazon, but for some reason, it's often cheaper on B&H Photo. I bought mine from B&H for under $100.
Thoughts and Conclusions
The Godox SL-60 completely surpassed my expectations. In the past, I have used rectangular LED panels, but this time I needed a light that would work with traditional light modifiers such as softboxes and reflectors. With the SL-60 being a COB light, it has a much more traditional design that will be familiar to photographers. The standard Bowens mount on the front gives you access to an incredible range of 3rd party modifiers.
I had originally planned for the light to be a simple, cheap stop-gap in my studio until I could assign the budget for a larger light from a bigger brand. Honestly, I don't think I need to do that anymore, I'm perfectly happy with the Godox light and it more than meets my needs as a key light for some Youtube videos.
60 watts is on the low end of the power spectrum for a COB light, but for indoor video shooting where the light is being positioned just off-camera, it's plenty of power. Stills photographers who require much faster shutter speeds than filmmakers will want to consider a higher power version of the light such as the SL-150. That is unless you are only photographing still life subjects while using a tripod and longer shutter speeds.
The only real negative I found with this light is the fan noise. As soon as you turn the light on, the cooling fan kicks on. If you power the light down using the supplied remote control, the fan still doesn't turn off. You actually need to flip the physical on/off power switch on the head to shut it down completely. It would have been nice if there was a power relay to totally cut power, and therefore the fan, when using the on/off function of the remote.
There will always be fans on COB lights. In most cases, I don't think people will have a problem with the noise of this one unless you had a lot of these lights all in a confined space that was prone to echo. To put the noise into context, in my office where I hung the light, the fan noise is completely drowned out by the noise of my hard drives. So it's not bad, but it's something to be aware of. Don't put a camera too close to the light if it has a mic on it, and don't accidentally point a more directional mic in the direction of the light.
Overall, this is a fantastic product and I still can't believe how little it costs. If you're just starting to learn about lighting your videos and photos or need something to help you step up your Youtube game, this is a great purchase.