Both the Godox UL60 and SL-60 lights are daylight-balanced 60W COB LED lights for video or photo use. Lights with this kind of output are popular for indoor YouTube studios, but they can also be put to excellent use by photographers shooting static product images in a studio environment. Having used both in the Shutter Muse studio for product photos and videos, I thought I'd do a quick comparison.
My Godox Light History
I purchased and reviewed the SL-60 a few years ago when I was building out a small YouTube studio on a tight budget. It did a good job, but I moved to the silent Godox UL150 lights when they were announced. I loved the higher build quality, the big burly yoke and having the power control on a separate box that was easy to reach. The UL150s were a huge leap from the SL-60, but in reality, I never found that I needed 150W for my indoor usage. I'm working in a very confined space for my YouTube product videos, and I don't see that situation changing anytime soon.
When the UL60 was announced, about a year after the UL150, I was very intrigued. Although the UL60 is not much lighter, it is quite a lot smaller than the UL150, and it also features an upgraded power box with no additional power brick to manage. You simply have one power cable to the control box, and then one cable from the control box to the UL60. It also includes some special effects, DMX control and upgraded Bluetooth control. In many ways, it's kind of like a UL150 Mk2, but with only a 60W output. I would not be surprised to see an actual UL150 II in the not-too-distant future, with these upgrades.
When I found the Godox UL60 on sale at B&H for only $219 (check current price), I couldn't resist grabbing a pair of them to see how they compared to my bigger UL150s and also to my SL-60 which was now being used in a secondary set-up as a key light for my podcasting desk. In this post, we are going to be concentrating on comparing the ULC 60 with the SL-60.
Specifications
Godox SL-60 Specifications
Color Temperature: 5600K
CRI 93, TLCI 95, R9 80
Rear LCD and Onboard Adjustment Dial
Heatsink and Built-In Fan
Bowens S-Mount
Weight: 3.55 lb / 1.61 kg
Dimensions: 9.1 x 9.4 x 5.5″ / 23.0 x 24.0 x 14.0 cm
Godox UL60 Specifications
Color Temperature: 5600K
Fanless Cooling
CRI 96 / TLCI 97
DMX512 Compatible
Bowens S-Mount
Weight: 5.25 lb / 2.38 kg
Dimensions: 8.9 x 10.4 x 4.7″ / 225.0 x 263.0 x 119.0 mm (Including Yoke)
Brightness and Colour Temperature
I don't own a colourimeter that can measure exact light output in LUX, or colour temperature in Kelvin. For this comparison, I'll just have to keep it simple and relative. Which light is brighter? Which is more colour accurate?
To test this, I set up a subject at 1m from the lights, and I used the same reflector on both lights. Despite both lights being advertised as 60W lights, the UL60 was clearly brighter by around 1/3 of a stop. The SL-60 also produces a noticeably warmer light. When testing the colour temperature of the white background in Lightroom, the light from the UL60 was clearly much closer to the claimed 5600K temperature.
Different Reflectors and Their Effect
The UL60 and the SL-60 come with very different reflectors. The more rounded SL-60 reflector spreads the light evenly but does not create much, if any wrap-around effect, resulting in harsher shadows. This makes the SL-60's reflector a good option for evenly lighting backgrounds, but it doesn't work quite as well if you plan to point it directly at a smaller subject. Unless, of course, you want a very harsh shadow of your "look".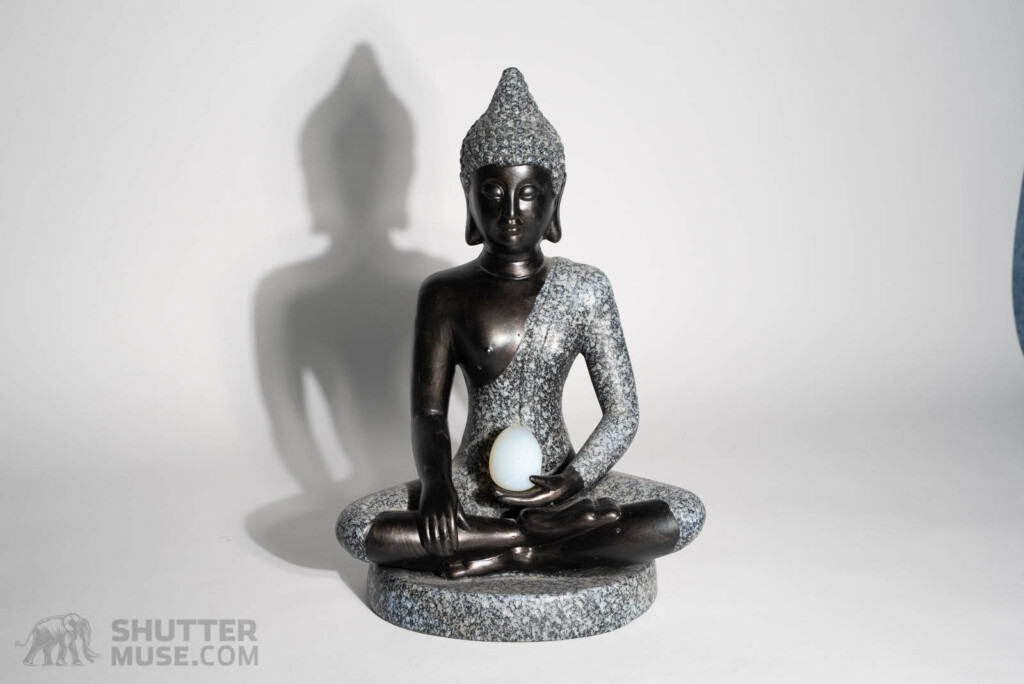 The reflector that comes with the UL60 is, in my mind, a more universally useful one, and one that works considerably better if you have to light people without a softbox. This reflector has a hotter spot in the middle, with a feathered area around the outside. As you can see in the sample image, the shadows are a lot softer.
The UL60 reflector is also more efficient. I tested both reflectors on the same light, and due to the tighter focus of the UL60's reflector, the light levels on close subjects are nearly 1-stop brighter than when the same light is used with the reflector from the SL-60.
Can You Use the UL60 or SL-60 As a Key Light?
Both of these lights are bright enough to use as a key light, with a light modifier, if you can place the light around 5-7ft away from your subject. If you need to place the light further away than this, I would recommend moving up to one of the many 150W options from Godox, such as the UL150, SL-150 or VL150. I personally do not see the point in bothering with the in-the-middle 100W lights like the SL-100. For just a few more dollars you can get one of the 150W which are much more useful.
SL-60 Fan Noise
The problem with 60W lights and fan noise is that due to the low light output, you normally have to place 60W lights quite close to the subject. Assuming you are capturing a voice channel from the subject, be that from an overhead shotgun or a lav mic, you will then pick up the noise of the fan on the audio recording.
With my SL-60 I found that I could get away with recording quick takes and not have the fan come on, but during longer shoots, it did become something I had to keep an eye on. I had much better results when using a lav mic, and had to steer clear of using a boomed shotgun which placed the mic too close to the light. I always got the job done, but worrying about fan noise and dealing with it when it kicked in, is just another thing that would be on my to-do list.
On the other hand, the Godox UL60 is completely fanless. The entire case of the light is one giant heatsink. You will never have to deal with fan noise again if you choose to use the UL60, and the light doesn't get all that hot. In my testing, I ran it at 100% for a couple of hours, and I could still place my hand right on the metal light casing. The UL60 passive cooling design is clever and effective.
Conclusion
Not surprisingly, the silent Godox UL60 beats the Sl-60 light in every possible way. It has better colour accuracy, a brighter output – despite both being claimed as 60W-equivalent – silent running and a considerably better build quality. Aside from the performance benefits of the UL60, there are also considerable ergonomic benefits of this design over the cheaper SL-60. Power control on a box mounted to the lightstand is a much better solution than control on the head itself, which is often out of reach.
Once I tried the UL60, I simply couldn't go back to the SL-60. I sold it immediately. If you can pick up a UL60 on sale for $220 as I did, I think it's an absolute no-brainer to choose this over the SL-60. At that price, the difference is $100, and yet the UL60 feels like a high-end pro head that is worth more by several factors. Godox continues to amaze me with the value they can squeeze into their lighting products.
Even if you can't grab the UL60 on sale, the full price of $299 still seems like a great deal to me. The build quality of this light is exceptional. This is a last-a-lifetime professional-grade product. It isn't even in the same league as the SL-60. You could take three of these, for under $1000, and use them in a tight space for a 3-point lighting system, never have to worry about fan noise and easily control all light levels wirelessly or with a DMX control panel. Things have come a long way in a short time, and it's mainly thanks to Godox.
Where to Buy
Check the prices at these online stores to find the best deal.
Godox SL-60
Godox UL60