Adobe engineers have been hard at work adding new AI-based features to their software, and in March 2021 they added the most important one yet. The new Super Resolution feature builds on the Enhance Details feature that was added to Photoshop and Lightroom in 2020. Enhance Details uses AI machine learning to add additional fine details to your existing image, and correct aliasing issues. It then spits out a new DNG file that contains the new, more detailed image.
With Super Resolution, Adobe is taking this a step further. Once the Enhance Details option is selected (photo>Enhance Details), you can now check the box that says Super Resolution. When this option is chosen, Adobe Camera Raw will enlarge the image so that the longest edge is now twice as long. Afterwards, you'll end up with a new DNG file. All previous Camera Raw edits will be automatically applied to this new DNG.
Note that this process does not double the number of megapixels in your photo, it quadruples it! For example, a 24MP photo has a pixel dimension of 6000x4000px. Super Resolution will double the longest side, giving you a new image with a 12000x8000px size. That's 96MP!
This new feature opens up a world of possibilities for people that want to create large prints with smaller resolution cameras. Or people that would like to go back through their archive and print older images that were taken in a time when digital sensors were lower in resolution.
How to Find and Use The Super Resolution Feature
Several comments on this post are suggesting to me that it's not intuitive to find this Super Resolution option in Adobe Camera Raw. Here is a step-by-step guide:
Open your image in Adobe Camera Raw (see additional notes below if you don't know how)
Right-click on the image
Select "Enhance Details"
Check the box for "Super Resolution"
Click "Enhance" button.
At launch, this feature is only available in Adobe Camera Raw, but it will be coming soon to Lightroom CC and Lightroom Classic. It should also be noted that it is not limited to RAW files. You can perform a Super Resolution enhancement to a JPEG or a TIFF, too.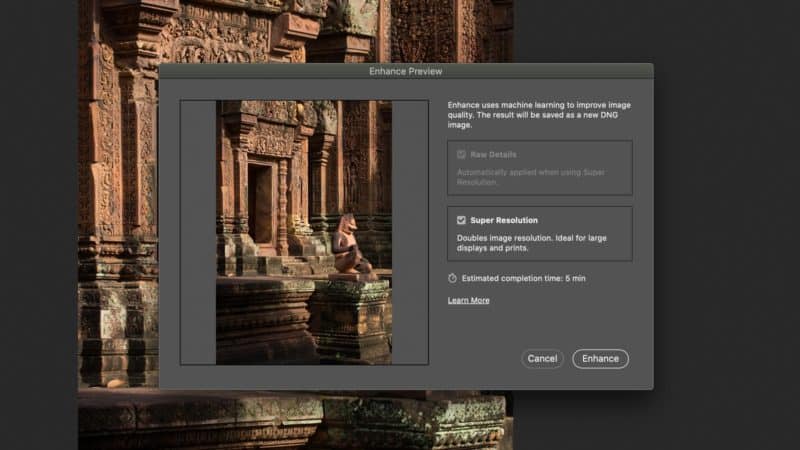 Opening an Image In Adobe Camera Raw (ACR)
For those that usually work in Lightroom and are not familiar with Adobe Camera Raw, you can open it by simply dragging a RAW file from your file browser to the Photoshop application logo in your application bar. Or, if you are looking to work on a TIFF or JPEG, the easiest way is to use Adobe Bridge to browse your files, then right-click on the one you need and click "Open in Adobe Camera Raw".
Testing Super Resolution With an Older Image
As soon as I heard about this feature, I had to test it out for myself. For the first test, I chose a challenging image with a lot of details in it. This photo was taken in Cambodia some time ago with a Canon 5D Mark III. At the time, the 22.3MP sensor was cutting edge stuff. While I'm actually still incredibly impressed by the amount of fine detail in the original file, 22.3MP is somewhat limiting when it comes to making large prints. This image is a prime example of one I might go back to in my archive, and consider printing much larger if the Super Resolution feature can perform some magic.
Here is an overview of the original image so that you can see what we're working with:
Original 100% Crop
Next we can see a 100% crop from a detailed part of the original image:
Bicubic Enlargement 100%
Adobe's standard method for image enlargement uses a process called bicubic smoothing. This is the process that is used if you simply open an image in Photoshop, then go to Image>Image Size and enter image dimensions that are larger than the original image.
To get a baseline on how well the new Super Resolution feature performs, I think it's important to take a look at results of the older process.
As you can see, this isn't a great result. The original image details have been lost, and printing an image using this version would yield only marginally better results than simply using the original image with a lower DPI.
Super Resolution 100%
Now let's run the exact same process using Super Resolution. Here is the new 100% crop from what is now an 89MP image file:
When I first opened the full image and scrolled around it in Photoshop, my jaw hit the floor. Look at the difference! If anything, this new image looks a little too sharp! ACR is obviously doing some sharpening during the interpolation process, and I think it might take a little experience to judge how sharp of an image you want to feed into it. Perhaps you don't need to apply much, if any, sharpening to your original image to get the perfect output from the Super Resolution version.
What I'm not seeing at all, are any weird artifacting issues or any additional noise over and above what was in the original image. Honestly, I think this might be the most impressive Photoshop/Lightroom feature I have ever seen.

Please keep in mind that displaying the results in a compressed-for-web JPEG form is not really going to do this the justice it deserves. If you think the results are pretty good in this example, just wait until you try it for yourself! This is a 22.3MP photo that has been turned into an 89MP photo in a very useable way. Incredible stuff.
Initial Conclusions
My firsts tests with this feature produced amazing results. There's no doubt in my mind that this will help many people create larger prints with their images. What is nice is that for many people who already subscribe to the Creative Cloud, this is a major new feature that they are getting for no cost. And one that previously would have required a relatively expensive plugin to get somewhat comparable results.
Topaz Gigapixel AI will still have a market for those that don't use the Creative Cloud, but I would imagine that CC users will start to lean towards using the Adobe Super Resolution feature, particularly once it does arrive in Lightroom CC and Classic.
From a workflow point of view, it's relatively simplistic at the moment. It would be nice to see some batch processing capabilities in the future, similar to those that are offered by Topaz Gigapixel AI. I'd also like to see one or two more options regarding the output size. For many people, quadrupling the image size is going to be overkill. I'd like to see a lesser option, particularly when you take into account the enormous size of the Enhanced DNG file that you end up with.
A head-to-head comparison with Gigapixel AI will come very soon. Stay tuned!