I've had the Tamrac Anvil Super 25 in my office for a few months now, and I've taken it on a couple of wildlife photography trips here in Canada, packed with my Canon 200-400 f/4 L IS attached to a Canon 5D Mark IV. That's exactly the kind of setup that this bag is designed for; A super telephoto lens and a camera. In my experience, there's two scenarios where a bag like this is a useful piece of kit. Firstly, when you're shooting a sports event and your super telephoto lens doesn't fit into your regular roller bag or backpack, and secondly, when you're shooting wildlife and you want to travel into the field as light as possible with a single lens and a camera. The first of these two scenarios is more of a transportation solution to get your big lens to the sidelines, while the second is definitely more of a carrying solution.
Specifications
External Dimensions – 25 x 57 x 27 cm (10 x 22.5 x 10.5 in)
Internal Dimensions – 22 x 54 x 24 cm (8.5 x 21 x 9.5 in)
Weight – 2.0 kg (4.4 lbs)
500D CORDURA Nylon Fabric with 2x PU coating
840D Polyester Dobby Fabric with 2x PU coating
210D Oxford Nylon lining
YKK® zippers
In Use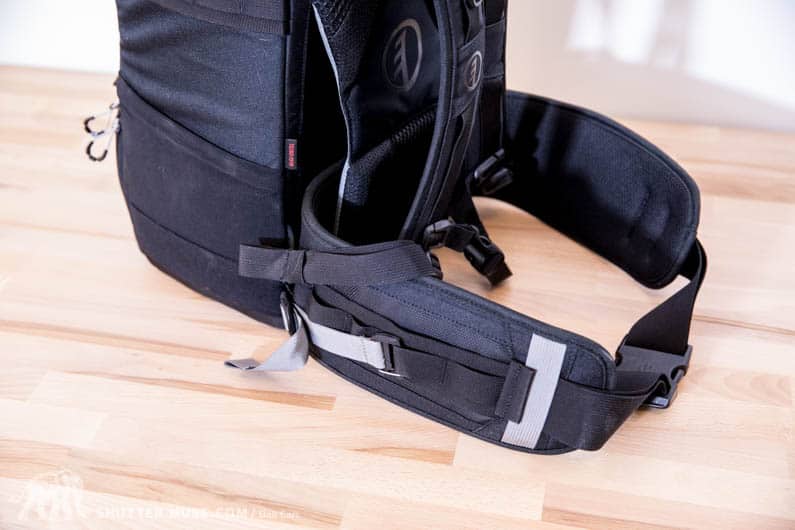 The Anvil Super 25 provides an impressively comfortable harness system. I particularly liked the extra wide hip belt, something which so many bag manufacturers skimp on. When carrying a heavy pack for many hours, much of the weight should be transferred through the hips using a belt like this, and this might be the best one I've ever seen on a camera bag. It took a little fine-tuning, but it wasn't long before I had it all set up to my liking and carrying it for long durations was no trouble at all.
The sides of the pack feature standard molle rails for attaching accessory pouches. Tamrac make their own pouches if you want to maintain a similar look, but the rail setup is standard, and there are literally hundreds of options from the big retailers. Since this bag is really designed for a single lens and camera, you are going to need to add pouches to the side if there's anything else significant that you want to carry. Of course, if you really want to carry much more, perhaps this style of bag isn't for you, and you should be looking at a more standard photo backpack, but I'll discuss this more at a later point in this review.
When you unzip the main opening of the bag you'll find a set of four tiny memory card pockets, and one other zippered pocket inside this lid. The zippered pocket is large enough for a couple of smaller camera batteries, but due to the tapered nature of the opening, you're not going to fit much else in there. A pro-sized battery from something like a Canon 1D series camera would be a tight squeeze, which is poorly thought out when you consider that this is the kind of camera that is so often attached to lenses of the size that this bag is designed to carry. Let's circle back to these other smaller pockets for a moment though… Since they are square, and tiny, I can only assume that they are meant to hold memory cards, because I can't imagine what else the designers would have had in mind. The problem is that the pockets have absolutely no way to be secured shut, and when you open the lid of the bag, it turns the pockets upside down, immediately spilling the contents of them onto the ground. I pray that nobody is stupid enough to put a memory card in one of these pockets because not only will you loose your card(s) which likely cost you hundreds of dollars, but you will loose your images too, which potentially cost you much more than that to create. I honestly don't know what the designers were thinking. I've seen unsecured, small pockets on camera bags before, and it's always left me scratching my head. But I've never seen them included on a lid that actually turns the pockets upside down when you open it. These pointless pockets take up valuable space that could have been far better used for a second standard zippered pocket that was large enough to hold a pair of pro-sized camera batteries, or simply large enough to hold a memory card wallet! This particular area of the bag is its main weakness in my opinion. Photographers usually have many small trinkets and accessories, and realistically, you're going to need to pack them into some sort of separate accessory pouch to manage them within this pack.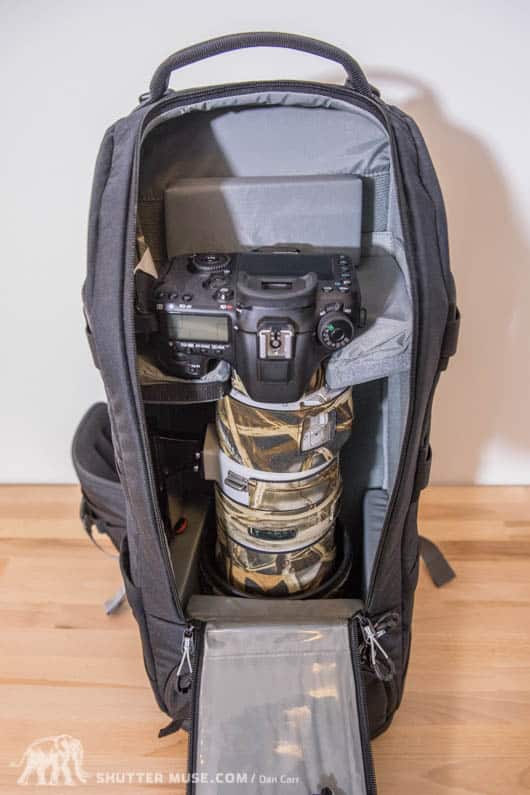 The padding that's provided for securing the lens is excellent, and my lens and camera were definitely held very firmly in place. There's no doubt that this bag does an excellent job of protecting your precious cargo. Whilst there are several padded blocks provided to secure the lens in place, it's not quite clear to me how many you will get when you buy this pack. My review sample had four large blocks to go around the lens hood, and one small block, although photos of the pack on the Tamrac website clearly show more than this. I wish I'd had one or two more, and I also wish the bag had included a few small standard camera bag dividers so that I could configure a small section to carry an extender (teleconverter). I think it's pretty fair to say that most super telephoto lens users will carry an extender or two with them, but this bag makes no provision for carrying one at all. You're going to need to have a separate pouch for it, or wrap it up in something soft to tuck it down the side of the lens. Maybe you've got some spare dividers lying around from another camera bag? Those will also do the trick, and that's what I ended up using.
To carry a tripod or monopod, you're got two options. The front of the bag has two quick release straps to secure the tripod, but this method strangely requires you to use one of the bag's only zippered pockets as the place to put the tripod feet, rendering the pocket unusable. The second option is to tuck the tripod legs in behind the molle rails on the side of the bag, and stick the feet in the elasticated side pocket. I usually prefer mountain a tripod on the side of a bag like this, because it keeps the heavy weight of it closer to your centre of gravity instead of dragging you directly backwards. Since the tripod straps from the front of the bag are removable, I'm not sure why they didn't provide an option to use them on the side of the bag, but for all but the absolute largest tripods, the molle rail method will work. For reference, the tripod in the photo is my RRS TVC-24L.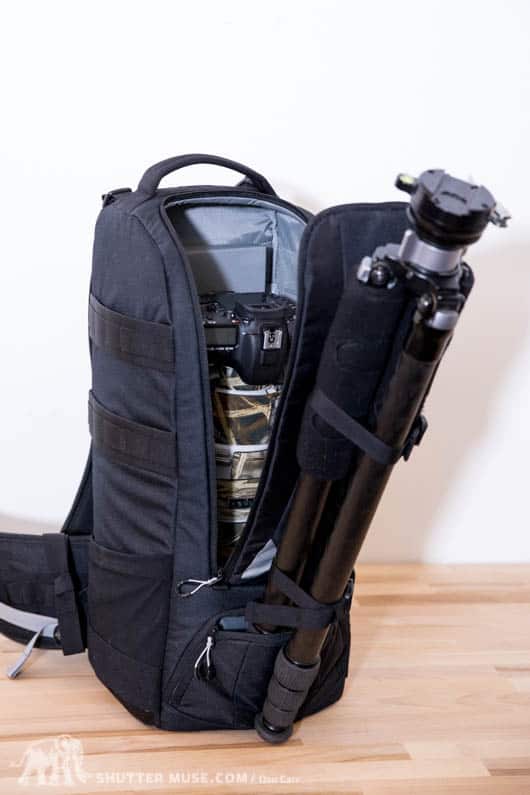 Alternative Options
The most obvious alternative to the Super 25 is the Think Tank Glass Limo. This bag is a little smaller than the Tamrac bag, so you won't be able to squeeze your 600mm into it with the body mounted to it like you can with the Super 25, but it does give you many more usage options because as you can see in the photo above, it comes with a full assortment of internal dividers, and also a sensible set of interior and exterior pockets for holding accessories. The Glass Limo is a little more geared towards the sports photographer who needs to transport a lens to an event though, and as such, the harness system isn't as suitable for hours of trekking. It's not bad by any means, but the Anvil 25 does have it beat in that particular area.
Another option for some might be the Lowepro Lens Trekker 600 II.  This thing is absolutely HUGE! It will easily swallow a 600mm or 800mm lens with a pro body attached to it! Personally I think it's unnecessarily large, and quite possibly the dullest looking camera bag ever designed, but there you go… it's an option!
Lastly, there's the interesting Lenscoat Xpandable bag. This chameleon of a bag can be extended to accommodate a 600mm lens, or collapsed to suit something smaller like a 300mm or 400mm. It's a nifty idea, but it lacks the padding and harness comfort of all of the other options. If you don't really plan on carrying your gear too far, or are accessing things from your vehicle, then the Xpandable bag might be worth a look.
Now, there are also many larger packs that hold super telephoto lenses, such as the MindShift FirstLight 40L (review) and their Moose Peterson backpack series as well. These more conventionally styled photo packs can carry much more than just a camera and a single lens, but they cost considerably more money too. For this review, I'm going to assume that you have a good reason to be just looking at this style of super telephoto lens bag, rather than a regular backpack, so I'll limit the discussions to these.
Pros & Cons
Pros
Reasonably priced when buying from the bigger retailers and not direct from Tamrac
Extremely comfortable when fully loaded
Rain cover included
Lens padding and securing system works very well
Cons
Main zipper feels a bit cheap
Poor selection and design of accessory pockets
Tripod straps don't mount on the side
Front pocket required for tripod feet – no tripod "cup" provided as with many other bags
Conclusion
When you're making a decision about a bag to carry a super telephoto lens and a camera, there Tamrac Anvil Super 25 is going to make your shortlist simply by virtue of the fact that there aren't all that many options out there. I think the Lowepro Lens Trekker is unnecessarily large and the comfort of the Lenscoat Xpandable bag is questionable, so for many people it'll come down to Tamrac Anvil Vs. Think Tank Glass Limo.
If you're doing your online research between these products, make a note of the fact that the Tamrac bag can be had for less money than the Tamrac website tells you. I nearly fell into this trap while compiling my review! If you take the price of the Think Tank bag from their site, and the price for the Anvil from the Tamrac site, you will mistakenly conclude that the Tamrac bag is the more expensive of the two, something which would have been a definite negative point because it also falls short of the Think Tank bag in a couple of areas. However, when I actually looked the price up on B&H Photo, I found that the Tamrac bag is actually selling for over $30 less when you buy from third-part retailers.
If you're looking for a bag that can serve double duty as a long lens bag, and a regular photography pack, then the answer is clearly the Think Tank Glass Limo as they provide you with enough dividers to configure things however you please. The smaller size of the Glass Limo will also better suit people using a 300mm or 400m lens. I'd say it's a pretty close call between the two for those carrying a 500mm or a 200-400, and if you're carrying a 600mm f/4, then the edge probably goes to the Tamrac as you do at least have some option to carry it with the camera attached, even though it's a tight squeeze and not an officially recommended option. The biggest letdown for the Anvil Super 25 is the poorly thought out considerations for carrying accessories, both big and small. In this area the Think Tank wins the fight, so if you're wanting to carry a lot of smaller items with you then it might suit you better, or else you'll need to be prepared to put a small accessory pouch into the Tamrac bag, or on one of the external rails and the cost of this will negate the lower price of the Anvil pack.
If your choice comes down to price, you'll be happy with the Tamrac Anvil Super 25 because it's well made bag, and extremely comfortable when fully loaded and making use of the hip-belt.
In the interests of disclosure, Tamrac provided me with this backpack free of charge for review purposes. As I'm sure you can see, it hasn't affected the honesty of my findings.