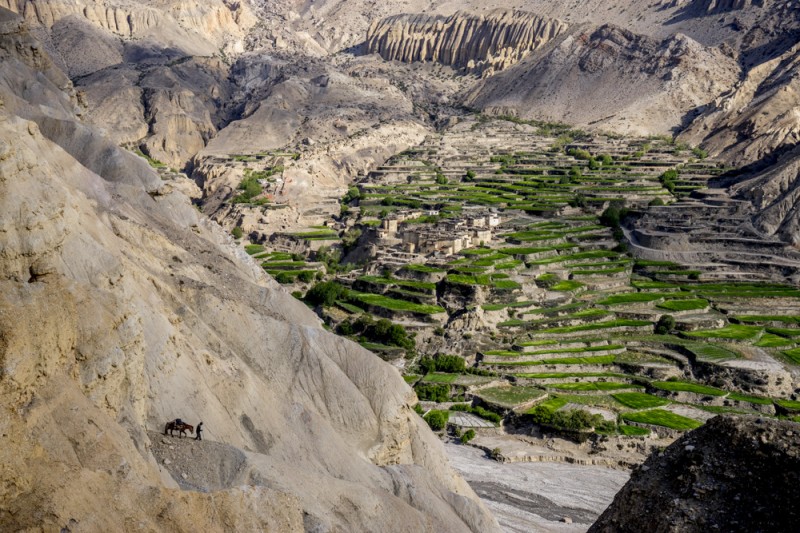 Packing my bags for a three-week trek in one of the most remote parts of Nepal was no easy feat. On top of the regular gear you need when you are miles from any sort of communication, medical help, electricity and modern civilization, I also had to work out what I was going to do about my precious photographs. How was I going to charge batteries? Back up my photographs? Have enough storage to fit all the invaluable images of the adventure? With weight and space being at a premium it was important to pack as light as I could!
We were headed to the Upper Mustang, a heavily protected National Park near the Tibetan border of Nepal with New Zealand trekking company Adventure Consultants. Tourists have only been allowed to visit this part of Nepal since 1991 and to this day can only enter in extremely restricted numbers, so this area is quite remarkable.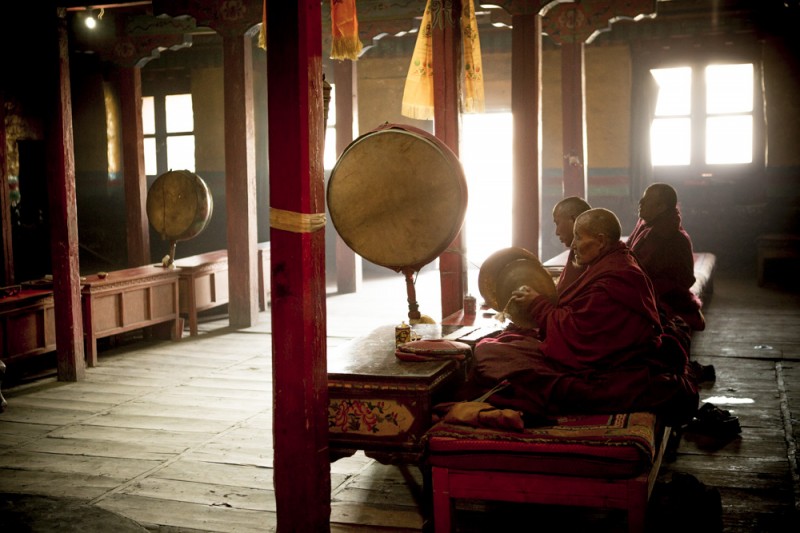 The villages are still very uninfluenced by western culture and our modern ways. Electricity and 'roads' have only just reached some of the villages while many others remain totally cut off with the only access being by foot or horseback. For this reason, visiting these villages is like walking back 2000 years. It's a photographers dream and documenting this journey was so important to me. I had to make sure that I would have enough memory storage and battery power to back up my work for the whole trip.
I started with buying memory. With my Canon 5d Mark 3, I am able to shoot and record simultaneously to both an SD and a CF card. By setting up my camera to record full quality RAW to a 64GB CF card and high res JPEG to a 64GB SD card I was able to shoot and back up at the same time. If either card became corrupted I would have some sort of back up. This is the way I shoot now, always with both cards recording the same, and when memory is not an issue I shoot with both cards recording RAW. I collected up all my SanDisk memory cards, an assortment of 64 & 32 GB SD and CF cards and put them in two waterproof, smash resistant cardholders!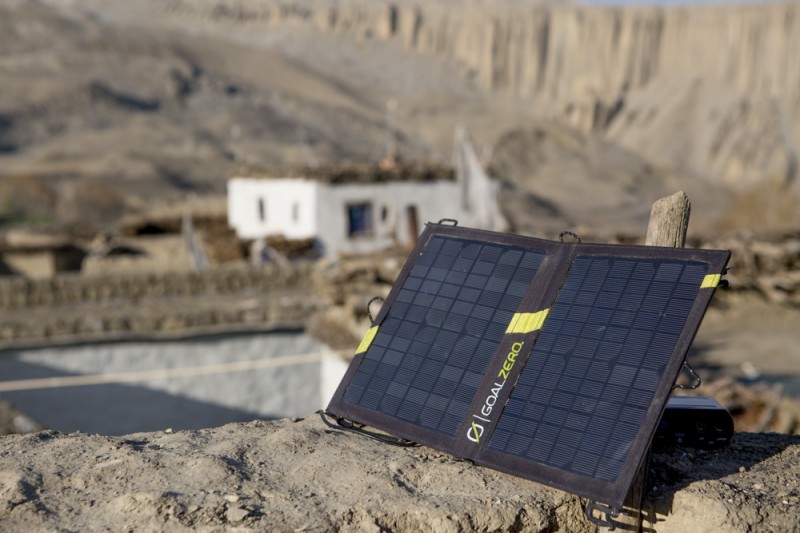 The next thing I had to work out was battery power. I got in touch with the guys at Goal Zero Australasia and told them about my trip. They told me I needed a Sherpa 50 kit and Inverter. With this kit, I would be able to charge the Goal Zero battery pack from the solar panel while on the move. Perfect. I could then charge any form of battery from the charged pack using the inverter, including my camera, iPhone and iPad.
The last thing I wanted to make sure of was that if my camera got stolen, lost or damaged with the precious photos inside, I didn't lose everything. I would need a second backup of my work somewhere where my camera wasn't. As space and weight were so limited, there was no way I was taking my laptop with external hard drives. So I carried an iPad mini 128gb. Although memory was a bit limited on this I was still able to download the golden shots each night in my tent to the iPad with a USB adaptor. Thus I had two copies of the photos in my camera and a copy in my iPad which travelled with the donkeys separately. Call me paranoid but I just didn't want to lose my work!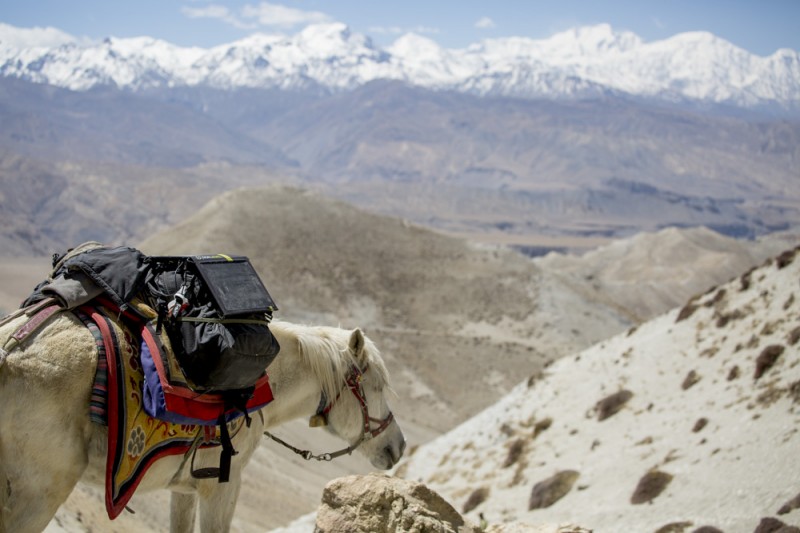 As we trekked deeper and deeper into the Upper Mustang, we were so fortunate to have some beautiful sunny days. We started to get used to the altitude and get into the swing of walking 5-6hrs each day with 1000m ascents and descents at around 3500m – 4500m. With most of our overnight gear, food and tents being carried by donkey we were fortunate enough to only carry our day packs, with camera gear etc. I took my F-Stop Gear Loka camera pack which was great. It had to withstand extremely high winds and dust storms and altogether had a pretty rough ride. We had a couple of ponies with us too and on the sunny days, I strapped the Goal Zero solar panel to him as he plodded along. It amused me to watch the pony charging my batteries without even knowing!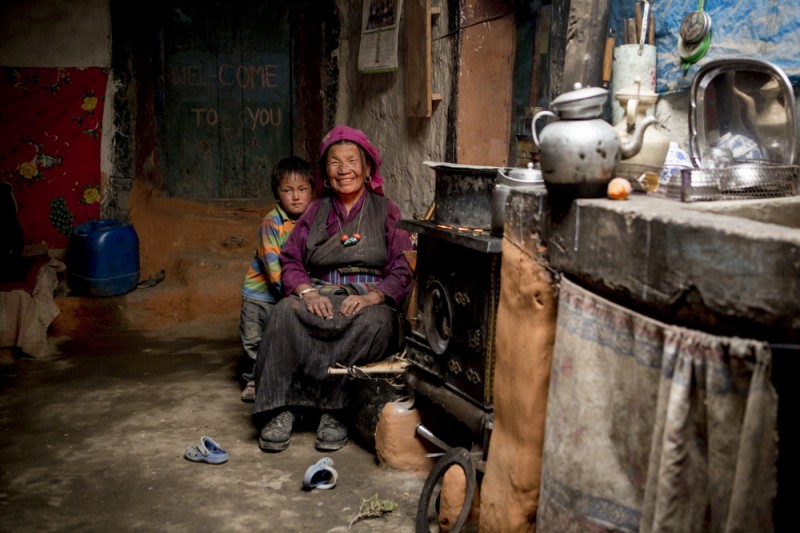 While hiking I was able to have fast access to my camera by using my Peak Design camera clip which attached to my Loka pack's shoulder strap. This was perfect when wandering through villages where you never knew what faces you would come across and didn't want to miss a single moment.
It was so wonderful to be away from any form of modern civilization for so long. Totally refreshing to be without mobile phones, Internet, emails, Facebook or Instagram. There was even no pressure to do 'social media' every day because you just couldn't! (ED: Satellite phone next time then Camilla? :)) I was only able to check out my photos at the end of the day and write about my experiences in my wee note pad.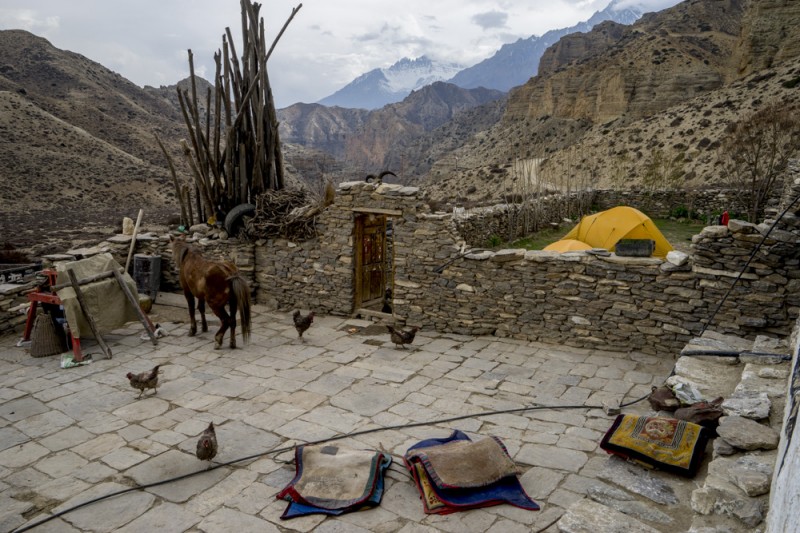 Gear Check
List of camera gear that I took with me (this was the bare minimum I would take):
Canon 70-300mm
Canon 14mm 2.8
Sony A7 with Sony 24-70mm
Silk carbon tripod which only weighs 820g (1.8lb) with small Manfrotto magnesium ball head
Shutter release cable
Sandisk Extreme Pro 64gb, three 32gb CF cards & 64gb, two 32gb SD cards (didn't need nearly this much memory but hated the thought of running out!)
iPad mini 128gb with USB adaptor in life proof case
Goal Zero Sherpa 50 with inverter kit
If you guys want to see some more photos from from this fascinating part of the world, I've put together another couple of posts on my website: