There's only a short list of photography accessories that I would deem to be universally necessary, no matter what kind of photography you enjoy. A good memory card case would have to be on that list because not only are memory cards financially valuable, sometimes costing hundreds of dollars per card, there's also the added value of the photos that they store.
During the past 15 years of professional work in the photography industry I have used several different memory card cases. For this group test I took those card wallets that I already had (some have been with my for years), and then got my hands on several more that are also very popular at all the major photography retailers. In this guide we'll take a close look at each of these popular choices, and then I'll make some recommendations for which type of memory card case would suit different types of photographers.
Memory Card Cases And Other Card Formats
Many card cases are designed with one particular type of memory card in mind, such as SD, CF or XQD. Some manufacturers do offer the same case in different versions to accommodate different card types, so if you see a memory card case that you like, but it's labelled with the wrong card format, there's a chance that they also make a different version that would suit you.
Many times I have also found that you can easily use a variety of different card types in a card case that is labelled for just one card type. For example:
XQD cards are the same size and shape as CFexpress cards
XQD and CFexpress are not a lot taller than CF cards, and they aren't as wide
CFast cards are almost the same size and shape as CF cards
An SD card in a small plastic case will fit in a slot that is designed for CF or CFast cards
A Micro SD, or several Micro SDs in a small plastic case will fit in a slot that is designed for CF or CFast cards
There may be other variations that will work, but these are the common useful ones that I have come across. That said, there are a couple of universal card wallets in the guide as well, if you want to make sure you have something that will carry a range of different formats now, and in the future.
In a Hurry?
If you're in a hurry and need a quick solution, you can't go wrong with the Secure Pixel Pocket Rocket from Think Tank Photo. It will work with any kind of memory card; SD, CF, CFast, XQD, CFexpress, or Micro SD.

The Shortlist (in no particular order)
This table shows you the list of products that I'm going to be reviewing further in this guide. I didn't choose these products blindly, so if it made it as far as being included in this gear guide at all then it has already shown some merit. If you don't have time to read the in-depth guide then these links might save you some time.
*1 – Think Tank and MindShift offer a free gift if you click one of these links and spend over $50 in their online store. More details of this offer can be found here.
---
1 – Secure Pixel Pocket Rocket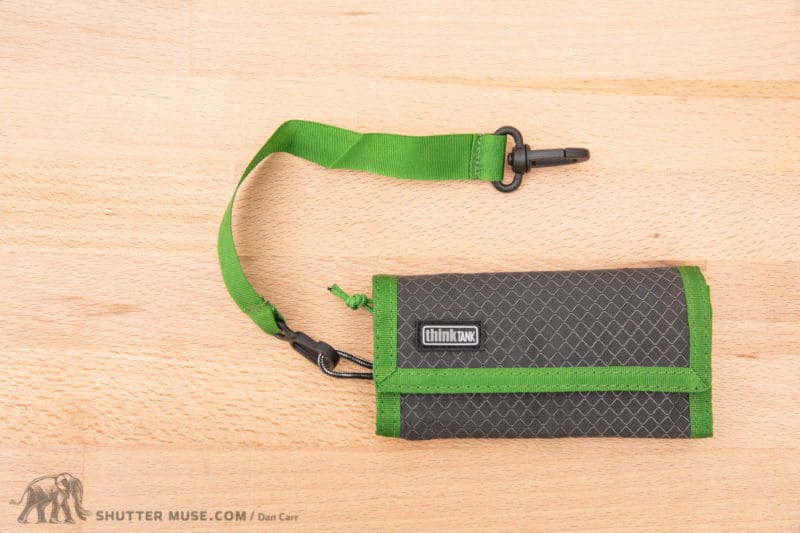 The Think Tank card wallets are available in a few variations for different card types. Due to the popularity of these particular cards cases, and the specific features of a couple of them, I decided to make individual spaces for all of them on the list.
I think I'm right in saying that Think Tank's Pixel Pocket Rocket series is the origin of this fold-up style of memory card wallet that has now been copied by many other brands. Each case comes with a lanyard so that you can secure it to the key clip in your camera bag, and there's also a business card holder for identification and belt loops as an additional carrying method.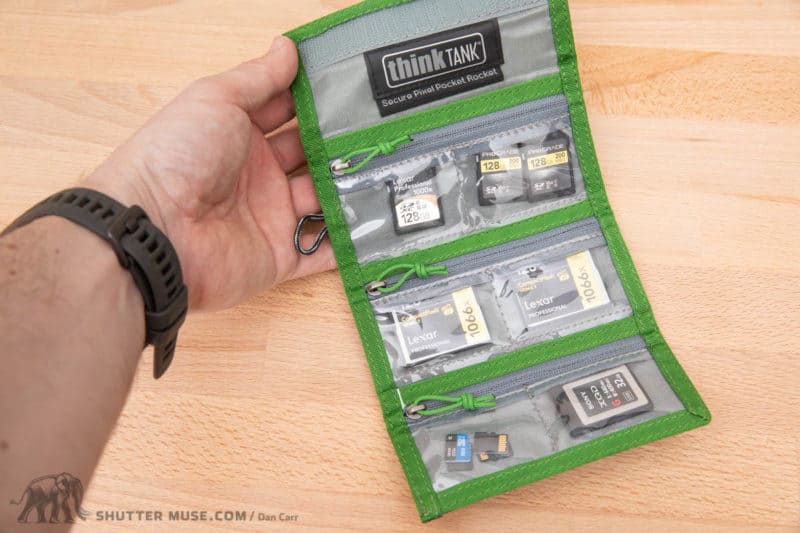 I've had some of these Think Tank card wallets in my kit for over a decade and they are still going strong! They are definitely made with all the care and attention to detail that also goes into Think Tank's larger rollers, bags and backpacks.
The first one we're taking a look at is the Secure Pixel Pocket rocket which is actually the latest addition to the long-standing PPR lineup. This card wallet has 6 individual sections that are secured by three sturdy zippers, allowing you to secure a variety of different memory card types. It'll hold 6CF cards, or 6 XQD cards or 6 CFexpress cards, as well as a huge number of SD and Micro SD cards. All in innumerable combinations.
For me this is the pick of the bunch because these days I'm always carrying a few different cards. I've got CF cards in my DSLR, SD cards and XQDs in my mirrorless cameras and Micro SDs in my GoPro or drone. If that sounds like your situation, I think this is the best solution on the market at the moment.
Even if you only use one card type at the moment, the universal sizing of this card wallet means it'll still work well for whatever cards your next camera uses.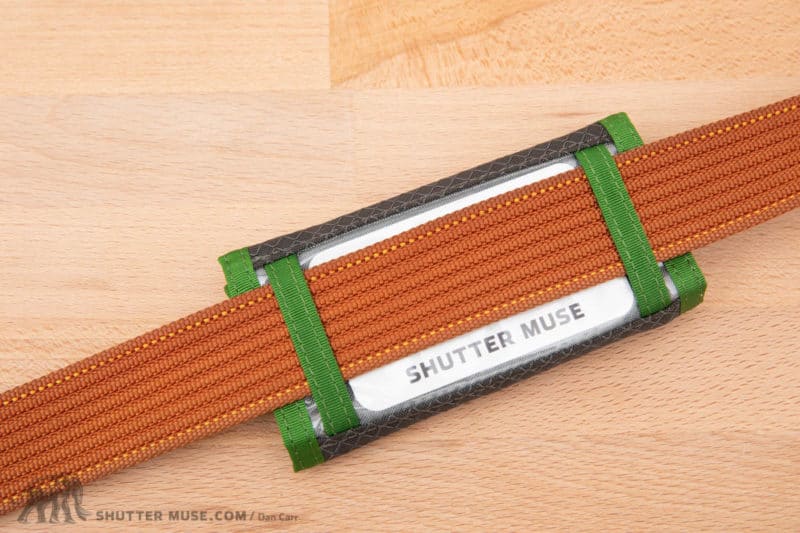 ---
2 – SD Pixel Pocket Rocket
This version in the Think Tank PPR range holds 6 SD cards. It's a little cheaper ($16.75) than the previously mentioned Secure PPR, but with that comes the limitation to only use one card type.
Personally I think the Secure PPR is worth the $5 extra, but if you are on a budget and you're sure you only need SD cards then this is a solid option.
---
3 – Pixel Pocket Rocket
The Pixel Pocket Rocket from Think Tank Photo is the original "roll up" style card wallet. This version of the wallet series will hold 10 CF cards, or 10 XQD or 10 CFexpress, as well as several SD and Micro SD cards in the zippered bottom section.
With one of the largest capacity card wallets on the market it's perfect for event shooters who are shooting to dual card slots with a really rapid pro camera, or video shooters using 4k or even 8k cameras. If that's not you, I doubt you are ever going to need to carry this many cards at one time.
I first owned this card holder about a decade ago when I was using smaller 2GB CF cards and at that time I did find the capacity to be useful. These days when 64GB and 128GB SD cards are normal, and CFexpress cards are already coming in at 1TB, I think it's going to be more than most people need. With Think Tank's popularity in the professional sport and event photographer community I can totally understand why this would be the brand that makes such a huge card wallet though!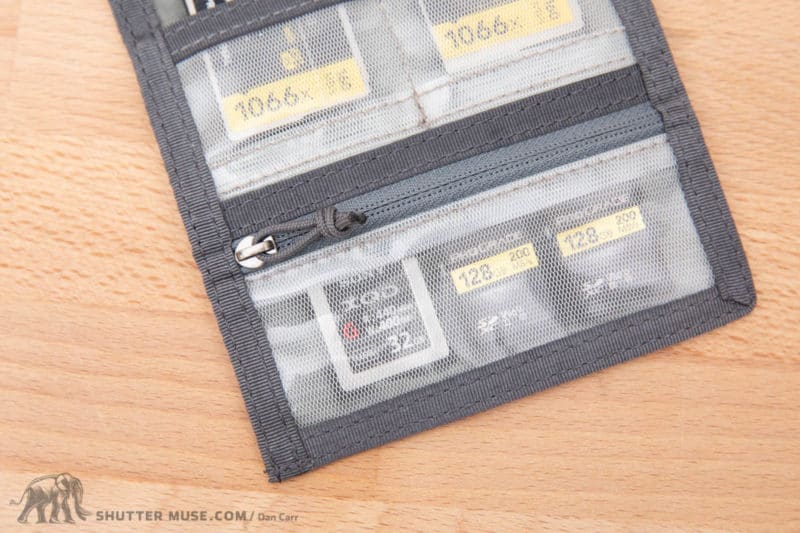 ---
4 – Pee Wee Pixel Pocket Rocket
Need to mix and match and don't want zippered sections like the Secure PPR version? The Pee Wee version of this case holds 3 SD cards and 4 CF cards.
---
5 – Modular Pixel Pocket Rocket
The Modular Pixel Pocket Rocket holds 3 SD cards and 6 CF cards. It also has an additional larger pocket behind the card slots, as well as a lanyard and a belt attachment.
This is a good option for someone that has a big variety of cards because the design of the case is like a big pocket anyway, so I found that sometimes I would just put cards in the large pocket and not even worry about sliding them into the slots. In one way or another, you could probably put 20+ memory cards in this wallet, so it probably wins the award for largest capacity.
---
6 – CF/SD Battery Wallet
This tiny little Think Tank case is designed to hold one camera battery and one memory card. If you're traveling light, it might be all you need for a day of shooting, especially if your cards have high capacities.
Personally I use this as an emergency kit. I keep one spare battery and an SD card in it, and this little thing NEVER leaves my camera bag. That way, if I ever forget my larger card case or battery case, I know I've got a backup in place.

---
7 – MindShift Gear House of Cards
The House of cards is similar to the Think Tank wallets, which is hardly surprising since they are the same company.
The major difference is the elastic loop that surrounds the case to keep it closed, instead of the hook and loop that's found on the Think Tank versions. The reason for this is that MindShift's gear is designed for outdoor and wildlife photographers. If you need to swap cards in a stealthy, quiet manner whilst in the presence of some sort of skittish animal, you don't want to be tearing the hook and loop openings on the Think Tank card wallets.
This case will hold 3 SD cards and 6 CF cards. It's a nice balance between those two sizes of card.

---
8 – Pelican 0915 Micro Memory Card Case
This Pelican case is a top seller at places like B&H Photo and Amazon, with the sub-$20 price point keeping it highly competitive against other options on this list.
The specifications say that it has an IPX4 rating for water resistance, which basically means it can resist splashing water or rain. It is not totally waterPROOF, though! I tested it in a bowl of water and after a few minutes of full submersion, there was plenty of water inside.
I'm not marking that as a negative since IPX4 rating doesn't claim that kind of resistance, but I want to make it clear because it's easy to make assumptions when all other Pelican cases are fully waterproof.
The case will hold 12 SD cards, and there's also 6 slots for Micro SDs and 6 slots for Mini SDs. The fact that it still has Mini SD slots when most people probably can't even remember this card type, is pretty lazy. I have no ideas why Pelican hasn't bothered to update this to hold 12 Micro SDs instead, like the Kupton case that you'll see further down the list.

If you just want it for SD cards it's great, though! The foam slots are actually really easy to insert and extract cards from, and the case also has a pleasingly thin design for something that's made from fairly rigid plastic.
Overall, I was happy with this case for SD cards, and actually surprised about how reasonably priced it is. You tend to expect the big name brands to come in at a higher price then straight-to-Amazon Chinese brands like Kupton, or in-house brands like Ruggard, who are owned by B&H Photo. The Pelican 0915 card case hits the same prices, though, and that means its well worth your consideration if you need a hard protective card case.
---
9 – Kupton K020 Card Case
The Kupton K020 but it has such good customer reviews that I knew I had to order one and test it.
First things first: On the product page it calls this case waterproof, and my conclusion after testing it is that this is definitely not true. I submerged it in a water tank for a couple of minutes and that's all it needed to get soaking wet inside.
Whilst that's not a great start, I would still call it water resistant, so it offers more water protection than most other options on the list. As we found out, the similar Pelican case isn't waterproof either!
The case is still very nicely made, though, and actually feels more solid than the Pelican case. A great achievement considering the lower price.
If I was comparing the two side-by-side, I'd probably still take the Pelican case because I found it much easier to insert and remove SD cards from it. The rubber slots in the Kupton case are very tight and I was worried I might actually crack the fragile SD card casings after prolonged use. Still, it's got a lot more Micro SD slots than the Pelican 0915, so it's a great option for drone and GoPro users.

---
10 – Ruggard SD Card Case (small)
This tiny little Ruggard hard case is a mere $6.99 from B&H photo and it does a great job of protecting up to 4 SD cards. What I found with this case is that photos don't do it justice. You can't tell that the blue stuff is actually thick rubber, and the clear plastic case gives it the appearance of something that's lighter weight than it it. In actual fact, this is a really solid little case, and I have no idea how they can sell it for only $6.99!
The only thing I'd change is to cut the small chain off it and add a longer piece of cord to it.
---
11 – Ruggard XQD/CFexpress Hard Case
Does this case look familiar? The Ruggard hard cases are very clearly the exact same case as the Kupton K020 that's available on Amazon, but with a slightly different interior material. There's no doubt in my minds that these are made in the same place and then purchased by these respective brands and rebranded.
So why have I even put the Ruggard one on the list? Well, despite being more expensive than the Kupton version at $30, Ruggard do have this version for XQD and CFexpress cards. At the moment, the Kupton ones are just for SD cards. So, if you need XQD storage, this is your option for a hard card case.
---
12- Ruggard Neoprene Protective Pouch
This is a decent budget solution because it comes in at under $10 if you buy from B&H Photo, but still manages to hold a ton of cards. The official description says 6 cards, but that's assuming you use CF cards. If you use something smaller then you could store many more. In the back, there's also a larger mesh pocket that could be used to store something handy like a lens cloth.
Overall, for under $10 you can't really complain. It certainly feels like a more expensive product.
Personally I prefer a slimmer card case. The thick padded neoprene is both a feature of the case, and also potentially it's biggest downside if you don't feel like your cards need that much protection.
---
13 – Tenba Reload Universal
Out of all the card cases I tested, this one is definitely up there with my favourites. The universal design with zippered sections is similar to the Think Tank Secure Pixel Pocket Rocket, although it has roughly 1/3 less card capacity, with only two folds instead of three.
The design of the wallet is a lot skinnier than the similar Think Tank holders, though, and the lanyard is much longer. If you are using the lanyard to clip it into a camera bag, the longer it is, the easier it is to pull out from your bad and reach it without needing to unclip it.
The other cool feature is the colour coded zippers that allow you to designate one pocket as "empty" cards and the other pocket as "full" cards.
On the back is the standard business card holder, and there's also a belt loop which conceivably could be used to attach it to the strap of a bag as well.
Tenba actually makes an SD version and a CF version of this card wallet as well, but to me the Universal model makes the most sense. You can use it for SD, CF, XQD, Micro SD, CFexpress… basically anything!
---
14 – Cecila Leather and Canvas SD Card Wallet
Most of the memory card holders in this guide so far have been fairly functional in their looks, and mostly rather colourful. If you're looking for a more discreet option that is beautifully made, look no further than the SD card wallets from Cecilia. I've reviewed Cecilias leather/alpaca wool camera straps in the past and found their craftsmanship to be impeccable, so it's nice to see some new products expanding their lineup.
The Cecilia SD card wallet that I tested was the cotton canvas and black leather version, but the same design is also available in either full brown or full black leather. The interior is covered in soft micro fiber, and they carry 9 SD cards and 4 micro SD cards.
These wallets start at $34 so they are slightly more expensive than the other options on the list, but I would still recommend them to the discerning photographer who perhaps already has one of their straps or matching shoulder bags. The leather ones would also make a fine companion to other high-end leather camera bags such as those from Ona, and the leather/canvas one would be a nice match for the ever-popular canvas Retrospective bags from Think Tank Photo.
---
15 – Lowepro GearUp Memory Wallet 20
Lowepro's latest memory card wallet, the GearUp Card Wallet 20, is by far their best one. There's a variety of different slots inside it that will accommodate SD, CF, micro SD, XQD, and CF Express cards. Aside from the universal design of the Tenba Reload, this would be my pick for a card wallet if I was shooting with a variety of different card types. It's also nicely future proof because it takes CF Express and XQD cards perfectly well, so this is a product you can be sure will work with your camera kit for many years to come. There are 12 of the larger slots for things like CF Express, and 8 of the smaller slots for SD.
---
Extra Protection for Your Memory Cards
The Pelican 0915 SD cases or 0945 CF cases are definitely my top picks for a really rugged memory card cases, but I can also offer an alternative if you don't want to carry around a hard-sided card case all the time. When using something flexible like the Tenba Reload or any of the Think Tank wallets, you can waterproof your setup by putting the memory card case into a soft-sided waterproof phone case such as the Small SealLine eCase. These cases have a watertight zipper, and whilst they are intended to be used with phones, the rectangular shape makes them perfect for many of the memory card cases I've mentioned in this review.
Of course you don't have the impact protection that comes from using something like the Pelican case, or the Kupton K020 hard case, but it will keep your cards dry if you and your camera bag end up in a torrential downpour. I personally use my eCase to store my memory card case when I'm out on one of my kayaking photography missions.
---
Which Memory Card Case Do You Use?
I spent a great deal of time testing and researching memory card cases to find what I believe to be the best solutions on the market right now, but it's always great to hear from other photographers about their experiences. Which case are you using for your cards at the moment? Which one are you thinking of buying?
Leave a comment below and let me know!