First the Backstory
In 2017 the parent company of Lexar memory cards, Micron, announced that they would be shutting down that arm of the company. The Idaho-based flash memory company does huge business in other technology sectors, and the consumer memory card business wasn't a sector that they wanted to focus energy on. I think to most people in the industry it came as a shock, and as a Lexar customer myself, I was disappointed because in the past I had received such excellent service from them.
A few months after the initial announcement, a Chinese company called Longsys announced that they would be acquiring the Lexar brand. This means that for many consumers it looks like business as usual, but behind the product packaging, this is likely quite different.
I want to note at this point, that in fact-checking a couple of things for this very post I went to the Longsys website and my browser was immediately hijacked and redirected, then I was shown one of those stupid pop-ups that say something to the effect of "your computer may be infected, you should run a security scan". Something like that doesn't fill me with confidence!
Along Comes ProGrade Digital
In February 2018 the photo industry got another surprise, and this time it was a pleasant one. New memory card company ProGrade Digital was launched to the public, founded by former executives from Lexar. The ex-Lexar employees all held management or technical leadership positions at their previous company and the team has more than 60 years of combined experience in the design, development and manufacture of memory cards from their time at Lexar, Sandisk and other similar companies.
What I found immediately interesting about this announcement was their focus on the higher end of the consumer and professional market. The first products out of the gate were a series of fast 200MB/s V60 cards, as well as CFast cards and a dual-slot memory card reader with a USB-C connection for both these cards types.
SD cards are used quite prolifically, but CFast cards were, at the time, only used by the Canon 1D X Mark II and a small handful of professional (and very expensive) cinema cameras. Since that initial launch, there has also been a series of 250MB/s V90 cards added to the lineup, optimized for 8K, 6K and 4K video.
With my trust in Lexar essentially reset back to square one after the change in ownership, I watched the birth of ProGrade Digital with great interest. At NAB they delivered another surprise: The world's first 1TB CFexpress prototype, capable of a staggering 1400MB/s. Yep, that's 1.4 gigabytes every second!
What was interesting about that announcement was the lack of compatible cameras on the market for that new CFexpress format. The public display of the working prototype clearly singled ProGrade Digital out as a company that, whilst new to the market, was definitely playing in the big leagues. And maybe even leading the charge already to faster and better compact storage. Pretty incredible for a company that had only been official for a couple of months at that point. These days CFexpress has become the de-facto standards for memory cards in professional cameras.
A chat with ProGrade Digital CEO, Wes Brewer
Curious to find out more, I purchased a pair of the V60 SDXC cards to try out and following that I was able to line up a chat with Wes Brewer, the CEO of ProGrade Digital. As you can see in the photos on this page, I was also sent the dual-slot card reader to test and review.
What was wonderful about the opportunity to chat with Wes was that I could approach it from a customer's perspective. After hearing a bit of the backstory to the company, I jumped right in and told him about my excellent customer service experience with Lexar in the past, and underlined that it was the main reason for an earlier switch from Sandisk to Lexar. I wanted to know whether that same focus on customer service was going to be carried forward to ProGrade.
Wes explained to me that not only was that one of their three main focus points when they set up the company but that they also have a system that already surpasses what they were able to offer before at Lexar. ProGrade Media's support is handled in-house by the dedicated staff at the US office, and they are but a phone call away if you have any problems.
Not only that, but when cards are purchased through their own website (that ships internationally, BTW), or through their Amazon store, a customer profile is automatically created, containing the serial numbers of the cards that you have purchased. These serial numbers, and the data they they represent, can then be used to expedite service and support enquiries should that need ever arrive.
When you make a living from your photos, this kind of attention to detail is something I want to see. Much like signing up to CPS or NPS to take care of my cameras and lenses in the fastest possible way, I also want a company that has got my back when it comes to the one other thing that you have to put in your camera every day to make it work. From listening to Wes answer my questions, I'm confident that these guys understand this, and place a priority on it.
We also touched on the subject of product quality, something which was sparked by my initial hands-on time with their first dual-slot card reader. When I first pulled the card reader's box from the FedEx envelope, I already got a sense for the quality of the product that was contained within. The cardboard box is thick and heavy, with a satin finish to it that shouts quality as you slide the lid off. They have definitely taken some cues from Apple with the design of the packaging, and thankfully the product doesn't disappoint either. The card reader doesn't feel cheap and hollow like the other SD readers I own. It feels solid and tough, like a product that is designed to spend life inside the laptop bag of a busy photographers.
The rubber non-slip base is nice touch, but even better is the magnet that is stored within it. Using the supplied, cleverly-branded metal plate, you can stick the card reader to your laptop screen to keep your desk clean and tidy. I have seen this done in busy media rooms at events all over the world where desk space is often at a premium, but usually it involved self-adhered velcro strips!
The built-in magnet and the metal plate are an elegant solution that once again underlines ProGrade's desire to cater to the more professional end of the spectrum. Kudos as well for using USB-C Gen 2, and including both a USB-C cable, and a USB-C to USB-A cable to both future-proof the device and keep everyone happy.
Of course, being the cheeky Brit that I am, I did ask Wes if we will be seeing any other readers in the near future! Whilst he couldn't be specific (unsurprisingly), he did indicate that there are some others on the horizon. Personally I would like to see some variations on the dual-slot theme, such as dual SDXC and dual CFast. Lexar also used to make a modular workflow reader that allowed you to build a card reader tower with whatever slots you needed. If ProGrade Digital took that idea and applied the same design skills and product quality I'm seeing in their first dual-slot reader, I think it would be a huge hit in their target market. Fingers crossed…
UPDATE: Since the initial chat with Wes, ProGrade Digital have gone on to launch a range of card readers. They all keep the same form factor, and can be neatly stacked together using magnets. They are by far my favourite card readers on the market.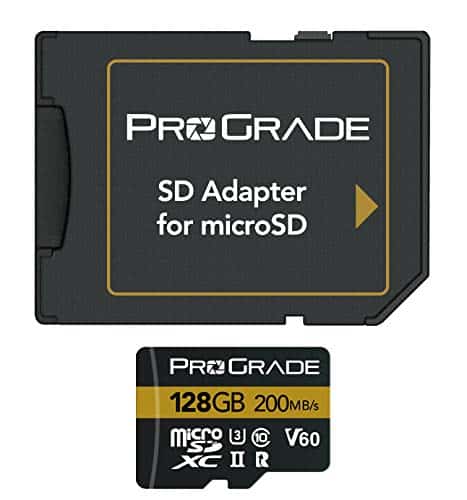 New Card Formats and Technologies
The final topic that we dug into in more detail was the question of new technologies. As I mentioned earlier, ProGrade Digital were right there with the first 1TB CFexpress card at NAB in 2018, so I asked Wes about their thoughts on this new format.
It's clear from what he said, that they have been working closely with some of the major manufacturers in assessing these new card types. What I hadn't really appreciated before, is that CFexpress actually has three different formats. The prototype that was shown at NAB is called Type-B. It has the same physical form factor as the XQD standard that was controlled by Sony, but Wes was keen to point out that CFexpress is an open format, which will definitely help with adoption.
Final specifications of Type-A CFexpress were not yet ready, but I was told that it is physically something in between an SD card and a Micro SD (UPDATE: CFexpress Type-A cards are now out in the wild). A third larger Type-C format is also planned, featuring four lanes of PCIe, for high end cinema cameras. and presumably this will have enough speed to deal with 8K RAW video. Apparently, companies such as Arri and Blackmagic design are paying close attention to this one. It was also acknowledged that most customers want to pick a brand and stick with them, so that company needs to be offering new card formats as soon as new cameras are available for them.
Reading between the lines, it seems likely that CFexpress Type-B will be the next high-speed card to be adopted by one or two of the major Japanese manufacturers. XQD isn't going to last, so Nikon will sure move away from that in the replacement of the D5, and CFast 2.0 seems to be a short-lived phase for the Canon 1D X Mark II.
I'd put money on at least one of those cameras moving to CFexpress at the next iteration (UPDATE: This did happen, for both companies). The only fly in CFexpress' ointment might be the announcement of SD Expresss, just one day after my conversation with Wes. With the new SD Express format, SD cards finally move to faster PCIe designs and they will have the benefit of backward compatibility with all SD card slots on existing cameras.
If I had to guess, I think the future for camera storage will probably be SD Express for consumer cameras, whilst pro stills cameras and lower end cinema cameras will use CFexpress Type-A and Type-B. Since SD Express was not announced at the time of my call with Wes, I have no information as to whether they will be producing cards for this format, but it seems highly likely since they are already producing SD cards.
My chat with Wes Brewer left me in no doubt whatsoever: ProGrade Digital is deadly serious about becoming the go-to memory card choice for professional users, and we can also expect them to be at the front with new technology when cameras are announced to support them. I definitely look forward to seeing what they come out with in the future, and, having been a customer who had the opportunity to ask these questions, I know which brand of cards I'll be recommending to my followers, readers and workshop students from now on.