ProGrade Digital's various card readers have become a staple in my office and travel bag since the first version (Cfast 2 + SD) launched several years ago. Since then they have also launched a dual SD card version with two UHS-II SD slots, a dual Micro SD version and now another dual-slot variant with Compact Flash and SD UHS-II cards slots.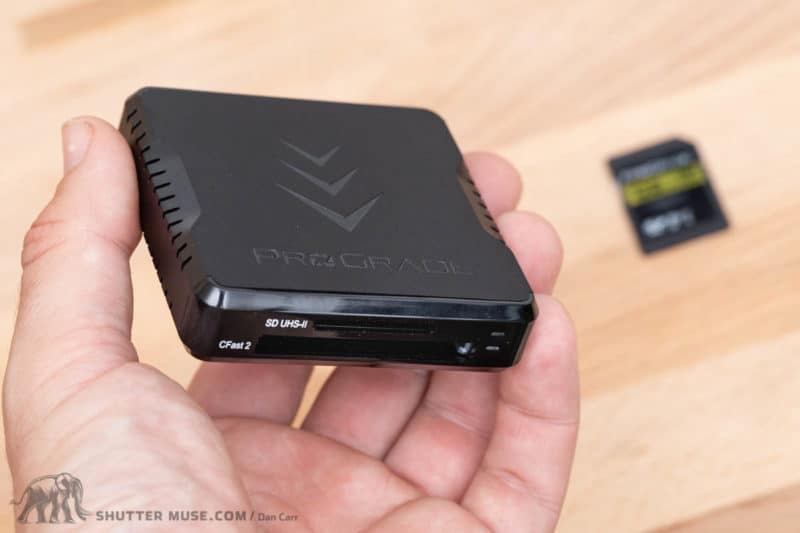 While Compact Flash is on its way out for most companies, Leica did just announce the new S3 medium format camera which has a CF card slot, and of course there are many Canon users out there that have CF card slots in their Canon 5D variations. Importantly, cameras like the 5D II, 5D III and 5D IV used both CF and SD cards, making this ProGrade card reader the perfect choice for those people.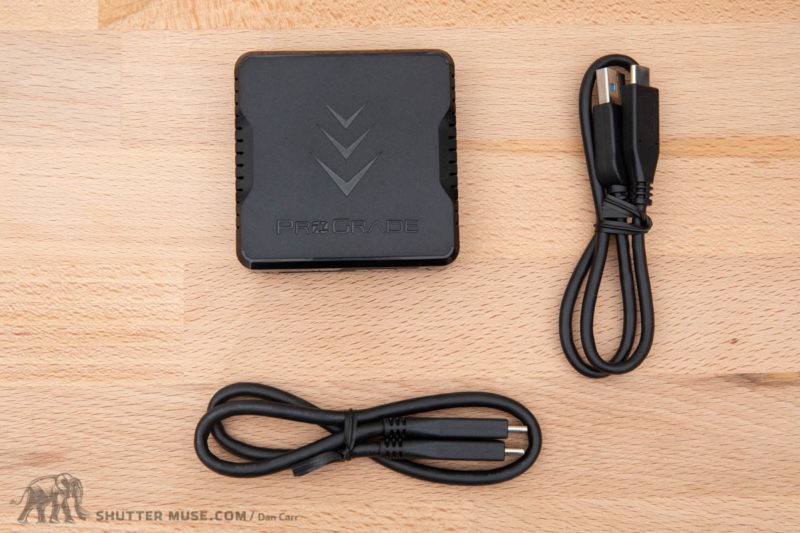 On the back of the card reader you'll find a USB-C 3.1 Gen2 port. ProGrade Digital supplies two USB cables with the reader, though, so you'll have the option to connect it to either a USB-C port on your computer, or a USB-A port. There is no speed difference with these two options since SD or CF card speeds cannot saturate a USB 3 connection of any type. If your computer has Thunderbolt 3 ports such as the latest Apple models, the USB-C cable can simply be used in the T3 port as they are cross-compatible interface designs.
The first thing you notice with the reader when you unbox it, is that it feels very solid. As the slightly higher price point might suggest, this isn't some sort of low quality card reader that feels like an empty plastic box. It feels robust, and gives you confidence that it'll survive a long time even if you're repeatedly chucking it into the bottom of a laptop bag.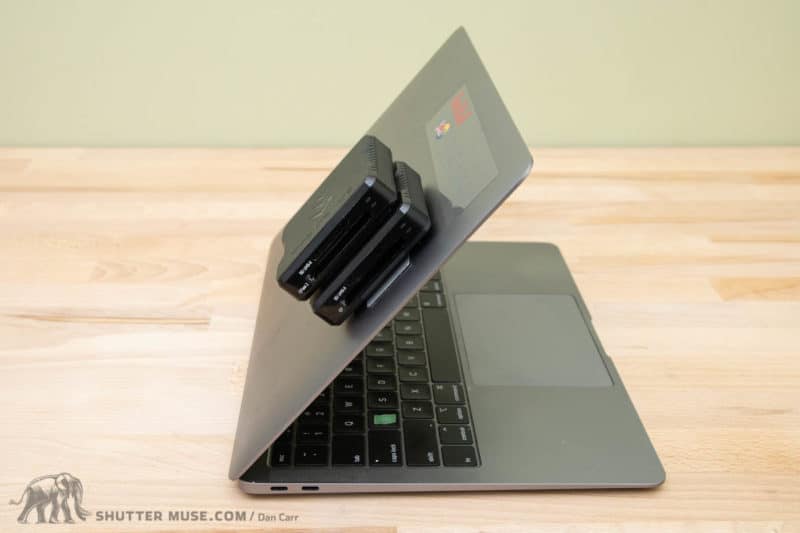 One of the coolest features of this series of readers is the magnetic base. This allows you to stack multiple card readers together to create an awesome workflow solution, or it allows you to stick it to your laptop with the included stick-backed metal plate. How cool is that?
In terms of speed, the USC-C bus is easily able to handle the maximum speeds of even the fastest compact flash or SD cards, so you will experience speeds that should come close to the those quoted by the card manufacturers. Of course to make the most of this reader with SD cards, you should use UHS-II speed SD cards as this will get you at least twice the download speed over the older UHS-I cards. This can make a significant difference to time spent importing if you're using high capacity cards.
While there's nothing new to report here over the previous dual slot ProGrade readers that I have reviewed, it's nice to have more options for additional card types, and if I'm honest, I think the combination of CF and SD card slots is the reader that they should have launched in the first place. I know they stayed away from it for a while because they don't themselves make compact flash cards, whereas they do make (excellent) SD and CFast 2.0 cards.
Either way, it's an option now, and with compact flash being much more common than CFast 2.0, I think this will be a popular option for advanced amateurs and pros who don't mind spending a few extra dollars to create an excellent and robust workflow.