Full disclosure: This article was brought to you by Benro.
A couple of weeks ago, tripod company Benro launched a Kickstarter campaign for what they call "the world's first smart modular travel tripod." The campaign immediately smashed its funding goals twenty times over and set the photography world abuzz.
What is a smart tripod? How on earth can it level itself automatically, and what other tricks does it have up its sleeve? It's not often you see real innovation in the tripod market, so I was curious to find the answers to these questions.
Table of Contents
Theta Tripod Video Walkthrough
For those of you that prefer to watch a video, this 11-minute video runs through everything you should know about this smart travel tripod.
Theta Tripod Features
Auto-Leveling Tripod Legs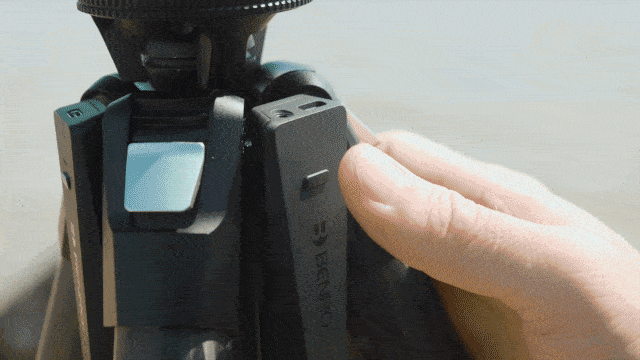 The headline feature of the Benro Theta tripod is its ability to self-level using a built-in system of gyroscopes and motors. After analyzing the situation, the tripod can level itself in three seconds, which Benro says will save photographers valuable time when the light is just right. Further tweaks can be carried out through the companion Theta App, and you can also continue to make adjustments the old-fashioned way with the twist-lock legs.
Built-In Arca-Compatible Ball Head
In recent years, the inverted ball head style has become popular with travel tripods due to its lesser weight and more compact design. Benro continues this trend with the Theta tripod but adds a new feature new roll locking knob that helps you get a level horizon while the legs are self leveling.
The purpose of the roll-locking function took me a minute to figure out, but it makes total sense when you understand exactly what's happening. If you didn't engage the roll lock, the tripod legs would level themselves, so the top of the tripod is level, but that wouldn't necessarily mean the camera would be level. If the head were rolled off to one side, you'd have a level tripod but not a level horizon in your photo.
When engaged, the roll lock clicks the head centrally in place to ensure the camera plate is parallel to the top of the tripod. Now, when the legs are level, so is your horizon. Even with roll lock engaged, you can still pan left and right or tilt up and down to change your composition, all the while having a perfectly auto-leveled horizon.
Theta Tripod Modular System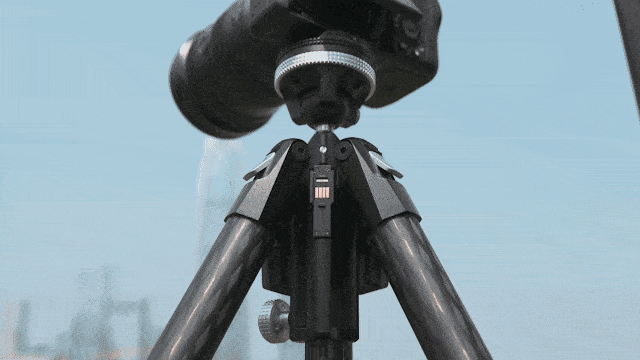 The Theta tripod features three waterproof expansion ports for your choice of swappable smart modules. The modules are designed to sit flush with the side of the tripod, so you can leave them in place without bulking out your tripod.
| Module | Battery Module | Camera Control Module | Optical Matrix Sensor Module | GoLive Module |
| --- | --- | --- | --- | --- |
| Weight | 60g (0.13lb) | 50g (0.11lb) | 50g (0.11lb) | 50g (0.11lb) |
| Port | USB-C | USB-C | Hot shoe adapted (USB-C for charging) | HDMI |
| Capacity | 1800mAh | N/A | 800mAh | N/A |
| Battery Life | Up to 8000 auto levels | N/A | 6 months | N/A |
| Charging Time | 1.5 hours | N/A | N/A | N/A |
| Camera Compatability | All | Check Theta camera compatibility list | Check Theta camera compatibility list | All |
Battery Module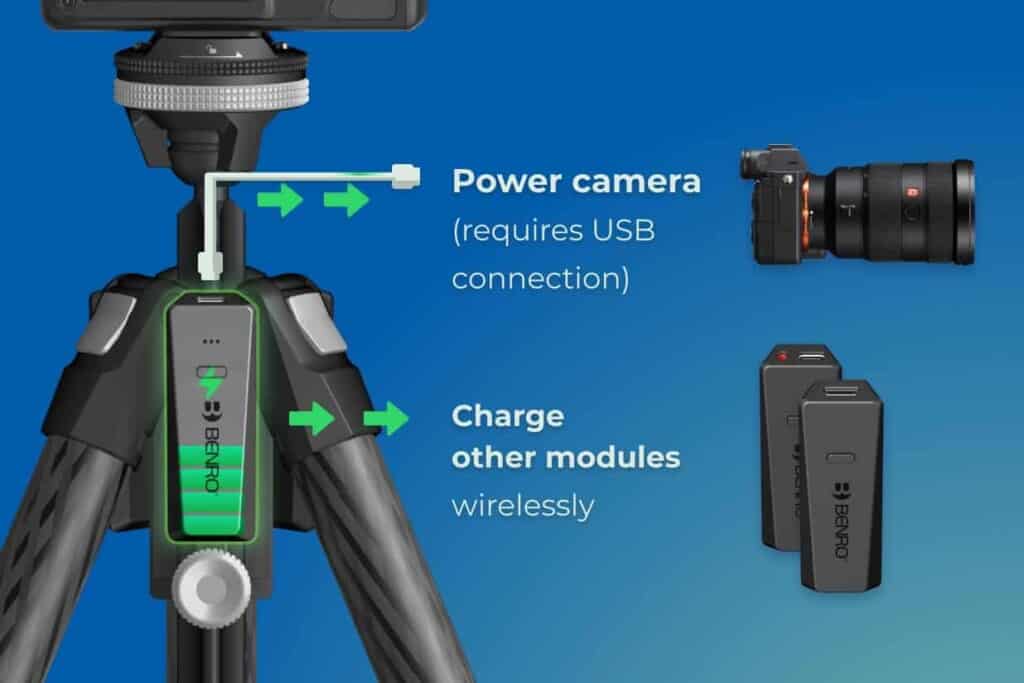 The Theta Battery Module is used for the one-touch leveling system and powers any optional Theta Modules you choose. Cleverly, there are no cables to connect when powering additional modules. Power is automatically distributed from the Battery Module to any other modules attached to the remaining module ports. If your camera (or your Phone) needs a little extra power on your shoot, you can use a compatible USB cable to top it up from the battery module.
Camera Control Module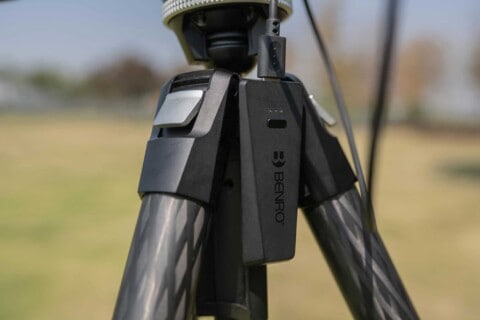 The Theta's optional Camera Control Module communicates with your camera via USB to give you a wireless live image preview on your smartphone and remote control over shutter speed, aperture, ISO, and your shutter button for still images or videos. A fully-charged Battery Module can operate the Camera Control Module continuously for approximately three hours.
Optical Matrix Sensor Module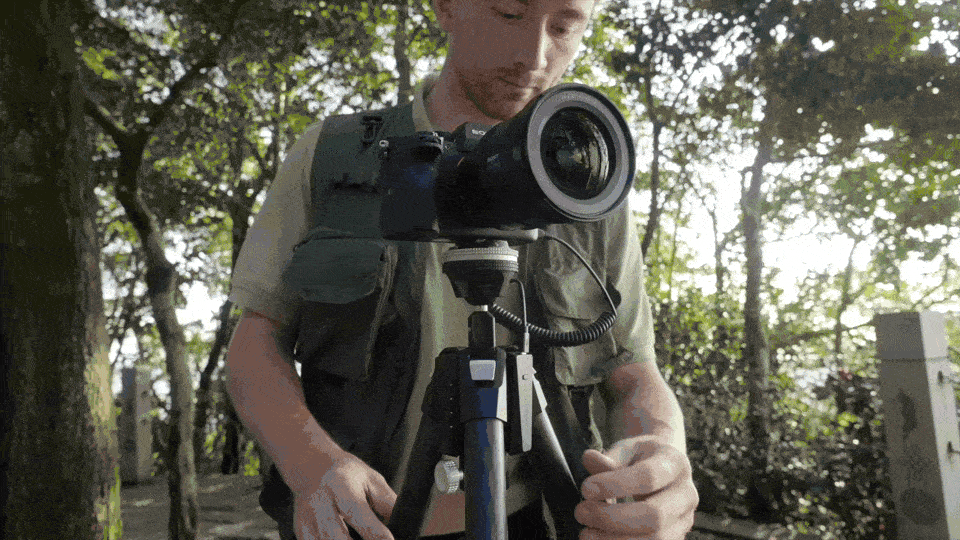 The Optical Matrix Sensor Module sits on your camera's hot shoe and monitors ambient light in real-time. When paired with the Camera Control Module, the Theta App can completely automate time-lapse creation to handle those difficult light level transitions. The Optical Matrix Sensor has a built-in 800mAh battery lasting up to 6 months. When you need to top up the power, the sensor can be docked with one of the tripod's module ports to charge directly from the Thea Battery Module.
GoLive Module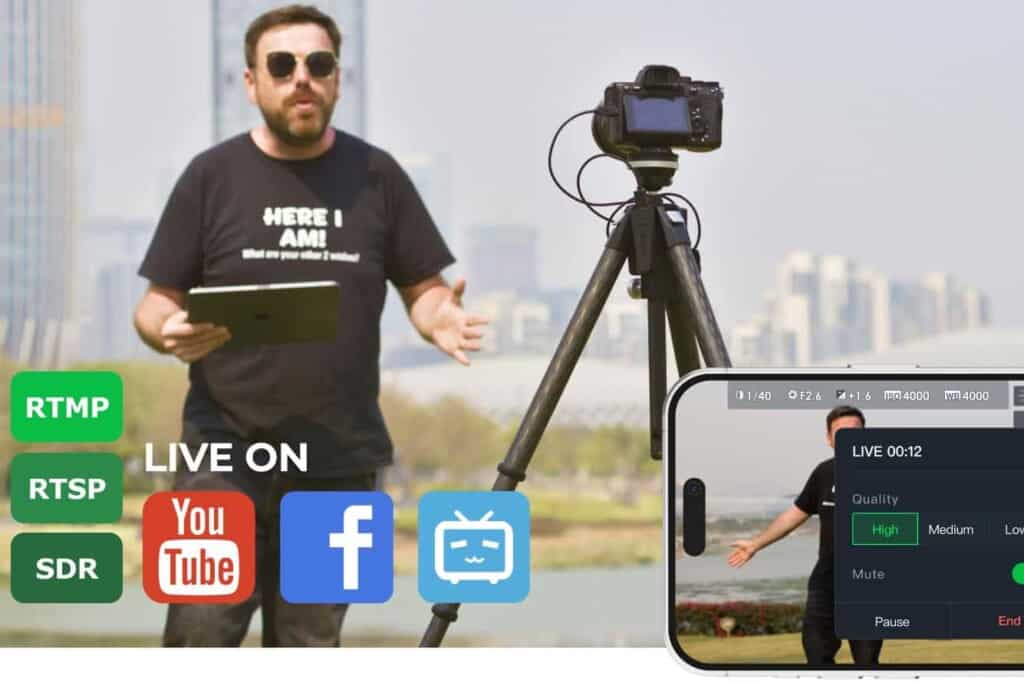 The Theta GoLive module connects to your camera via HDMI, streaming the video feed wirelessly to the Theta App and then out over your cellular network to streaming platforms such as YouTube, Facebook, or Twitch.
Benro Theta Specifications and Sizes
The Theta tripod is available in two different sizes: Theta and Theta Max.
| Specification | Benro Theta | Benro Theta Max |
| --- | --- | --- |
| Weight | 1.25kg (2.7lb) | 1.65kg (3.6lb) |
| Max Height | 155cm (61.0″) | 170cm (67″) |
| Packed Length | 44cm (17.3″) | 53cm (20.8″) |
| Capacity | 11kg (24.31lb) | 20KG (44.1lb) |
| Best For | Mobile, Mirrorless, Full-Frame DSLR | Mobile, Mirrorless, Full-Frame DSLR, Telephoto |
| Price | $349* (MSRP $599) | $399* (MSRP $699) |
* prices are current Kickstarter prices.
Can You Use Your Own Ball Head With the Theta Tripod?
One of my first questions about the Theta tripod was whether you could use an already-owned ball head or gimbal head with it and how that might work with the auto-leveling system. The answer to the question is yes, you can use your own ball head on the Theta tripod. However, to get auto-leveling to work you would need to ensure you are also using the Battery Module, the Optical Matrix Sensor Module, and the Camera Control Module.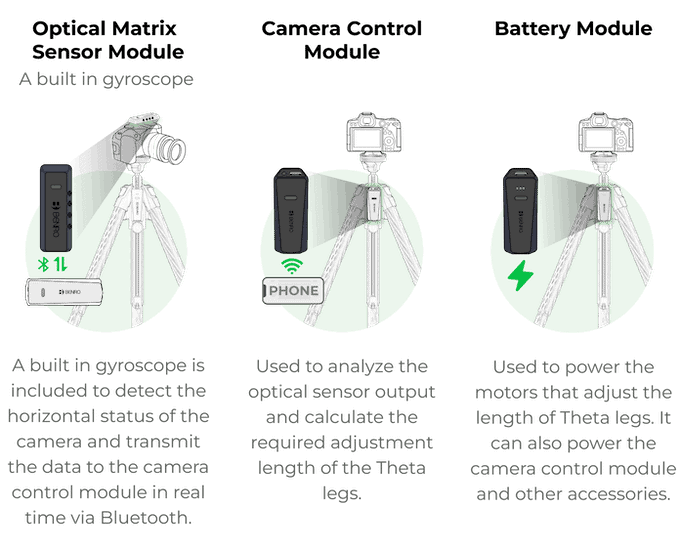 This is because the sensors and gyroscope for the auto-leveling process are built into the Theta's integrated head. If you remove that head to use your own ball head, you need the sensors in the Optical Matrix Module to take over and the Camera Control Module to analyze that output. Finally, of course, you need the Battery Module to power them.
Theta Kickstarter Campaign
Benro launched the Theta tripod on Kickstarter last week and has already blown through its funding goal of $50,000, collecting just under $ 1 million in pledges with over 30 days remaining.
Early Bird pricing has the Theta at $349 and the Theta Max at $399 – a 40+% discount over the retail price, with an estimated delivery date of June 2023. The fact that the Theta campaign has already reached the $1 million funding milestone with so much time remaining suggests this tripod has been unbelievably popular among photographers. If you want to guarantee yourself Early Bird pricing and one of the first Theta tripods off the production line, hurry on over to Kickstarter right now.
---
Sponsored Content Disclosure: Like your favorite podcasts, we sometimes run sponsored content on the site. Whenever money has changed hands in exchange for creating an article, a clear disclosure naming the featured brand is displayed a the top of the page.
---
Crowdfunding Campaign Disclaimer: Backing a campaign on a crowdfunding platform such as Kickstarter or IndieGoGo is not the same as buying from a store. We do our best to only share campaigns from companies we trust and who have a history of delivering after a successfully backed campaign. Still, we urge you to do your research and ensure you understand the risks associated with crowdfunding platforms.