As soon as Really Right Stuff launched the Ascend-14 travel tripod, I knew I would get questions about how it compares to the Peak Design Travel Tripod. In fact, I think it was less than 2 days before the first question hit my in-box.
In the future, I want to tackle this question in even more detail, with some hands-on comparisons. Right now, though, the Ascend-14 is not on the market so I thought I would repeat my answer to the email that I got from one of our readers. fine art photographer, Jakob de Boer. (Check out his work!)
UPDATE – Jakob ended up buying the Ascend-14 and has kindly sent a few quick shots of it alongside a Peak Design Travel Tripod which you can see at the bottom of the post.
Question from Reader
Hi Dan. I hope this note finds you well.
I've come to trust your reviews and thoughts on gear. I am really curious as to how you feel about the Peak Design travel Tripod vs RRS Ascend-14 that was recently announced?
I have played a little around with the Peak Design tripod. The lower leg section seems flimsy. But what I really do like is that it's so compact, I don't really hesitate taking it with me. I am wondering if the Ascend-14 offers more stability with the same (lack of hesitation) to leave the studio with. By the way, I am a fine art photographer and shoot mainly analogue with Medium format cameras.
Best, Jakob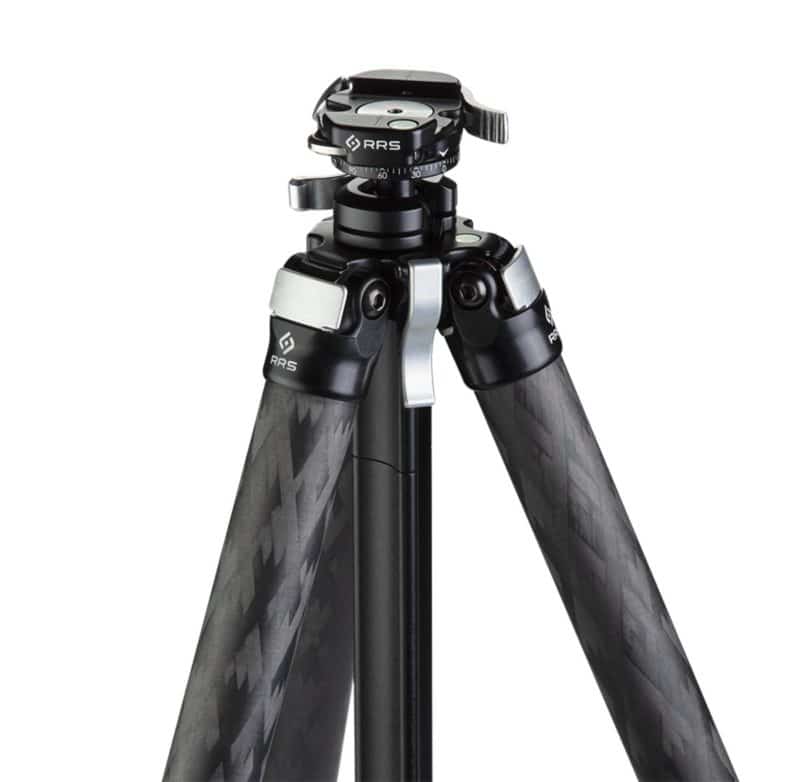 Answer from Me
Hi Jakob. I knew I was going to get this question soon enough!
Obviously, I don't have an Ascend (yet). But the leg sections should be the same as the TFC-14. They have the same collapsed circumference so I'm 99% sure they are the same carbon tubes from the TFC-14 and TQC-14. Most manufacturers use the same tubes wherever they can. Just as an example, even the upper sections of an RRS Series-1 tripod are actually the same tubes as the lower section of the Series-2 tripod. I once had a reader dismantle a Series-2 and a Series-3 and merge them together to create a 6-section tripod!
This means that we can be fairly certain the Ascend tripods will have the same stability as the TFC-14. At least up to the point where you consider raising the centre column. In my mind, this still makes the TFC-14 a very relevant tripod. It's essentially an Ascend but without the fancy centre column, and about $400-500 cheaper! I have made this point before in my huge guide to choosing a Really Right Stuff tripod.
So, the first question to yourself should be "Do I really plan to use the centre column?" Because if you don't, you might as well get the TFC-14. It is a much better value in my opinion. Now, regarding the PD travel tripod, I agree about the lower leg section. You probably read my review. With weight on top of the tripod, the leg doesn't really flex after vibrations have settled, but wind is a big concern with that tripod. As soon as there is any force on the tripod from a direction that is not straight down, it is not as stable as I would like it to be.
Having been an RRS TFC-14 user for many years, I can say that the RRS tripod is more stable under torsional and lateral loads, and this certainly makes me feel more confident with it in many situations. Particularly wind. I think you would have the same reaction. Personally, I tend to throw my Peak Design Travel Tripod in my bag in times when I'm not sure I'm really going to need a tripod or not. It just seems to disappear into my bag, and in a pinch, I have some support. The RRS TFC-14 / Ascend-14 is going to feel more stable, though. No doubt about that. And so it should for twice the price.
Perhaps the most interesting option, for me, is the L version of the Ascend-14, without the built-in head. I think this is likely the version I will eventually get myself because the L size means you are less likely to need to use the centre column, which of course will keep it more stable. Then I'll put an Acratech GXP on it because this has the best capacity to weight ratio of any ball head on the market. This would create a truly professional, but still highly portable tripod setup. Acratech GXP review here if you haven't seen it.
My best,
Dan 
RRS Ascend-14 Tripod Photos alongside Peak Design Travel Tripod
Huge thanks to reader, Jakob de Boer for sending these useful comparative photos.