3 Legged Thing has launched a pair of new travel tripods that are part of their top-of-the-line Legends range. The Ray and Bucky travel tripods are similar to the Leo 2.0 and Albert 2.0 tripods from their Pro range, but weigh roughly 20% less.
This weight reduction is primarily achieved with a new set of lighter leg locks and cut-outs in the canopy of the tripod. Despite the large weight savings, both the new Legends tripods maintain the same 66lb (30kg) load rating.
Alongside the launch of the Legends travel tripods, a new AirHed Vu ball head has been launched. The head features a matching aesthetic to the Legends tripods, an 88lb load capacity and will be optionally available with the tripods as a bundle.
Before the launch, 3 Legged Thing provided samples of the new Bucky tripod with the AirHed Vu ball head (review) so that I could test and review their function.
Specifications
Most people who are considering the Bucky tripod will also be considering the similar Ray tripod from the 3 Legged Thing Legends range. For this reason, I'm including specifications of both of them in this section so you can make a side-by-side comparison.
Bucky Tripod Specifications
Bucky tripod only: 1.52 kg / 3.35 lbs
Bucky with AirHed Vu: 1.87 kg / 4.12 lbs
Load Capacity: 66 lb / 29.94 kg
Max Height: 72.8″ / 184.9 cm
Max height without centre column: 49.8″ / 126.49 cm
Min height with centre column removed: 4.7″ / 11.9 cm
Folded length: 16.1″ / 40.89 cm
Ray Tripod Specifications
Ray tripod only: 1.27 kg / 2.8 lbs
Ray with AirHed Vu: 1.62 kg / 3.57 lbs
Load Capacity: 66 lb / 29.94 kg
Max Height: 53″ / 134.6 cm
Max height without centre column: 39.3″ / 99.82 cm
Min height with centre column removed: 4.4″ / 11.2 cm
Folded length: 13.9″ / 35.31 cm
When choosing between Ray and Bucky, you are going to want to pay particular attention to my comments in the Function in the Field sub-section. Bucky provides a very useable tripod height even with the centre column collapsed. Ray is about 10″ shorter than Bucky, and if you get into a situation where you can't use the centre column, you might find Ray to be a bit on the short side.
Features and Design
Leg Locks
The feel of a tripod's leg locks goes a long way. It's by far the most used part of a tripod, and poor locks can make an otherwise good tripod fell like a chore to work with. The oval rubber grips on the Bucky leg locks provide a lot of grip, and the texture makes them easy to operate with wet hands or gloves on. They lock very solidly with minimal effort, and they're easy to dismantle for cleaning. These are quality leg locks.
AirFlow Canopy
The top of the tripod has been given the flashy name of AirFlow Canopy. It has a bubble level (nice) and it has cutouts in it to save weight over the tripods in the Pro range.
Bucky The Transformer
One of the things I had a lot of fun with after first unboxing Bucky, was dismantling it to the component pieces and building the variety of support options. Everything comes apart (and goes back together) very quickly and easily, and there are a couple of genuinely useful options hidden in this package.
Column Height Variety
The centre column has four different positions if you include the first fully-collapsed position. This 3-piece centre column is what allows the Bucky tripod to reach its maximum height of 180cm, while still packing down to a folded length of
Inverted Centre Column
The centre column can be quickly inverted for macro and low-angle usage. The ease of making this change is impressive and requires no tools. You can make this change in about 15 seconds.
Centre Column Removed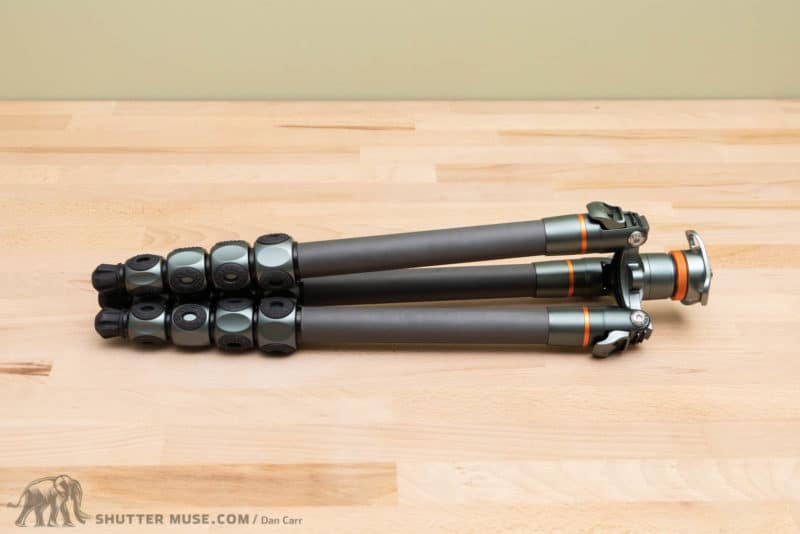 If you remove the centre column you are left with a very solid tripod that has a maximum height of 48.5 inches.
Short Monopod
If you remove one leg of the tripod it can be used as a monopod. The top of the leg has a 3/8″ 16 thread on it, so you can put your ball head onto it if you do not have a dedicated monopod head. The single-leg monopod has a maximum height of 48.75″. Quite useable for ultralight travel.
Tall Monopod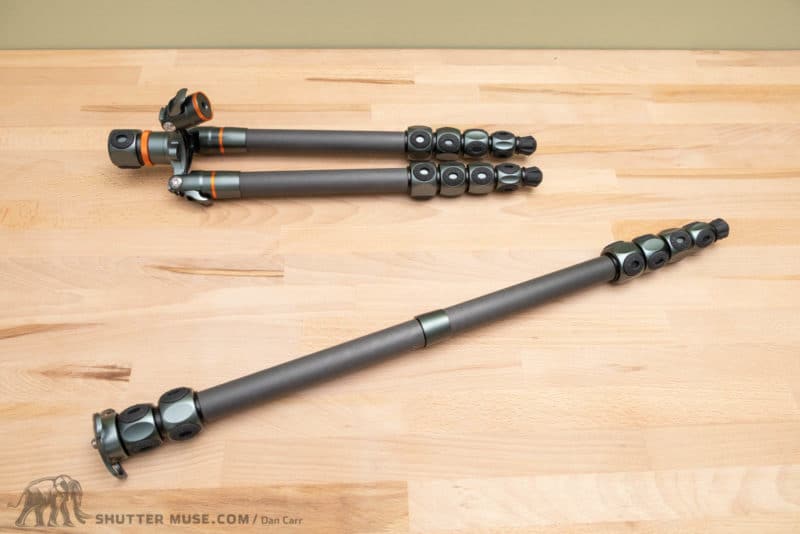 If you remove the centre column and one leg, they can be combined together to create a taller monopod that is well over 6ft tall at max height. When I talked to 3 Legged Thing, they actually recommended this as the best way to make a monopod, but on this, we disagree.
This is an interesting way to make a huge camera stick that can potentially be used as some sort of boom to get a camera into an interesting, different angle. For simple monopod use, I found it preferable to use the "short monopod". The reason is that when you connect the centre column and the leg together, you're essentially using the centre column upside down. This means the leg locks work in the opposite direction. The bottom four locks work as you would expect, but the top two will be opposite, and trying to go back and forth between them was an annoyance.
During event photography, I am a big fan of sticking a camera up high in the middle of a crowd to get a wide shot. When working for clients such as Red Bull at their famously incredible sporting events, I often liked to use this technique to get a crowd "hero" shot. So I do think this giant "camera on a stick" has a purpose, I just preferred the shorter version when using it as a monopod.
4 Legged Thing
If you flip the column upside down and swap the column hook for a leg spike, you can create the 4 Legged Thing by jamming the centre column into the ground for maximum stability. This might be useful for macro work. Height is limited here because you are reliant on the length of the centre column.
Tabletop Tripod
Using optional accessory feet, you can create a tabletop tripod by removing all the tripod legs. This option is discussed in more detail further down the page in the "Accessories" section.
Function in the Field
In use, there were no surprises. All functions of this tripod performed as expected. Once you are actually out in the field you can really get a better understanding for the stability of a tripod, and with Bucky, it's a tale of two halves: With and without using the centre column.
With the centre column full collapsed, the tripod is extremely stable for its size. Stability decreases as you begin to extend the centre column stages, culminating in a relatively unstable top-heavy tripod when set to its maximum height. With moderate winds and above, you should definitely not attempt to use the full height of the centre column for longer exposures.
The fact that centre column height contributes to instability is not a surprise. The same thing will happen to any tripod that has a centre column. What makes it a little more obvious on the Bucky tripod is the multi-stage centre column. This does give you that increased maximum height over similar tripods, but to achieve this the second and third stages of the column are extremely thin.
As well as a flex in the column stages, you also get a decreased footprint to height ratio compared to standard tripods (no column) of the same max height. The photo above shows this quite clearly. You can see the size of the footprint created by the tripod's three legs. Now imagine if those legs were attached just beneath the ball head, and at the same angle. Drawing an imaginary line to the ground, you'll see that the footprint of the tripod would be considerably larger if it had the same height but no column. A larger footprint would give more stability, and this would become more and more important as you put heavier cameras on top of it.
Personally, I would be happy to extend the first stage of the column in very light wind, but I would reserve use of the second and third column stages to times when there is zero wind, or when you are still using relatively fast shutter speeds. That said, this doesn't really affect my opinion of this tripod. These results were 100% to be expected for a travel tripod. A centre column is there as a convenience to be used when the situation is suitable. It's not something that should be blindly extended every time you use the tripod, without consideration for the weather, weight of camera and stability of the surface type.
When choosing a tripod, particularly where the maximum height is concerned, you always need to take into account how that height is achieved. If it's achieved without a centre column, you can generally use all that height at any time. If it's achieved with a centre column, as with Bucky, you must understand that there will simply be times when your best option is to forgo the extension of the column.
My only real in-the-field complaint about Bucky is that I wish the rubbed feet were broader. As you can see in the photos, the rubber feet are the same width as the final leg section. They are very small. This means that on uneven rocky ground, I found the feet would get into cracks and stuck between rocks much more than I'm used to with other tripods. It's not a big deal, but I think their shape and width could be improved to help this. The thread on the bottom of the leg is standard, so you could swap the feet for something bigger.
AirHed Vu Ball Head
Bucky and Ray are both available with the optional AirHed Vu ball head. This head is a slightly updated version of the AirHed Pro that comes with the Pro range of 3LT's tripods. Internally they are the same but there are some ergonomic tweaks to the locking knobs and the obvious inclusion of the viewing window.
On its own, the AirHed Vu costs $169. When you purchase it in the package with Bucky or Ray, you only end up paying $100 for it. On paper, this seems like a good deal, but after my testing of the head, I'm happy to say that it's actually an excellent deal.
I have written a separate 3 Legged Thing AirHed Vu review which has a lot more photos and some expanded information on the performance and inner workings of this ball head that is seen through the viewing window. I'd advise reading that review if you have time, but I'll provide a TLDR version below.
The AirHed Vu is a medium-sized ball head with a claimed maximum capacity of 88lbs (40KG) and a weight of 0.77lbs (350g). It has an Arca-Swiss compatible screw-lock clamp, a dedicated panning base lock and a unique viewing window that lets you see the inner workings of the head's ball locking mechanism.
This kind of capacity to weight ratio is unheard of in the industry. There are very few ball heads that claim a capacity as high as 88lbs and of those that do, none are as small and light as the AirHed Vu. For reference, even a big and very expensive ball head like the RRS BH-55 only claims to have a 50lb capacity.
Precise testing (and particularly comparison) of something like head capacity is close to impossible. There's no standardized way to define ball head capacity. At what head angle does a brand measure load capacity, for example?
For my testing, all I could do was try to apply a similar (and not insane) amount of tension to the locking knobs of the heads I had on hand. Then I attached an empty L bracket to the head and used it as a lever to try and get the ball to move. In all cases, I had to apply an incredible amount of force to the heads, to the point where I thought I was probably going to break my tripod.
I was surprised to see that the AirHed Vu withstood this test better than the $600+ RRS BH-55, and on a par with the $450 Acratech GXP. Essentially I could not get those latter two heads to move at all, and this was me practically hanging my bodyweight off the head at a 45-degree angle.
From this result, I can't tell you exactly what the AirHed Vu's actual capacity is, but I can confirm that it's among the very best in the business. It can certainly handle any weight of camera equipment that you would care to put on it. All the more remarkable given the price, size and weight.
Ergonomically comfortable to use, lightweight and with load capacity in spades. This is a truly excellent ball head, and the fact that you can get it for what amounts to $100 when you buy it with the tripod, is a killer deal.
Optional Accessories
VANZ Tripod Feet
The Vanz feet are an optional purchase that turns the tripod into a small tabletop tripod when the legs have been removed. This is useful for travel, tabletop videography and macro work with small ground-level subjects. The Vanz feet can also be used on the standard legs, with the spikes exposed, to give extra grip on soft surfaces.
The feet retail for $69 which is a fairly steep price, but if you are travelling and anticipate the need for both aa full-sized tripod and a tabletop tripod, this will save you some space and weigh in your bag.
3 Legged Thing L Brackets
3LT also make a pair of very good universal L brackets that will always pair nicely with one of their ball heads or tripods. You can read my reviews of these two L brackets here:
TLDR; the Ellie L bracket is slightly more expensive ($69 vs. $49) but it's a better fit for mirrorless cameras. The variable width of Ellie makes it easier to ensure there is no conflict between the bracket and the camera's battery door.
Nikon Z users should also take a look at the bespoke Zelda bracket that is designed for the Z5/Z6/Z7, and the Zayla which is designed for the Z50.
Lever Clamp
If you prefer to use a lever clamp on your ball head, there's an optional locking lever clamp available. Locking levers are the safest kind of lever clamp. They can't be opened accidentally because the lever can only be opened when a secondary button on the lever is depressed (seen in black on the lever arm).
Bucky Tripod Vs Peak Design Travel Tripod
Ever since Peak Design launched their Travel Tripod, every tripod conversation I have includes questions about it. I would have to say that the Peak Design Travel Tripod is easily the most famous tripod on the planet, so I'll preempt the questions and talk about it here, and discuss how it compares to the Bucky tripod,
It's definitely a great tripod, but it's not the right tripod for everyone. As with all travel tripods, capacity and stability must be sacrificed in order to create something so light and small. For the PD Travel Tripod to be right for you, folded size must be one of your absolute priorities.
Related Post: The Ultimate Peak Design Travel Tripod Review
Folded Size
Bucky: 16.1″ / 40.89 cm
PD Travel Tripod: 15.5″ / 39.37 cm
Folded length is roughly similar between the PD tripod and the Bucky tripod, but the PD tripod has a distinct advantage when it comes to the circumference of that folded package. This is noticeable when you are packing the tripod into a duffle bag for travel. The PD tripod just seems to disappear into a bag, where Bucky will definitely be more present and make you feel like you have to pack things around it.
Weight
The PD tripod also has a considerable weight advantage. The carbon version weights 1.27 kg (2.81 lbs) which is a lot less than Bucky's 1.87 kg (4.12 lbs). Even the Aluminum version of the PD tripod weighs less than Bucky, coming in at 1.56 kg (3.44 lbs).
Price
Price-wise the PD carbon version is more expensive than Bucky: $599 vs. $499. But the PD alloy version is only $349 so this might be a more compelling comparison for potential buyers.
Capacity
Price and folded size don't tell the full story, though. The PD Travel Tripod's capacity is 9.1kg (20 lbs) and the built-in head has some real functional limitations. Lack of panning base to name just one. On the other hand, Bucky has a capacity of 30 kg (66lbs) and the AirHed Vu head has a whopping 88lb capacity.
When I recommend the PD tripod to people, I'm generally recommending that they purchase the Universal Head Adapter, and then use a 3rd party ball head on the tripod to get the most out of it with larger mirrorless and DSLR setups. At least with the alloy version of the PD tripod, this nullifies the previous weight and cost advantage.
Maximum Height
An area where Bucky has a considerable advantage is the maximum height. Using the full extent of the centre column you can reach 70.75″ (180cm). The PD Travel Tripod only has a max height of 60″ (152.4 cm) which can make it uncomfortable to use for taller photographers. Or in fact, any photographer using it on a sloping surface where the ball head height is diminished by a need to have a downhill leg.
Recommendations
So, to sum this up: The Peak Design Travel Tripod is about the same overall cost if you go for the alloy version, but quite a bit more expensive if you go for carbon. The PD tripods pack down much smaller, but you give up some maximum height to the Bucky tripod. The Bucky tripod with the AirHed Vu ball head have a much larger weight capacity – roughly 3x that of the PD Travel Tripods. The Bucky also has the option to break down into a monopod. Both tripods have the option to turn into a small tabletop tripod.
Bucky is going to suit taller people, as well as people with heavier pro-sized camera setups. The Peak Design Travel Tripod is going to suit people who are looking for the absolute smallest and lightest full-sized tripod and are willing to give up a little capacity and stability to get it.
It's also quite likely that people will find the Peak Design tripod an excellent option as a supplementary second tripod in their arsenal, specifically for hiking and travel. Whereas the Bucky tripod, with its added height, capacity and versatility, might be a more suitable option as someone's only tripod.
3 Legged Thing Bucky Tripod Review Conclusion
The Bucky tripod from 3 Legged Thing is a compelling option someone that travels a lot and requires a tripod that can adapt to any situation. When you pack this tripod into your bag, not only are you packing a taller than average full-sized tripod, you're also packing a small/lighter tripod (centre column removed), a tabletop tripod (all legs removed) and two different sizes of monopod using the removed legs.
Not only do you have great flexibility in how you will actually construct the tripod, but you also have flexibility in the size of your camera setup. With its huge 66lb leg capacity The Bucky tripod can easily hold any camera setup you throw at it. My testing also showed that the claimed 88lb capacity of the optional AirHed Vu ball head is no joke, making it one of the most capable heads on the market in terms of load rating.
Keep in mind though, that this is still very much a travel tripod. This means that some lateral stability has been sacrificed in order to keep the leg diameters small, the weight down and the collapsed length short. This is most evident in high winds where you will struggle to get good results when using the fully extended height of the centre column. The difficulty will of course diminish the more you collapse that centre column.
The stability of a travel tripod should never be compared to what I would call a "standard" tripod. A standard tripod that can reach the same max height without the use of a centre column will always be more stable than one that does rely on a centre column. Tripod choice always is, and always will be, a game of weighing up your priorities and balancing them with their consequences.
Need ultimate stability? Choose a larger heavier tripod, but be prepared for the downsides when travelling or hiking. Need the ultimate lightweight tripod option? Choose a carbon tripod that has no centre column, but be prepared for a shorter maximum height and diminished load capacity. Need something in between those options? Something that's not too heavy for travel and hiking, and delivers a maximum height comparable to a standard tripod? That's where I see the Bucky tripod fitting into your options.
Overall, a great tripod if it ticks your tripod specification boxes, and a particularly good deal if you opt for the package that includes the AirHed Vu ball head.