The Canon R5 and R6 are a big deal in the Canon world. While the original full-frame mirrorless cameras were the EOS R and EOS RP, they were something of a stop-gap for the RF mount system while efforts were put into lens development for the new system.
The EOS R system uses Canon's new RF mount instead of the older EF mount from the SLR and DSLR cameras. With millions of EF lenses in circulation from 20+ years of sales, it's no wonder people are wondering whether they can use their beloved EF lenses on the new RF mount cameras like the R5 and R6.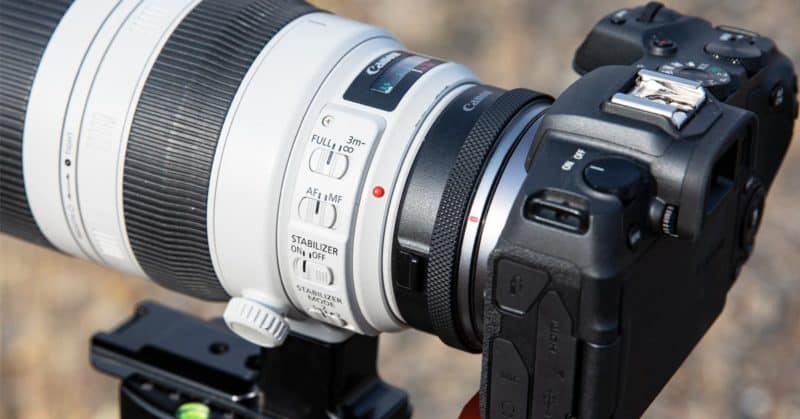 Thankfully, the answer is YES! You can use EF lenses on the R5 and R6, although you will need to buy one of Canon's EF-RF mount adapters to do so.
Canon was smart here. Instead of just making one basic adapter, they have actually created a series of EF-RF mount adapters that bring some additional functionality to the table. There's a basic adapter that simply connects an EF lens to an RF mount, this one is the cheapest. Then there's an adapter that includes a user programable ring around it, called the control ring. This is my personal favourite of the whole bunch. You can read a detailed review of the Canon EF-RF Control Ring Adapter here.
In addition to these two adapters, there are a further two adapters that include either a circular polarizing filter or a variable ND filter. The first being useful for landscape photographers, and the second being useful for filmmakers. Further details about the adapters in the lineup can be seen in the table beneath the gallery.
Details of the EF-RF Adapters
| Adapter | Function | Weight | Check Price |
| --- | --- | --- | --- |
| Canon Mount Adapter EF-EOS R | Basic standard mount adapter with no special features. | 110g | Amazon / B&H |
| Canon Control Ring Mount Adapter EF-EOS R | Adds a user customizable control ring to EF lenses, similar to that which is found on new RF lenses. | 130g | Amazon / B&H |
| Canon EF-EOS R Drop-In Filter Mount Adapter with Circular Polarizer Filter | Mount adapter with a drop-in rotatable circular polarizing filter. | 121g | Amazon / B&H |
| Canon Drop-In Filter Mount Adapter EF-EOS R with Variable ND Filter | Mount adapter with a drop-in rotatable variable ND filter. | 121g | Amazon / B&H |
| Canon Drop-In Clear Filter A | A clear drop-in filter to use in the drop-in adapter when you don't need a polarizer or variable ND. | 30g | Amazon / B&H |
| Canon Drop-In Circular Polarizing Filter A | Drop-in CPL filter on its own without the drop-in adapter. | 30g | Amazon / B&H |
| Canon Drop-In Variable ND Filter A (1.5-9 Stop) | Drop-in variable ND filter on its own without the drop-in adapter. | 30g | Amazon / B&H |