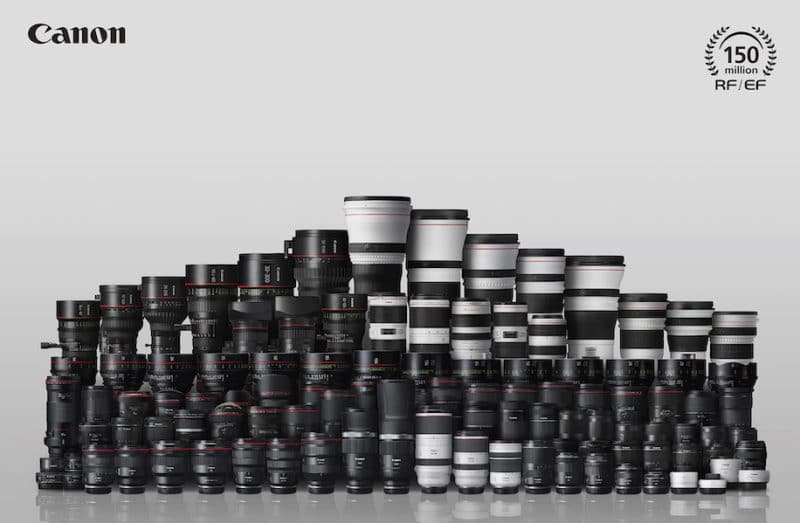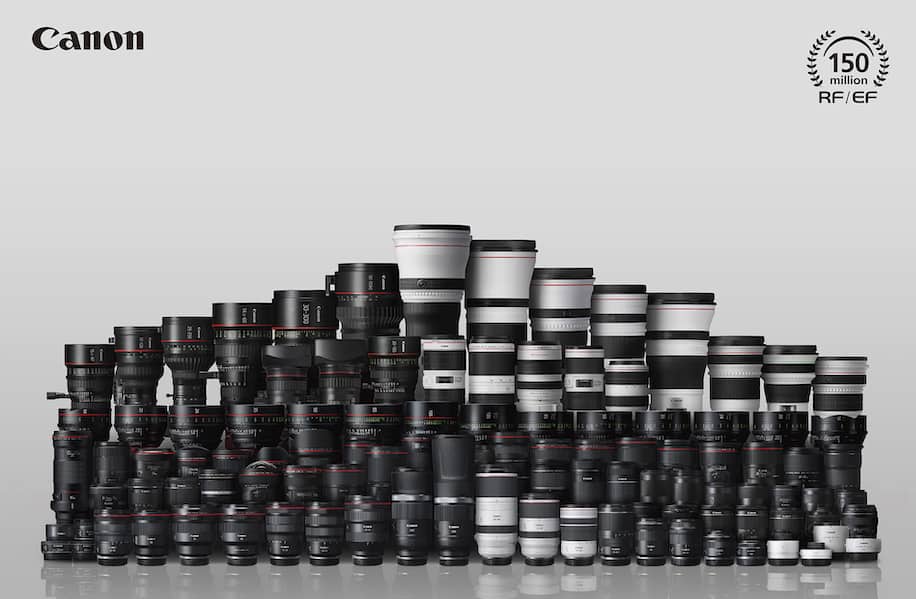 The Canon lens lineup has been growing for decades, as have the number of confusing acronyms and abbreviations that they use to describe the ever-growing list of features and new technologies. In this guide, I want to demystify the markings and letters that are so often appended to the end of lens names, stamped on retail packaging and thrown around in product descriptions. Is USM better than Nano USM? Do you want a lens with SA Control or Defocus Smoothing? Can a DO lens also be an L Series lens? All of these questions and more will be answered in this guide.
Canon Lens Mounts
Canon RF Mount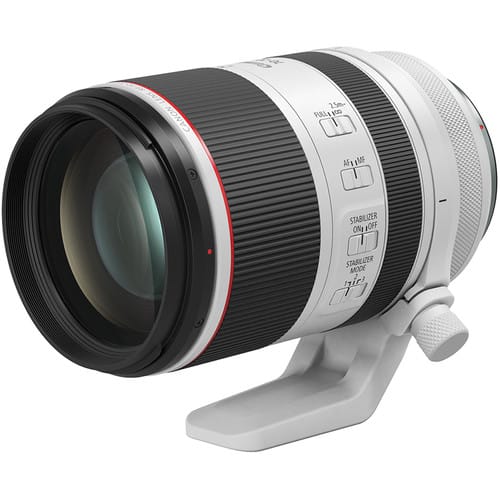 The RF mount is Canon's newest lens mount, designed specifically for full-frame mirrorless cameras and launched in September 2018 with the EOS R camera. At launch, Canon unveiled 4 new RF mount lenses and a set of 3 EF to RF adapters to allow the millions of existing EF lenses to work with the new EOS R mirrorless camera system.
The shorter flange depth of the new RF mount, compared to the older EF mount, will make several new lens designs a possibility – something which Canon immediately demonstrated by launching the stunning RF 28-70mm f/2 L. An f/2 zoom lens in this range was previously unheard of. The new RF mount dimensions can also lead to smaller and lighter lenses, as demonstrated by the small size of the RF 70-200 f/2.8 L IS.
Related Reading: Complete list of all Canon RF lenses and their specifications.
Most popular RF lenses: Canon RF 70-200 f/2.8 L IS | Canon RF 50mm f/1.2 L | Canon RF 24-105 f/4 L IS | Canon RF 35mm f/1.8 IS Macro | Canon RF 600mm f/11 STM
Canon EF Mount
The EF mount is today's standard Canon DSLR mount and was introduced in 1987. An EF mount lens will attach to any EOS camera, so it will work with full-frame digital sensors, as well as crop sensor cameras and EOS film cameras. The EF mount was introduced to allow for the design of autofocus lenses which were not possible with the previous FD mount. EF mount lenses can be used with RF mount cameras when combined with one of several available EF to RF adapters.
Most popular EF lenses: Canon 50mm f/1.8 | Canon 70-200 f/2.8 L IS III | Canon 50mm f/1.4 | Canon 24-105mm f/4 L IS II
Canon EF-S Mount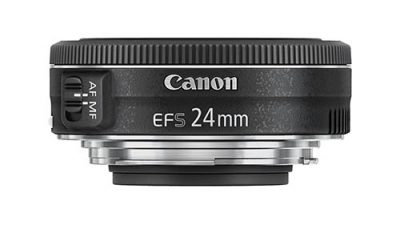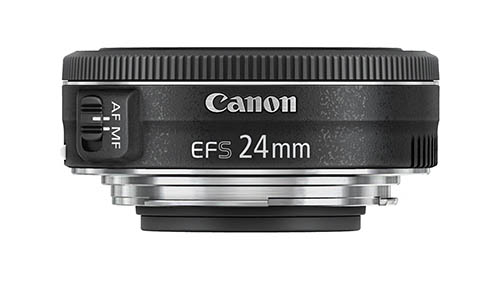 The -S of EF-S stands for "Small image circle" and indicates that this mount is only capable of an image that covers an APS-C sized digital sensor, not a full-frame 35mm one. When an EF lens is used on an APS-C camera, only the middle portion of the lens is actually used. This means that a lot of the cost and weight of an EF lens is wasted on a crop body camera.
In 2003, Canon launched the EF-S mount to solve this and offer cheaper and lighter lenses for APS-C cameras. All EF lenses will work on an EF-S camera, but EF-S lenses will only work on an APS-C camera. While it is nice to have more affordable lenses for crop-sensor cameras, it does make the upgrade path to full-frame cameras more complicated. A move to a full-frame camera will mean a change of lenses if all your lenses are EF-S mount.
Most popular EF-S lenses: Canon EF-S 24mm f/2.8 STM Pancake | Canon EF-S 10-22 f/3.5-4.5 | Canon EF-S 10-18mm f/4.5-5.6 IS STM | Canon EF-S 35mm f/2.8 IS STM Macro
Canon EF-M Mount
The EF-M mount was introduced with the first EOS M mirrorless camera. Due to a much shorter flange distance than the EF or EF-S mount, the lenses are very small when compared to EF-S lenses even though both are designed to only cover an APS-C sensor. EF and EF-S lenses can be used on an EF-M mount using an official Canon adapter that maintains AF and all automatic functions.
In 2021, the EOS M system with its somewhat limited EF-M lens range is still available. However, it doesn't take a genius to see that the newer RF system is the clear future for Canon. It's likely that the EF-M system will be discontinued once Canon launches APS-C cameras with an RF mount.
Most popular EF-M lenses: Canon EF-M 22mm f/2 STM | Canon 15-45mm f/3.5-6.3 | Canon EF-M Lens Adapter | Canon EF-M 28mm f/3.5 Macro IS STM
Canon FD Mount
1971 saw the introduction of the FD mount with the Canon F-1. The FD mount is a 35mm mount that was used up until the 1987 introduction of EOS cameras and the EF mount which would allow the introduction of autofocus lenses. FD lenses are manual focus only and you can still make use of them today using FD->EF adapters. There are some real bargains to be had on eBay!
Most popular second hand FD lenses: Canon FD 28mm f/2.8 | Canon FD 50mm f/1.4 |
Canon FDn Mount
In 1978, Canon launched the 'New' FD lenses or FDn. All of these lenses received the SSC coating treatment (see further down the page) so there was no longer a need to distinguish which lens has which coating. Other than not having the SC or SSC lettering on the lens anymore, FDn lenses are identical to FD lenses.
Most popular second hand FDn lenses: Canon FDn 50mm f/1.8 | Canon FDn 28mm f/2.8
Canon FL Mount
Introduced in April 1964, FL mount lenses are nearly the same as FD mount lenses. FL lenses can be used on an FD mount camera. The main difference between the two is that the older FL mount lenses need to be metered with stop-down metering. Metering with a wide-open aperture is not possible with an FL mount lens.
Most popular second hand FL lenses: Canon FL 55mm f/1.2 | Canon FL 50mm f/1.8
PL Mount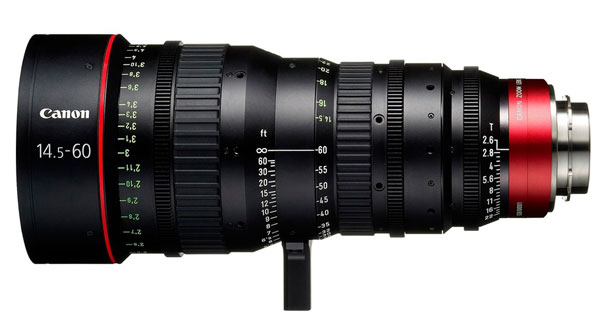 With the 2012 introduction of the Cinema EOS camera line and the Canon C300, Canon made a move on the professional film production market and with that, they added the cinema industry-standard PL mount to some of their cameras. PL mount is only available on higher-end Cinema EOS cameras and those cameras also have the option to be fitted with an EF or RF mount if it is preferred.
Alongside the introduction of the Cinema EOS camera line, Canon also introduced a line of lenses that have the option to be fitted with a PL mount or an EF mount. The PL mount is a very robust design that is much stronger than typical DSLR or mirrorless lens mounts since it is designed to work with cinema lenses that can weigh up to 30lbs! Note that these lenses are MUCH more expensive, for example, the PL mount Canon 30-300 is $44,000!!
Most popular PL lenses: Canon CN-E 30-300mm T2.95-3.7 L SP PL | Canon CN-E15.5-47mm T2.8 L SP PL
---
Lens Types
L Lenses
Available in both EF and RF lens lineups, Canon's L lenses are designated by a prominent red ring around them at the front and represent their top of the line, professional-grade optics. Lenses range all the way from the unique, super-wide EF 8-15mm f/4 L Fisheye Zoom, to the super long 800mm f/5.6 L IS. Shorter L zooms and prime lenses are black in colour, but the 70-200, 70-300, 100-500 and all super telephoto prime lenses from 200 through to 800mm, are painted in Canon's famous off-white colour.
All L lenses feature Ultrasonic motors and almost all of them are weather-sealed to match Canon's prosumer and professional camera bodies. Some newer L lenses like the 100mm f/2.8 L Macro, feature durable polycarbonate bodies, but the majority are metal, with newer super telephotos like the 200-400 f/4 L IS featuring substantial amounts of super lightweight magnesium alloy. These lenses are the cream of the crop; super durable, fast focussing, incredibly sharp and usually with a price point to match the lust factor!
Most popular L lenses: Canon 70-200 f/2.8 L IS III | Canon 24-70 f/2.8 L II | Canon 100-400 f/4-5.6 L IS II | Canon 50mm f/1.2 | 35mm f/1.4 L.
DO Lenses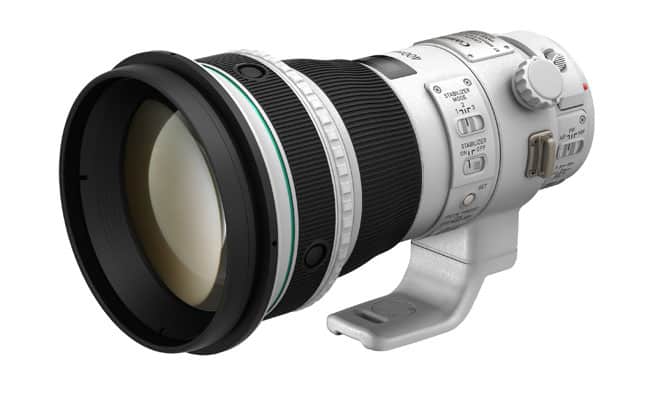 Canon's Diffractive Optics lenses (DO) are built to the same exacting standards as L series lenses, but these are designated with a green ring around the lens barrel instead of a red one. Diffractive optical technology allows the usage of a smaller number of glass elements within a lens, by utilizing optical elements that bend the light much more than regular glass elements from other lenses which normally use refraction.
The result is a much smaller and lighter lens than an equivalent that was made with a more typical optical design. Canon does not yet have a large range of DO lenses, the most popular by far being the 400mm DO which received an MKII update in late 2014. A great many DO lens patents have been filed in recent years, though, suggesting that Canon has finally perfected this technology to its satisfaction and is getting ready to roll it out to a much wider range of lenses.
Most popular DO lenses: Canon 400mm f/4 DO IS II | Canon 70-300 f/4.5-5.6 DO IS
Macro Lenses
Macro lenses are designed specifically for close-up photography and should feature at least a 1:1 magnification. Canon also includes a "Macro Mode" on the EF 24-70 f/4 L IS, which isn't quite a 1:1 magnification but is nonetheless pretty impressive for inclusion in a standard zoom lens.
Of particular note in Canon's macro range is the RF 100mm f/2.8 L IS Macro which at around $1300, is one of the cheapest L lenses on the market. Despite the low price (comparatively!), it's actually one of their sharpest lenses, and features a higher magnification of 1.4x.
The EF-S 35mm f/2.8 IS STM Macro is also an interesting lens as it is Canon's first EF-S mount lens to feature a built-in LED ring light to evenly illuminate your macro subjects, and it comes in at the extremely affordable price of just $350. On top of regular macro lenses, Canon also has three tilt-shift macro lenses that were introduced in 2017 (see next entry).
Most popular macro lenses: Canon 100mm f/2.8 L IS Macro | Canon 100m f/2.8 Macro | Canon EF-S 35mm f/2.8 IS STM Macro
TS-E (Tilt-Shift) Lenses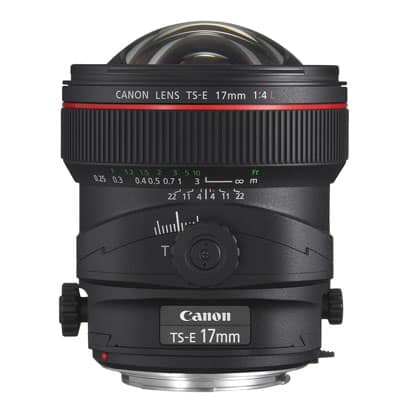 Tilt-shift lenses are manual focus lenses that allow you to alter the angle of the plane of focus relative to the camera's sensor. Normally the plane of focus is parallel to the sensor, but the tilt controls of a TS-E lens allow you to position it anywhere between parallel and perpendicular. The shift mechanism is used to correct the keystone effect of looking upwards at tall objects, like buildings or trees.
Architectural photographers love these lenses for the shift functionality, and landscape photographers love them for the tilt function which can give them perfect focus all the way to the horizon with a much wider aperture than you would typically need from a regular lens. They're also used by product photographers to ensure sharp focus on products from front to back, even when shooting at close distances.
TS-E lenses are mechanically complex lenses with a lot of moving parts and as such, they are very expensive. In 2017 Canon launched their first TS-E Macro lenses with the TS-E Macro 50mm, The TS-E Macro 90mm and the TS-E Macro 135mm.
Most popular tilt-shift lenses: Canon 24mm f/3.5 TS-E L II | Canon 17mm f/4 TS-E L | Canon 50mm f/2.8 L TS-E Macro
MP-E Lenses
Currently, there is only one MP-E lens in the Canon lineup, the 65mm f/2.8. This lens is rather unique in that it allows an incredible magnification for "super macro" photos. Normally a lens is considered to be a macro lens when it can achieve a 1:1 ratio, but the MP-E takes that all the way from 1x to 5x. This is the lens you want if you need to photograph the eye of a fly or the head of a pin.
The lens is also unique in that it doesn't have a focus ring. The only control allows you to adjust the magnification and from there you need to alter the focus by physically moving the lens. With such high magnification, the depth of field is incredibly shallow with this lens, to the point where a focus stacking technique is almost always needed to get desired results. Use this with a macro focusing to get the best result. A fun lens to try, but one of the most technically challenging to create great results with.
Only MP-E lens: Canon 65mm f/2.8 1-5x MP-E
CN-E (Cinema EOS)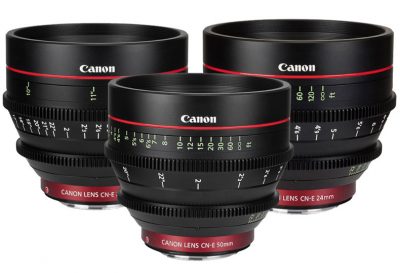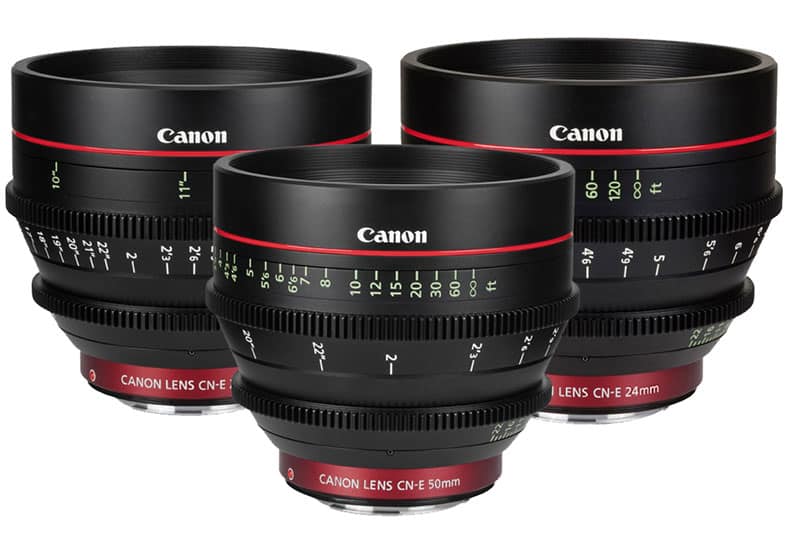 With the introduction of the Canon C300, Canon expanded its brand into the world of professional cinematography. A line of cinema specific lenses was quickly introduced alongside the camera, and this line has grown steadily since 2012. Cinema specific lenses carry the CN-E designation and all have a distinctive black and red design since they are also all marked as L lenses. CN-E lenses are extremely expensive compared to DSLR still photography lenses. Canon's own CN-E zoom lenses go up to $44,000, and CN-E EF mount prime lenses are in the area of $5000 each! CN-E lenses are manual focus only and also feature a manual aperture control ring. They are constructed for extreme durability and built to incredible standards.
Most popular CN-E lenses: Canon CN-E 50mm T1.3 L F | Canon CN-E 35mm T1.5 L F | Canon CN-E 15.5-47mm f/2.8 L SP
CINE-SERVO (Cinema EOS)
CINE-SERVO lenses are canon CN-E lenses that include (removable) hand zoom controllers. The first was the 17-120 T2.95 ($30K) and this was followed by the optically incredible 50-1000mm lens which even includes a built-in 1.5x extender to create a 75-1500mm lens! The price? Nearly $70,000! CINE-SERVO lenses are available with either an EF mount or a PL mount.
Most popular CINE-SERVO lenses: Canon CN7x17 KAS S Cine-Servo 17-120mm T2.95 | Canon CINE-SERVO 50-1000mm T5.0-8.9 |
COMPACT-SERVO (Cinema EOS)
The first lens with the COMPACT-SERVO designation was launched in April 2016. This was the CN-E 18-80mm T4.4, but at the time Canon's executives were quick to underline this this was just the beginning for this new lineup and sure enough it was closely followed by the launch of the matching compact CN-E 70-200.
This lens range is designed to fill the enormous pricing void between standard EOS lenses that were designed for stills photography, and the regular cinema specific CN-E zoom lenses that start at around the $20,000 mark. These more compact lenses employ the same kind of build quality that we would expect to see in Canon L-Series still photography lenses, and they feature all the cinema specific design elements you would hope for, like a long-focus throw and a manual aperture ring.
Unlike the more expensive, larger regular CN-E lenses, these lenses also feature image stabilization and autofocus capabilities to make them perfect for single operator usage. COMPACT-SERVO lenses are compatible with the optional ZSG-C10 zoom control, but also feature a zoom rocker that is permanently fixed to the base of the lens as well. COMPACT-SERVO lenses are only available with an EF mount, and not a PL mount like most of the other CN-E lenses because the electronic contacts on the EF mount are needed for the autofocus and image stabilization functions.
Most popular COMPACT-SERVO lenses: CN-E18-80MM T4.4 L IS KAS S | CN-E 70-200 T4.4 L IS
Compact Macro
Currently, there is only one Compact Macro lens, a 50mm f/2.5. As the name suggests, this lens is much smaller than the other macro lenses in Canon's lineup, but whilst having a very short MFD (minimum focus distance), allowing for close up work, the magnification is 0.5, rather than being 1x like a 'true' macro. There is, however, an adapter for this lens that extends it to 1:1 magnification.
Only Compact Macro Lens: Canon EF 50mm f/2.5 Compact Macro + optional life size converter.
Soft Focus Lenses
The unique Canon 135mm Soft Focus lens had a ring around it that could be turned to apply a softer "dreamy" look to your images. This look was popular in the 70s and 80s with film photography and portraiture, long before the days of Photoshop.
Although the original 135mm Soft Focus lens has long been discontinued, this style of lens was given something of a lease of life with the introduction of the RF 100mm f/2.8 L Macro lens. This modern lens features what Canon calls SA Control, which is almost identical to the spherical aberration control in the old 135mm lens. SA Control is discussed in its own section further down the page under the acronym sub-heading.
Only Soft Focus lens: Canon 135mm f/2.8 Soft Focus (no longer available)
---
Abbreviations & Acronyms
ASC
ASC stands for Air Sphere Coating and was first introduced in 2014 with the launch of the 100-400mm f/4.5-5.6 L IS II. It was subsequently used in the 70-200mm f/2.8 L IS III as well. The coating is explained well in the above video, but essentially it is there to prevent flare and ghosting in backlit situations. You will not see the ASC lettering written on any of the lenses, although it does appear on the box/packaging for the lens.
Most popular lenses with ASC: Canon 70-200mm f/2.8 L IS III | Canon 100-400mm f/4.5-5.6 L IS II
BR
BR stands for Blue Spectrum Refractive and is a newer type of organic lens element that was first introduced with the EF 35mm f/1.4 L II. This BR element is designed to significantly reduce chromatic aberration and mitigate the difficulties that traditional optical materials have with correcting blue wavelengths. BR lenses exhibit reduced blue/purple fringing chromatic aberrations. At the moment the only lens with a BR element is the aforementioned 35mm lens, but Canon has also displayed a prototype 600mm f/4 DO BR that's currently unavailable.
Most popular BR lenses: Canon 35mm f/1.4 L II BR |
SA Control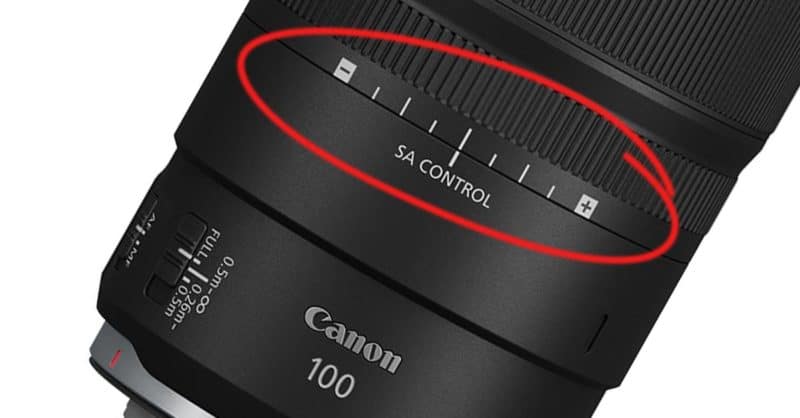 SA Control stands for Spherical Aberration Control. This feature was first introduced in 2021 with the launch of the RF 100mm f/2.8 L IS Macro lens. An additional ring behind the focus ring actuates a pair of internal cams that shift focus groups to control the shape and character of the foreground and background bokeh. At the same time, this feature also adds a smooth, dreamy soft-focus look to the image.
SA or SA Control does not appear directly in the official name of the lens, although you will find it listed in the specifications and features of lenses that have it, as well as seeing it on the retail packaging.
If any of this is giving you a sense of deja vu, perhaps you have memories of Canon's now-discontinued EF 135mm Soft Focus. This much older, oft-forgotten lens also had a ring on it that allowed you to control spherical aberration to some degree.
Most popular SA Control lenses: Canon RF 100mm f/2.8 L IS Macro |
DS
DS stands for Defocus Smoothing, and it first appeared in the RF 85mm f/1.2 DS that was launched at the end of 2019. A regular non-DS version of the lens was also announced, so Canon users have a distinct choice to make if they decided to purchase the traditionally perfect for portraits 85mm f/1.2 lens for the RF mount.
Defocus Smoothing is essentially Canon's term for a lens that has an apodization filter built into it. The apodization filter is a circular graduated neutral density filter that sits behind the lens elements, and it helps to smooth the transitions of out-of-focus areas in the image, particularly "bokeh balls".
This video does a good job of demonstrating the function in Canon lenses:
Defocus Smoothing does have an obvious visible effect on the bokeh of images shot at very wide apertures, but the neutral density of the filter uses up some of the available light that's coming into the camera. Canon says the effective light loss can be "up to 1.5 stops". This means that whilst you are shooting at f/1.2 because the f-number is a function of the lens' physical properties, the light that reaches the sensor would be equivalent to a T2.5 lens. So you'll get the best bokeh, but you might have to compensate for your exposure by using a higher ISO or a slower shutter speed than what you would use if you were shooting with the non-DS version of the same lens.
Most popular DS lenses: Canon RF 85mm f/1.2 L DS |
IS
Lenses that feature optical image stabilization carry the IS designation. This technology uses a system of gyros to counteract your own movements and move the lens groups inside the lens to adjust for shake. The result is that you can handhold your lenses at much lower shutter speeds and still maintain a sharp image. Current technology is allowing up to a 5-stop stabilization effect, meaning that you can handhold your lens at a shutter speed up to 5 stops less than you normally would be able to without the technology. It helps low light shooting of static subjects and is popular with travel photographers who have to shoot in available light. It's also fitted to all Canon's telephoto lenses which have several different IS modes.
Most popular IS lenses: Canon 24-105 f/4 L IS II | Canon EF-S 17-55mm f/2.8 IS USM | Canon EF 24-105mm f/3.5-5.6 IS STM | Canon 85mm f/1.4 L IS
USM
A lens with the USM designation means it features Canon's UltraSonic Motor technology. Over time, this has now found its way into many of Canon's current lenses. USM lenses are faster to focus, and the motors are also very quiet, though not as quiet as STM motors. Nonetheless, they are quiet enough to be useful in wedding shooting and wildlife photography where a certain amount of discretion is a benefit.
Most popular USM lenses: Canon EF 16-35 f/4 L IS USM | Canon 85mm f/1.4 L IS | Canon 70-200mm f/4 L IS II
Micro USM
Micro USM is simply a cheaper version of the USM design to be included in low-end lenses and kit zoom lenses. It is noisier than USM, slower and does not allow for manual focus override (apart from the 50mm f/1.4). Despite being a lower grade of motor than USM, it's still a considerable improvement over previous motor types which were much slower and much noisier. These older motors are discussed further down the page.
Most popular Micro USM lens: Canon EF 50mm f/1.4 USM
DC
The acronym DC stands for Direct Connect. Some of Canon's older or more budget-friendly lenses use a geared DC motor. Unlike USM or Micro USM lenses, lenses with a DC motor do not offer Canon's full-time manual focusing feature. DC motors are much slower to focus than USM, and they are also much noisier.
Most popular DC lens: Canon EF 75-300mm f/4-5.6 III
STM
STM stands for Stepper Motor, and this specific focus motor design was introduced to create a quieter and smoother focus for lenses that are being used to record video. STM lenses use a focus-by-wire system which means that the focus ring controls a motor, which in turn moves the internal lens elements. The benefit is a quieter lens, but you lose that nice tactile focusing feel for manual focus.
Most popular STM lenses: Canon EF 40mm f/2.8 STM (pancake) | Canon EF-S 24mm f/2.8 STM (pancake) | Canon EF-S 10-18mm f/4.5-5.6 IS STM
I, II, III
The II designation represents the second version of a Canon lens. Whilst they themselves do not use the 'I' designation, it's often used online to distinguish the older model from the newer one. In the current EF lineup, there is also version III of the 1.4x and 2x extenders, and version III of the 70-200 f/2.8 L IS.
SC & SSC
Spectra Coating and Super Spectra Coating were introduced to Canon lenses back in the days of the FD mount. SC was limited to cheaper lenses and SSC was for more expensive ones. The coating is applied to optical lens elements to increase contrast and decrease reflections and flare. These days, all Canon lenses are coated with complex multilayer coatings so the SSC designation is no longer in use.
SWC
The Subwavelength Coating helps to significantly reduce flare and ghosting and is the successor to the SC and SSC coatings.
AFD
Arc Form Drive was Canon's first autofocus motor technology and is no longer a part of any lenses in the current lineup. As you can imagine, these lenses were much slower to focus and much noisier than other lenses. Interestingly there was no manual focus override on AFD lenses. If you wanted to manual focus, you had to disengage the AF/MF switch. Today's lenses allow us to override AF and use the focus ring whenever we want.
MM
After the development of the AFD motor, Canon set about making a cheaper version of it to include in kit zoom lenses and other low-end optics. The MM motor is the result and it's even noisier and slower than the AFD motor and again features no manual focus override.
KAS S
Lenses that carry the KAS S marking are CN-E cine lenses that have a servo controller for smooth zoom, iris and focus control.
Most popular KAS lenses: CN-E18-80MM T4.4 L IS KAS S | CN7x17 KAS S Cine-Servo 17-120mm T2.95
Pin This Post