The origins of global electronics and precision optical giant Canon Inc. can be traced back to humble beginnings in the town of Roppongi, in Minato-Ku,Tokyo 1933. Takeshi Mitarai and three friends, Goro yoshida, Saburo Uchida, and Takeo Maeda founded the 'Precision Optical Instruments Laboratory' in a small street-side workshop, and set to work dismantling and examining cameras built by industry leading European manufacturers. Traditionally fetching a high premium in the Japanese market, Precision Optical Instruments dreamt of producing cheaper, Japanese made alternatives.
In 1934, having conducted their research, Precision Optics prototyped Japan's first domestically designed and manufactured 35mm focal-plane shutter camera. Called the 'Kwanon', named for the Buddhist Goddess of mercy, it was never intended for production but instead demonstrated Precision Optical Instruments', and indeed Japan's ability to design and produce 35mm cameras.
Having proved the concept of Japanese-made 35mm cameras to be viable, in 1935 Precision Optical Instruments Laboratory registered the trademark 'Canon', and began work on their first production camera. In 1936 the Hansa Canon was released, the company's first production 35mm camera. With no means to produce in-house precision optics, Mitarai and Co. sourced lenses for the Hansa Canon from Nippon Kogaku Koyyo, the company that would eventually become their strongest rival, Nikon (Inc.).
In 1937, Precision Optical Instruments Laboratory became a limited company and with sales of the Hansa Canon increasing, in-house production of lenses began. By 1939 Precision Optical Instruments Laboratory was producing the Serenar series of 39mm screw-mount lenses, a family of lenses to which all further Canon lens releases can trace their origins.
In 1940 the company used their new found expertise in camera and optics manufacturing to produce Japan's first indirect X-ray machine, an invention credited with preventing the spread of tuberculosis in pre-war Japan. The war years themselves however, were not such a prosperous time. With Japan's economy focused on funding war with the United States, and almost all raw materials being siphoned into the war effort, the company was unable to manufacturer cameras for the duration of the conflict.
The post-war years were just as challenging. With the post-surrender economy ravaged by a costly conflict, it was only the dogged determination of company president Mitarai that saved them from floundering. Mitarai secured deals that would see Precision Optical Instruments' newest camera, the SII, sold in occupying forces Post Exchanges and Ship's stores. A move which not only secured the company's survival during the harsh post-war years, but also secured their first foothold in foreign markets. Servicemen returning home from the war took Precision Optical Instruments cameras with them, and it was quickly realised that they were every bit as good as their more expensive European counterparts.
1947 saw Precision Optical Instruments Laboratory renamed the 'Canon Camera Company Inc.' and in 1949 the Canon IIB won the company's first award on foreign soil at the International Camera Exhibition in San Francisco. The 1950's were prosperous for the Canon Camera Company; The Korean War exposed the company's cameras and lenses to foreign journalists, some of whom chose to adopt the new Japanese cameras over their more expensive European counterparts. This exposure to foreign markets led to the opening of Canon Camera Company's first foreign subsidiaries: New York in 1955 and Geneva, Switzerland in 1957.
Throughout the late 1950's and 1960's, Canon Camera Company continued to grow and diversify, producing their first television cameras and photo copying machines. In 1964, Canon revealed the FL series of bayonet mount lenses and in 1969 'Camera Company' was removed from the company's name; Canon Inc. was born.
The 1970's saw further global expansion and in 1970 Canon released the AE-1, the world's first camera with a built in microcomputer, and shutter priority auto-exposure metering, a move which sparked an industry-wide auto-exposure revolution. In 1971 Canon released the F-1, an unashamedly high-end 35mm SLR. Traditionally successful in the amateur-compact and fixed lens market, Canon was now ready to take on market leaders Nikon in the professional SLR segment.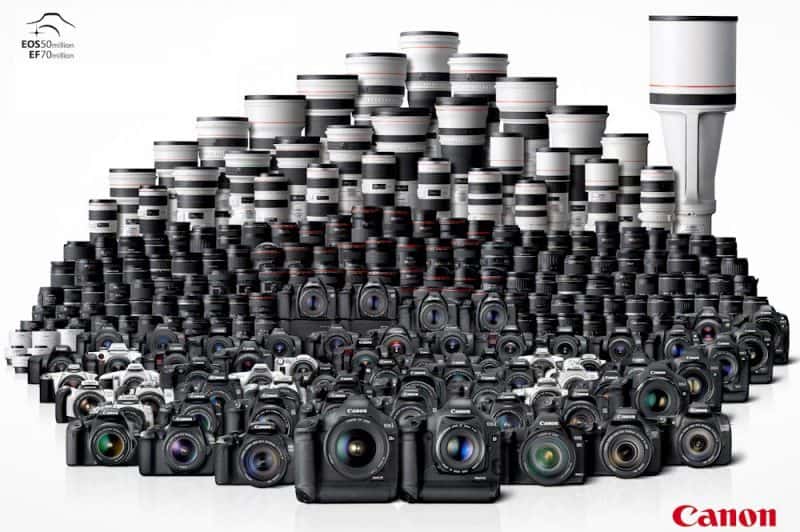 Alongside the F-1, Canon also revealed the first generation of FD-Mount lenses. FD lenses would continue to be manufactured for 21 years, encompassing a range of 134 lenses, and covering focal lengths from 7-1200mm. The FD series would include not only Canon's first 'L' or luxury lenses, representing the pinnacle of the company's optical imaging technologies, but also their first four autofocus lenses. The FD 35-70mm f/4 AF would be the first lens to include a built in autofocus motor, negating the need for a dedicated motor housed within the camera body.
The 1980's saw Canon introduce the T-series of SLRs, showcasing their automatic exposure technologies. These reached a pinnacle with the Canon T90 which offered 3 metering options, seven auto-exposure modes, a built in motor drive capable of shooting speeds of up to 4.5 frames per second, and Canon's first use of a TTL flash control system. The T90, and autofocus FD lenses such as the FD 35-70mm, laid the framework for all Canon's future cameras and lenses, setting the stage for a complete paradigm shift in camera and lens design.
In March 1987 Canon introduced the EOS (Electro-Optical System ) 650, and the EF or Electro-Focus lens mounting system. The EF Lens mount severed the traditional mechanical control linkages between camera body and lens, in favour of a fully electronic system. Control data was passed to the lens' built-in autofocus motor via a series of electrical connections. The EF lens mount also featured a larger 52mm mount diameter than those of its competitors, allowing Canon the flexibility to produce lenses with larger apertures, capable of speeds of up to f/1.2. The release of the EOS 650 and EF lens system was a risky move for Canon who were unsure if photographers would be willing to retire their older camera systems in favour of Canon's newer technology. The EOS system combined with EF-Mount and lenses was, however, a runaway success. Thousands of photographers across the globe adopted Canon's new cameras and lenses and competitors were left scrambling to develop systems of their own in a marketplace now dominated by the company's autofocus revolution.
The following 8 years saw the EOS range of Cameras, and EF-mount lenses grow rapidly. Canon released their first EF lens featuring USM or Ultrasonic Motors, utilizing vibrating piezoelectric elements to provide faster, quieter, and more accurate autofocus, USM is a technology which has now become synonymous with Canon's EF lenses. In 1989 Canon introduced the EF 50mm f/1.0L USM, and the EF 80-200mm f/2.5L USM, the first lenses in the 'EF L' series of luxury lenses; EF L lenses, recognizable by their distinctive red lens ring, L-series lenses represent the absolute pinnacle of Canon's optical imaging technology. L lenses feature the use of exotic optical materials alongside complex, ultra-low dispersion and aspherical elements to capture images of the highest possible optical fidelity, and are the staple of Canon's professional lens lineup.
Development of the EOS end EF-Mount platform continued throughout the late 1980's and early 1990's. Canon introduced further technical innovations including cross-point autofocus sensor technology, allowing greater autofocus accuracy over a wider variety of subjects, as well as the first Digital EOS camera, the EOS DC53. Designed jointly with Kodak, and Featuring a 1.3 megapixel CCD sensor, the DC53 heralded the arrival of digital photojournalism.
With the new breed of Digital SLRs producing copy ready images straight from the camera, photographic agencies were no longer burdened by the need to develop film, and could dramatically decrease the time required to get photographs into print . Alongside the DC53, Canon also released the EF 75-300mm f/4-5.6 IS USM which introduced yet more innovative technology to their EF-mount family; Optical Image Stabilization. Building the stabilization mechanism into the lens, rather than the camera body allows Canon to continue using the same large, 52mm diameter lens mount and offer photographers the ability to see the stabilized image live through the camera's viewfinder.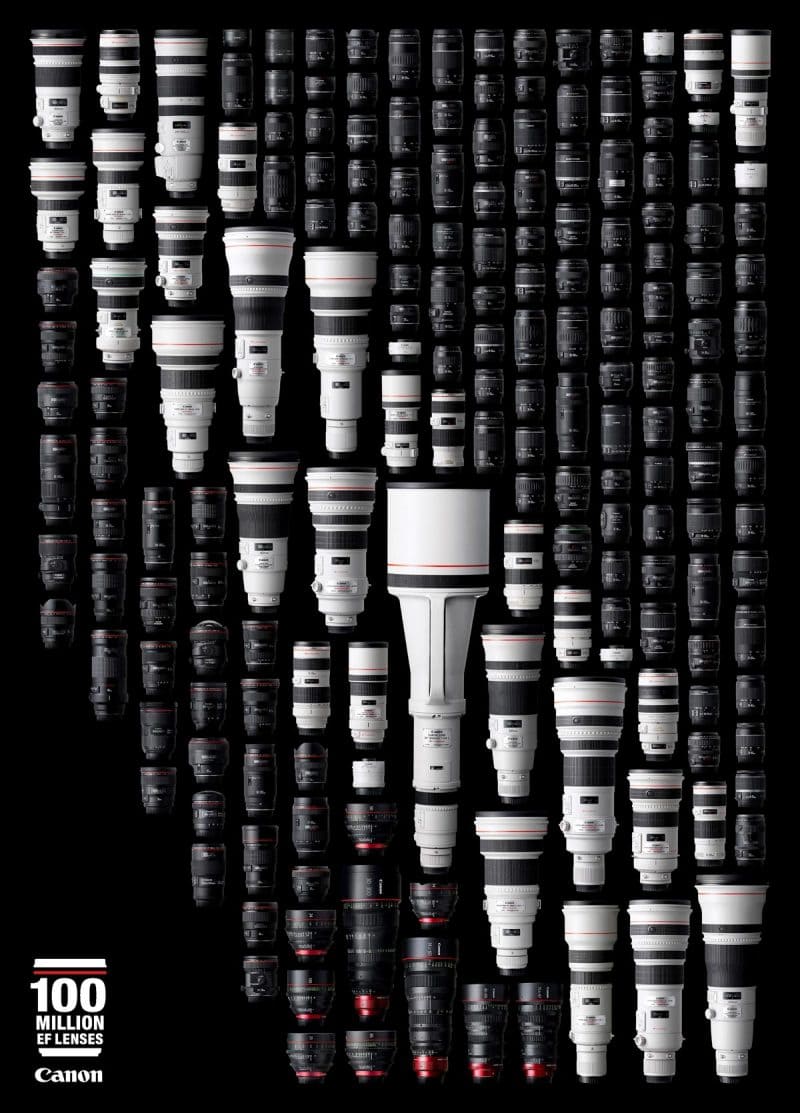 The year 2000 saw the introduction of Canon CMOS sensor technology and the EF 400mm f/4 DO IS USM. This lens, shown first at Photokina, used Canon's first Diffractive Optics lens formula. Canon's DO technology places multiple grooved diffractive optical elements within a lens, which work together to diffract incoming light in a pattern that eliminates nearly all chromatic aberration. The use of DO elements within a lens also allows elements to placed much closer together than in a standard lens formula, resulting in dramatically shorter lens barrels. Designated by their green lens ring, Canon continues to push diffractive optical technology within their EF-mount lenses, patenting ever more DO lens formulas. The Ef 400mm f/4 DO IS USM is now in its second generation, and the EF 70-300mm f/4.5-5.6 DO IS USM was also added to the EF DO lens lineup.
In 2003, the EF-mount family expanded to include its first derivative, the EF-S lens mount. The EF-S 'small image circle' mount is designed specifically to be used with Canon's range of APS-C sensor cameras. In keeping with the ethos of the APS-C camera range, EF-S lenses are smaller, lighter and more affordable than their full-frame EF counterparts,
In 2012, the second derivative of the EF-mount system was introduced, the EF-M mount, designed specifically for Canon's new EOS M APS-C sensor mirrorless system cameras. In that same year, Canon also introduced another innovation in lens based autofocus technology, the 'Stepping Motor Autofocus System' or STM. STM lenses provide smoother, quieter autofocusing than their USM counterparts, at the cost of overall focusing speed. STM lenses provide photographers with focus by wire capabilities, and continuous autofocus in both video and live-view modes, making them a hit amongst the growing number of videographers utilizing DSLRs as an all-in-one stills and video capture solution.
Today, the EF-mount family continues to grow. Many lenses are now entering their 2nd and even 3rd generation, and Canon claims to have manufactured over 120 million EF-Mount lenses since their inception in 1987. Now available in focal lengths ranging from 8mm to 1200mm, the EF-Mount is surely the most utilized lens mounting systems in the world. From humble beginnings to global domination, Canon cameras and EF-Mount lenses will undoubtedly continue to provide both professional photographers and enthusiasts with the tools they need to pursue their photographic passions for many years to come.