Canon surprised people with a development announcement for the upcoming EOS-1D X Mark III, and unlike Nikon's development announcement for the D6, they actually shared quite a few exciting details about their new flagship DSLR.
I'll post the full Canon press release at the end of the article, but before we get there I thought it would be good to discuss the newly unveiled features, as well as taking a look at some of the rumoured specifications for details that Canon did not share in this announcement.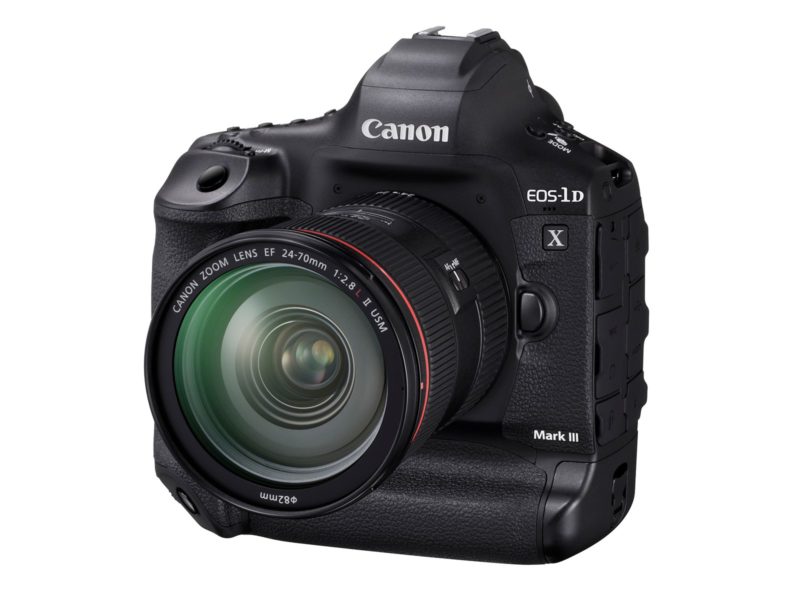 What We Know
Development announcements are usually boring affairs where one photo of the product is shown, and stock phrases like "our best camera ever" are thrown around in an otherwise empty press release.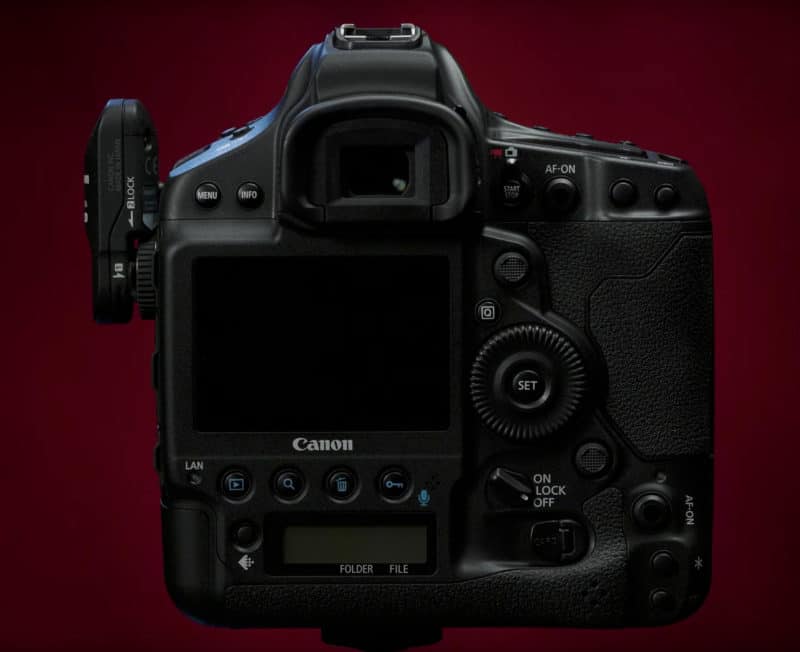 With the Canon 1D X Mark III announcement, Canon actually bucked this trend and revealed quite a lot about this new flagship DSLR! I'd say this is by far the most detailed development announcement we've ever seen from a camera brand, and they even went as far as to allow some publications to take a look at the camera and create some video content about it (included below).
Let's start with a simple look at what we know is new so far:
The camera uses dual CFexpress slots. Bye bye Cfast and CF.
Some of the rear buttons are illuminated for easier use in the dark
It has built-in bluetooth
It has built-in Wi-Fi
Built-in ethernet is twice as fast
The same LP-E19 battery is used, but battery life has been dramatically improved. I have seen over 1200 shots per battery quoted.
It shoots 10-bit 60fps 4:2:2 4k video and records RAW video internally.
The RAW video format is Canon's Raw Lite format from the C700 and C500 II.
The AF-On button is larger and features some sort of innovative method for adjusting the AF point position (?)
It shoots 16fps with full AE/AF through the viewfinder
It shoots 20fps with full AE/AF using live view
Af point in the viewfinder are slightly expanded over previous version
Dual pixel AF points in live view cover 100% vertically and 90% horizontally.
It shoots JPEG, RAW and 10-bit HEIF images. HEIF allows for expanded colour and dynamic range compared to JPEG. (very innovative!!)
The AF sensor is entirely new, and has a resolution that is 28x that of the centre of the 1D X Mark II sensor.
New AF algorithms deliver improved subject tracking and use "Deep Learning" (buzz word, much?) to improve reliability
New Digic 9 processor improves high-ISO quality
New WFT-E9 wi-fi transmitter for long range wi-fi transmission of images.
The image buffer is 5x that of the 1D X Mark II. (!!!)
That's a lot to chew on, considering this is just a development announcement, right?!
Firstly, I'm glad to see Canon jumping into CFexpress with both feet. This format is the future and we've known it for some time. The speed of CFexpress is what is allowing this camera to have such impressive video specs, and also an insane image buffer of 5x that in the 1D X Mark II, whilst shooting images both faster, and with a presumed larger resolution (more on that later).
I'm also impressed to see 16fps with a mechanical shutter through the viewfinder, and 20fps with both the mechanical and electronic shutter using live view. Surely 20fps is approaching physical maximums for actually moving these mechanical parts now? 20fps with the electronic shutter matches the Sony A9 II, and the 16fps with the mechanical shutter and viewfinder bests the A9 II by a whole 6fps! Not to mention the option to use the mechanical shutter and live view at up to 20fps, fully double what the A9 II offers. Impressive stuff for those that prefer mechanical shutters when shooting with strobes or under fluorescent lighting. These things don't mean much to a lot of people, but there's a certain section of the sports photography community that will love this.
In my experience with the Sony A7 and A9 cameras, as well as all Canon pro DSLRs, the area that Canon desperately needs to catch up on is AF tracking. At the moment, Sony is light years ahead in this aspect. Canon users can only hope that this common complaint has been taken seriously. With all the talk of tracking improvement in the press release, it would certainly seem as though they have tried to make some gains in this area, but we'll have to wait until cameras are in hands.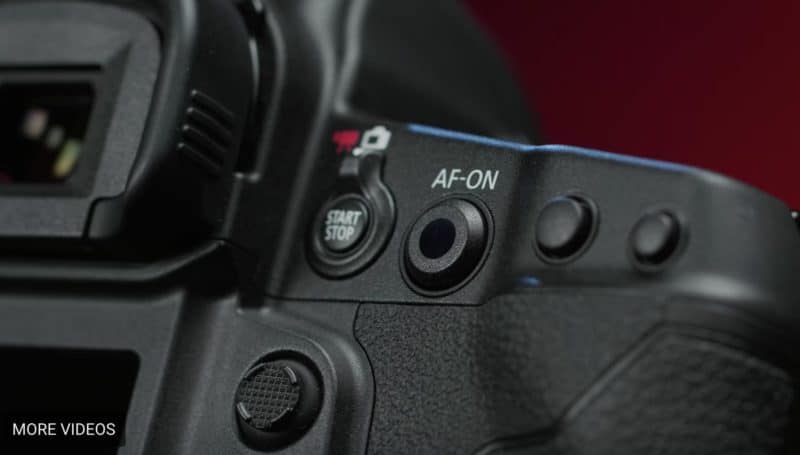 Ergonomically there isn't a lot of difference, which is how it should be. This camera has had decades of refinement and it's just about perfect anyway. The only real thing of note is the odd-looking AF-On button. It seems clear this is one of the illuminated buttons, but Canon also alludes to it having some sort of special function in terms of controlling the position of the AF points in the viewfinder. Is it some sort of tiny, hyper-touch-sensitive joystick that would allow you to move your thumb very slightly to adjust the AF point position? This would be my guess. If you have any ideas, leave them in the comments!
What We Guess
The biggest unknown at the moment is the resolution of the full-frame sensor. The 1D X Mark II had a 24MP sensor, which may not seem like a lot in the age of cameras like the 62MP Sony A7RIV, but professionals know that the quality of the pixels is also important, as is the speed of the camera. This is underlined by the fact that Sony's own flagship, the A9II, remains using the same 24MP sensor from the original A9.
Will the 1D X Mark III go larger than 24MP? The usually reliable rumours from Canon Rumours suggest that yes, the Mark III will have a bump in resolution. The current guess is that it will be 28MP.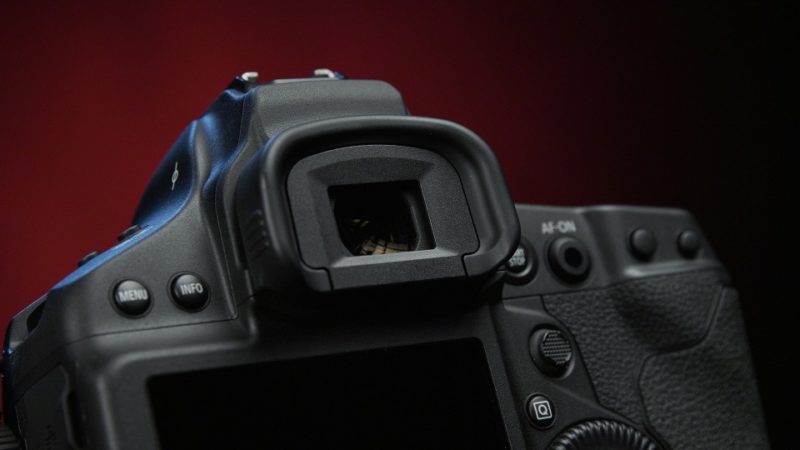 Personally, I really hope this one comes true. My primary camera for many years has been the 30MP 5D Mark IV and I think this is a good resolution for the majority of people's work. Given my experience with all the 1-Series cameras, I do not doubt that a 28MP 1D X Mark III would produce superior files to a 30MP 5D Mark IV, so interpolating files to larger sizes for printing would be at least as good as what I'm currently used to, if not better.
I also suspect that Canon will want to differentiate this camera from the A9II and its 24MP sensor, and jumping up to 28MP would definitely be a notable benefit when comparing those two cameras, as many surely will.
Aside from the resolution rumours, the second main item on the rumour list was IBIS in the 1D X Mark III. We have seen patents from Canon for IBIS in a DSLR, and it's heavily rumoured that Nikon will add this to the D6 as well. Sadly, though, it doesn't look like this rumour will come to fruition. I'm pretty certain that if such a feature existed in the camera, it would have been revealed in the development announcement.
Does this matter?
Well, the world of professional photography (let's be honest, it's only pros that can afford this camera) has existed just fine without IBIS in their cameras for decades. If the 1D X Mark III does not have IBIS, I don't think existing 1-Series users will bat an eyelid. That said, I'm sure the internet forum trolls who would never consider buying such a camera, will call it "backwards" and "old tech".
Sure, IBIS would have been a nice bonus, but it would likely have come at the expense of battery life, and possibly video functions and quality. Note that Panasonic removed IBIS from the S1 camera when they created the video-specific S1H, for this very reason. Make no mistake, Canon is pretty serious about the 1D X Mark III is a video tool with the inclusion of 10-bit 4:2:2 and RAW recording. People think they need and want IBIS, but forget that there are always tradeoffs when you add such features.
What We Hope
So far we don't know when this camera will be available, although it's safe to say it will be before the Tokyo Olympics next summer. I did note that one Australian photographer says he was able to place an order for a pair of the new cameras right after the announcement, and he seemingly confidently reported that they would ship in April 2020. Personally, I hope the shipping date is a little sooner than that. If we had seen a normal development announcement with a scarcity of details then I would not expect anything faster, but this appears to be a very complete camera at this stage already, so I'm hoping we might see it sooner than April 2020.
I'm also very intrigued by the autofocus in live view at 20fps. Essentially what we will be seeing there is a glimpse at the internals of Canon's future mirrorless pro camera. Over 500 AF points with nearly total coverage of the frame sounds great, and I hope the AF acquisition speed and tracking are at least somewhere near what Sony are currently capable of delivering.
If it's good, I can even see some people using an eyepiece over the rear screen to essentially create a proper mirrorless camera. 20fps and near-total AF point coverage would be wonderful for my wildlife photography.
Conclusion
The 1D X Mark III looks like a strong offering from Canon. Many are saying that with specifications like this, they should have just made it a mirrorless camera, but for now, I disagree. This camera was made to satisfy the pro sports and wildlife photographers that have EF lenses. It doesn't make much sense to me for them to have made this an EOS R X (just a guess at the name) without first having some RF super-telephoto lenses. I'm sure those will start to come in 2020, and at that point, we will see a mirrorless version of this camera. The specs of the DSLR version already tell us that Canon can make a mirrorless camera that shoots 20fps with both mechanical and electronic shutter, and have AF coverage 100% vertically and 90% horizontally.
All of this is good news for Canon pros. As I see it, Canon is offering up some great mirrorless tech in a DSLR body with the 1D X Mark III, and that seems like a great idea amidst this industry transition. It'll keep DSLR die-hards happy for many years, and it allows them to develop, test and tease some of the capabilities of the EOS R X that will surely come once the RF lens lineup is widened to include at least one or two new super-telephoto lenses to match it.
Press Release
POWERFUL, FASTER AND RUGGED: CANON ANNOUNCES THE DEVELOPMENT OF THE EOS-1D X MARK III CAMERA
MELVILLE, N.Y., October 24, 2019 – Canon U.S.A. Inc., a leader in digital imaging solutions, today announced that its parent company, Canon Inc. is developing the highly anticipated Canon EOS-1D X Mark III Camera – the successor to the world-renowned and award-winning EOS-1D X Mark II. Ideal for sports and wildlife, the flagship DSLR is being engineered and designed using feedback from the worldwide community of EOS-1D X and EOS-1D X Mark II photographers. Continuing Canon's rich heritage of creating first-rate optical products, the EOS-1D X Mark III offers an enhanced autofocus system, with dramatically improved still and video image quality and communication. When using this camera, professionals will have the confidence they will get 'the shot' and can deliver it at a competitive speed – faster than ever before – ideal for the increasingly fast-paced industry.
"The innovations put forth by the new EOS-1D X Mark III will set the new standard for professional DSLR cameras and further cement Canon's commitment to its professional photographers," said Kazuto Ogawa, president and chief operating officer, Canon U.S.A., Inc. "In developing the new camera, Canon listened to extensive user-feedback from professionals out in the field. The result is a camera that has evolved from its predecessor and maintained the overall quality that professional photographers have come to expect from the Canon EOS-1D series."
Need for Speed
The Canon EOS-1D X Mark III will be blisteringly fast – offering exceptional precision, reliability, high-performance autofocus and subject tracking – providing photographers with a tool that will help to capture the shot they are chasing. The camera's new autofocus algorithm will improve stability and tracking when using both the Optical Viewfinder and in Live View shooting mode, using Deep Learning Technology and adapting to help facilitate accurate focus tracking for every shot.
When using the optical viewfinder the camera will use a new autofocus sensor, with approximately 28 times the resolution in the centre of the EOS-1D X Mark II. Offering the ability to autofocus in even brighter and darker situations than before and with greater precision, the camera will have a range of autofocus capabilities, which will enable the photographer to get their shot. In Live View mode, users will be able to make use of 525 AF areas using the Dual Pixel CMOS AF system will cover approximately 90×100 per cent of the image sensor. The camera will support significantly faster frame rates with full AF and AE, using either the optical viewfinder (up to approximately 16fps mechanical shutter) or Live View (up to approximately 20fps mechanical or electronic shutter). Additionally, the camera's dual CFexpress card slots will enable more than five times the RAW burst depth of its predecessor.
Powered to Dominate
The development of EOS-1D X Mark III is a clear example of Canon's commitment to pushing the boundaries of innovative imaging products featuring optically excellent technology. The camera will support an all-new, Canon-developed, CMOS sensor and DIGIC processor, that will deliver greater image quality, at even higher ISOs, with the ability to capture stills in 10-bit using the HEIF (High-Efficiency Image File) file format. HEIF produces a wider dynamic range and greater colour representation compared to JPEG. The power of 4K resolution brings stories to life – shoot 4K videos including 4K60p with 10-bit 4:2:2 Canon Log internal recording.
Conveniently Connected
For professionals, content delivery is just as important as image capture – the EOS-1D X Mark III will make it easy, featuring built-in Wi-Fi® and Bluetooth® low-energy connectivity in addition to GPS technology. To keep pace with ever-shortening deadlines, the camera will transfer data at more than twice[i] the speed of the EOS-1D X Mark II when using the built-in Ethernet connection, or the new optional wireless file transmitter – the WFT-E9, which is also compatible with Canon's recently launched Cinema EOS C500 Mark II camera. Coupled with a simpler network setup the camera will greatly enhance the professional workflow.
A Familiar Feel with Improved Attributes
Existing EOS-1D series users will be familiar and comfortable handling the EOS-1D X Mark III allowing seamless navigation with trusted ergonomics – whilst the magnesium alloy body will offer the durability expected from Canon's EOS-1D cameras. Professional photographers can trust the same impressive build-quality as the EOS-1D X Mark II – with phenomenal weather-sealing, standing up to harsh conditions, including wind, rain and humidity. With incredible low-light shooting capabilities, the camera will now feature select illuminated buttons that allow for precision operation in challenging, dark and dimly lit conditions.
The camera will also offer a new additional control for selecting AF points, built into the AF-ON button, allowing photographers to change AF points on the fly for the best composition – further helping to simplify their work. In addition, dramatically improved battery life – with the same LP-E19 – will allow professionals to shoot for longer periods of time, without having to change batteries, helping reduce the chance of missing a shot.
[i] Transfer speeds may be adversely affected depending on the usage environment.