The Canon 7D Mark II is a high-end APS-C DSLR. Although I primarily use full frame cameras, I purchased a 7D Mark II on its launch. I wanted to see if it was a capable camera for wildlife photography, and although initially hesitant, I ended up being very impressed.
This camera is the real deal, and it earned a long term place in my bag while it was current. Since the majority of my time with this camera was spent on a gimbal with my 200-400 f/4 attached to it, there are some definite benefits to having a grip attached to it.
When peering through a long lens searching for wildlife there might be a considerable amount of time with the camera in portrait orientation. Having the 7D Mark II battery grip would allow me a much more comfortable hand position and potentially simpler access to the various user-assignable buttons that this camera offers.
The 7D Mark II has an incredibly complex autofocus system and the menu system offers more control over re-assigning button functions than I've ever seen on another camera. These user-assignable buttons help you to tame the AF system quite nicely, but I believe it's a benefit to have easy and comfortable access to the buttons.
Video
BG-E16 Features and Function
The BG-E16 offers two ways to power your camera; you can either use LP-E6N batteries (one or two), or you can use the included AA battery tray to power the camera from readily available AA batteries.
In itself, that could potentially be handy if you find yourself travelling in remote areas where power isn't always a guarantee. A big stack of AA batteries could get you through an emergency! When powered by two LP-E6N batteries, the camera simply lasts twice as long before needing a battery change.
There's no real advantage to this unless you are truly worried about missing some action while you're changing batteries. Seems unlikely, but I guess there's a small convenience factor there that you don't have to have a second battery floating around in your camera bag. I think it's a minor consideration though. For me, this grip is all about comfort and convenience when shooting in portrait orientation.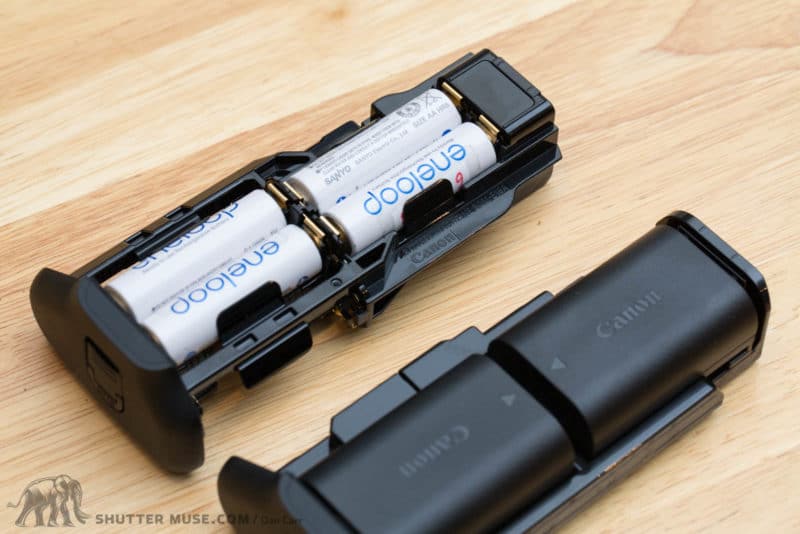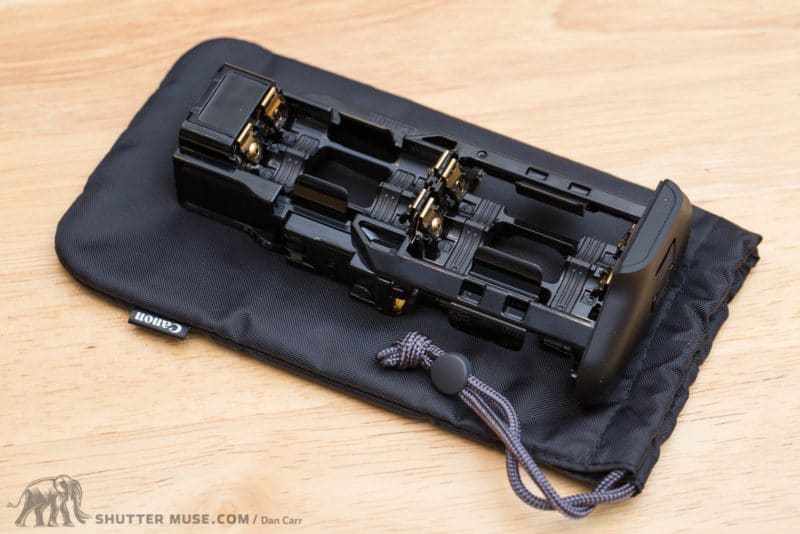 Despite owning all versions of the EOS 5D, I've never owned a battery grip before. I really enjoy the small size of the 5D cameras over their bigger 1-series brothers, since I'm often getting out into the wilderness with my gear.
One thing that did surprise me about the BG-E16 is that whilst the buttons from the camera are mimicked on the grip, there are some considerable differences in their placement. Examining the photo below, you'll see that the joystick on the grip is in a vastly different place on the grip, relative to the AF-On button. Why?!
There's a very nice thumb groove on the grip that makes the hand position feel great, but the result is that the joystick has been moved way further down. I think it will take some getting used to, it's nowhere near as easy to reach as it is on the camera and I think it's an odd design choice.
The other difference is an additional button that the 7D Mark II has on the body. On the camera, it surrounds the joystick and has a small lever. On the grip, you can see that it takes on a totally different form factor and is positioned below the joystick for no apparent reason.
These seem like small things, but it threw off my muscle memory which had gotten used to the buttons on the camera body.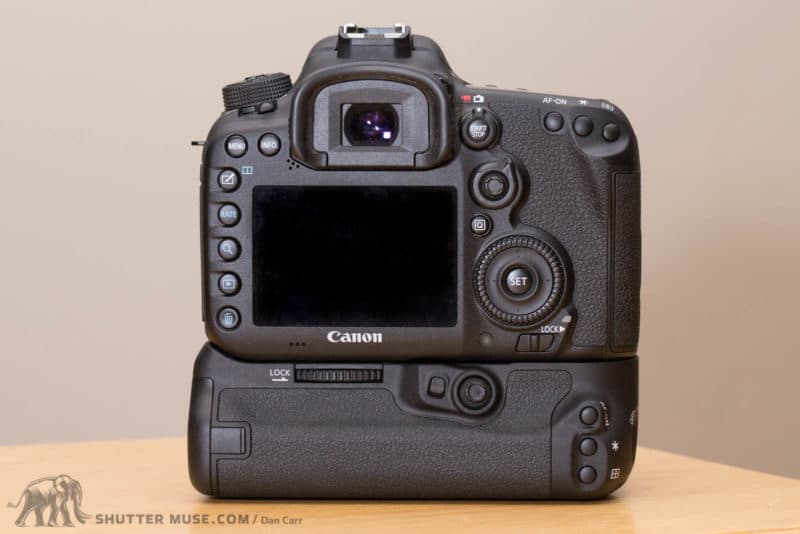 On the plus side, I'm very impressed with the build of the grip. It complements the sturdy 7D Mark II build very nicely. I've no doubt that cheaper third-party battery grip knockoffs will become available at some point, but I'd bet that they don't match up in terms of build and finish.
If I'm going to get a rugged camera like the 7D Mark II, I want to be certain that the battery grip can withstand an identical amount of cold/rain/heat etc. I'm not going to risk my chances on a third-party version when the potential saving is, at most, $100 on the price of a setup that totals many thousands of dollars.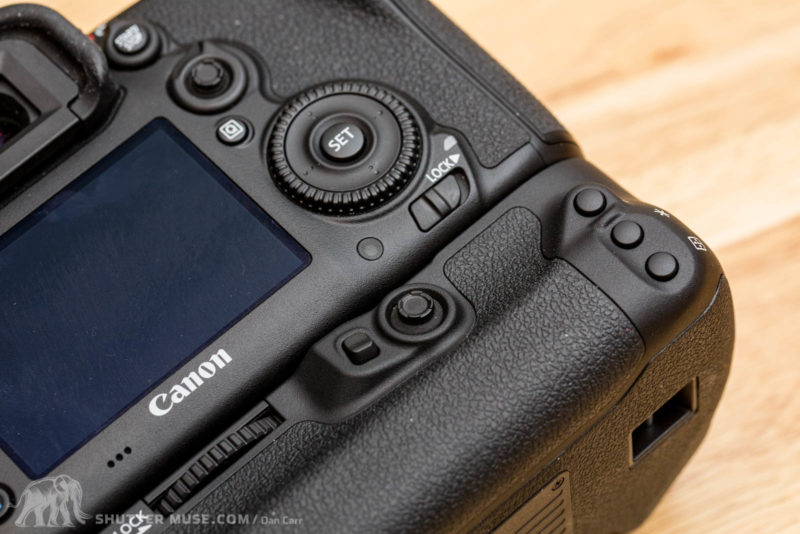 Conclusions
Overall, I'm happy with the purchase because I think it makes the camera much easier to handle in certain situations. I know they'll never make a second version of this specific grip, but if they did, there is room for improvement and I hope they consider it for future cameras.
In my opinion, the buttons should be mimicked in an identical way just as they are on a 1-series camera. The grip's joystick is awkward to use, in a way that I don't feel would ever have made it onto an actual camera, so why is it on the grip? The shutter button and AF buttons are all nicely placed, though, and feel natural to operate. If you shoot a lot of sports and wildlife with this camera then I'd still recommend you check it out.