I'm really enjoying the fact that more and more manufacturers are getting on board with the idea of releasing a lens roadmap for the upcoming year or two. As all the major brands struggle for market share in a declining market, at a transitional point between DSLRs and mirrorless cameras, it really benefits the consumer to have some idea of what might come soon.
2021 Tokina Lens Roadmap
Since the previous roadmap, Tokina shipped their atx-i 11-20mm F2.8 CF wide angle zoom lens, a 400mm lens that wasn't even on the previous roadmap and the atx-m 23m, 33mm and 56mm prime lenses for the Fuji X-Mount. For 2021 we can expect to see those same atx-m prime lenses become available for the Sony E-Mount, as well as a 500mm f/8 reflex lens. Two anonymous zoom lenses also appear on the list, but I'd take that with a pinch of salt given the missed targets from last year, and the current global situation.
Previous Roadmaps
2020 Roadmap
Being a third-party lens manufacturer means that Tokina's plans span a variety of different systems: Nikon DSLR (F-mount), Canon DSLR (EF-mount), Sony E-mount mirrorless (APS-C and full-frame) and Fuji X-mount mirrorless. All lenses will be autofocus lenses.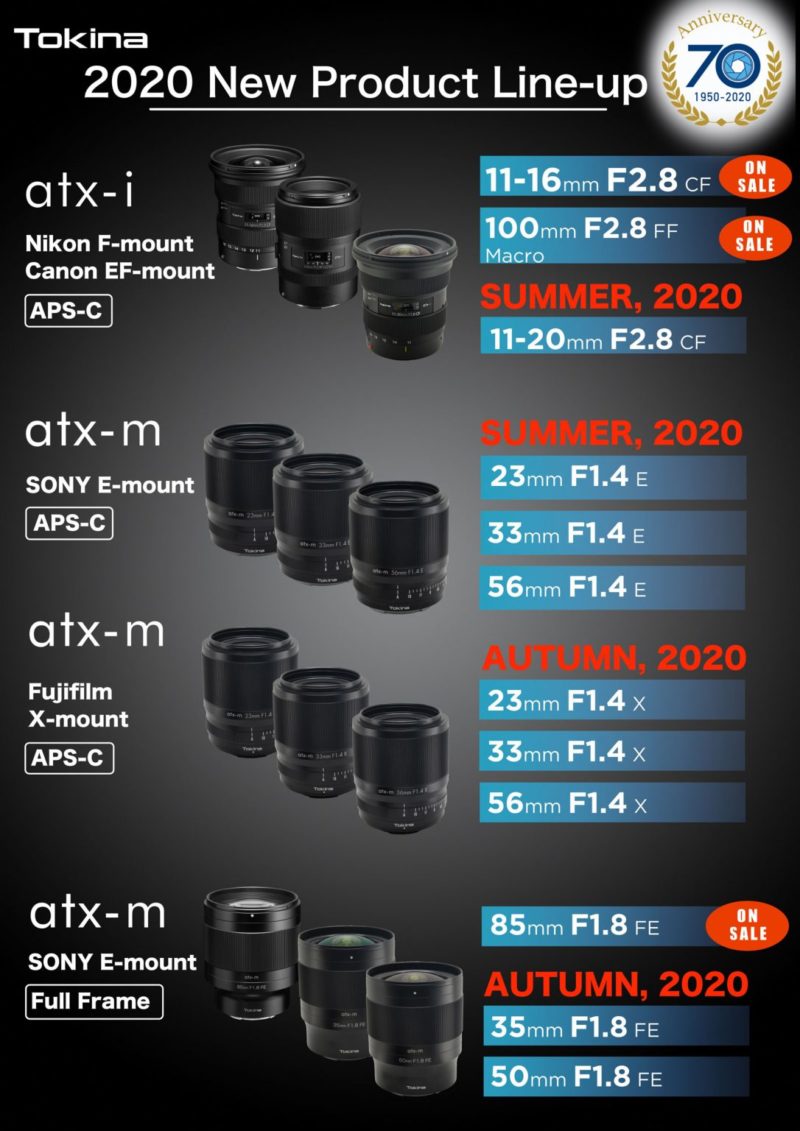 Of particular note are the following:
Tokina 11-20mm f/2.8 CF for Nikon and Canon APS-C DSLRs
23mm, 33mm and 56mm f/1.4 lenses for Fuji and Sony E-mount APS-C
35mm f/1.8 and 50mmm f/1.8 for Sony E-mount full frame
You can find lens roadmaps from the other camera manufacturers here.