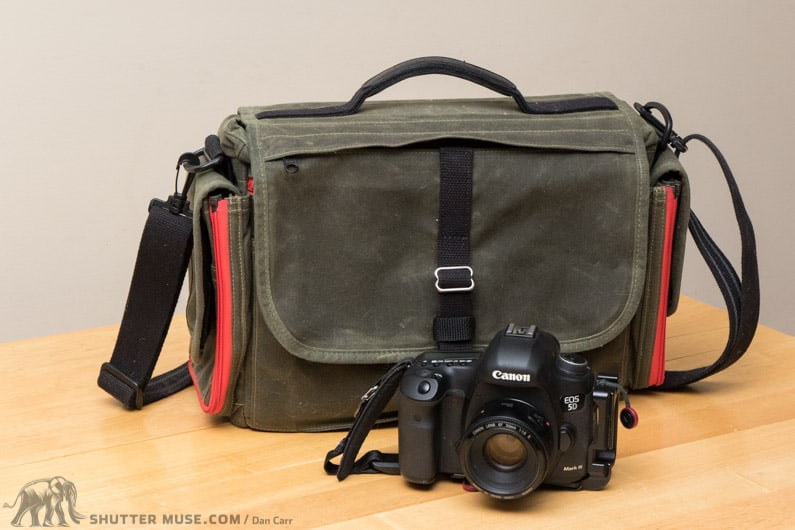 The Domke Herald is the second bag that I tested in the Domke Next Generation lineup, alongside the Domke Trekker (review). This re-designed lineup takes the quality materials that Domke bags are known for, and gives them a modern design twist that I really like. The weatherproof Ruggedwear material looks gorgeous and it only gets better with age, as if the bag is recording your adventures for you to relive them over and over again when you look at it. Of course I've always heard of people talk about Domke bags with a certain reverence, but never having owned one myself I didn't quite understand it until I got my hands on these ones. It's definitely the kind of unboxing that makes a camera geek smile!
Vide Review
Specifications
Weight -3.6 lb / 1.6 kg
Exterior dimensions – 16.25 x 4.5 x 10.25″ / 41.3 x 11.4 x 26.0 cm
Interior dimensions -12.75 x 4.0 x 9.5″ / 32.4 x 10.2 x 24.1 cm
Numbered identity plate
1 divider included
In Use + Features
I'm including a big stack of photos below to illustrate some of the points i'm going to make in the next few paragraphs. The first thing that you notice when you unbox the Herald is that the pretty large main section of the bag is nearly devoid of dividers. One single divider is all that you get. At first I was sure this had to have been an error, but a quick glance online showed other people with the same question. Of course Domke will sell you another divider for $20, but if you've just spent $300 on a bag I think you'd be pretty annoyed to have to fork out another $60 for a few dividers, no? I review a lot of bags from people like Lowepro, Think Tank, F-Stop, MindShift, Gura Gear etc. and without fail, every one of those companies loads you up with more dividers than you know what to do with. Why so stingy, Domke?
The next thing that really puzzled me was the choice of hardware on the straps. Having also received the Domke Trekker at the same time, which I LOVED, I was struck by a big difference. Despite both being Ruggedwear bags from the same line, the cheaper (half the price!) Trekker, had lovely metal D-Rings and metal clips on the shoulder strap. On the other hand, the clips and rings on the Herald looked unbelievably cheap and tacky. Everything else on the Herald is designed to last a lifetime, and the Ruggedwear materials really do feel like they could do that. But the plastic clips? I really don't understand this at all. I've honestly seen nicer hardware on $40 camera bags, let along premium $300 ones. Yes, I know plastic can be very strong, but this bag has been designed to look good as well, and this spoils it.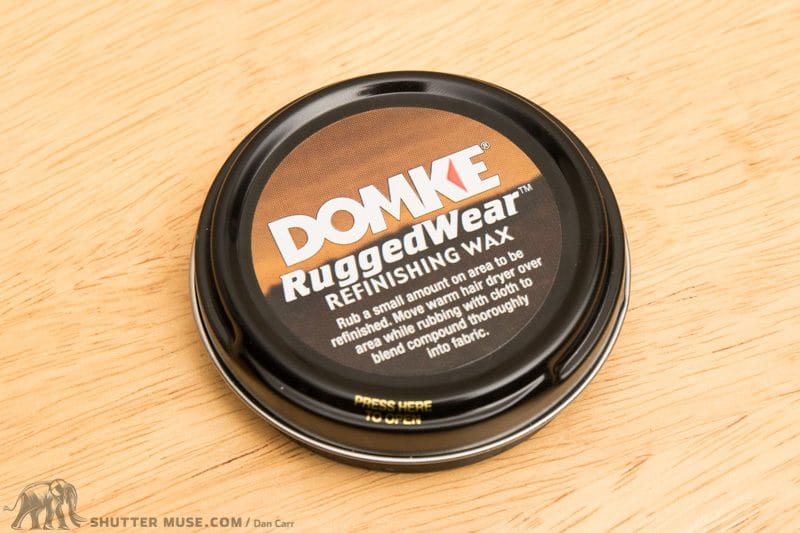 Ok, now that I've got that little rant off my chest, let's talk about some of the positive things! The expandable side pockets are great, nice and deep and just useful for so many things. Extenders, lenses, flashes, Pocketwizards… great catch all pockets when you're shooting and moving around a lot. The front pockets could do with being a little deeper, but nonetheless, they're still good for holding smaller lenses if you need them to. As you can see from the photos below, I was also able to find great spots for my tablet and my laptop, so you can truly fit a whole journalistic kit in this bag even though it's actually one of the smaller ones in the range.
Along with the metal clip on the front flap, there is also a small area of hook and loop on the inside as well. It really is rather small though and it looks a bit like an after thought. There's also a way to fold it over for "quiet mode" , but the problem is that the flap is so small that it's all too easy to close the flap onto the adjacent piece of hook and loop anyway, given that it's a mere 1/2 inch away. It's puzzling because I've seen this sort of feature implemented very well by other people and it's as if Domke didn't really think too hard about this and just threw something on there so they could add an extra feature to the spec list.
There's ups and downs with this bag eh?! Which is really rather odd when you consider how much I loved its baby brother, the Trekker.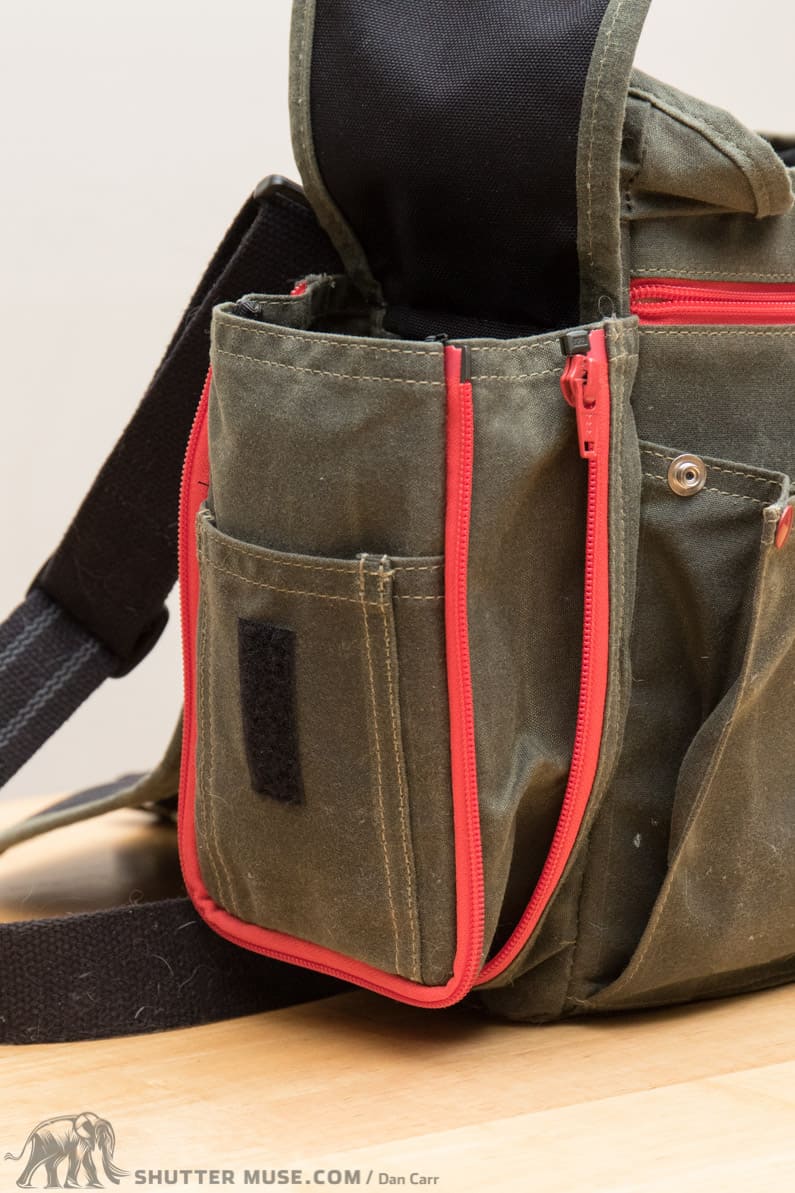 I'm not sure what you would put in the smaller pocket, but the larger expandable one will take everything up to a 70-200, and works particularly well with flashes.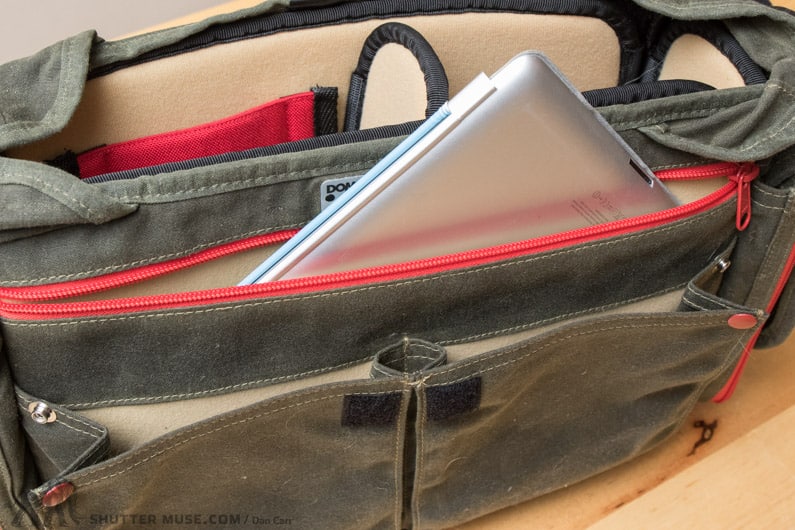 The front zippered pocket is well padded and suited to tablet device storage.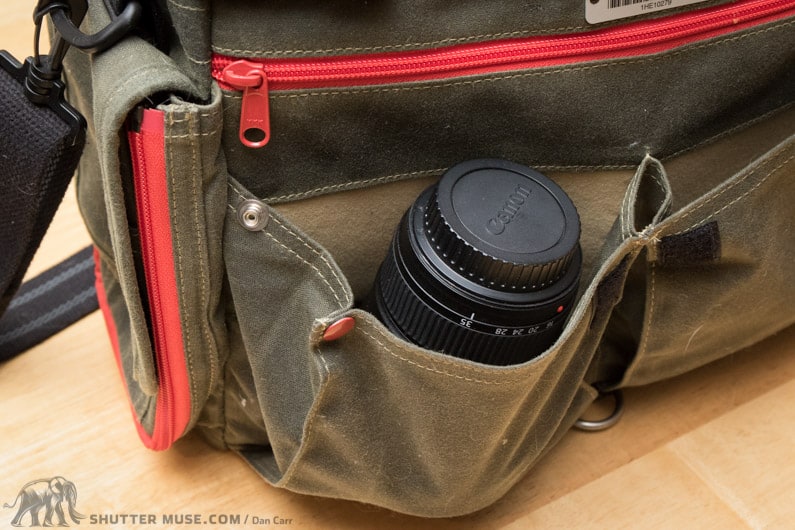 Front expanding pockets are ok for temporary lens storage while working a job, but they could do with being a bit deeper.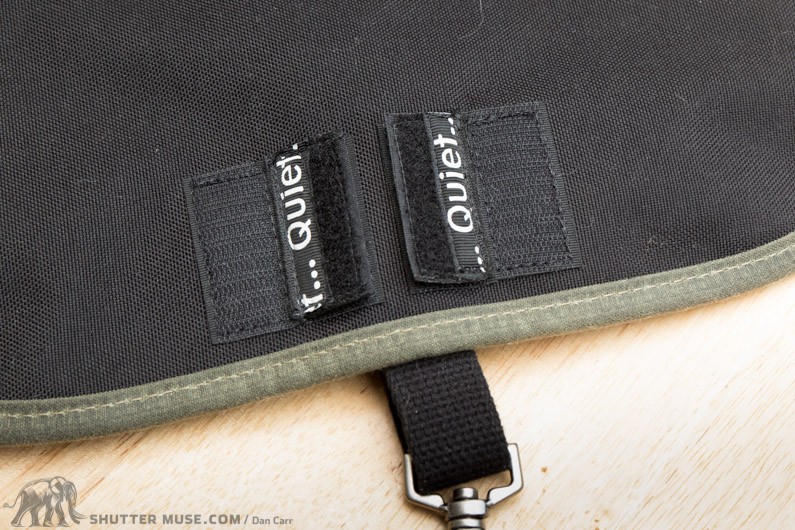 "Quiet" tabs that don't really work all that well unfortunately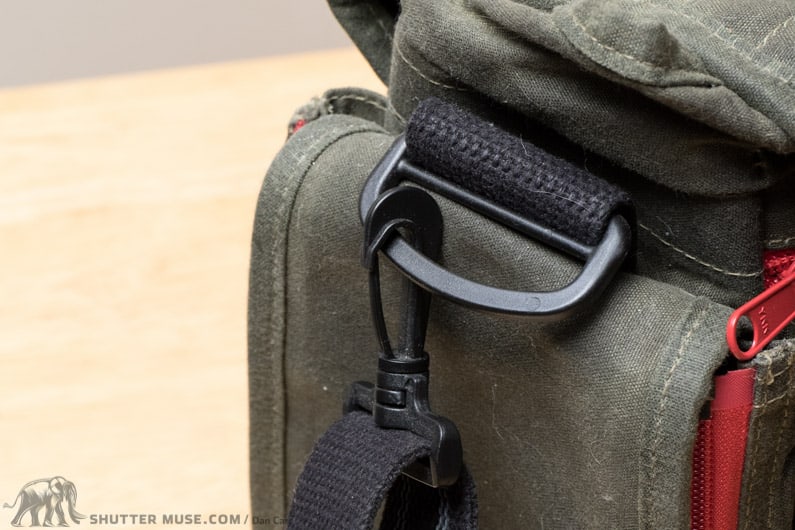 Plastic hardware like this on a near $300 shoulder bag is not acceptable in my opinion. Especially when the Trekker is half the price and has proper metal hardware.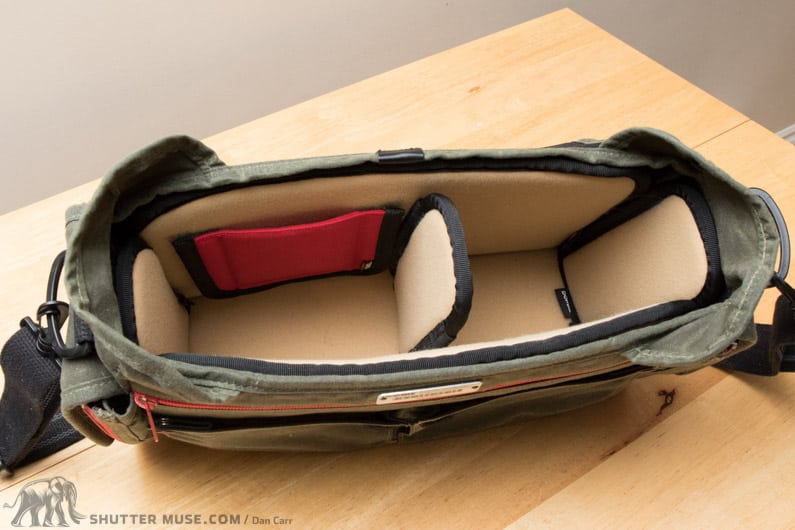 One divider. That's all $300 will get you. Again, not acceptable.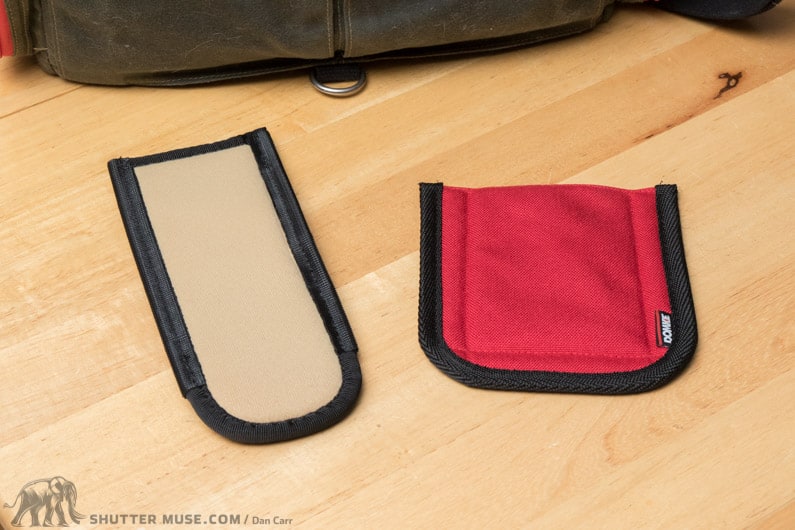 On the left is a divider, on the right is PocketFlex accessory for creating an additional movable interior pocket.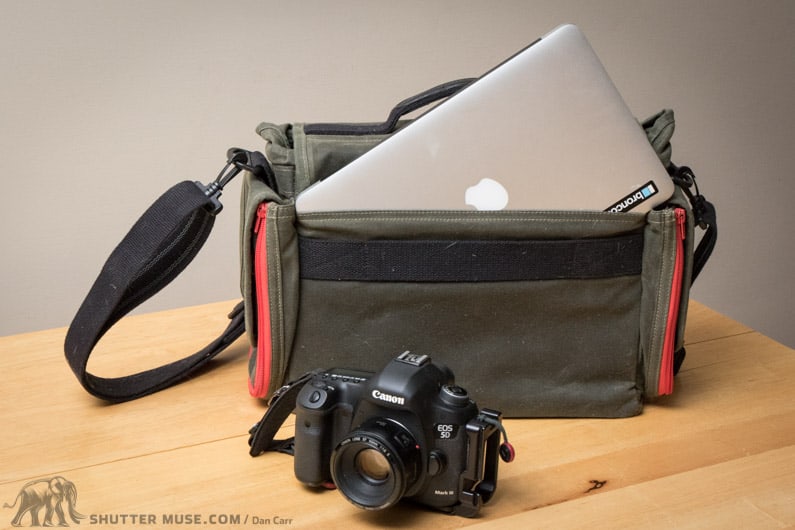 MacBook Air 11″ is a perfect fit in the rear pocket
Conclusion
This is a bit of a head scratcher. On the one hand, it's one of the most beautifully constructed camera bags I've ever had the pleasure of using. But on the other hand it's got a handful of glaring oddities that really leave a bad taste in my mouth. A single divider is clearly not enough for this bag, and the plastic clips on the shoulder strap are like putting fake leather seats in a Ferrari. It's just bizarre! More so when you consider again that the cheaper Trekker has the 'correct' hardware.
It is a great bag, and if you buy one in full awareness of these oddities then I've no doubt you'll love it and use it for many many years. It might even outlast you, it's that well constructed! Just know that you're going to need to add some extra dividers to your shopping cart, and maybe a better shoulder strap with some decent clips on it. There are bigger options in the lineup as well, of course, but I'm a fan of keeping things light. The bigger your bag, the more you stuff into it, so for me this does hit the sweet spot in terms of shoulder bag sizing. Anything larger than this and I prefer it to be a backpack.