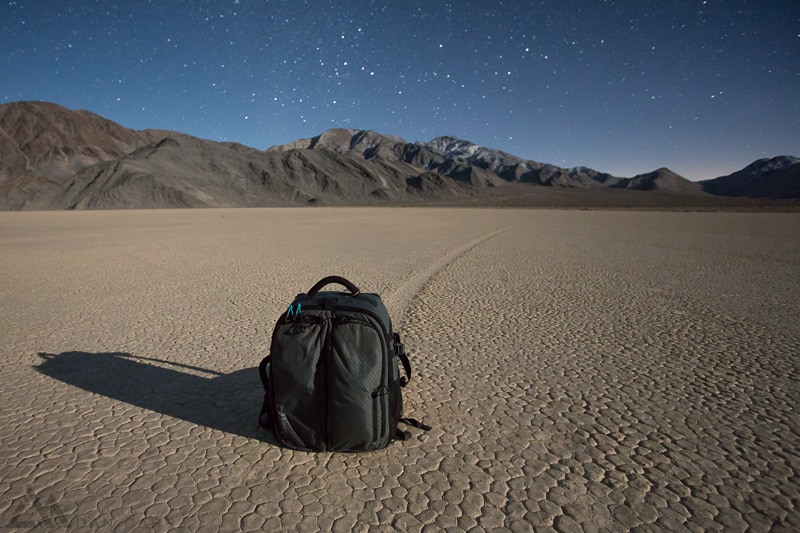 Important Note About This Bag's Confusing History
This is a bag that has quite a history, and has been sold under several different names, making it somewhat confusing for potential purchasers when they search for information on the internet.
Gura Gear's original backpack, the Kiboko, was designed by renowned wildlife photographer Andy Biggs. He determined that there was a lack of great solutions for carrying long lenses on his many safaris and endeavoured to design a pack to fill that gap. The original Kiboko was a great pack but there was room for improvement in a couple of areas so a new version was developed. When this launched, it was somewhat confusing called the Bataflae, instead of simply being called an updated version of the Kiboko. The Bataflae was sold in three configurations: 18L, 26L and 32L
For the Bataflae, the laptop pocket that was on the equivalent sized original Kiboko packs was removed and was only found on the smallest 18L pack. This allowed for a better fit with pro sized camera bodies than was possible with the original Kiboko. The Bataflae also added the ability to open up the entire front of the pack, instead of just one half of the pack at a time.
Following the launch of the Bataflae, Gura Gear acquired the Tamrac brand and merged the two together. The Bataflae pack was renamed the G-Elite pack and things went quiet for a number of years. At appears the name change confused things and killed a lot of sales.
Fast-forward to 2018 and Gura Gear is suddenly back again. They have ditched the Tamrac G-Elite name and launched a new (old) pack called the Kiboko V2 that is being sold exclusively through B&H Photo.
The Kiboko V2 is an amalgamation of the original Kiboko and the Bataflae, but the sizes have been changed slightly to reflect the decreasing carry-on allowances for air travel. The Kiboko V2 is available in three sizes: 16L, 22L and 30L. The option to fully open the front of the bag has been removed, and a laptop sleeve is now present on both the 16L and 22L sizes. It's not available on the 30L size because that bag needs all of the depth for pro bodies and the lens hoods of 600mm and 800mm lenses.
Whilst it took a heck of a long time to get here, this now looks to be the perfect combination of features from the previous iterations of the bags.
NOTE: This review was written when the Bataflae bag came out many years ago. The bag in the photos is the Bataflae 26L. Since all versions of this bag (Kiboko, Bataflae, G-Elite, Kiboko V2) have been incredibly similar, the vast majority of the commentary in this review still holds for the latest versions of this pack.
Review Time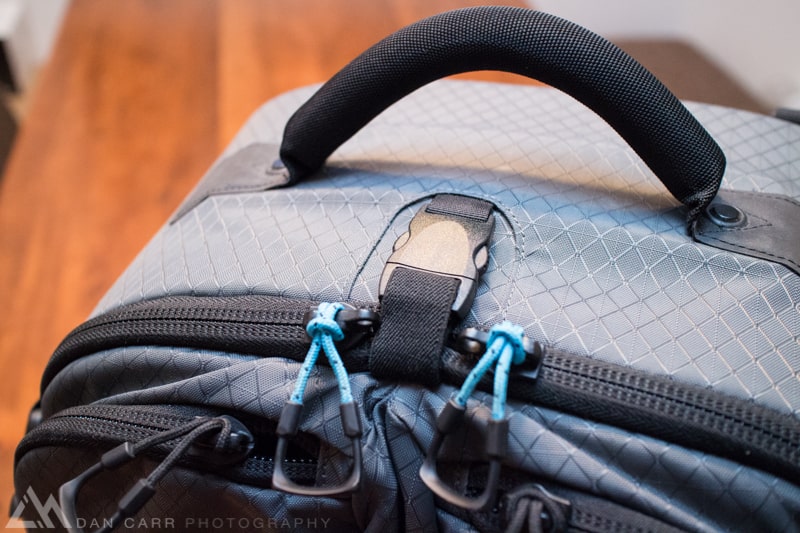 Gear Capacity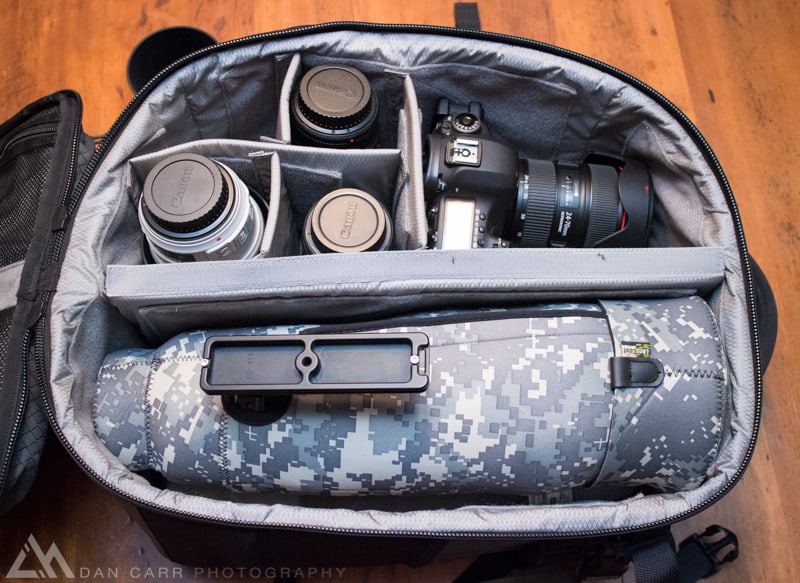 I have the 26L version of the Bataflae but there's also an 18L and a 32L. In the photo above, the long lens is a Canon 200-400 f/4 L IS for reference. You can also fit a 500mm f/4 in there as well. If you plan on carrying a 600mm, 800mm or a 500mm with a body attached then you should take a look at the larger 32L version. The smaller 18L will carry a 300mm f/2.8. What makes these packs unique it their long lens carrying ability. You could very easily travel with two long lenses for a wildlife mission, perhaps a 600mm and a 300mm, or a 600mm and 200-400mm. That's a pretty incredible capacity for a pack that fits into most airline carry-on limits!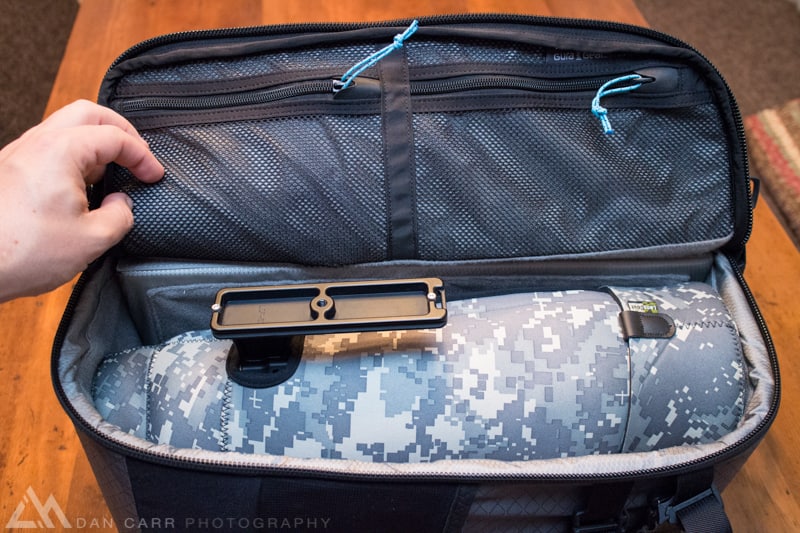 On the inside of the lid you'll find 4 mesh pockets that come in handy for smaller items like lens cloths and spare batteries. On the outside of the pack are two longer pockets that are actually surprisingly spacious. You can easily store large flashes in there like a Canon 600EX-RT, or even stash a spare jacket and waterproof pants in there as well. There's also the usual assortment of slots and pockets for pens, business cards and a clip for your keys or memory card holder.
Tripod Attachment
I've probably reviewed close to 30 outdoor photo packs over the last 6 years and I'm a bit of a stickler for a solid tripod carrying solution. If you have a shorter travel sized tripod you can side mount it to the Bataflae but longer and heavier tripods will give you a top-heavy feel. The suggested tripod mount for the back of the bag involves a system of three straps. One on each side which wrap and clip around the upper portion of the legs, and then an elastic cord that secures the bottom part (photos in the slideshow above). I didn't get on well with this system though, I found it far too fiddly compared to a simple tripod cup and top strap that many other packs employ. With those kind of systems it feels like a single motion to attach a tripod. Slide the feet in and cinch up a strap, like the MindShift Panorama for example. With the Bataflae it was very definitely a three-part process that required me to lie the pack down on the back panel and really become a lot more involved than I want to be for an action I might to do 30 times a day. The tripod straps also didn't secure very well to the pack and I lost one of them almost immediately in Death Valley and just resorted to carrying the tripod over my shoulder. That said, mounting a large tripod to the back of an already quite deep pack isn't going to be a comfortable option for long anyway. I side mount my small travel tripod to this thing all the time and it works just fine. Big tripods are clumsy necessities!
Comfort & Carrying

Much like its predecessor the Kiboko, I've never found the Bataflae a comfortable pack to wear on my back for any great length of time. Whilst the boxy design is great for maximizing useable space for air travel, it makes for an unwieldy feeling pack when you want to go for a hike. I still use the Bataflae a lot when I need to carry my Canon 200-400 f/4 around, but I'm always asking myself "how far to I need to carry it?". My bag of choice for ultimate hiking comfort is the MindShift Gear Rotation 180 Professional. The harness system on the Bataflae has been kept pretty low profile, presumably to make the strap cover a feasible feature. There will always be compromises with these kinds of bags and I do love the hideaway straps for storage and air travel so it really comes down to how you plan on using this pack. For safari usage it doesn't really matter how comfortable it is because the bag is going to spend 90% of its time next to you on the seat.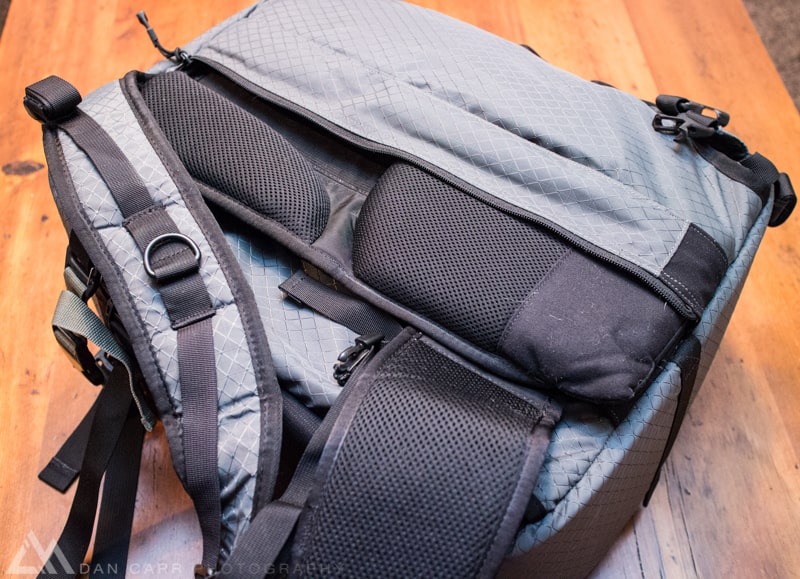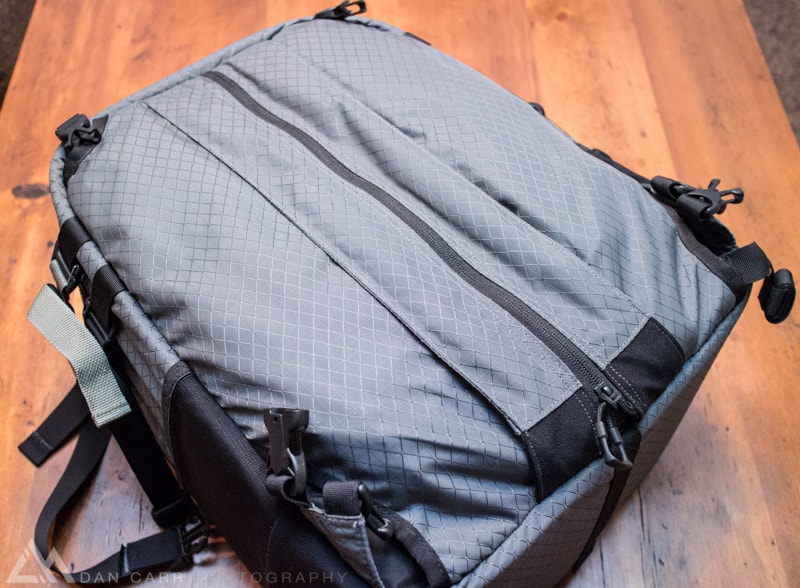 With the back panel covered and the straps tucked away it really helps to make the bag look a lot less bulky. If you can summon the strength to carry the pack using the side handle for the few yards as you get onto a plane, you'll stand a much lesser chance of getting the dreaded " excuse me Sir, can I weigh your bag?" question. It also makes it easier to tuck into luggage racks, squeeze under seats or just store away on a shelf at home.
Pros
Extremely durable sailcloth material construction
'Butterfly' design allows exceptional long lens carrying ability
Included rain cover
Hide-away strap system is great for storage
Plenty of storage in the front pockets for other items
Top and side handles are great for lifting heavy bag into cupboard and airline stowage
Cons
There's no denying that the price will give some people sticker shock, though they are on par with what I would consider to be the other options in the same space.
Hip belt is too thin and doesn't provide enough support for a heavy load on a longer walk.
Boxy design optimizes useable space but leaves bag feeling unwieldy on your back when hiking.
Front tripod attachment system is fiddly and too time consuming
Purchasing the Bataflae packs
The new version of this pack, the Kiboko V2, is available exclusively from B&H Photo. They ship internationally, often for free, so don't fret if you don't live in the USA.