Camera bag manufacturer F-Stop is best known for their rugged Mountain Series backpacks, but they also make a range of Urban Series bags. The F-Stop Dyota 20 backpack and the F-Stop Dyota 11 sling bag is somewhere between those two product ranges.
These bags are directly based on the Dalston backpack and Fitzroy sling from the Urban Series, but their use of high-end materials, welded seams, watertight zippers, and metal hardware appears to say, "let's go to the mountains!".
These high-end production techniques and materials quite literally come at a price, though. The Dyota 20 is twice the price of the Dalston that it is based on. That's a big difference for a bag that, at a distance, looks the same.
Is it worth it? Are these bags built as well as f-stop claim them to be? That's what we're going to find out in this review.
Table of Contents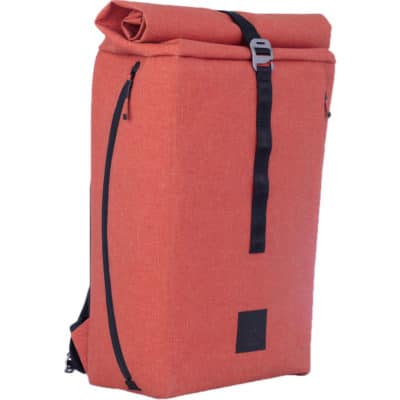 Specifications
External dimensions: 18.1 in x 12.2 in x 5.7 in
Volume: 20 Liters
Weight: 2.8 pounds (1.3 kg)
Welded seams
Roll top expandable top with magnetic closures for silent security.
T6 aluminum hardware
Dual stash media card slots
Dual-sided, curved, weatherproof side access zippers.
EVA molded back panel and shoulder straps.
F-Stop Dyota Features and Details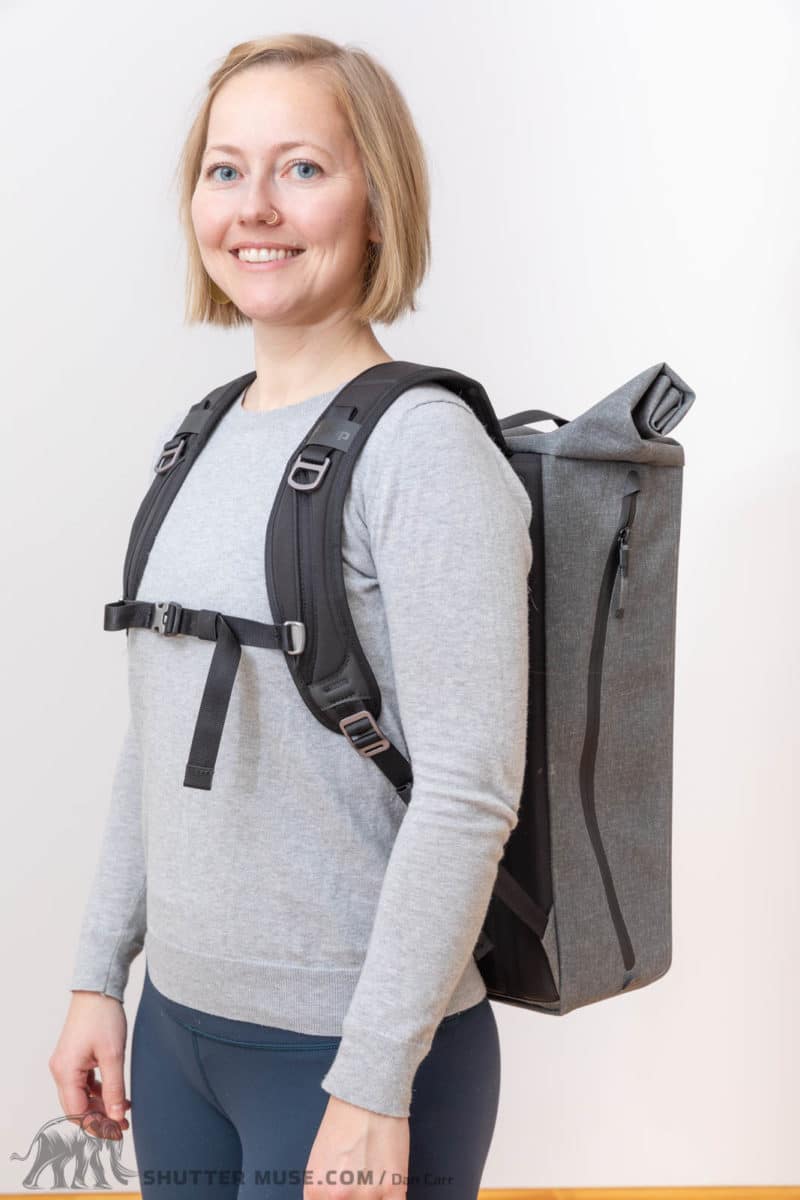 The Dyota is a boxy 20-litre bag with a roll-top closure on the top and a pair of side zippers. The strap that holds down the roll-top has multiple attachment points on the front daisy chain. With this, the top part of the bag could be overstuffed with additional gear to somewhere between 5 and 8 litres. As a daily carry urban bag, this is a comfortable size. You'll find plenty of room for a spare jacket, headphones, laptop and a small camera kit.
This bag's material is the total opposite of ultralight sailcloth materials like X-Pac, sometimes seen on other high-end camera bags. On the Dyota, high denier nylon has been heavily TPU coated to create a unique feeling primary material that is incredibly weather resistant. It's heavy, burly and feels like you could tow it behind a car without causing damage. It's seriously impressive to handle, but its rigidity does give the bag's shape a bit of a mind of its own.
When I first received the bag, it was symmetrical, but after a few months of filling it with gear, then stuffing it into my bag closet over and over again, it has lost a uniform shape. The sides aren't flat now, and the roll-top seems to want to skew to one side slightly. I don't think I mind this, though. It's kind of like a pair of well-worn jeans. The bag looks a little less clinical now that it has been broken in.
Despite the rugged materials used, the lack of a waist/hip belt means you don't want to be doing any vigorous activities with this bag. A short hike on the weekend with a lightweight camera setup is all you should contemplate. But at least you could do this in torrential rain and know your gear is dry inside.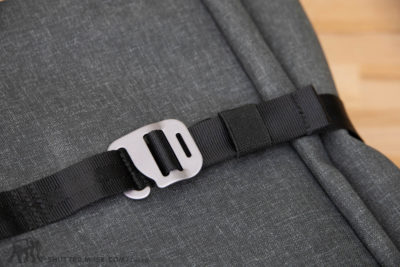 I'd encourage you to enlarge these images by clicking on them. Some of the thoughtful detailing will only be visible when the photos are blown up to full height. (Almost) everything on this bag is high-end hardware, joined with high-end techniques like seam welding.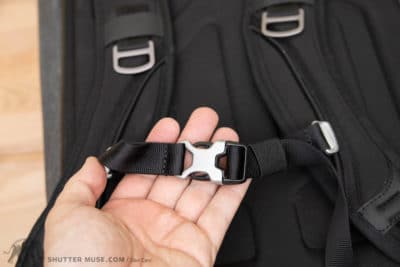 The sternum strap buckle is aluminium, as are the attachment points to the shoulder straps. Unfortunately, they may look smart, but these sliding attachments were the first issue with the bag. They were so tightly attached to the shoulder strap that I could barely move them. When I tried to slide them up and down to adjust the position, it would cause the nylon to bunch up in the "jaws" of the attachment and make it stick even harder. It took me well over half an hour, a lot of patience and some dish soap to move them!
This is a shame because adjusting the bag to your fit is one of the first things you do after purchasing it. I would be disappointed to pay this much money for a bag and then experience this. In this instance, F-Stop should have forgone the shiny aluminium and stuck to simple plastic attachments with a bit of flex. For me, the attachment never got any looser either, so I had to pick one spot for the sternum strap for the rest of its life. There's no way I'm going to move that thing again!
If you want to carry a tripod, a pair of Gatekeeper straps are provided and can be used with the Hypalon loops on the bottom of the bag. Carrying a tripod sideways like this is awkward. They swing around, never feel very secure, and it limits the length of tripod you can have. When you put the bag down on the ground, it also means that you smush your precious carbon tripod into the dirt and cover it with scratches. Not good!
This sort of tripod carrying method is pretty useless. It's the kind of thing bag manufacturers put on bags when they don't have a proper place for a tripod but know they need to have "tripod carry" somewhere in the feature list. I have never come across a photographer carrying a tripod on the bottom of a backpack like this. If you want to take a big tripod with you everywhere you go, this isn't the bag for you. Could the bag have had an access zipper on just one side and a tripod carrying system on the other side?
The rear of the bag has a zippered sleeve for a 15″ laptop. There are also two skinny little pockets that could be used for a passport and a couple of business cards.
Internal Camera Protection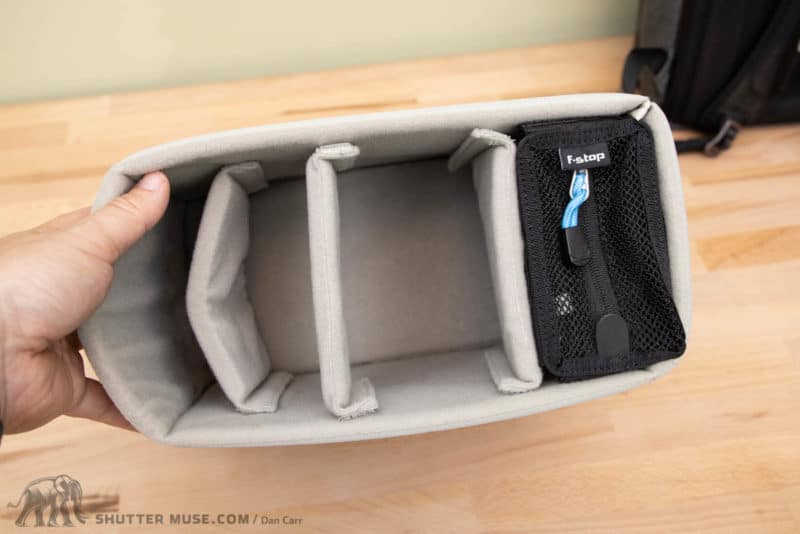 Inside the Dyota is a removable padded cell that can be configured in many different ways with the included dividers. Two mesh dividers with zippers are also included, and these can be used to turn a small section of the padded cell into a more secure pocket. In terms of capacity, there's enough room for a camera body and about 2-3 lenses, with one of those lenses being a 70-200mm if you use the entire width of the bag.
When you go to slide the padded cell back into the bag, you'll see a set of magnets that guides it into the right place and gives you a faint click when it's located correctly. This is an excellent feature and a clever solution to stop it from moving around.
Inside both side zippers, you'll find a pair of mesh so-called memory card holders, but please don't use these. Stop me if you've heard this one before… This specific feature is a pet peeve, and I have no idea why so many bag manufacturers continue to put these on their bags.
My Sony TOUGH 128GB SD cards cost $450 each. The photos on those cards usually cost me hundreds of dollars in time and resources to create, and clients might be paying me thousands of dollars. Am I really going to put these precious and expensive cards in an unsecured mesh pocket on the inside of a flap? Heck no! Not on your life! That is the fastest way to lose them. Why not make this a properly secured zippered pocket on a bag with so many fancy zippers and materials?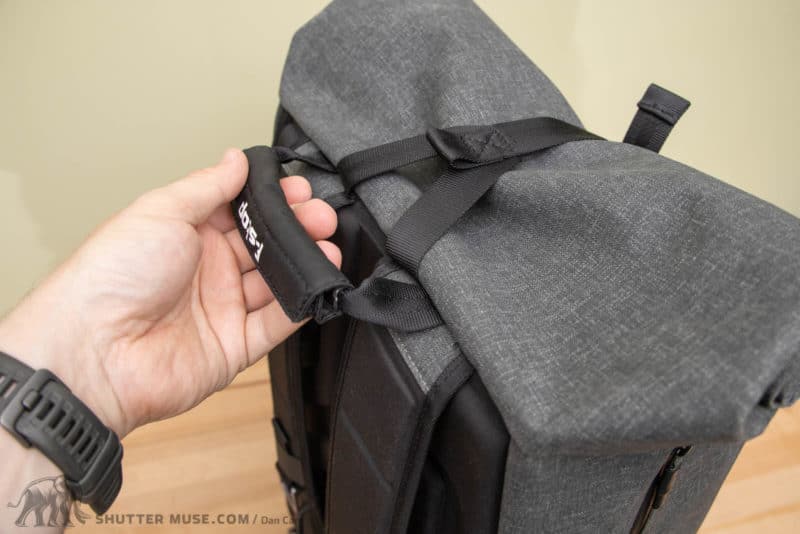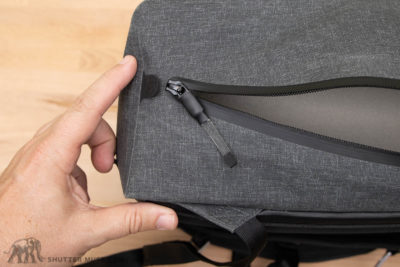 Gear access through the oversized side zippers is generally excellent, with one exception. The size zipper doesn't go all the way to the bottom of the bag, which makes sense. But it also means you have to think carefully about the configuration of the camera cell. Anything you put right at the bottom is hard to extract because the zipper tapers to a point above the bottom. When I first set up the bag, I had to tweak the layout a few times until I got this right. You need to put malleable, soft items at the bottom, not tightly packed lenses.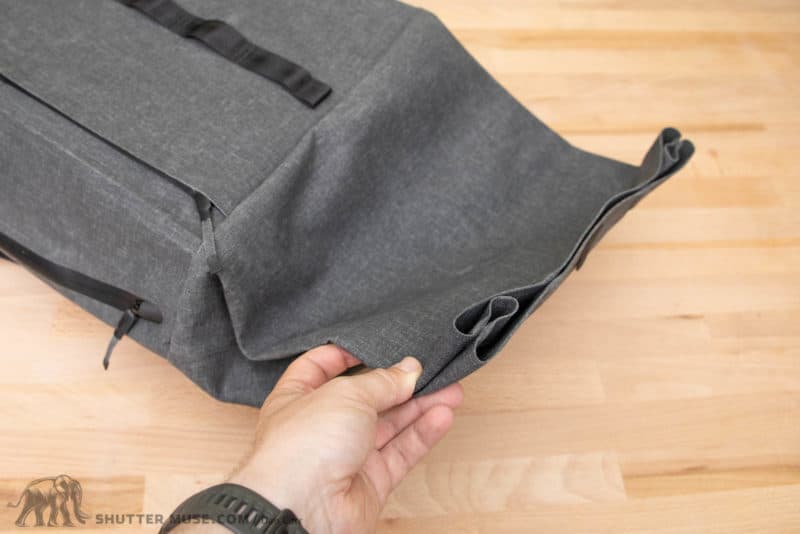 Also Included
One of the F-Stop medium-sized accessory pouches is included with this bag. It's a tremendous little zippered pouch for storing batteries and battery chargers.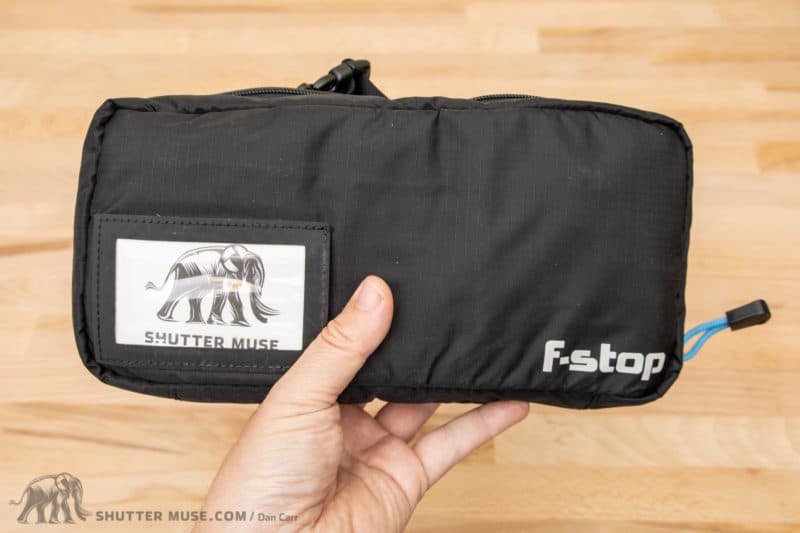 Conclusion
The Dyota 20 is an intriguing bag, and I'll readily admit that it took me quite some time and quite some mileage to come to a conclusion to this one.
I'm a real sucker for cool materials and high-end manufacturing techniques on camera bags. It's not something you see very often. Most bags are designed to hit a price point, and even those with a high price point usually end up sacrificing something at some stage in the design process.
The Dyota backpack is different. It feels like a showcase product. As if f-stop took all the best bits off prototype urban bags they have played around with in the past and put them all together in one bag, saying "screw the cost". I kind of like that, and I wish they would do the same thing with a Mountain Series bag in the future.
Is it worth the money? This is always a personal question to answer, but I can tell you that it feels every bit like a $300 backpack, and I didn't question its value for a second once I saw how it was constructed. However, the Dalston backpack is very similar and costs half as much. For those just starting with photography, that will probably be a better choice.
If you're a big fan of the F-Stop brand, though, and you're looking for a cool urban pack to compliment your collection of Mountain Series packs, I think you'll enjoy the Dyota. At $300, it's far from cheap, but if you're already a fan of their products, you have likely paid $349 for an Ajna bundle, $399 for a Tilopa bundle or more for the larger Sukha or Shinn packs. In that case, $300 might not scare you off.
While it isn't a bag without flaws, I think it's an excellent study of how higher-end materials, techniques, and hardware can be used to carry a camera. Gear junkies and F-Stop fans will appreciate these things, and I hope that at least some of these features make their way onto future packs in the Mountain Series.
Where To Buy
Save 25% on the F-Stop Store this week for Black Friday. Just use discount code ShutterMuse25 after clicking this link to access the store.
As always, we really appreciate it when readers use the links on this page to make their purchases. You can buy the Dyota 20 from: