The F-Stop Tilopa DuraDiamond is a 50L photography backpack that has been popular with outdoor, adventure and action sports photographers for over a decade. Now into its 7th generation, this latest update is the biggest one yet, featuring a brand new proprietary, rugged DuraDiamond material and a whole host of tweaks and new features. In this review, we'll explore every part of this camera bag to find out if they've managed to make it even better.
Disclaimer: F-Stop provided the Tilopa backpack for this review. No money changed hands, and they did not get to see the review before it was published. The F-Stop Ajna backpack, also seen in the review, was purchased with my own money at retail price.
Tilopa DuraDiamond Colour Options
I like the colour options that F-Stop has delivered for the Tilopa. A lovely bright colour is often appreciated by those that spend time in the mountains, while the gorgeous Cypress Green is perfect for wildlife photographers that want to keep a low profile. Of course, plenty of people always want a discreet black camera bag too. Often helpful in keeping yourself a little more under the radar while travelling.
F-Stop Tilopa 50L Specifications
My measured exterior height: 60.5 cm / 23.8″
My measured exterior width: 35. 5cm / 14″
My measured exterior depth: 29.5 cm / 11.6″
My measured weight (shell only): 2140 g / 4.72 lbs
Volume: 50L
Torso Length: 39.5cm / 15.7in
DuraDiamond™ external weather resistant material
BLOOM™ foam in shoulder pads and hip belt
T6 aluminum hardware
Aluminum internal frame
Laptop compartment – up to 16″ laptop
Hydration bladder compatible
Weather resistant YKK zippers
Compatible with F-Stop ICUs up to Pro XL in size
Dimensional Discrepancies
Getting accurate bag measurements is usually not a problem when I write camera bag reviews. However, in the case of the F-Stop Tilopa, I found no less than five sets of entirely different measurements for this bag from these locations:
F-Stop's web store product listing
A PDF of the bag's specifications, downloadable from the F-Stop sales page
The sales tag attached to the bag when it arrived
The B&H Photo product listing
The Amazon product listing
Looking at the dimensions given in these five locations, all you would know is that the bag is somewhere between 59.7 cm and 64.5 cm tall. The difference between 59.7 and 64.5 cm is significant and could make a difference to someone shopping for a bag that meets specific airline carry-on requirements. Similar disparities were seen with depth and width dimensions.
I understand that providing measurements for an unnaturally shaped object with flexible sides can produce some variation. Still, at a minimum, there should be some consistency within the brand's own product literature. Anything less is just confusing for consumers. Ultimately, I had to take a tape measure to find out for myself. The dimensional measurements in the specification list are my bag measurements and are the only ones you should trust!
Weight Inaccuracies
After my struggles to find accurate dimensions for the bag, I knew I would need to weigh it to see whether the weight claims were valid. In short, they are not. F-Stop claims the empty bag weights 1900 g, but mine weighed considerably more, coming in at 2140 g (tested with two different scales). Disappointingly, this is a 10% difference from the claimed weight. Far more than I consider to be a reasonable error. Moreover, the new DuraDiamond material is claimed to have made these bags lighter, but according to F-Stop's website, the previous version weighed 2000 g.
I know F-Stop knows how to make a great camera bag, but there is certainly room for improvement in specification accuracy. This kind of error margin is enough to sway someone's purchasing decision. In my review of the Ajna 37L DuraDiamond, I also found a similarly significant weight inaccuracy, so this is not an isolated case.
What's New on the DuraDiamond Version?
The Tilopa 50L DuraDiamond is an updated version of the Tilopa 50L built from different materials, upgraded hardware, and several new design features. The bag is still a recognizable sibling to the previous Tilopa, but the new proprietary DuraDiamond material has a high-end look that makes the bag stand out. F-Stop says this new material is lighter and provides higher tear resistance.
From a hardware perspective, zipper pulls are now shrink-wrapped paracord to make them easier to grab with gloves. Shoulder strap adjustment buckles, load lifters, flat D-rings on each shoulder strap and the hip belt buckle are now made from T6 aluminum. Shoulder strap padding is now made from an algae-based foam called BLOOM. Side pocket zippers and the front stash pocket zipper have been upgraded from standard coils to weather-resistant.
In terms of entirely new features, the Tilopa 50L DuraDiamond adds two new side pockets, a zippered pocket on the inside of the main front pocket as well as a new storage sleeve, and a completely redesigned back panel that has six new pockets of various sizes, all closed with magnets. There's also a new pair of fleece-lined pockets inside the bag's lid.
On the pack's exterior, the number of GateKeeper attachment points has increased from 10 to 22, but the sewn-on side straps have been removed. Now, you will have to use GateKeeper straps to attach anything to the bag's sides, which is an additional purchase. In the next section, I'll discuss each area and feature of the bag, so we'll take a closer look at all these good and a few not-so-good changes.
F-Stop Tilopa Design and Features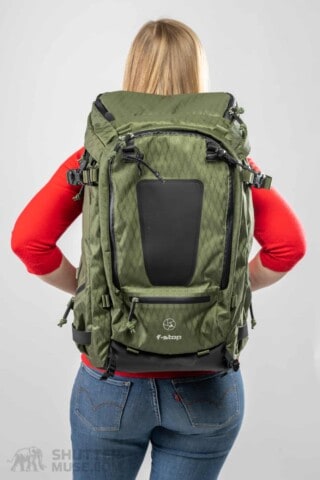 External Features
Front Stash Pocket
You'll find what F-Stop calls the Stash Pocket on the front of the bag. This is designed to be used for your garbage, giving you a segregated space for food wrappers to keep crumbs out of the bag's interior and out of your camera gear. Alternatively, if you mount a tripod to the front of your bag, you can stick two of its feet into this pocket for support.
Top Lid Pocket
A large zippered pocket gives you 3 litres of storage on the top of the bag. Unzipping the pocket reveals a mesh pocket on the lid flap and a pair of fleece-lined pockets that are great for sunglasses or even circular photography filters if you don't want to put them in a case. In the lid, you'll find a small clip for your keys or SD card holder.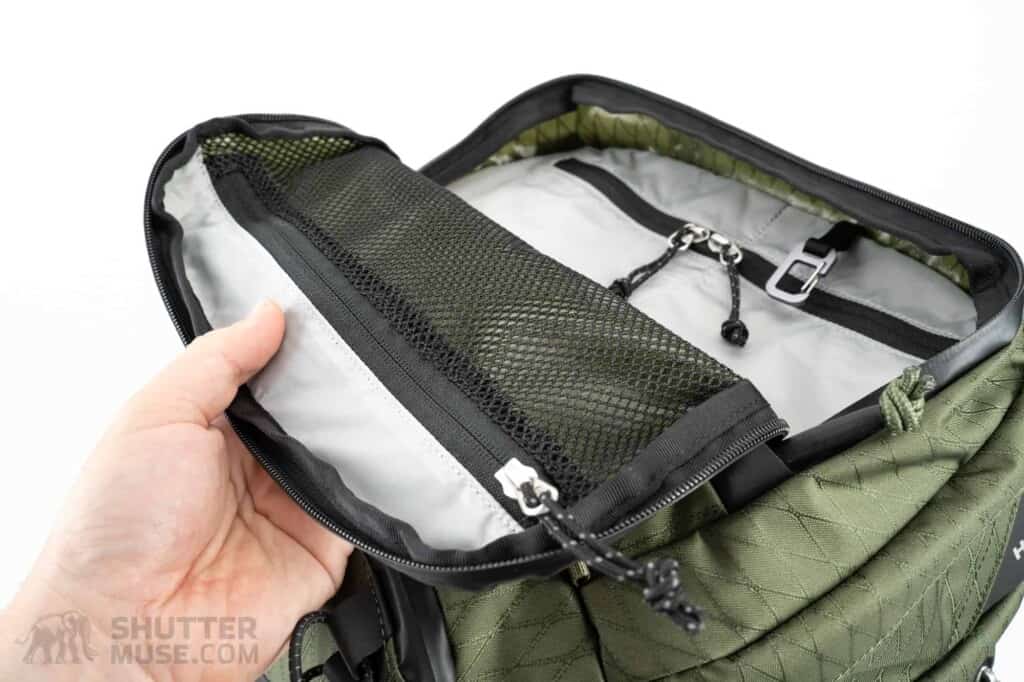 I like the large size and the organized design of this pocket. It's large enough to store my photography gloves, a hat, headlamp, InReach, granola bars, sunglasses, camera batteries and memory cards. During a day of photography with this bag, this will likely be your most-opened zipper. I can sometimes go several hours without needing to get my camera out, but you can almost guarantee I'll need to access some smaller non-photographic items in that time. When you take the bag off and stand it on the ground, the top pocket is the natural place to store those heavily used items. The fact that there are different zippered compartments within this top lid pocket is very welcome.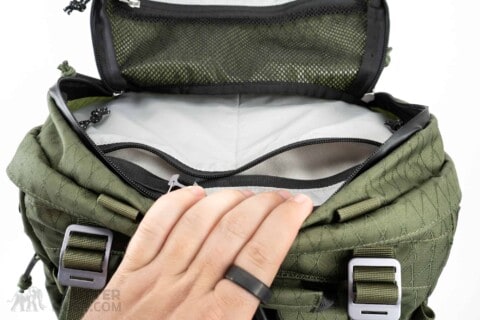 Upper Side Pockets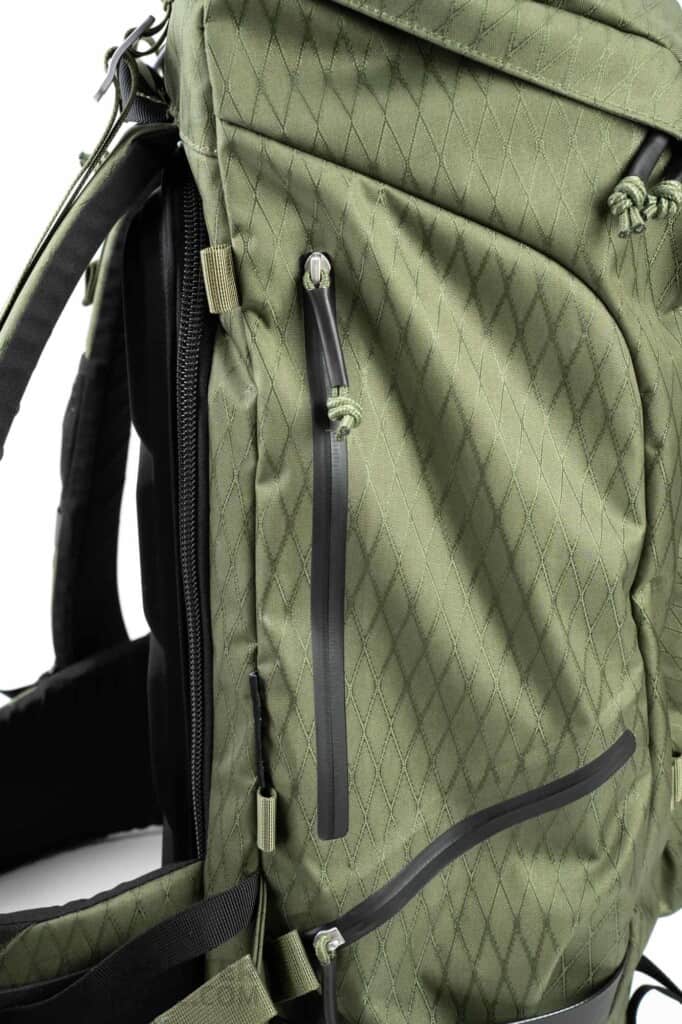 The bag has vertical side pockets on both sides with a volume of 1.25L each. Over a litre of volume sounds like a lot, but the pockets feel tight and have a flat profile that limits what can be stored in them. There's also an internal mesh pocket that is far too tight and awkward to be of any real use. Still, the side pockets did turn out to be a great place to keep the bag's rain cover and a camera rain cover when in the field. While travelling, these side pockets would be an excellent place to store travel documents, guidebooks or a paperback for the plane.
Lower Side Pockets
Beneath the vertical zippered side pockets is a diagonal zipper that gives you another pocket option on each side of the bag. If you're lashing a tripod to one side of the bag, you can stick the feet in the pocket to give it some support. Otherwise, these small pockets are helpful for just about anything that you might need in a hurry. They are much easier to use than the taller pockets above them, so I tended to put items in them that need to be accessed more often.
Main Front Pocket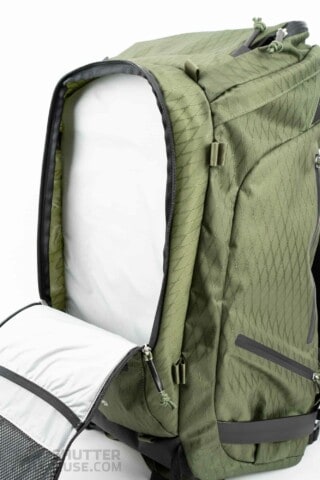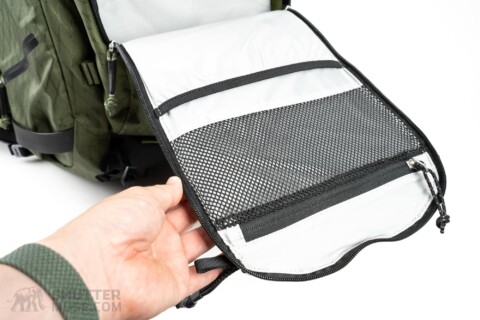 The bag's front pocket has five litres of volume and is designed to be big enough to carry an avalanche shovel and probe. New for this updated version of the F-Stop Tilopa is a zippered mesh pocket and an elasticated stash pocket. If you aren't using the bag for ski or snowboard touring and thus don't need to carry a shovel and probe, this large storage volume is perfect for your waterproof layers and any additional clothing you might want. The two new pockets are perfect for smaller items like hats and glove liners, keeping all clothing and related articles neatly organized in one place. A drainage hole at the base of the pocket prevents snowmelt from building up.
Hydration Options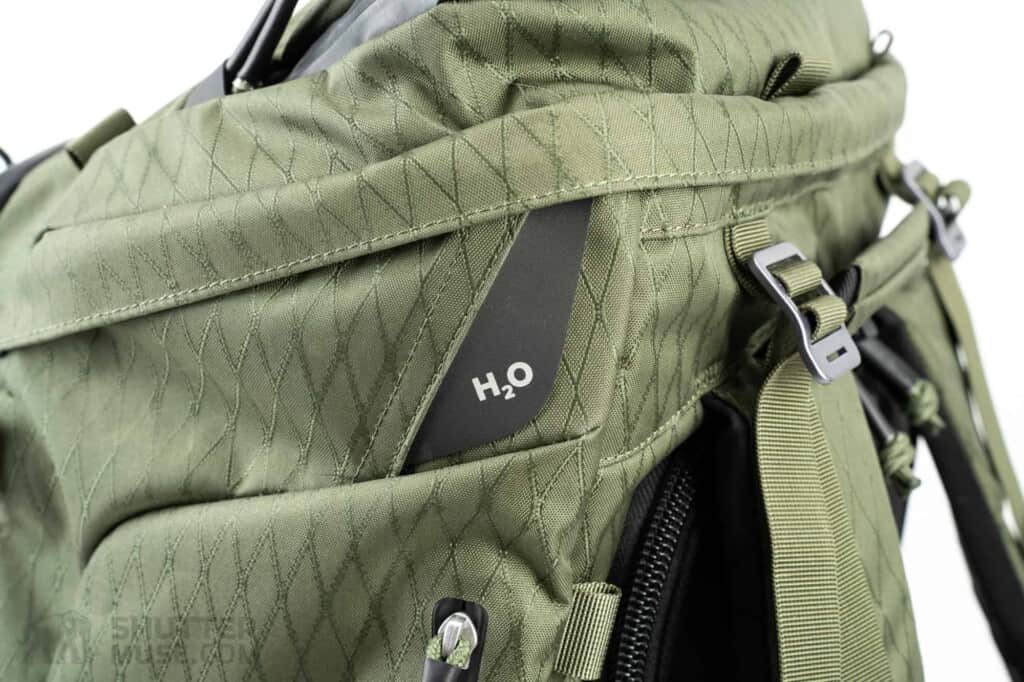 A sleeve inside the bag's main compartment will hold a water bladder. A Hypalon tab on the side of the bag reveals a bladder hose exit point, and elasticated mesh on each shoulder pad secures the hose to your preferred side. Another option is to use soft-side bottles, up to 1L in volume, in the bag's side zippered pockets. One thing to note is that there is no bladder hanging loop inside the bag, making it harder to get the last drops of water out when the nearly-empty bladder crumples to the bottom of the compartment.
Laptop Pocket and Internal Organizer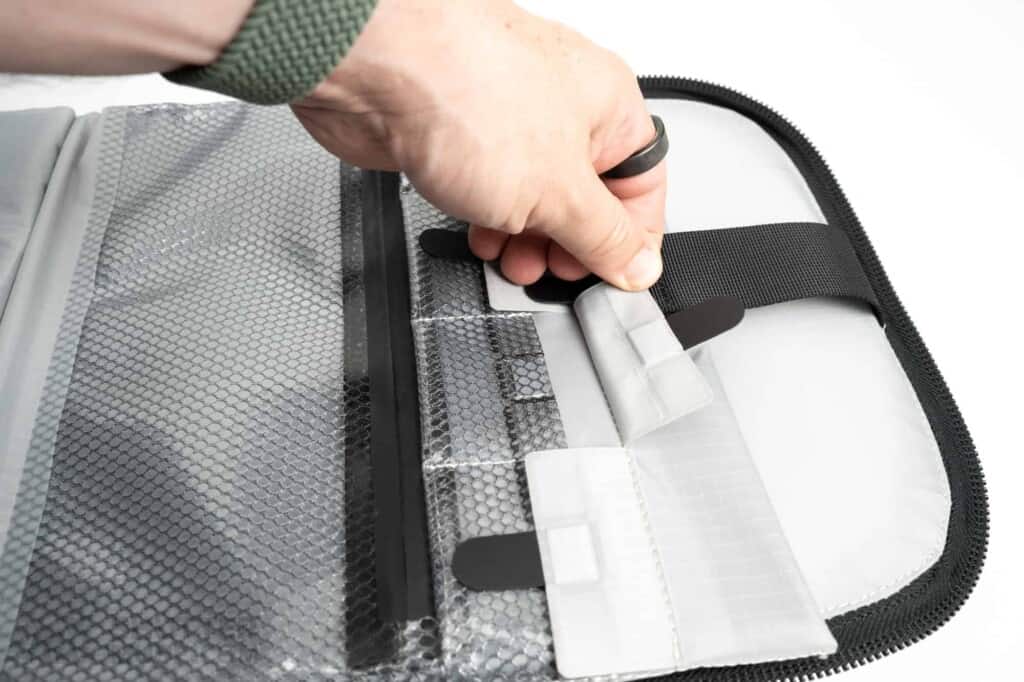 The inside of the rear camera access panel has been completely redesigned for this version of the bag. It now features a padded laptop sleeve that will hold up to a 16″ laptop and an array of small pockets that work well for laptop accessories. The four smallest pockets are secured by magnets and designed for memory cards. The central clear pocket is zippered, and the lower padded pocket is again secured with magnets. The padding on the lower pocket makes it an excellent place to store your hard drives or SSDs for photo backups. The included ID sleeve is a helpful place to keep a few of your business cards or write your name and phone number.
Harness System
Shoulder Straps
The harness on the F-Stop Tilopa 50L is thickly padded and designed for hauling heavy weights during long days in the backcountry. The BLOOM algae-based foam used in the shoulder straps and waist belt is of higher density than many other camera bag padding. At first touch, this doesn't give you that soft and squishy feeling some people might be used to with other shoulder straps, but I found the added density was beneficial when carrying hefty loads for long periods. It prevents the foam from becoming too compressed, maintaining the weight spread and preventing rubbing "hot spots".
Hip Belt
The Tilopa's hip belt uses the same thick BLOOM padding as the shoulder straps, and in my mind, it is one of the stand-out features of this pack. The high density and rigidity of the padding take the bag's vertical load and applies it efficiently to your hips. The slightly contoured shape of the hip belt adds to the comfort, and the width of the belt, particularly at the attachment point to the bag, prevents sagging that can sometimes happen with a heavy bag and flimsier belt padding. This hip belt and the shoulder strap padding are the main reason the F-Stop Tilopa carries heavy weights so well.
One of the significant changes on the latest Tilopa is the addition of aluminum hardware. In the case of the hip belt, the standard plastic buckle used on most backpacks is replaced with an aluminum buckle reminiscent of those found on backcountry avalanche airbag packs. This metal buckle is used for safety on backcountry airbags because such packs must endure enormous forces in an avalanche and remain attached to the skier or snowboarder.
The downside is that many people hate these buckles because they are fiddly to use, especially while wearing gloves. I have often seen people modify their avalanche packs to include a carabiner or other method to secure the pack rather than using this "safety buckle" style. I'm not sure why F-Stop included this buckle on the Tilopa. I get that it looks cool, but it is more fiddly to use than a regular buckle. Some reviews have highlighted the durability of this buckle, saying that it "will not break". While that is true, I have never broken a waist strap buckle in over 15 years of professional outdoor and adventure photography.
Stealth-preferring wildlife photographers will also dislike the buckle's metal-on-metal clinking noise caused by the buckle clashing with the aluminum strap tightening hardware when you remove the pack. Undoubtedly, these will be the most durable buckles on any camera bag of this type on the market, but I think it sacrifices some usability to get there. If ultimate buckle durability was the point, I wonder why the sternum strap is made from plastic. Perhaps your view will differ on this point, but I would have preferred a regular heavy-duty plastic buckle on the waist strap. Still, it is not a reason to disregard this pack, as replacing the buckles with an off-the-shelf plastic one is relatively trivial.
Trekking Pole or Ice Axe Holders
Hiking poles or ice axes can be strapped to the bag with tethered elastic bungees at the top and small nylon webbing loops at the bottom.
Carrying a Tripod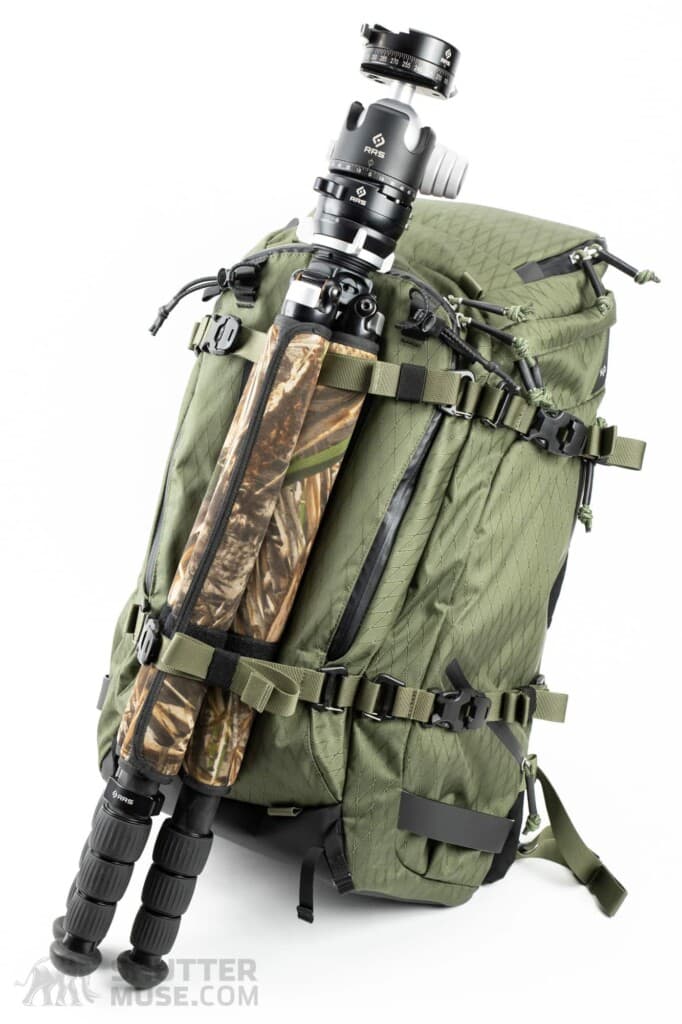 If you buy the Tilopa as "shell only", there is no way to carry a tripod. Optional GateKeeper straps must be purchased for $15/pair to give you what I would call a basic necessity for an outdoor photography pack. The straps are great, and you can mount them in any of the 22 different attachment points around the bag, but at least enough straps should come with the pack to carry a tripod. If you're thinking of buying this bag, budget an additional $15 for the tripod straps. If you're getting your very first F-Stop bag, bundles are available that include an ICU(s), rain cover and straps, which might be the right choice for you.
Once you have the GateKeeper straps, you can use them to mount a tripod on either side or the front of the pack. Depending on the size of your tripod, you may be able to use the lower zippered side pockets or front zippered stash pocket to support the tripod, thus only requiring a single top strap to secure the tripod. Larger tripods might need two straps, although you may also use the Hypalon ski strap on the side.
Choosing the Right ICU for Your Tilopa
F-Stop pioneered the concept of removable padded camera cubes in outdoor photography bags., allowing you to customize your load-out to carry as much or as little camera equipment as necessary. The F-Stop ICU lineup currently consists of eight different sizes, and all but the largest Master Cine size will fit into the Tilopa.
That said, the depth of the Tilopa makes the Small Shallow and Medium Shallow sizes float around too much, and the Micro Tiny will almost get lost in the bag's cavernous interior. Thus, the recommended ICUs for the Tilopa are the Small Pro, Medium Slope, Large Pro and XL Pro. In this section, I will show you each in the Tilopa so you can figure out the best setup for your needs. If you want the details and photos of non-recommended-for-Tilopa ICUs, please read my F-Stop ICU guide.
It's important to remember that when choosing an ICU from these four recommended options, there is no right or wrong answer. Many people buy multiple ICUs to configure their packs for different types of days. Me? I bounce back and forth between the XL Pro and the Medium Slope. You can use the extensive photos in this section to ensure you get what you need for your gear.
Small Pro in Tilopa
The Small Pro ICU is perfect for a mirrorless camera and 4-5 small lenses or a body with a 70-200mm attached. It is deep enough to accommodate a gripped or pro-sized body.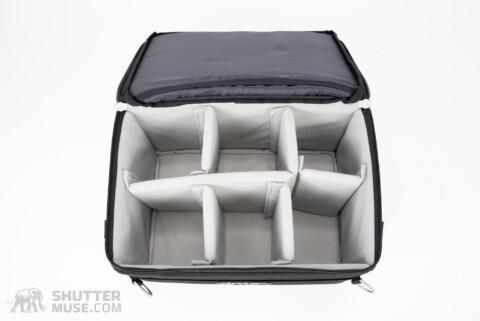 Medium Slope in Tilopa
The Medium Slope ICU is deeper at one end to allow for gripped or pro-sized camera bodies. With the camera, it will hold 4-5 additional lenses and is tall enough to accommodate a 70-200mm f/2.8 or 100-400mm lens attached to a camera body.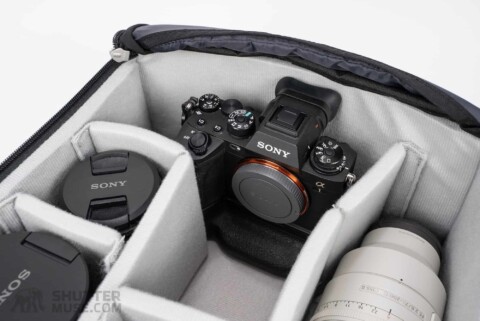 Large Pro in Tilopa
The Large Pro ICU will easily hold a couple of cameras and 5-8 lenses. I have used a Sony 200-600mm lens in the photos below to demonstrate its size. As you can see, it will hold this lens with the camera attached. It'll also hold a 400mm f/2.8.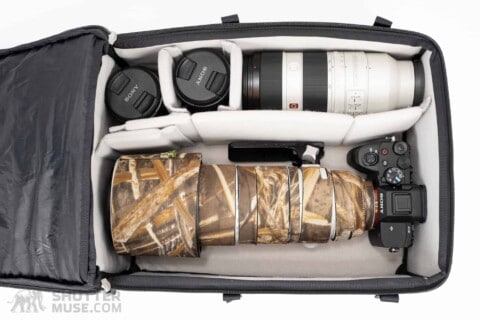 XL Pro in Tilopa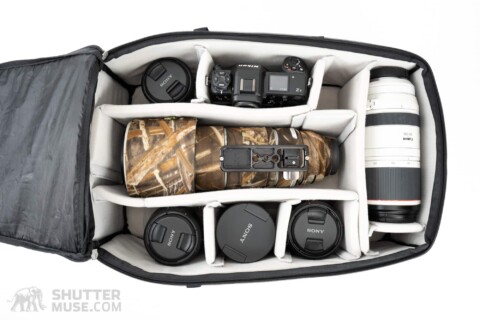 The XL Pro ICU is the largest that will fit in the Tilopa. Choose this option if you want to carry large super-telephoto lenses like a 600mm or 800mm, or if you're going to maximize the available protective space in the bag. Note that this largest ICU is taller than the rear access hatch on the bag. That means some of the space at the top of the ICU is a little harder to access. In practice, many will use this ICU with telephoto lenses, and then it becomes a non-issue. Some may even call it a benefit as it provides a tiny spot in the ICU that is better protected from the elements when the bag is opened.
ICU Combinations
If you own multiple ICUs, you might consider using them simultaneously in your F-Stop bag. In particular, I like using a Small Shallow ICU or Small Pro sitting perpendicular to the main ICU and accessible from above in the bag's top section. The Small Pro works in combination with the Medium Slope ICU, and the Small Shallow works in combination with the Large Pro ICU.
Optional Accessories
Gatekeeper Straps
The Tilopa has over 20 attachment points around its edges for F-Stop's optional Gatekeeper straps. These are great for attaching loads to the top, bottom, sides or front of your bag in any combination. If you plan on overnight camping with the Tilopa, you will probably want a few pairs to carry your tent and sleeping bag on the outside of the bag while leaving cameras, food and clothing on the inside. A pair of Gatekeeper straps costs $15, which is a reasonable price for the high-quality buckle hardware.
Still, I will repeat what I said earlier in the discussion of tripod carry. Carrying a tripod is an essential requirement for a camera bag designed for outdoor photography. Without at least a pair of Gatekeepers, and possibly two pairs depending on tripod length, the Tilopa has no way to carry a tripod out of the box, and I find this a strange decision.
I believe this bag should include four Gatekeepers, with additional pairs available for those that want to go nuts and start attaching stuff all over the place. Not having any Gatekeepers and thus no way to carry a tripod raises the entry point pricing for buying this bag. Accordingly, most should budget an additional $30 for two pairs of Gatekeepers when weighing up the Tilopa pricing against its competition.
Rain Cover
For $19, you can buy a rain cover for the Tilopa. I recommend this purchase to anyone travelling to places where heavy downpours are expected. Although the DuraDiamond material is listed as water-resistant, I found the contents of my bag were getting wet after 15-20 minutes in moderate-to-heavy rain. If caught in a prolonged downpour on a long hike, you will want this rain cover.
F-Stop Tilopa 50L Vs Ajna 37L
In the F-Stop Mountain Series, the most obvious alternative to the Tilopa 50L DuraDiamond is the Ajna 37L DuraDiamond. Knowing this would be a popular comparison, I purchased an Ajna 37L from B&H Photo to test it alongside the Tilopa. I'm glad I did this because my testing was very revealing. Before we get into my commentary on that comparison, let's compare the specifications.
Related Reading: F-Stop Ajna 37L Duradiamond Review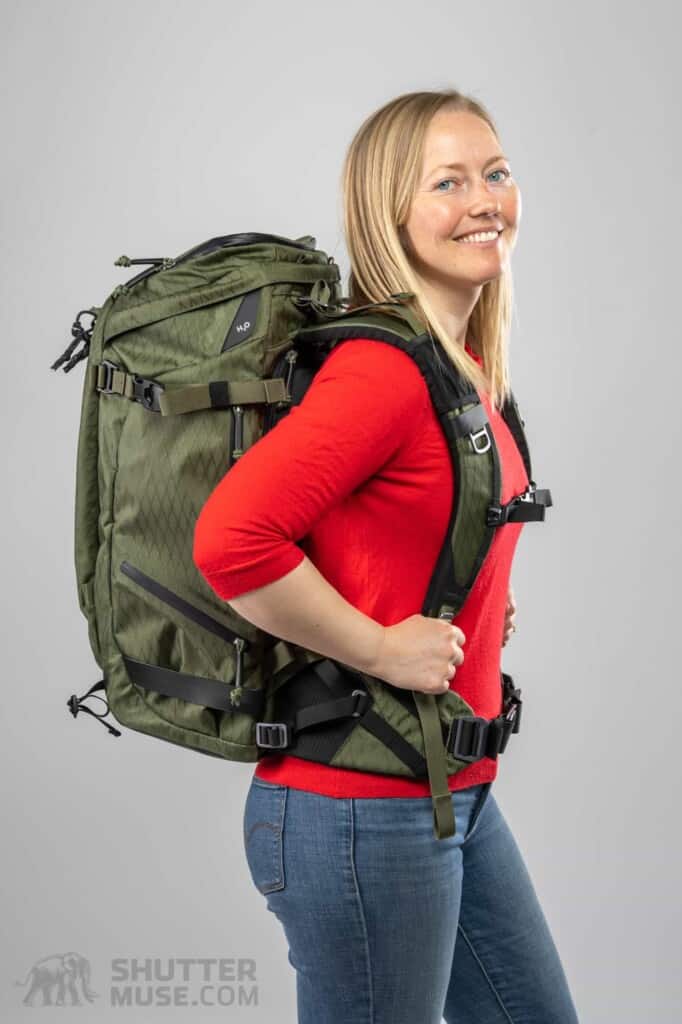 There is very little difference in the height of the two bags, but the Ajna is just enough shorter that it makes the bag difficult to close when used with the XL Pro ICU. For this reason, I only recommend using Small, Medium and Large ICUs in the Ajna. Thus, if you have large lenses like a 600mm that need the length of the XL ICU, this decision has been made for you.
The majority of the volume difference between these two bags comes from the size of their front pockets. The large front pocket on the Tilopa is designed to hold bulky items like an avalanche shovel, whereas the front pocket on Ajna is barely big enough to hold a rain jacket. Much of the weight difference between the two bags comes from the difference in their harnesses. The Tilopa has chunky, thickly padded shoulder straps and a waist belt, whereas the Ajna straps are skinny and designed for lighter overall loads.
The final big difference can be seen on the side of the bags. The Tilopa is unique in that it has two straps designed to secure the bottom of a pair of skis. In their place on the Ajna, you will find a much more traditional camera bag setup with a couple of mesh pockets designed to hold a tripod. If you want the easiest way to mount a tripod to your bag, the Ajna is the better option. Though the Ajna doesn't have a laptop sleeve, you can easily put up to a 16″ laptop in a neoprene sleeve and slide it into the bag behind the ICU. I don't think this is a significant differentiator in practical terms.
In terms of comfort, I was more than happy with the Ajna on all-day hikes with the Medium Slope ICU holding a camera and four lenses, plus all the usual non-photographic gear such as a couple of litres of water, food and some layers. If you plan on hiking all day with an Ajna, I recommend looking at the Medium Slope ICU as your best combination. You can use the Large Pro ICU in the Ajna, but if you fill it, you'll be pushing up to the maximum weight I recommend with the Ajna's lightweight shoulder straps and waist belt.
Choosing the Tilopa with its thicker shoulder pads and sturdier waist belt gives you the option to go much heavier comfortably. I have no issues fully loading the Large Pro or the XL Pro ICU and hiking all day with either in the Tilopa. The difference in how these bags carry heavy weight is dramatic. It might take a few hours to notice the difference between the shoulder strap thickness, but the waist belt difference is immediately apparent. The Ajna belt is flimsy, whereas the Tilopa belt is stiff and slightly contoured to the shape of your hips. Both are great bags, but it's clear which you should choose if you plan to pack a heavy load.
What about the 70L F-Stop Sukha backpack? You might ask. Is this another alternative that's worth considering? At review time, only the Ajna, Tilopa and Shinn backpacks have been updated to DuraDiamond models with all the new features. The Sukha pack is still available, but I find it hard to recommend right now because I can only assume that a hugely updated DuraDiamond version of that bag cannot be far off. I have no information about that, but it seems logical that all Mountain Series bags will eventually adopt this new look.
Air Travel With The Tilopa
Depending on the airline you're flying with, the Tilopa might be larger than the maximum carry-on requirements. However, I have flown internationally with a Tilopa on many occasions. You see, there's a trick you can use to get past those pesky gate agents!
The internal frame of the Tilopa is one of the reasons it carries heavy weights so well, but the height of this frame is also why it won't fit into most carry-on baggage cages at the airport. If you are planning to fly with your Tilopa, I recommend pulling the aluminum frame out of the bag and putting it into your checked luggage. If you don't pack the lid pocket too full, you can compress the bag's height and usually get within the required dimensional limits.
Conclusion
When F-Stop launched in 2006, the Tilopa was one of its first products, and it would be hard to argue with the notion that, at the time, it redefined the genre of rugged camera bags for outdoor photographers. I used the first few iterations of the Tilopa for ten years as a professional ski photographer, and there wasn't anything else like it on the market. Since then, this genre of bags has become more popular, and the Tilopa has faced stiff competition from the likes of Shimoda, NYA-EVO, Gura Gear and even Lowepro. Many of those other bags offered better internal organization and more features than the relatively simple Tilopa, but not anymore.
This 7th generation F-Stop Tilopa 50L is the most significant improvement to the bag's design. The new DuraDiamond material looks great and appears to be incredibly durable. The added pockets, inside and out, add much appreciated organizational options for your accessories, and the thickly padded harness and hip belt make this one of the best camera backpacks on the market for those needing to carry a hefty load.
Of course, no camera bag is perfect for everybody, and I wouldn't say I like a few things. I'm not a fan of the metal hip belt buckle. I find it fiddly, particularly when wearing gloves, and it makes too much noise if you're trying to approach wildlife discreetly. I also firmly believe that a bag designed for outdoor photography should come with a method for attaching a tripod. The fact that you have to buy at least one pair of F-Stop's Gatekeeper straps to carry such an essential piece of equipment is an unnecessary annoyance.
Still, these things aside, the Tilopa is a fantastic bag for your outdoor adventures. Its first-rate build quality will leave you confident that it can withstand many years of abuse in harsh environments, and the enormous range of ICU sizes allows more interior customization than any other bag of its type. If you're in the market for a bag of this size, particularly one that can comfortably carry heavier loads, the new Tilopa 50L DuraDiamond is an excellent option.