The F-Stop Ajna DuraDiamond is a lightweight 37L photography backpack built from rugged materials and designed for outdoor and adventure photography of all types. The slim profile and airline carry-on-friendly dimensions make this an attractive option for content creators on the move. After purchasing this backpack at retail price from B&H Photo, I tested it thoroughly and compared it to the previously reviewed F-Stop Tilopa. As is usual in my in-depth camera bag reviews, I'll explain every feature in detail so you can make an informed purchasing decision. F-Stop did not sponsor this review in any way and didn't even know I was writing it.
Ajna DuraDiamond Colour Options
F-Stop has chosen great colours for the latest iteration of the Ajna. Magma Red will appeal to those that spend a lot of time in the mountains. Cypress Green (my favourite) is perfect for wildlife photographers, and Anthracite Black has a tremendous stealthy, low-profile look that many people seek when trying to remain discreet during travel.
F-Stop Ajna 37L Specifications
My measured exterior height: 57.5 cm / 22.6″
My measured exterior width: 32 cm / 12.6″
My measured exterior depth: 24cm / 9.4″
My measured weight (shell only): 1620 g / 3.57 lbs
Volume: 37L
Torso Length: 36.5cm / 14.4in
DuraDiamond™ external weather resistant material
T6 aluminum hardware
Aluminum internal frame
Hydration bladder compatible
Weather resistant zippers
Completely compatible with F-Stop ICUs up to Large Pro in size. XL Pro is useable, with some caveats explained in the ICU portion of this review.
Dimensional Discrepancies
When reviewing the Tilopa DuraDiamond last month, I struggled to find accurate dimensional measurements, with the bag's length, width and depth described differently in at least five different places, including three provided by F-Stop. With the Ajna 37L, little is different. The bag's dimensions are given as 23.8×12.8×10.1 inches on the F-Stop website and 22.3x13x10.5 inches on the bag's sales tag. Another set of widely different dimensions is attached to the B&H Photo product listing.
I understand that providing measurements for an unnaturally shaped object with flexible sides can produce some variation. Still, at a minimum, there should be some consistency within the brand's own product literature. Anything less is just confusing for consumers. As I did with the Tilopa, I got my tape measure and recorded my measurements for the specifications.
Weight Inaccuracies
After my struggles to find accurate dimensions for the bag, I knew I would need to weigh it to see whether the weight claims were valid. In short, they are not. The product listing on the F-Stop website says the bag's shell weighs 1470 g / 3.2 lbs. Weighed with two sets of my scales, mine weighs 1620 g / 3.57 lbs, a difference of 10%.
Strangely, the bag's sales tag says the weight is 1700 g, and the B&H product listing says it is 1800g! Sometimes specification differences do appear on third-party sites. Still, the weight inaccuracy on F-Stop's website is not helpful, and a 10% discrepancy is large enough that it might erroneously affect someone's purchasing decision. I know F-Stop know how to make great camera bags, but better care should be taken with product specifications. Rightly, may people pay close attention to these details before making a $400+ camera bag purchase.
What's New on the DuraDiamond Version
The Ajna 37L DuraDiamond is an updated version of the Ajna 40L built from different materials, upgraded hardware, and several new design features. The bag is still a recognizable sibling to the previous Ajna backpack, but the new proprietary DuraDiamond material has a high-end look that makes the bag stand out. F-Stop says this new material is lighter and provides higher tear resistance.
From a hardware perspective, zipper pulls on the Ajna are now shrink-wrapped paracord to make them easier to grab with gloves. Shoulder strap adjustment buckles, load lifters, flat D-rings on each shoulder strap, and the hip belt buckle are now made from T6 aluminum. Side pocket zippers have also been upgraded from standard coils to weather-resistant.
In terms of entirely new features, the F-Stop Ajna 37L DuraDiamond adds two new side pockets as well as a completely redesigned back panel that has six new pockets of various sizes, all closed with magnets. There's also a new pair of fleece-lined pockets inside the top bag's lid compartment.
On the pack's exterior, the number of GateKeeper attachment points has increased from 10 to 22, but the sewn-on side straps have been removed. Now, you will have to use optional GateKeeper straps to attach anything to the side of the bag. In the next section, I'll discuss each area and feature of the bag, so we'll take a closer look at all these good and a few not-so-good changes.
F-Stop Ajna Design and Features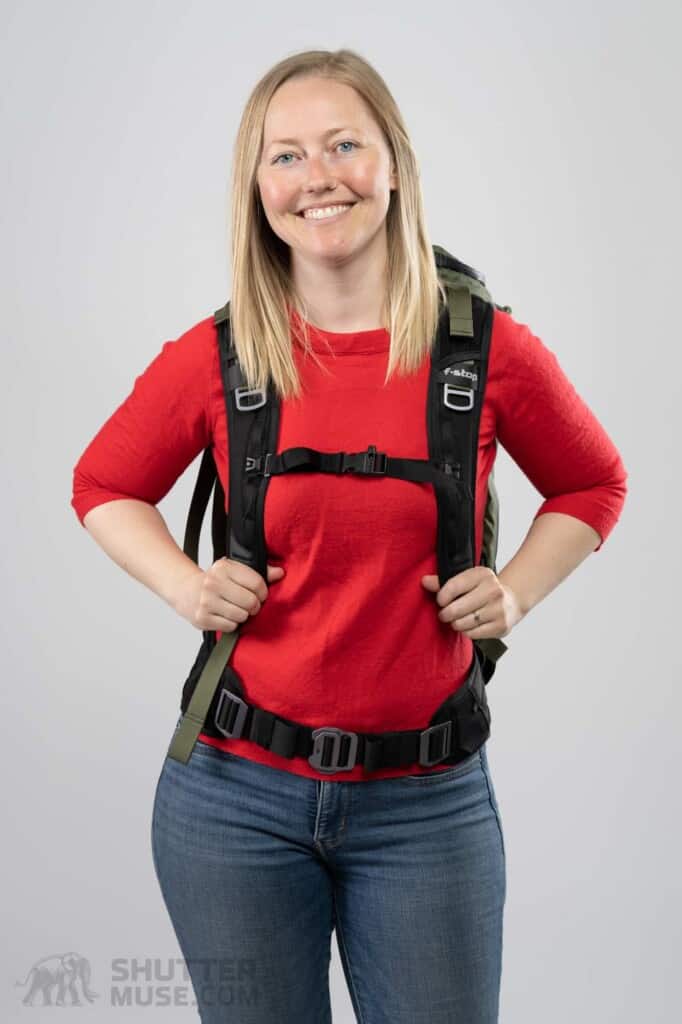 Base Stash Pocket
On the base of the Ajna, you'll find what F-Stop calls its stash pocket. This is a great place to store the optional rain cover, but it's also intended to store food waste and general garbage. Cut off entirely from the rest of the bag, any leakage or spillage within this pocket would be kept away from your camera gear and easy to clean.
Top Lid Pocket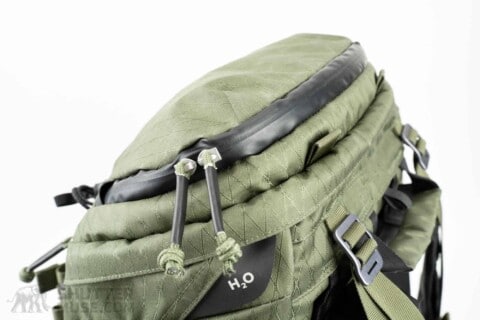 The lid pocket on the Ajna has a 2.5L volume and is large enough to store a pair of gloves, a hat, and a few other small quick-access items. There's an aluminum carabiner, generally labeled as a key clip, but far more helpful in securing your SD card wallet. A pair of zippers give you access to two smaller pockets lined with a soft material. These pockets are pretty tight, but you can get a couple of screw-on filters, a few camera batteries, or a pair of sunglasses in there.
The zipper for the lid pocket uses a heavy-gauge water-resistant zipper and two very chunky, glove-friendly zipper pulls. One puzzling thing to me was that the zipper garage- the small tunnel that can house zippers at the end of the track- is far too small to accommodate the large zippers. Theoretically, a good zipper garage should cover both zippers to help minimize water ingress at the point where the two zipper heads meet. On the Ajna, that doesn't work.
When testing the Ajna in a heavy downpour, I was disappointed to see how wet the items in the top pocket got. The Duradiamond material is relatively waterproof, and water-resistant zippers were used, but the problem appears to be a lack of sufficient seam taping where the zipper is attached to the pocket. Examining the first photo in the set of four above, you can see how a large channel is created on top of the bag where the zipper meets the bag's material. This upward-facing channel collects water and appears to enter the Ajna's top pocket quickly. Those anticipating rain should get the rain cover to mitigate this problem.
Inner Lid Pocket
There is a small zippered mesh pocket on the back side of the lid, or perhaps we should call it the inside of the lid. The mesh makes it easy to see what's inside and is also helpful for drying damp items such as glove liners, balaclavas, or neck warmers.
Side Pockets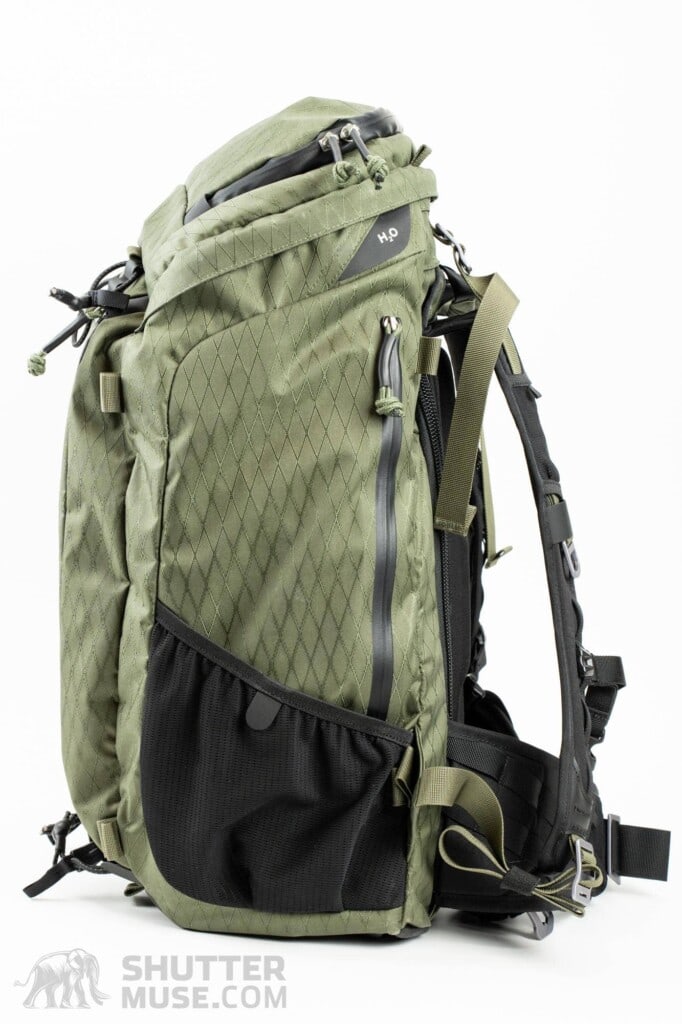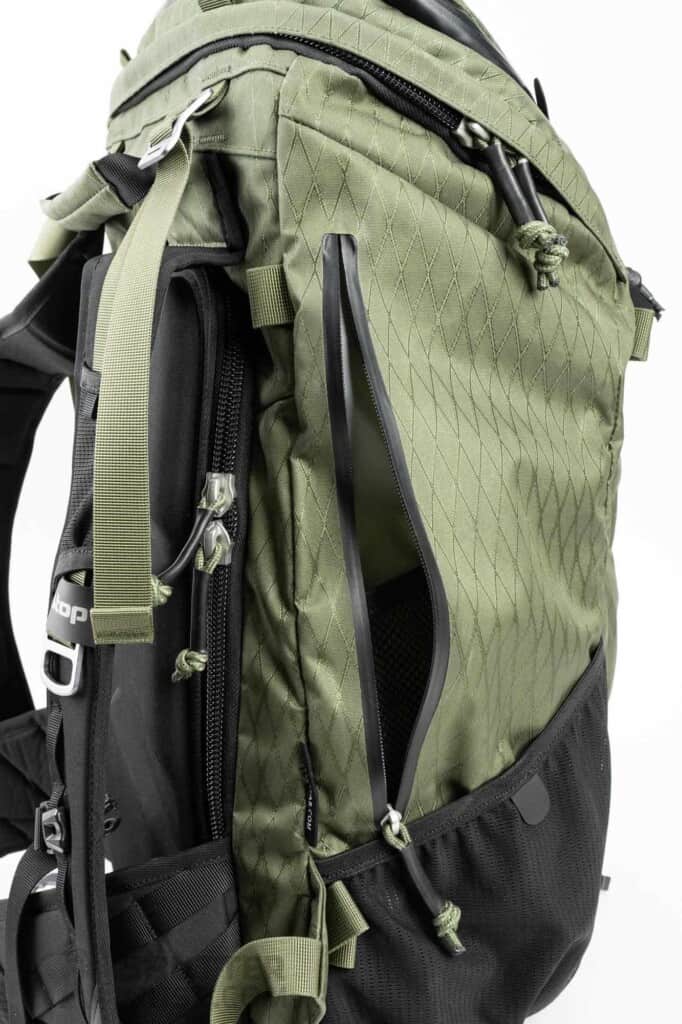 The left and right sides of the Ajna are identical. Both feature mesh pockets that can act as tripod feet holders when optional tripod straps are purchased (more on this later). These mesh pockets are just about deep enough to hold a 1L Nalgene bottle.
Above the mesh pockets on both sides of the bag is a vertical water-resistant zipper giving you access to side pockets with a 1.1L volume. That sounds like a large pocket, but I found them challenging to use helpfully and eventually gave up and zippered them up for good. The pocket profile is very flat, and there just aren't a lot of tall flat objects in my photography kit. Or even in my hiking kit. A small mesh inner pocket proved equally hard to access and very hard to see. F-Stop could have left these side pockets off the bag, which would have been just as good and perhaps a little cheaper.
Front Pocket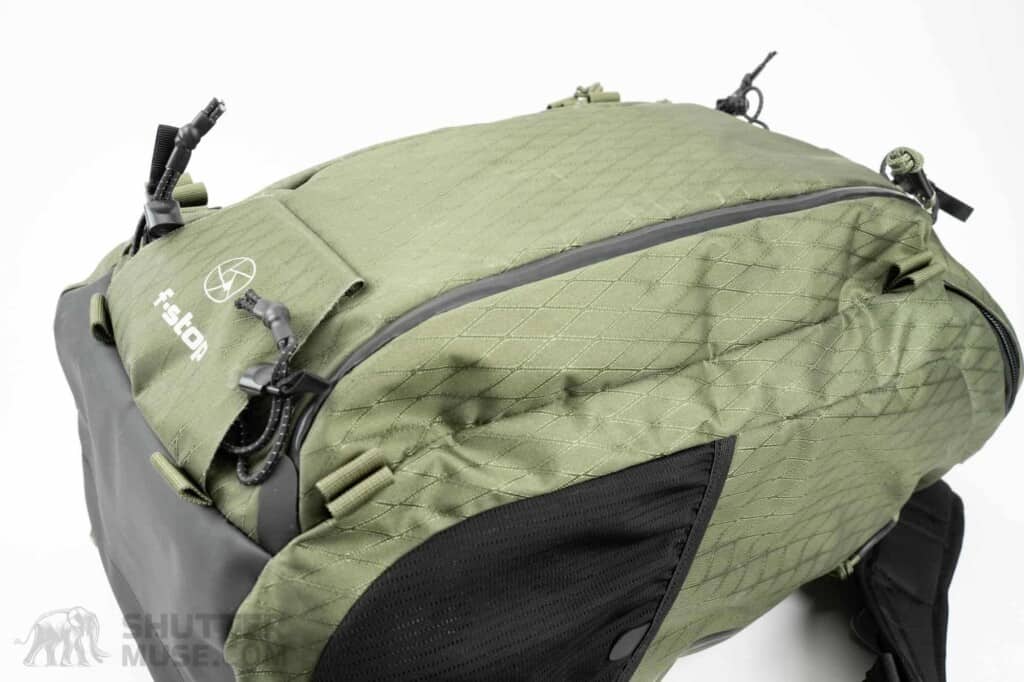 The Ajna's front pocket has a 3L volume and a long side-facing, water-resistant zipper. It's large enough to store a rain jacket and rain pants and features a drainage hole at the bottom to allow excess liquid to exit the bag. Inside the pocket is a small, slightly hidden zippered pocket that makes for a good passport storage location while traveling. With a large or extra-large ICU in the bag adding shape and support, this front pocket takes on a flat profile that holds magazines, books, or a neoprene laptop sleeve well.
Hydration Options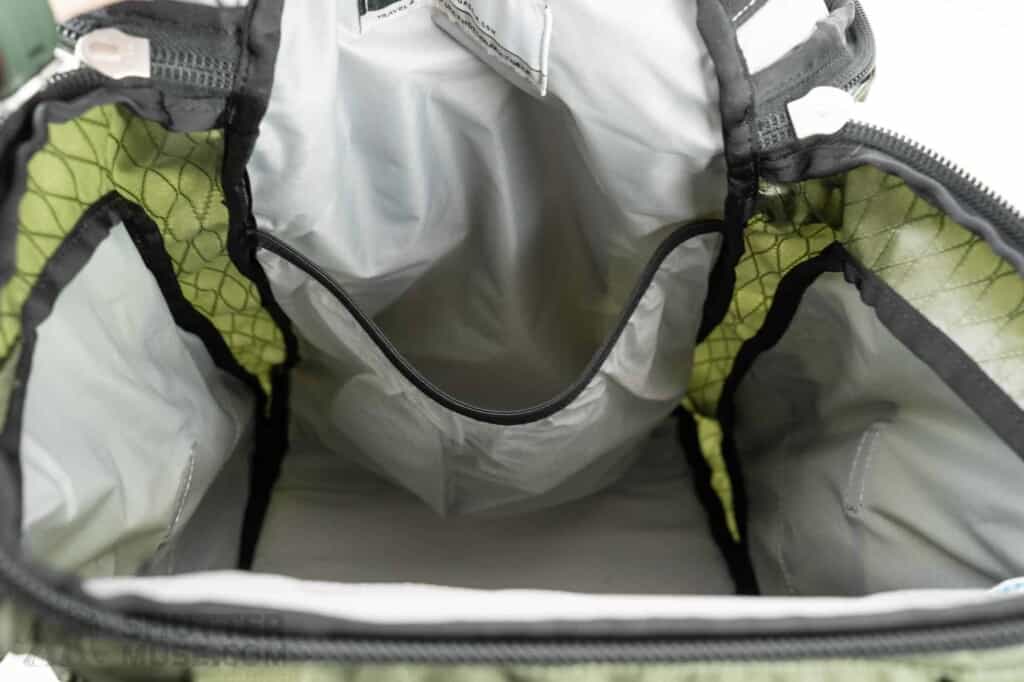 There are two hydration options on the Ajna. Firstly, you can put a Nalgene bottle in the mesh side pockets. Secondly, you can use the bag's internal flex pocket to store a water bladder. Strangely, and I have to say disappointingly, F-Stop has thought to include a bladder hose exit port on the side of the bag and hose-holding mesh panels on the shoulder straps but omitted any way to hang the bladder in the internal pocket. As anyone who has ever used a water bladder knows, this results in a half-empty bladder folding in on itself, often preventing you from extracting all the water. A bladder hanger is an essential, easy-to-implement feature that should be present in this bag.
Laptop Carry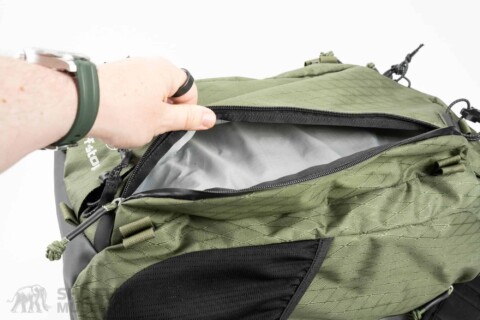 The Ajna doesn't have a dedicated laptop pocket. However, if you slip your computer into a neoprene sleeve, there is plenty of room to carry it in the elasticated pocket within the bag's main compartment. Here, you can comfortably carry a 16″ laptop. Some thinner 13″ laptops will also fit into the bag's front pocket. Any third-party neoprene laptop case will offer just as much protection as a dedicated padded laptop pocket would have, so I don't see this as a particular problem. It keeps the bag lightweight when you don't want to carry a laptop.
Internal Organizer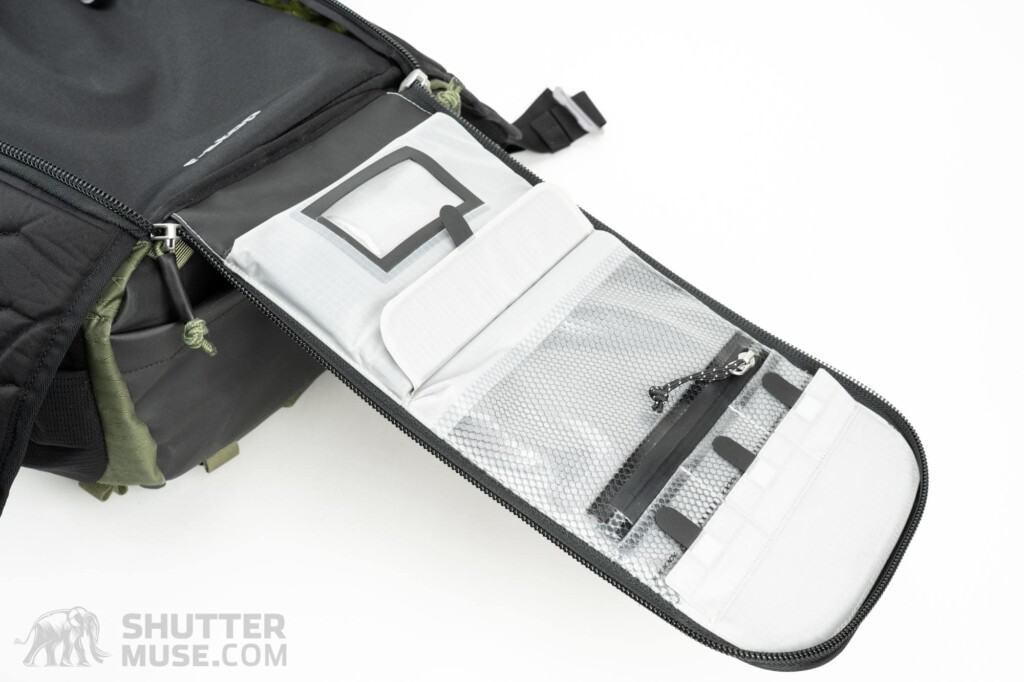 One of the significant additions to the newer Duradiamond versions of F-Stop's bags is the inclusion of greatly improved internal organization. Much of this improvement is located inside the bag's back panel. Here you will find a flat zippered pocket, three small pockets with magnetic closure, and a larger, slightly padded pocket with magnets to secure it. Everyone will use these pockets differently, but unlike the bag's side pockets, you will likely find plenty of things to keep in these. Batteries, SSD drives, remote cables, and camera manuals are good contenders.
Harness System
Shoulder Straps
The F-Stop Ajna is designed to be the lightweight option in the Mountain Series camera bag lineup. One of the areas where a lot of weight savings are visible is the thickness of the shoulder strap and hip belt padding. You should expect the Ajna's harness padding to be lighter than other F-Stop bags like the Tilopa, Sukha, or Shinn. Harness padding is also thinner than bags like the Shimoda Explore or Shimoda Action-X and the Gura Gear Kiboko series – oft-considered alternatives.
That said, I love the overall feel and comfort of the Ajna's harness and consider it one of the bag's greatest strengths. The straps' width and contouring are perfect, making it comfortable to carry a much heavier load than you would expect. You also appreciate its low profile when traveling with the bag and constantly tucking it into tight spaces. The thinner padding on the shoulder straps and the hip belt contributes significantly to the sense that this isn't a huge camera bag, and I daresay it helps to sneak it past a few airline gate agents without a second glance, too.
Hip Belt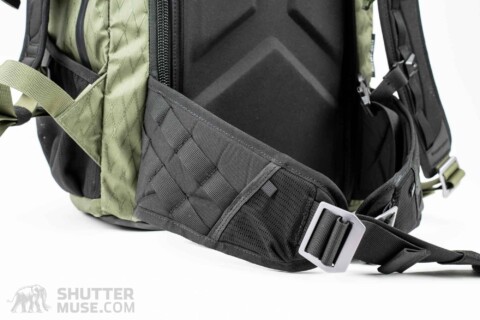 I just touched on the thinner padding of the hip belt, so I won't go over that again. However, I will add that the generous width of the hip belt at the point of attachment to the bag helps prevent sagging and ease the distribution of weight to your hips. On the side of the hip belt is some Molle standard webbing and a tiny little elastic pocket forward of that. I don't know the point of this pocket. I can barely fit a finger in it, so it's not even big enough for energy gel shots. Dog owners will find that they hold your little plastic dog egg bags very neatly, although this probably isn't the designer's intention.
For the new Duradiamond packs, F-Stop upgraded much of the bag's plastic hardware to aluminum, including the hip belt buckle. Gone is the usual easy-to-use buckle, and in its place is a style of buckle usually seen on avalanche safety packs used by backcountry skiers. The strange thing is that this buckle style is almost universally hated on avalanche bags. They look cool, and they sure are strong- strong enough not to get broken in an avalanche- but they are difficult to use with gloves on and are forever clinking together and making noise when you don't want it. Wildlife photographers hoping to be sneaky might want to cut these off immediately and install a plastic one.
I wonder why F-Stop included this buckle style on their new bags. Some reviews have highlighted this buckle's durability, saying it "will not break." While that is true, I have never broken a waist strap buckle in nearly 20 years of professional outdoor and adventure photography. And for ten of those years, I worked exclusively in the ski industry, in negative temperatures, where a plastic buckle would be most vulnerable. I think it might sell a few more bags because it looks cool, but I don't think this was necessary, and it is one of my least favorite features of the new Ajna backpack.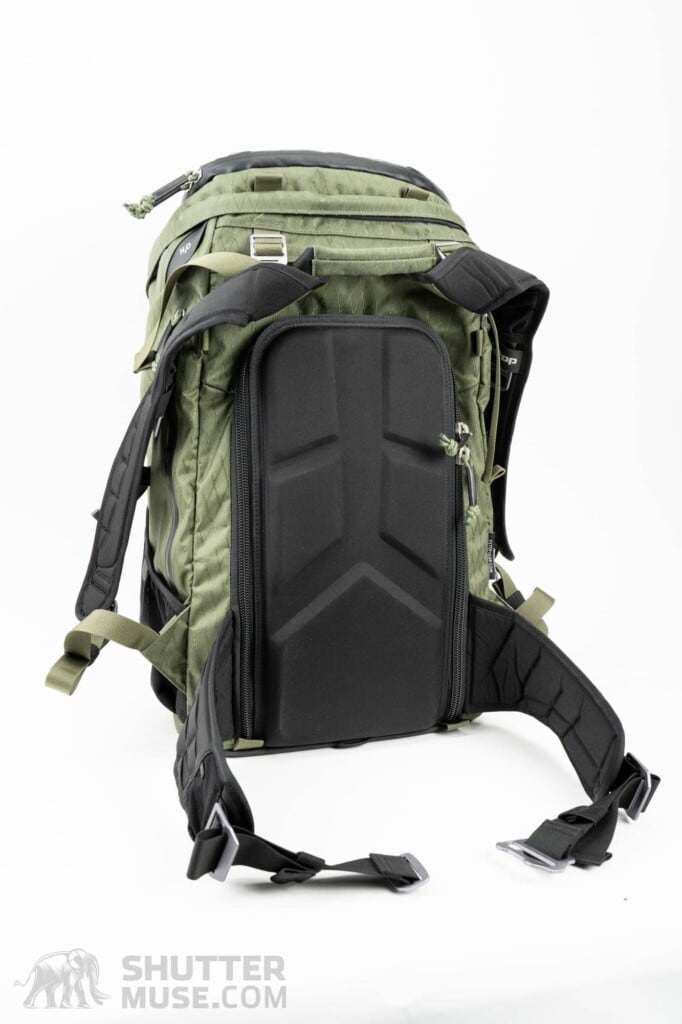 Trekking Poles & Ice Axe Holder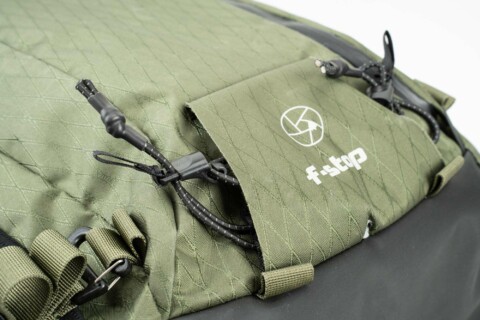 The Ajna's elastic straps comfortably accommodate those that carry trekking poles or ice axes. The sleeve at the base of the bag is a nice touch, allowing axe heads to be better supported and secured against the body of the bag, not swinging around and snagging on things. Top marks here. These features offer just the right amount of function without getting too heavy or bulky.
Carrying a Tripod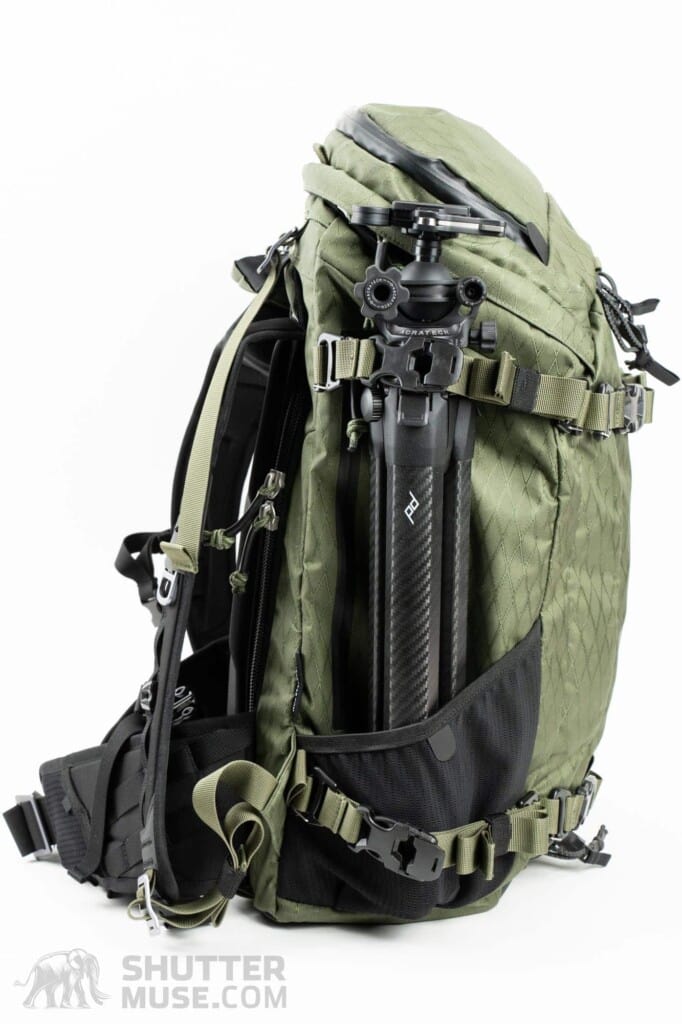 Out of the box, the Ajna doesn't have any way to carry a tripod. You will need to purchase some F-Stop Gatekeeper straps to add this essential function. I'll discuss this more in the sub-section about the Gatekeepers, but suffice it to say, it's a bizarre decision on a bag designed for outdoor photography. Anyone buying this bag must factor in the $15 cost of at least one pair of straps to carry a tripod. Stranger still is that the bag was initially sold with two pairs of Gatekeepers included, but these were later removed, and the bag's price was not reduced.
Once you have your tripod straps, you can use them to attach a tripod to either side of the bag or the front. The side is preferable as it keeps the bag's weight closer to your center of gravity, and the tripod's feet are better supported in the mesh pockets. Also, note that separately purchased Gatekeepers will be black and not the green color you see in my photos.
Choosing the Right ICU for Your Ajna
F-Stop pioneered the concept of removable padded camera cubes in outdoor photography bags., allowing you to customize your load-out to carry as much or as little camera equipment as necessary. The F-Stop ICU lineup currently consists of eight different sizes, and all but the largest Master Cine size will fit into the Ajna. Though there are some caveats with the XL Pro that we will discuss.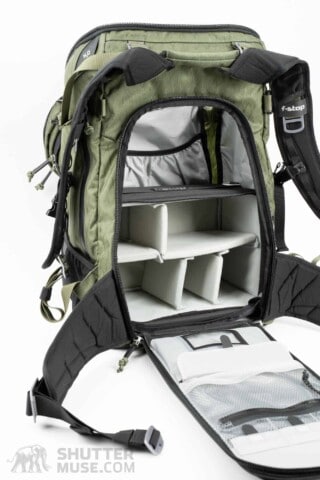 That said, the depth of the Ajna makes the Small Shallow and Medium Shallow sizes float around too much, and the Micro Tiny will almost get lost in the bag's cavernous interior. Thus, the recommended ICUs for the Ajna are the Small Pro, Medium Slope, and Large Pro. You can also fit the XL Pro ICU with a bit of squeezing. In this section, I will show you each in the Ajna so you can figure out the best setup for your needs. Please read my F-Stop ICU guide if you want the details and photos of non-recommended-for-Ajna ICUs.
It's important to remember that when choosing an ICU from these recommended options, there is no right or wrong answer. Many people buy multiple ICUs to configure their packs for different types of days. Me? I prefer the Medium Slope ICU in the Ajna. You can use the extensive photos in this section to ensure you get what you need for your gear.
Small Pro in Ajna
The Small Pro ICU is perfect for a mirrorless camera and 4-5 small lenses or a body with a 70-200mm attached. It is deep enough to accommodate a gripped or pro-sized body.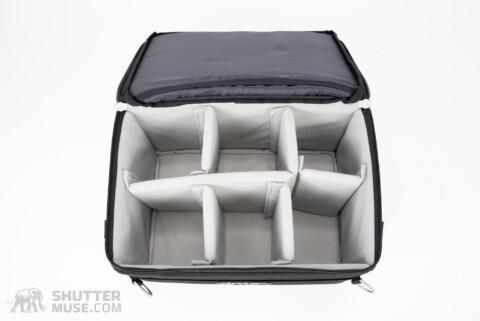 Medium Slope in Ajna
The Medium Slope ICU is deeper at one end to allow for gripped or pro-sized camera bodies. With the camera, it will hold 4-5 additional lenses and is tall enough to accommodate a 70-200mm f/2.8 or 100-400mm lens attached to a camera body.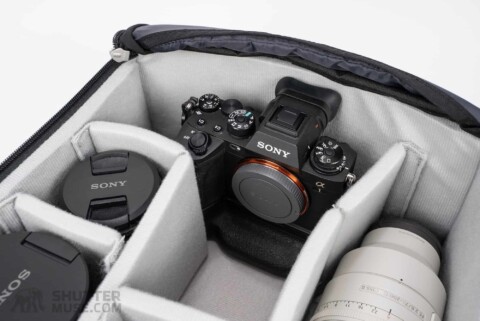 Large Pro in Ajna
The Large Pro ICU will easily hold a couple of cameras and 5-8 lenses. I have used a Sony 200-600mm lens in the photos below to demonstrate its size. As you can see, it will hold this lens with the camera attached. It'll also hold a 400mm f/2.8, although the hood's diameter will cause a slight bulge.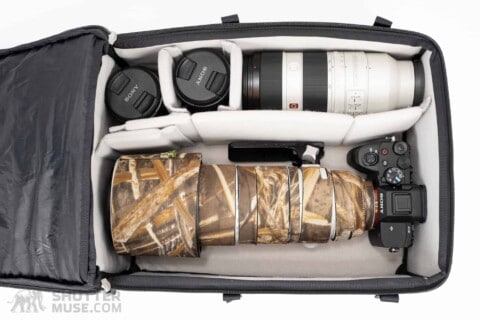 XL Pro in Ajna
F-Stop does not recommend the XL Pro ICU for the Ajna. However, it will fit if you give it a bit of a squeeze at the top while you close the zipper. I would not recommend this combination for most people because closing that top zipper is a pain in the ass. That said, if you are willing to forgo the use of the mesh pocket in the lid and don't often need to access the elasticated stash pocket in the main compartment, you might consider this option if you need to carry a lens that is too long to fit into the Large Pro ICU.
Again, I'm not saying this is a good option. Most people will far prefer the experience of using the Ajna with one of the three other ICU options I have detailed. Still, squeezing the XL Pro into this bag creates a lightweight backpack that carries some big glass while still falling within some of the stricter Airline carry-on regulations. Thus, it might be a worthwhile option for some wildlife photographers traveling to Africa and using smaller bush planes to transition between camps. In the photos below, you'll see I can even fit my Nikon 800mm lens into the Ajna using this setup.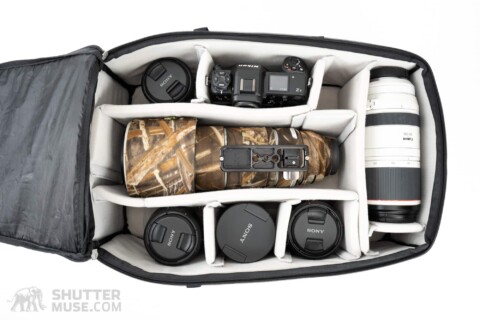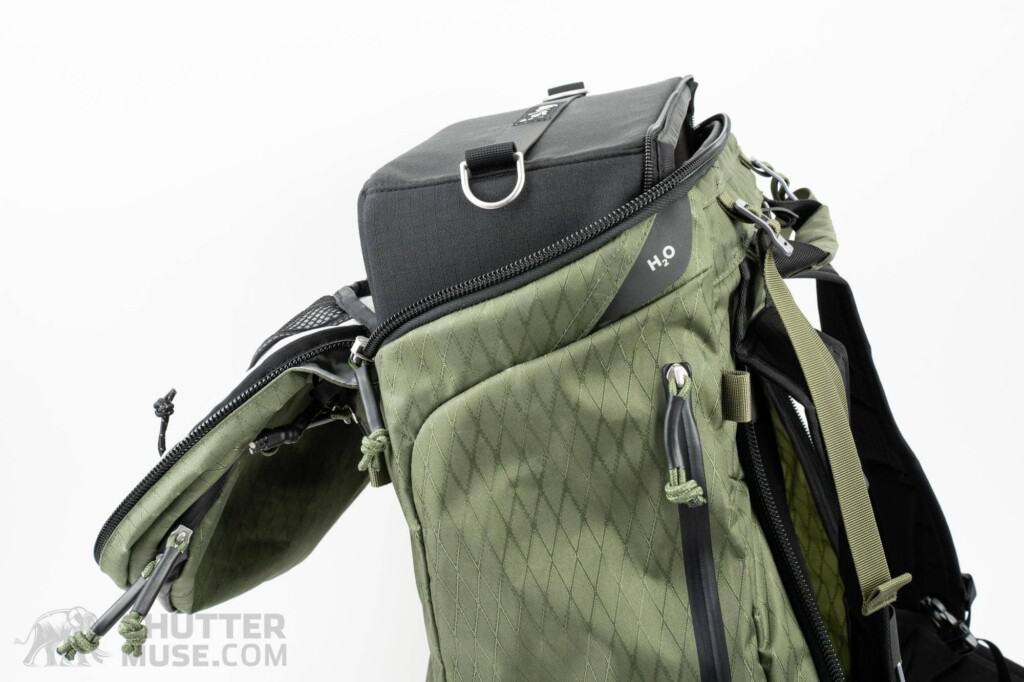 ICU Combinations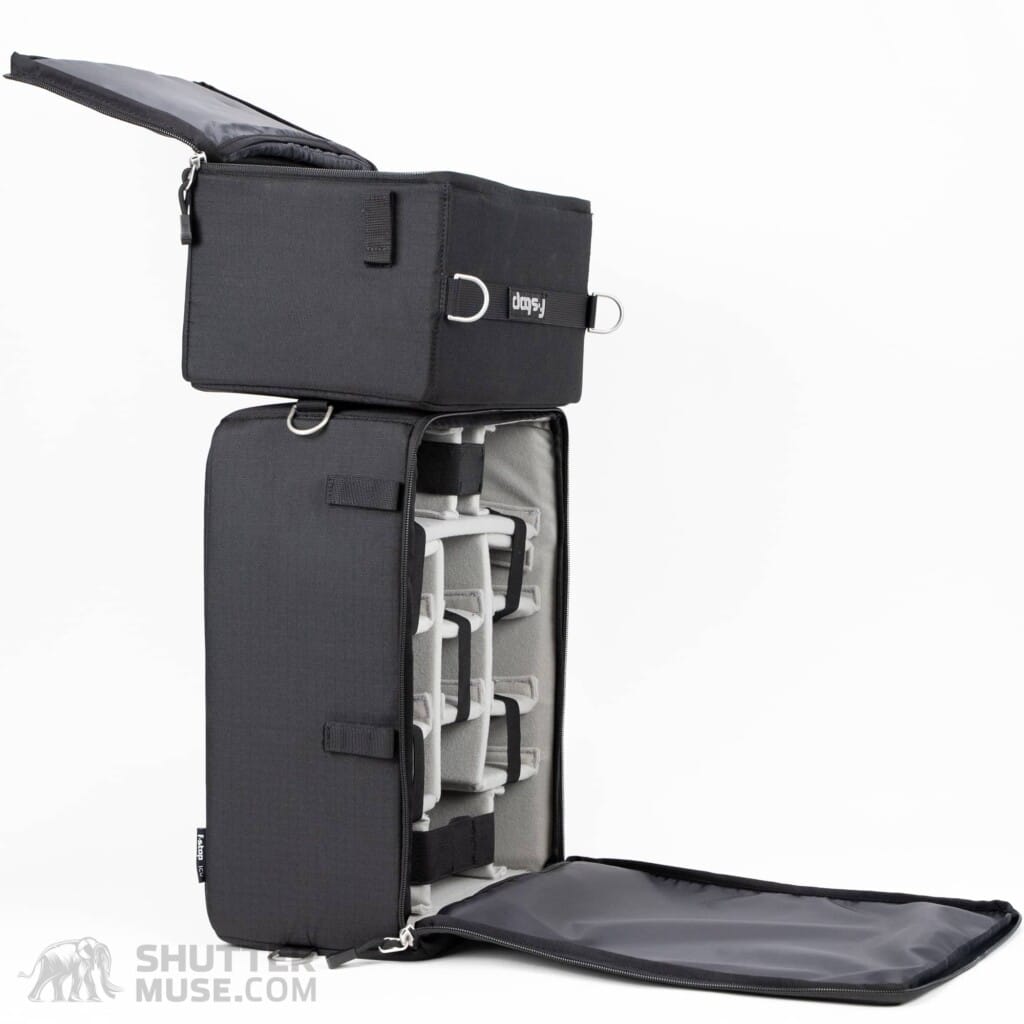 If you own multiple ICUs, you might consider using them simultaneously in your F-Stop bag. In particular, I like using a Small Shallow ICU or Small Pro sitting perpendicular to the main ICU and accessible from above in the bag's top section. In the Ajna, the Small Pro or Small Shallow works in combination with the Medium Slope ICU, or you can stack two Small Pros or a Small Shallow onto a Small Pro.
Optional Accessories
Gatekeeper Straps
The Ajna features 22 attachment points for F-Stop's option Gatekeeper straps. A pair of straps costs $15, and if you buy the bag as "shell only," you will not get any straps. You will either need to buy the straps as a separate purchase or one of the various bag bundles that include a rain cover, Gatekeepers, and an ICU.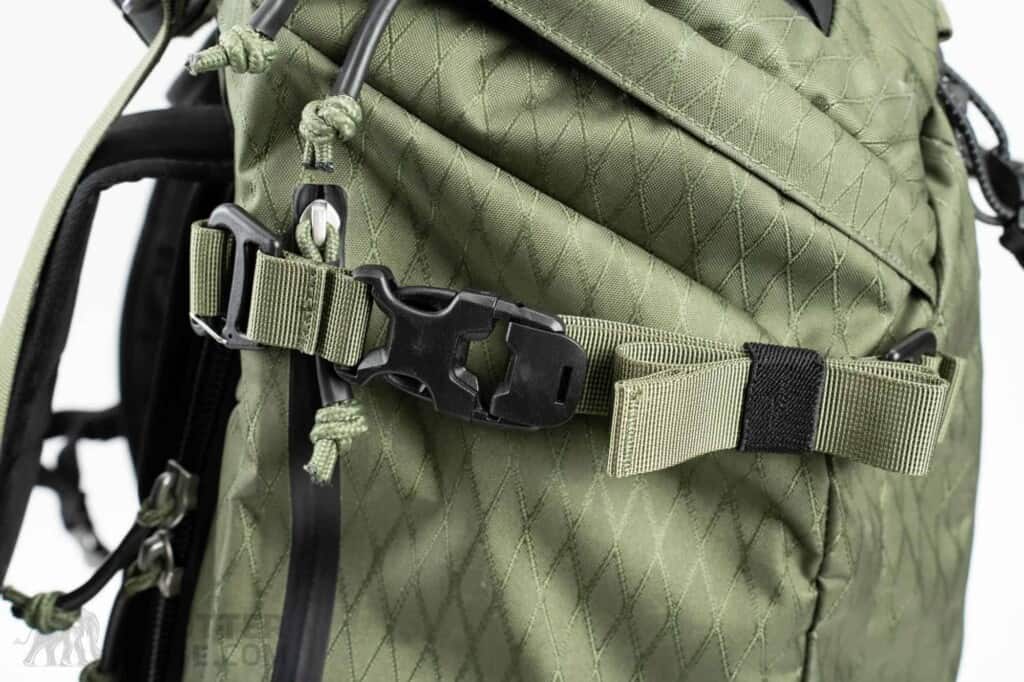 The Ajna cannot carry a tripod unless you purchase these optional Gatekeepers. For a bag designed for outdoor photography, I find this decision baffling. Most Ajna owners will therefore need to buy at least a pair of Gatekeepers. They should factor their price into the bag's price when making a purchasing decision and comparing the Ajna's price to its competitors. The previous version of the Ajna had stitched-on side and front straps, so this was not an issue.
Also, I'd like to point out that the Ajna I bought did come with four color-matched Gatekeepers, and my initial review of this bag in early 2022 praised that inclusion. However, at some point, perhaps after a second production run or after post-COVID shipping cost increases, F-Stop stopped including Gatekeepers with the bags and kept the "shell only" pricing the same. Thus, effectively making the bags $30 more expensive. With this change, it also appears that color-matched Gatekeepers are no longer available. Black is now the only option.
Rain Cover
The optional rain cover for the F-Stop Ajna costs $19. The cover is not specific to the Ajna. Instead, it is called the Large Rain Cover and will fit F-Stop's entire Mountain Series of backpacks. I recommend buying this cover if you live in or plan to travel to places where heavy downpours are expected.
My first outing with the Ajna happened to be in heavy rainfall, and the weather resistance of the bag somewhat underwhelmed me without a cover. Not fifteen minutes had passed, and items in the lid pocket and main compartment were already very wet. You should not equate the DuraDiamond material's tough feel and abrasion resistance to waterproofness. The bag's seams are not sealed like a rain jacket, and thus, water will get in.
F-Stop Ajna 37L vs Tilopa 50L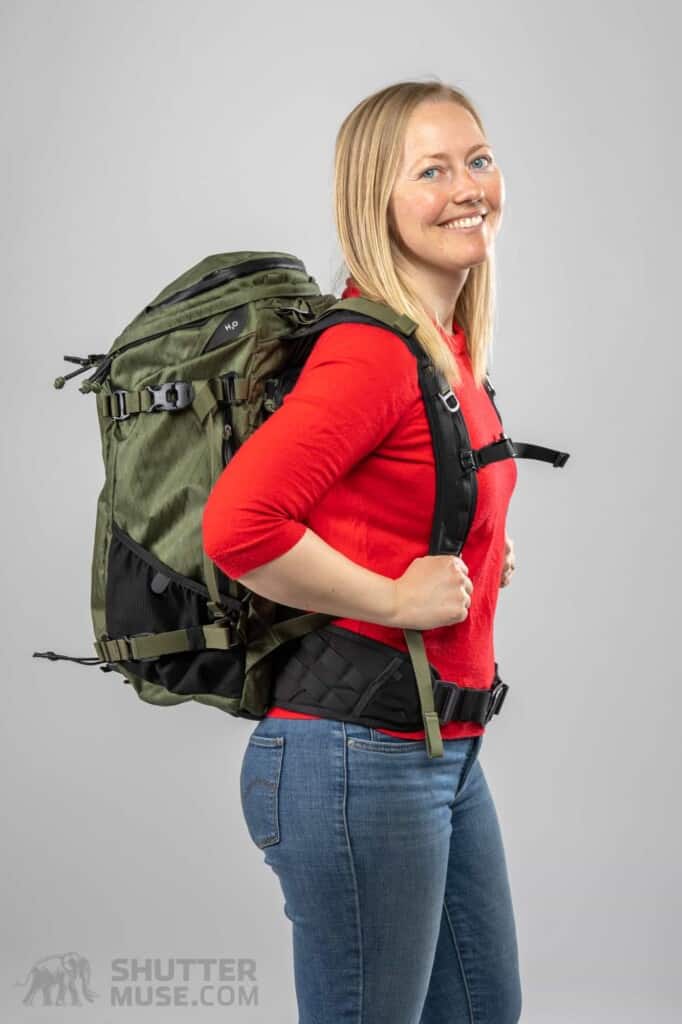 I purchased the F-Stop Ajna because I was keen to compare it side-by-side with the F-Stop Tilopa I reviewed earlier. If you're considering buying an Ajna yourself, there's a good chance you are also considering the slightly larger Tilopa 50L DuraDiamond. Faced with a blank canvas to choose one or the other, I know I would find that a tricky decision to make, so in this section, I'll talk about the practical differences.
The Ajna is a couple of inches shorter than the Tilopa, which is why the XL Pro ICU is not generally recommended for the Ajna but does fit into the Tilopa. When you pack these bags, the main difference you will find is that the front pocket on the Tilopa is significantly larger than the Ajna's. On the Ajna, the skinny front pocket has limited use, but the Tilopa's 8-liters of front storage can hold an array of bulky, non-photographic items you might need during your adventures. The Tilopa also adds a little volume to the lid pocket, too.
More significant differences can be seen when comparing the harnesses of the two bags, with the Tilopa using much thicker padding on the shoulder straps and the hip belt. That thicker padding on the Tilopa's hip belt is also much more rigid and does a far better job of transferring weight to your hips while hiking. Of course, the Ajna's harness is lighter and less bulky, which is better for general travel but less satisfactory for long hikes with heavy loads.
Having tested both packs with various ICU sizes and camera loads, I reached a conclusion. The Tilopa 50L is a bag you can fully load with heavy camera gear and still have the capacity to spare for additional heavy equipment while keeping it comfortable to carry. The Tilopa's high-density foam shoulder straps and thicker, more rigid hip belts play a critical role.
On the other hand, the Ajna is more at home with a camera load that fits into the Medium Slope ICU or the Large ICU and additional lighter-weight items such as clothing, snacks, or a small drone. If you push the Ajna beyond those loads by strapping a ton of stuff to its outside or filling every inch of space with dense, heavy items, you will exceed what is comfortable to carry for anything more than short walks.
So, which would I choose if I could only have one? Despite a few odd design omissions, both bags are still fantastic. Both have seen significant upgrades in the move to these new DuraDiamond models, and both are built to the same high standards people expect from F-Stop. It all comes down to how much gear you want to carry. The Tilopa is an absolute packhorse that can be loaded to the maximum, whereas the Ajna carries much better on days when you aren't taking the kitchen sink. Where there are deficiencies, like the lack of tripod straps, lack of bladder hanger, and fiddly belt buckle, the same is true of both bags.
I suspect the Ajna will be the best choice for many people, and those that carry enormous amounts of camera gear or non-photographic equipment for sporting activities will be best with the Tilopa. Those with a less limited budget can also make a case for owning both. Pairing the Ajna with a Medium Slope ICU and the Tilopa with an XL Pro ICU would differentiate their camera capacities significantly. One bag for fast and light missions or travel with a camera and 2-3 lenses, such as an f/2.8 trifecta. Another heavy load pack for days when you need to carry a lot of additional equipment alongside your cameras.
Air Travel With The F-Stop Ajna
With a total dimensional length of 44.6″, the F-Stop Ajna will satisfy most national and international carry-on requirements, which is why this bag is an excellent option for travel photographers. Those that choose the larger Tilopa might occasionally find that they have to remove the bag's internal frame to fit within those requirements, but this won't be necessary with the Ajna.
When we discussed the best ICUs to use in the F-Stop Ajna, I underlined, in bold, the caveat that the XL Pro ICU is a very tight fit in this bag. It's not designed to work with the Ajna at all, but it can be forced to work, so long as you don't plan on needing to open the bag's lid very often. I feel it is worth revisiting this discussion regarding flying with the Ajna.
If you don't mind squeezing the XL Pro ICU into the Ajna, you can effectively carry as much camera gear in this bag as you can in the larger 50L Tilopa. Of course, the Tilopa is an overall larger bag with room for other items outside the ICU, but it is still impressive that, with a bit of squeezing, both bags can carry equivalent camera loads.
In terms of efficiently using airline international carry-on dimensions for carrying camera gear, this ranks the Ajna right at the top of available market options alongside the Gura Gear Kiboko 30L. In the Ajna, you can carry lenses as large as a 600mm f/4 or even an 800mm in this airline-friendly size, as I demonstrated in the ICU sizing section of the review.
Pro Tip: Remove all Gatekeepers from the Ajna before you travel. The simpler outline of the bag will make it look much smaller, and you're less likely to draw attention from someone who might ask to weigh your inevitably overweight carry-on.
Conclusion
The F-Stop Ajna is a highly capable, lightweight 37L outdoor and adventure photography bag sized perfectly for those that travel often. The added internal organization and new, tougher Duradiamond material are a marked improvement over the previous version of the Ajna and bring the bag up to speed with other similarly sized packs from companies like Shimoda, Nya Evo, and Lowepro.
A standout feature of the Ajna and all F-Stop Mountain Series bags is the wide variety of ICU options to tailor the inside of the bag to your exact needs. While some companies have mimicked this idea, F-Stop was the original and still offers more options than its competitors. Most F-Stop backpack owners will enjoy owning multiple ICUs, tailoring their layouts to different mission-specific camera loadouts.
Despite an overall positive feeling towards my time with this store-purchased F-Stop Ajna, I still haven't found a camera bag that scores top marks in every category, and the Ajna is no exception. The difficult-to-use zippered side pockets could have been left off the bag to keep the price lower, and the same can be said for the awkward metal buckle on the hip belt. The bag should also come with side straps to hold a tripod instead of needing to purchase them separately.
These quibbles aside, the Ajna deserves to be on your shortlist if you're looking for a rugged outdoor photography pack that meets stricter airline carry-on limits or generally feels less bulky than larger packs like the F-Stop Tilopa. Although this kind of quality and durability does not come cheap, the F-Stop Ajna's price is in line with or even a little cheaper than direct competitors from the likes of Shimoda. Perhaps more importantly, with the bag in your hands, you immediately feel the price is justified.