Photographers are increasingly asked to shoot video on their assignments these days, and it's often expected that if you have a DSLR that can shoot HD video (who doesn't?), you know how to do it. Interviews are a popular request but there's a couple of things you need to do it properly, and they aren't typical tools for photographers. The first is a good microphone, a topic we'll have to save for another day. The second, is some sort of continuous light source. Photography equipment is expensive enough as it is, and I'm pretty sure I'd be right in saying that this is where we'd all like to concentrate our spending when it's needed. Now we all need some video equipment as well?!? Yikes.
I've been on the lookout for affordable video lighting solutions for a while, and I've tested a few options over the last couple of years. LED panels are preferable to HMI lights because LEDs don't get hot, and they are also much less bulky to travel with. Up until fairly recently they have been prohibitively expensive though.
Not long ago, Adorama's in-house lighting brand, Flashpoint, started releasing video lighting solutions. I tried one of their first LED panels called the 500C, and was less than impressed with it. The 500C had fluctuating colour temperatures and exhibited a lot of flicker when the output was turned down low. Not only this, but the build quality was pretty poor and my test unit arrived already failing in one area. In all honesty, it wasn't a good first introduction to the Flashpoint brand for me. More recently, Adorama reached out to me again and asked if I would like to check out a couple of new LEDs of different form factors and price points. One was this CL-1300 1×1 panel, and the other was the CL-500R which you can find reviewed here. 1×1 LED panels produce a nice even lighting that is perfect for lighting interviews and these things typically go for well over $1000. I was pretty stunned to see the sub $300 pricing of the CL-1300, and wary after my previous experience with the older 500C model. Is it really possible to get a decent 1×1 panel light for such a good price?
Specifications
Colour Temperature – 5600k
Dimmer – 10%-100%
Power – AC/DC 11v-16v
Consumption – 76w
Colour Rendering Index – (CRI) >85%
Luminous Flux – 9072 lumens
Beam Angle – 60 degrees
Battery – Sony/Panasonic V-Type 7.2v
Dimension – 12″ x 12″ x 2″
Weight – 7lb
Unboxing the CL-1300, I was immediately struck by the improvement in build quality over the last panel I tested. These lower end in-house products are almost always manufactured in China and usually by whoever can deliver the best price. It seems to me that the CL-1300 is made by someone different than the 500C, even though they are both branded Flashpoint on the end. The difference really was night and day.
Money was definitely saved on the padded case; I wouldn't trust the zipper to last too long, but it's functional and holds all of the accessories in a relatively compact package. I strongly suspect you could actually fit a second light in the same bag if you wanted to.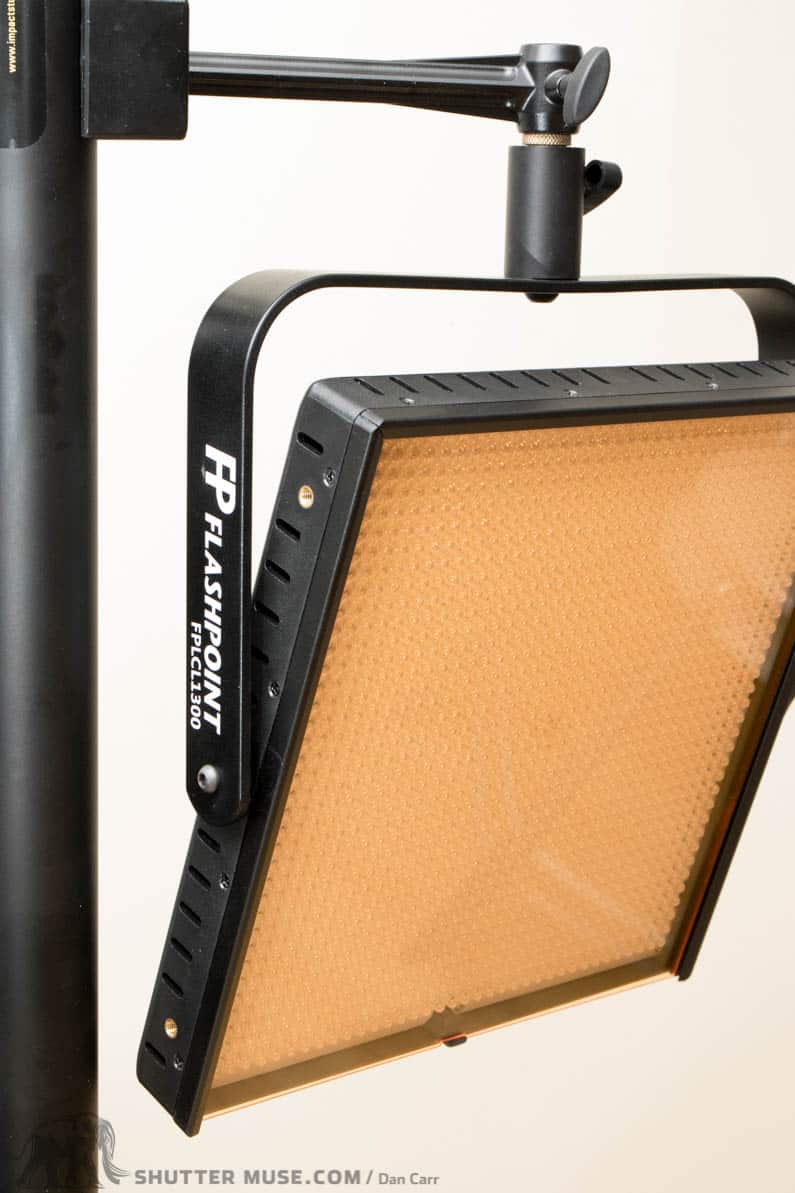 The Flashpoint CL-1300 is daylight balanced at 5600k so it comes with a slide in tungsten filter if you need to shoot indoors. A second bi-colour version is available if you want finer control over a mixed daylight/tungsten situation. The LED also comes with a diffusion panel, and both this and the tungsten filter can be used simultaneously. I did not always find the need to use the diffusion panel, but if you buy a 2-light interview kit you might want to put it on the key light, whilst leaving the rim light bare.
The back of the LED panel features both power in and power out, as well as a v-mount for third part batteries. There's a large dimmer switch as well as RJ-45 connection for daisy chaining symmetrically powered lights in up to sets of 4. Mounting threads all over the panels can be used to attach these panels into pretty much any setup you can think of, including 2×2 squares which can then be controlled from a single point with RJ45 remotes. All great features in a light of this price!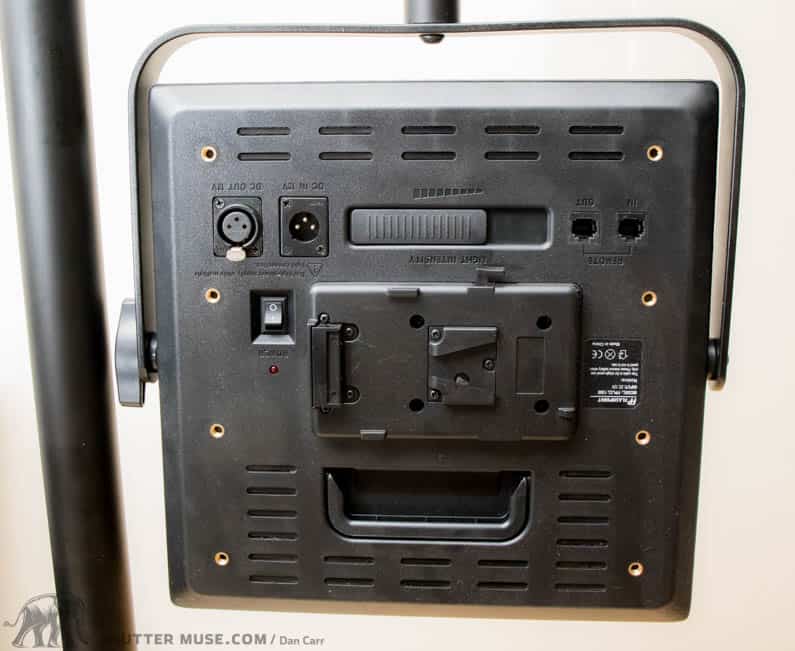 So how does it perform on camera? The answer is very well indeed! I shot a number of interview setups and product reviews with a few different cameras and there was no visible flicker. The light temperature was also close enough to daylight that I had no problems in that area either. No weird hues, and a constant enough temperature across the power range that I never felt like I need to adjust the white balance after the initial setup. This is a very nice 1×1 LED panel and for this price it's pretty incredible.

Conclusion
Some of the conclusion has to be price-based and I'm aware that as an in-house product, the price can fluctuate quite a lot. At the time of writing, this is a $280 product and it's worth every penny of that. What's more, I really can't recommend the CL-500R over this one, even though this is the more expensive option. The difference in price is only $80 and with the CL-1300 you get a much better form factor, optional battery power with v-mounts, MUCH more power, optional remotes and barndoors and even the possibility to link multiple lights together. Oh, and the 3200k tungsten filter! You just get so much more for your money with this 1×1 panel and contrasted with the CL-500R's awkward shape, this large CL-1300 light actually stores and travels in a smaller space. I was always tripping over the CL-500R's case somewhere in my office due to that awkward shape. The Flat CL-1300 case slides under desks, on top of bookshelves or into cupboards easily. If you work in a small space as I do, you'll be appreciative of this.
Who is this LED for then?
I definitely approached this from my own perspective of a photographer who needs to shoot the occasional video. I think that's a pretty perfect scenario for this light, but it impressed me so much that you could definitely take it a step further and rig a few of these up for a web studio as well. If you were constantly doing extremely colour-critical pro video work, then that's always the time to spend a bit more money, but for occasional use and web delivery content this CL-1300 performs admirably.
Where To Buy
Since Flashpoint is Adorama's in-house brand, the Flashpoint CL-1300 is only available from their store here for $280 at the time of writing. If you are interested in an LED of this physical form factor, you might also check out the bicolour version that has adjustable colour temperature for not a lot more money, the CL-1300B.
Additional Reading