If you're a heavy user of crew-on filters for your photography, then you'll need something carry them in and keep them organized. MindShift Gear make a few different options for carrying filters, and the Filter Nest sits in the middle of the range, in terms of size and capacity. It will carry up to eight filters, with a maximum diameter of 82mm for each one. The slots are thick enough for variable NDs, and the internal padded holder can be removed from the main case when you need something that's a bit lighter weight, to fit into your camera bag. A small strap with a quick-release clip on it allows for simple attachment to a tripod while you are shooting, and a zippered pocket gives you a place to store a lens cleaning cloth and for me, spare batteries for my cable release.
At only 180g, it's not heavy, but it's very well padded and I wouldn't hesitate to trust it with thousands of dollars' worth of filters. Wait! What?!? Thousands of dollars??
Yep! I think sometimes people take filters for granted, and it's easy to forget that a good polarizing filer can easily cost $300-400. If you fill all eight slots in your filter case then yes, this thing has to protect quite the investment! Considering the price is only $45, that's not bad at all.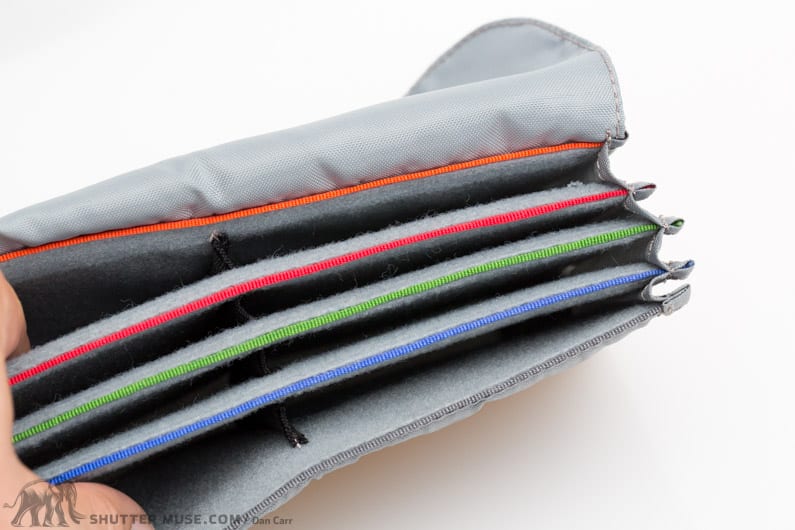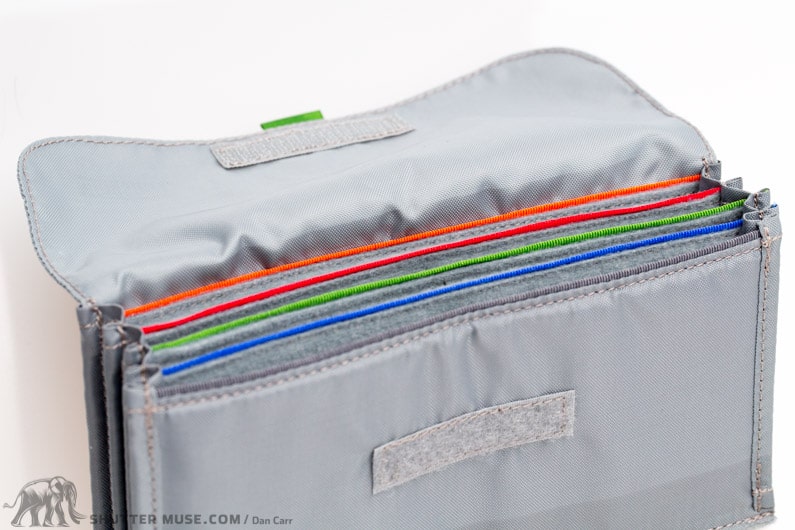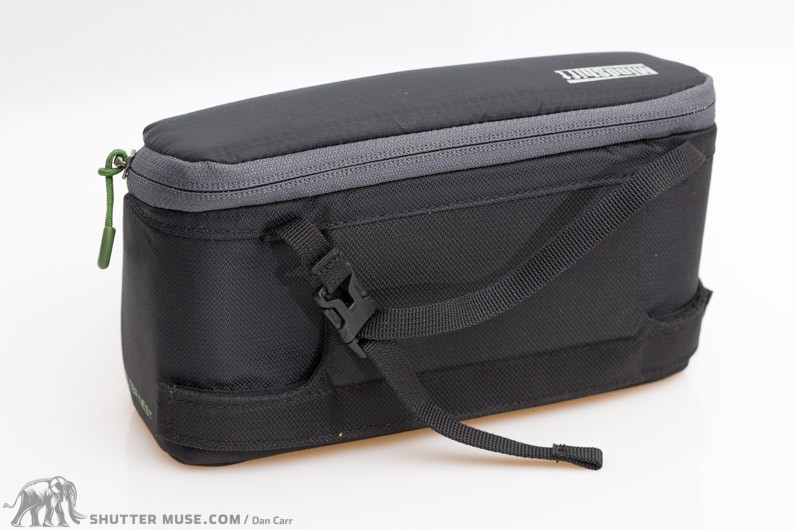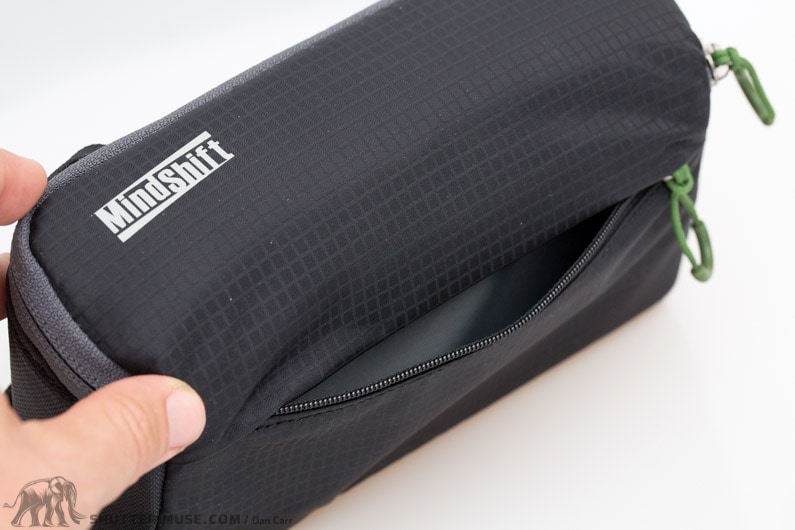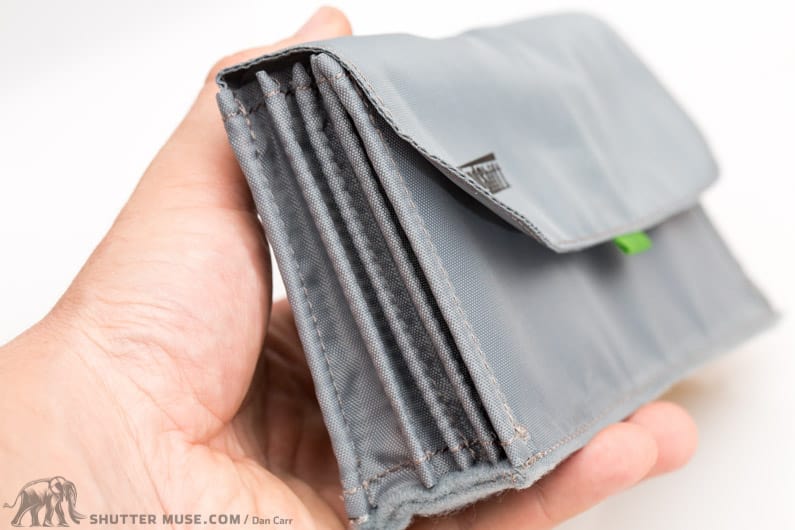 Filter Hive Vs. Filter Nest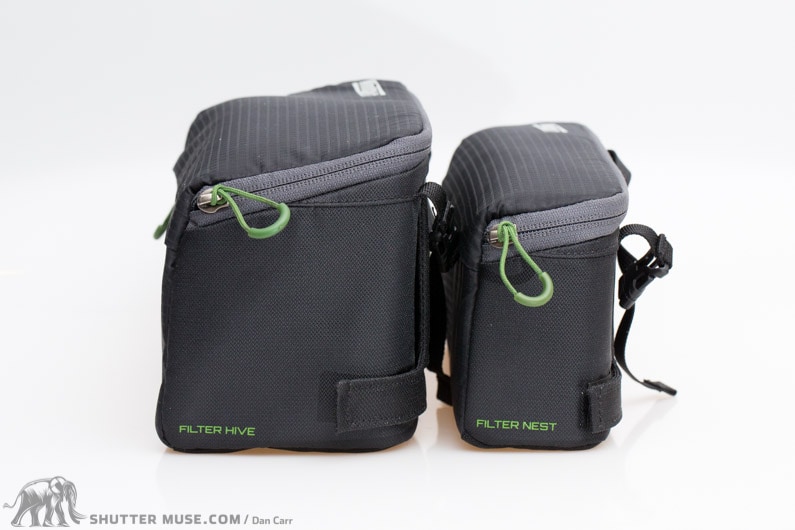 Filter Hive (left) and Filter Nest (right)
MindShift Gear has the most comprehensive collection of filter holder options on the market. I've previously reviewed the Filter Hive, which is the largest in the family, and also the smaller Hive Mini and Next Mini. So what are the differences?
The Filter Hive is a total solution for holding circular filters and 4×6 filters, as well as having enough room for filter holders, spare parts for your holders and ancillary things like a lens cleaning cloth or a camera cable release. In total, the Filter Hive will hold six round filters and six square/rectangular filters. The Filter Nest on the other hand, will hold up to eight round filter (82mm max diameter). There are no slots for square or rectangular filters in the Filter Nest, although I have found that it's possible to squeeze one in there if you have a protective sheath for it. The Filter Nest features an external zippered pocket like the Hive, but it doesn't have an internal zippered pocket.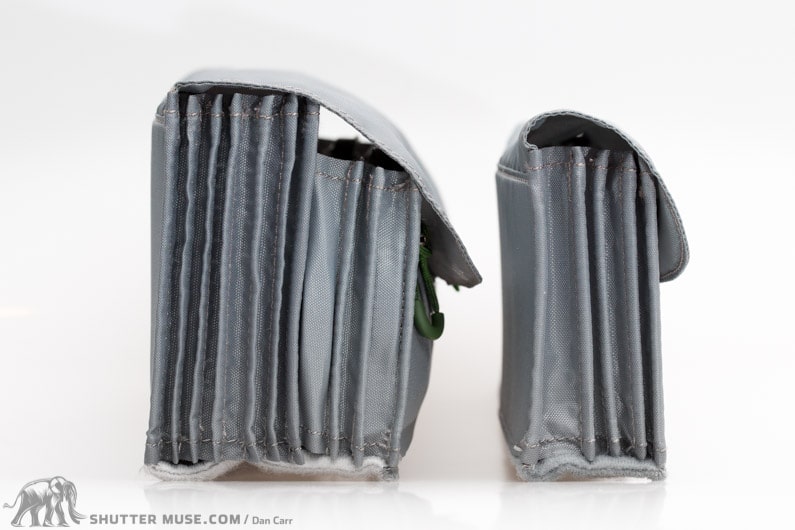 Conclusion
If you've got filters to carry, there's no doubt in my mind that MindShift Gear has the right solution for you. There simply aren't any other people out there making such a comprehensive range of filter carrying solutions. What You've got to do, is figure out which one will hold your current filter collection. If you've got a lot of step-down rings to make your filters fit a variety of lenses, the Filter Nest is the logical option as you have eight protected slots, and even a little bit of additional room in the pouch on top of that which could be used for the adapter rings. I personally would have liked it if there there was one slot for a 4×6 filter in the Filter Nest as well, but that's the only minor thing I could think of as a negative for this product. I LOVE that you can take it out of the black pouch and store it inside your regular camera bag with that lower form-factor. I also like the rail/belt attachment on it so that you can put the Nest on the outside of a pack for quick access. This same feature is available on the Hive as well, but the Hive's larger size made that feel a bit awkward. The Nest on the other hand, works very well when attached to my pack's exterior. If you do use it on the exterior like that, it would have been nice if they included a rain cover for it just as their sister company Think Tank does with all of their modular bags and pouches. You could argue that this would increase the price, but there are many similarly sized Think Tank bags at the same price point that do include a rain cover. For this reason, I'm going to award it a 4/5 rating, but it's still a killer item!
US Customers get a free gift when they spend over $50 in the Think Tank/MindShift online store after clicking this link. For more details, or if you have any issues, see this post.
Where To Buy