MindShift Gear have launched a new high-end outdoor and adventure photography backpack called the BackLight Elite 45L. This bag sits right at the top of their BackLight backpack range both in terms of volume and features.
To make it suitable for all your outdoor adventures, the bag uses a combination of technical materials and hardware such as waterproof, tearproof sailcloth and YKK AquaGuard zippers to keep the weather out.
It also features robust, thick lumbar padding, a huge padded waist belt and a quick-dry back panel with the sort of foam ridges that are more often seen on top-of-the-line hiking packs.
In this review I'll take a deep dive into all the features this pack has to offer, as well as sharing my experience with the bag from testing it out over the last two years of pre-production prototype development.
Headline Features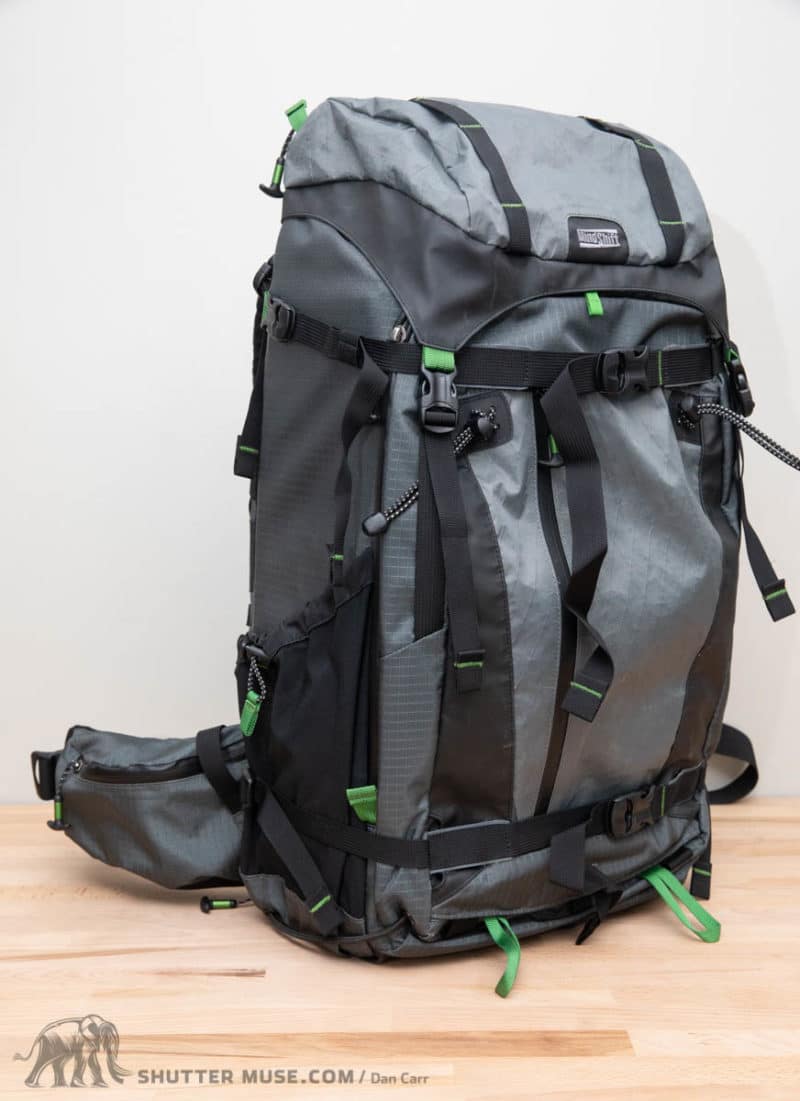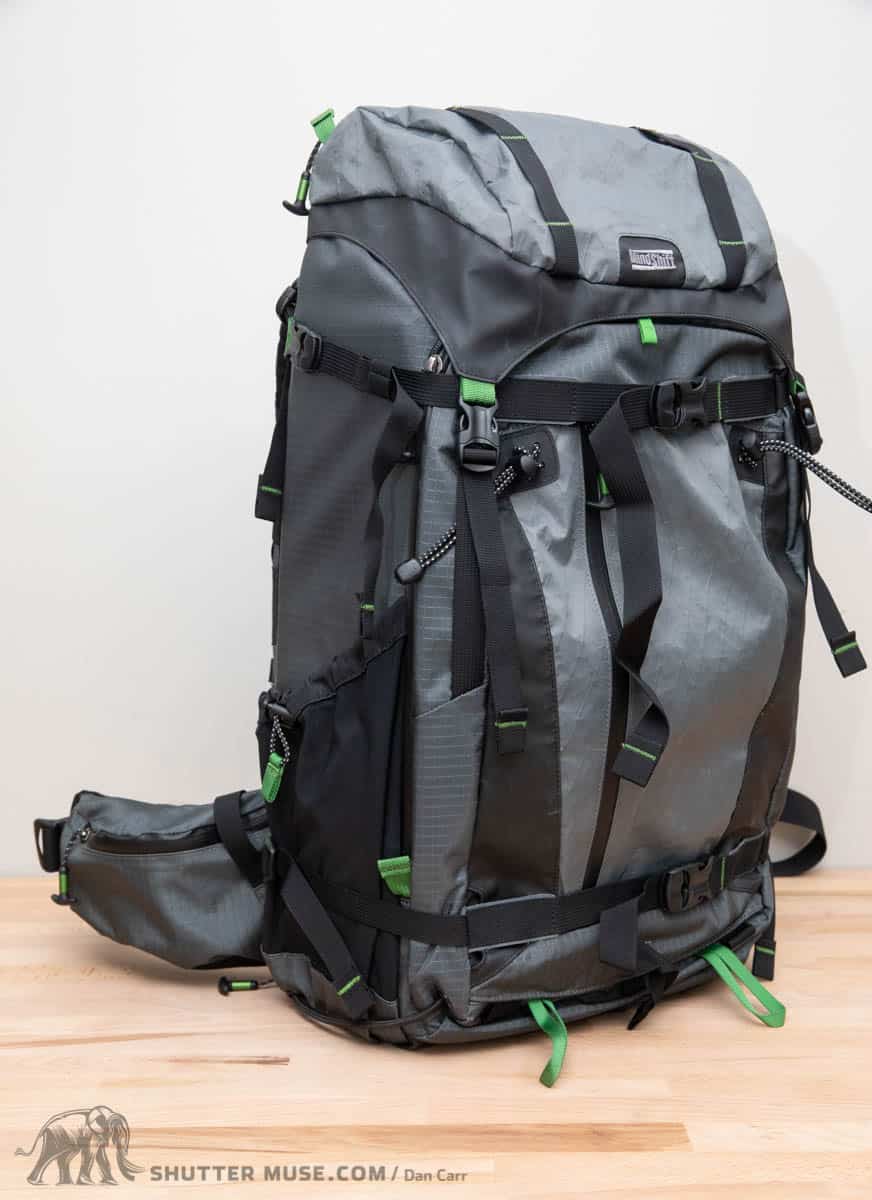 Holds up to a 600mm lens
Holds up to a 17″ laptop
Meets most international and domestic carry-on requirements
Large water bottle pockets and water bladder ready
Top lid converts to a belt pack with removable waist belt
Seam-sealed brown colored rain cover included to blend with environment
Removable camera compartment with emergency backpack straps
Multiple tripod mounting options
Honeycomb mesh shoulder straps and complex foam ridge back panel for carrying comfort and improved airflow.
Development Story
I'm publishing this review right as this bag is publicly launched (long before any other reviews), but I have actually been testing prototypes and living with this as one of my primary packs for two years now. A tough secret to keep!
My own photographic business and interests span the full gamut of genres that this bag targets: Wildlife, landscape, travel, action and adventure. Since I'm also intimately familiar with the entire MindShift lineup from my work reviewing them on this site, it was the prefect opportunity to pass on my thoughts about necessary features for a bag like this, and test some of the prototypes in the field as the design was refined over several years.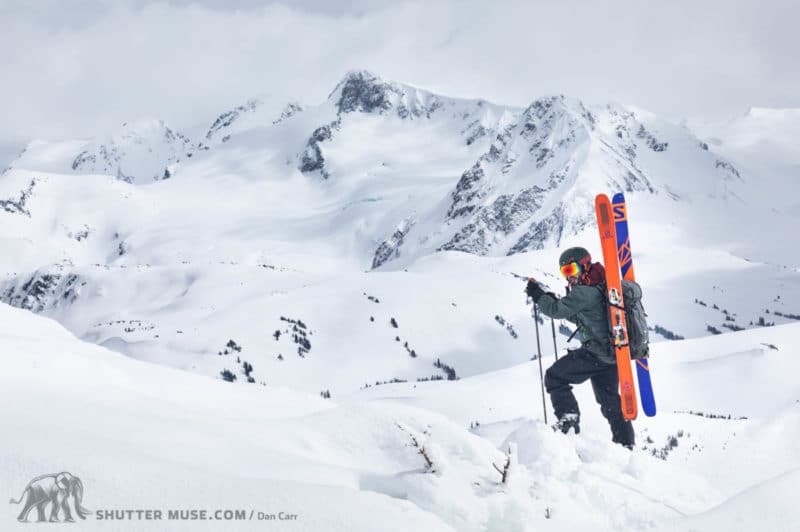 My camera bag reviews are usually pretty detailed as it is, but in this case I'm in a position to be able to provide an unrivalled amount of detail and hands-on knowledge of this pack. That's a good thing for you folks because this is a high-end product and as such, it doesn't come with a cheap price tag.
I want anyone considering this pack to be sure it's the right choice for them and their gear, and I'm confident that 99% of your answers are on this page. For that other 1%, just leave me a question in the comments and I'll be sure to help you out.
Nobody has more knowledge of how this bag works in the field, and functions with a wide variety of photographic equipment and other outdoor gear. Throughout the review I'll be able to provide insights into why specific decisions were made during the design process.
Specifications
Exterior Dimensions (travel mode*): 13" W x 23.5" H x 8" D (33 x 59.7 x 20.3 cm)
Camera Compartment: 11.4" W x 19.3" H x 6.8" D (29 x 49 x 17.3 cm)
Laptop Pocket: 11.2" W x 16.1" H x 1"D (28.5 x 41 x 2.5 cm)
Tablet: 0.6" W x 10.2" H x 0.6" D (27 x 26 x 1.5 cm)
Total Volume: 45L
Weight: 3.9–7.0 lbs. (1.8–3.2 kg)
BackLight Elite Carrying Capacity
With 45 litres of storage volume there's a lot of options for organizing your gear. One of the most important features of the entire BackLight range has always been the large capacity front pocket. On the Elite 45L pack, this front pocket gives you 17 litres of storage for your non-photographic gear such as extra layers, food, safety equipment or even a 17″ laptop and tablet if you want.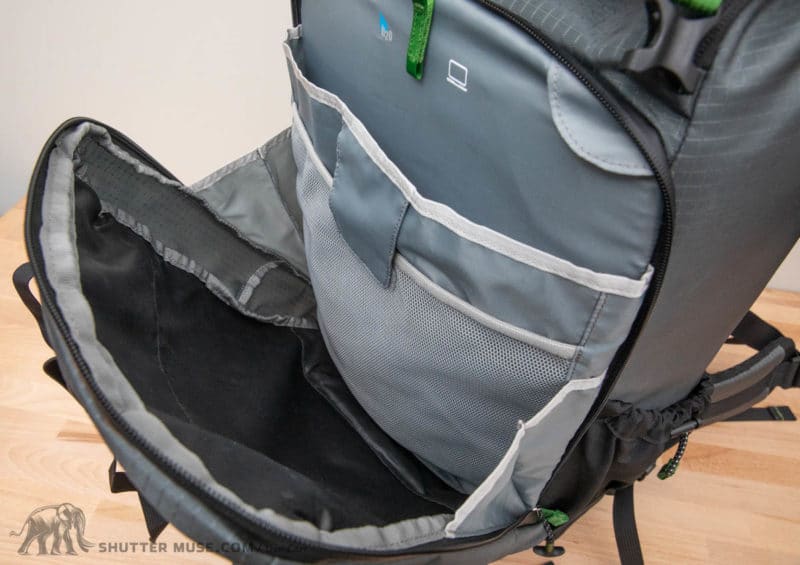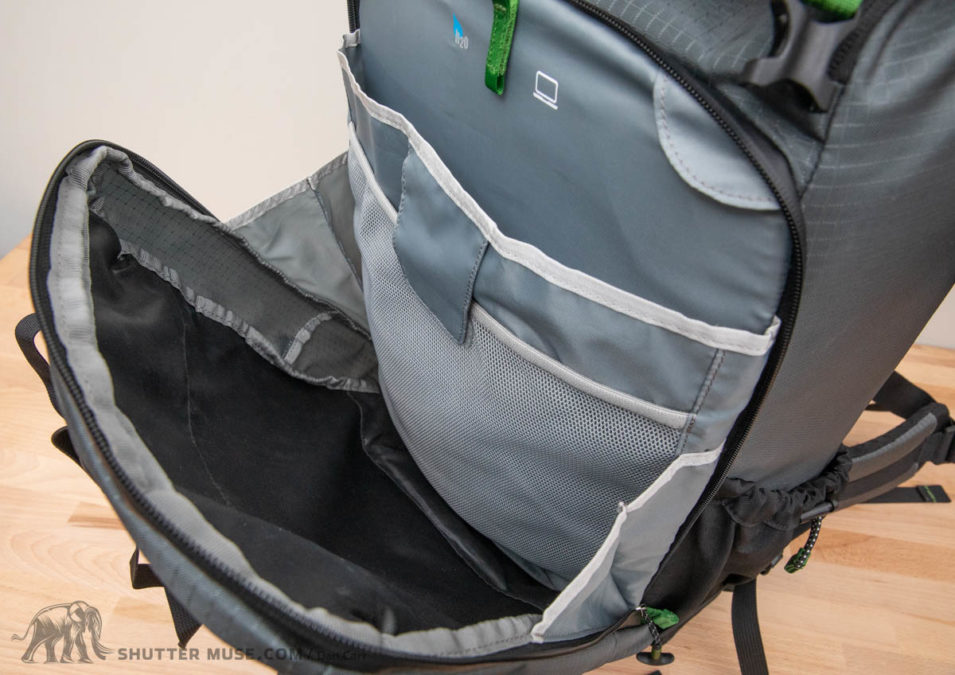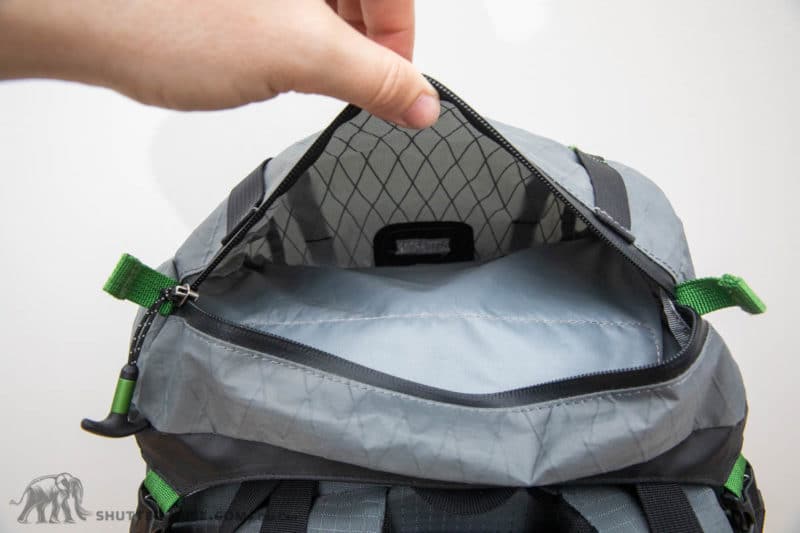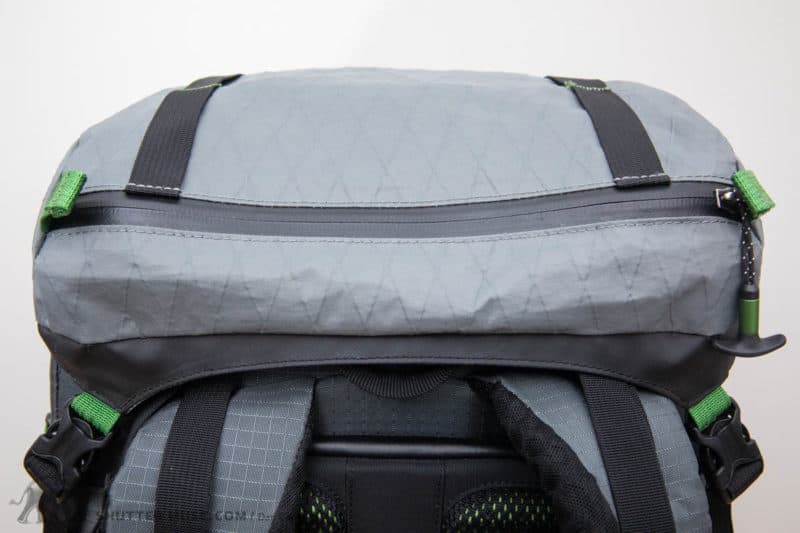 You also have the removable top pocket if you need even more space. This gives you about 4 litres of extra storage on top of the pack which works perfectly for small items such as your photography gloves, a hat, snacks, binoculars, head lamp and compressible down mid-layer. Ingeniously, the top pocket can be combined with the bag's removable waist belt to create a lightweight belt pack.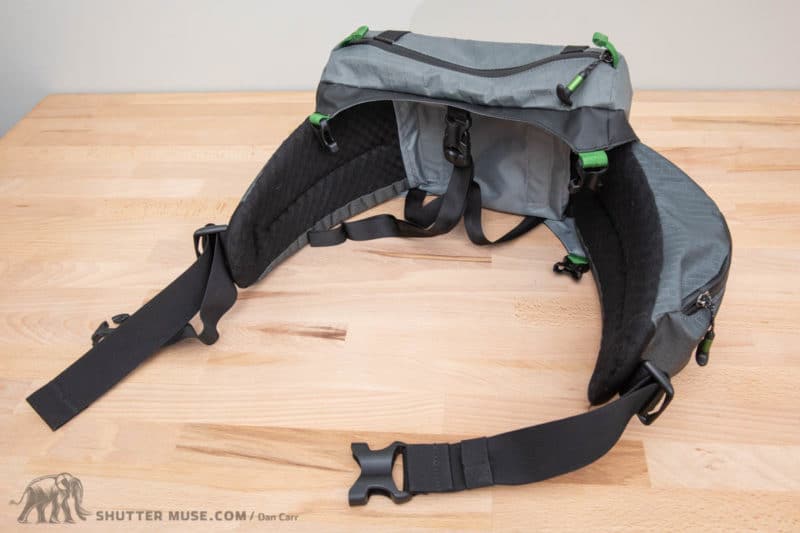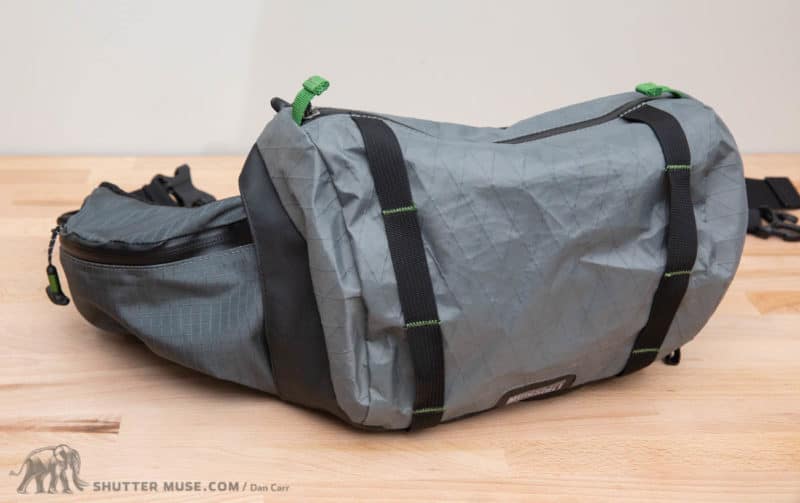 If you're carrying a big lens on a tripod over your shoulder and just need a small pouch to carry an extender, battery and memory cards, this is a really cool and unique solution. Climbing photographers might also find it useful if you're rapelling into position from above, with a camera cross-body over your shoulders, and just need a small pouch to hold some accessories or an extra lens. It's always nice to have versatile options from a single product.
Moving into the main compartment of the pack there's a large removable camera insert that's actually tall enough to fit up to a 600mm lens. MindShift don't really mention that it's capable of carrying such a large lenses on their website, but I've done the measurements myself and it fits the Canon 600mm without a camera attached to it. It also fits a 500mm f/4 lens with a camera attached, or the Canon 200-400 f/4 and Nikon 180-400 with a camera attached. Of note to Canon wildlife shooters is the fact that it's wide enough to fit the Canon 400mm f/4 DO IS II lens horizontally across the camera insert, as you'll see in my own images. In other words, this bag has got you covered for pretty much any kind of lens kit you might have.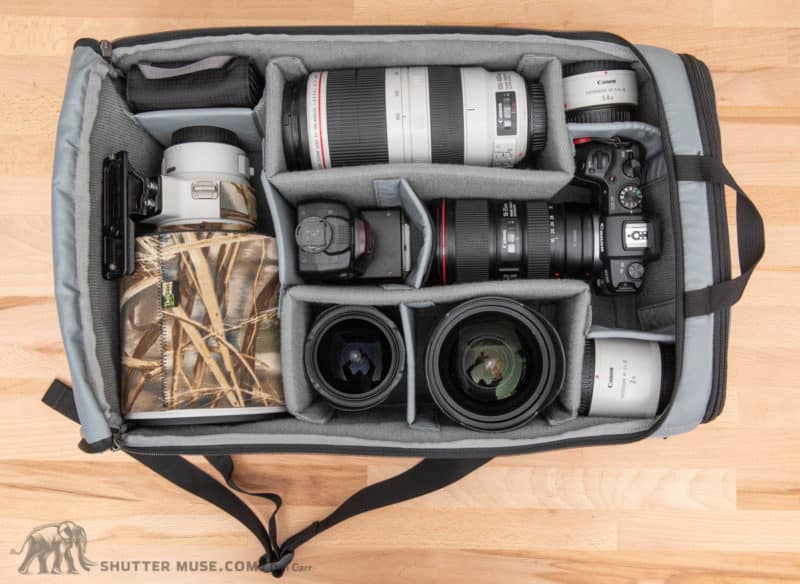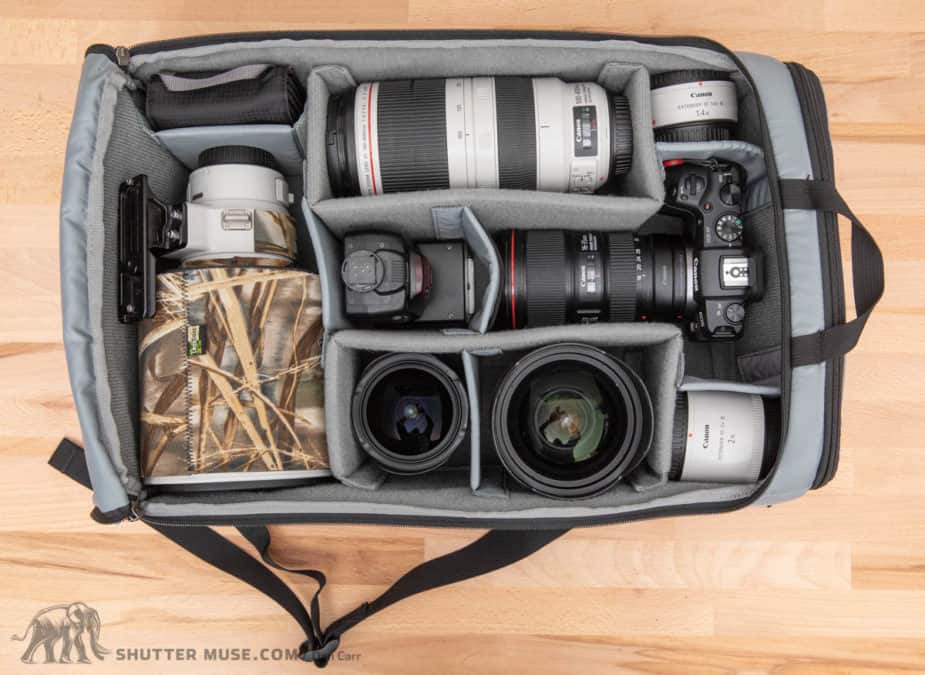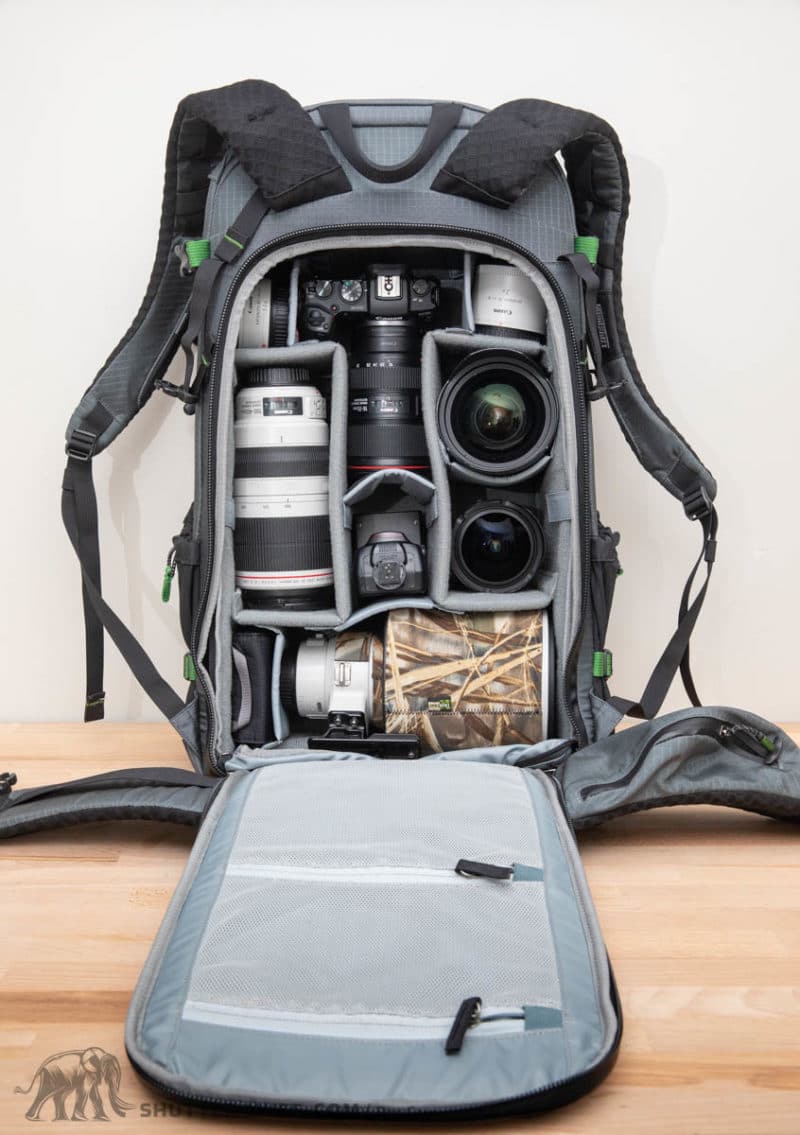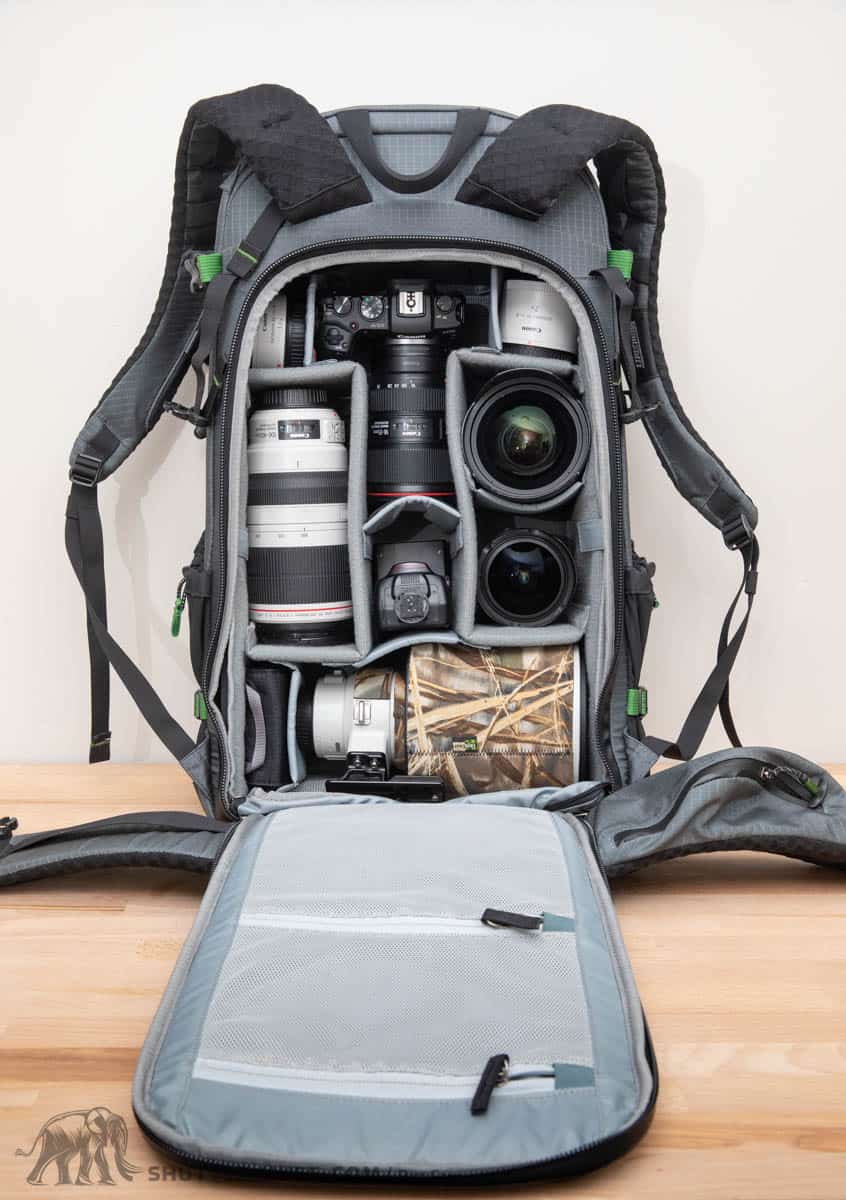 This camera compartment is primarily accessible from the back panel of the bag which is my preferred method of backpack access. When you inevitably have to put the bag down in the dirt or wet snow at some point, the harness and back panel are protected, and that dirt or snow isn't then transferred onto your jacket when you put the pack back on.
A secondary method for accessing the camera compartment is available from the top of the bag. Under the top lid, the bag zips open to reveal some additional storage space above the camera compartment, as well as a zippered pocket with a clip for securing your memory card holder. The camera compartment can also be unzipped at the top, allowing you to pull a camera vertically out of the bag if you're in a situation where it might be unwise or difficult to open the back panel.
It's useful to have this additional method of accessing your gear, but it does require some forethought. Clearly you'll only really have access to the camera and lens that are located right at the top of the camera compartment, so prepare this accordingly before your adventure. Due to the size of the top opening to the pack, you won't be easily able to pull a giant super telephoto lens through this top opening. I would limit it to something with a hood diameter close to a typical 100-400mm or Nikon 200-500.
There aren't any other bags like this on the market that give you both top and back panel access, so this is a cool feature to have once you figure out how best to pack your gear and make use of it.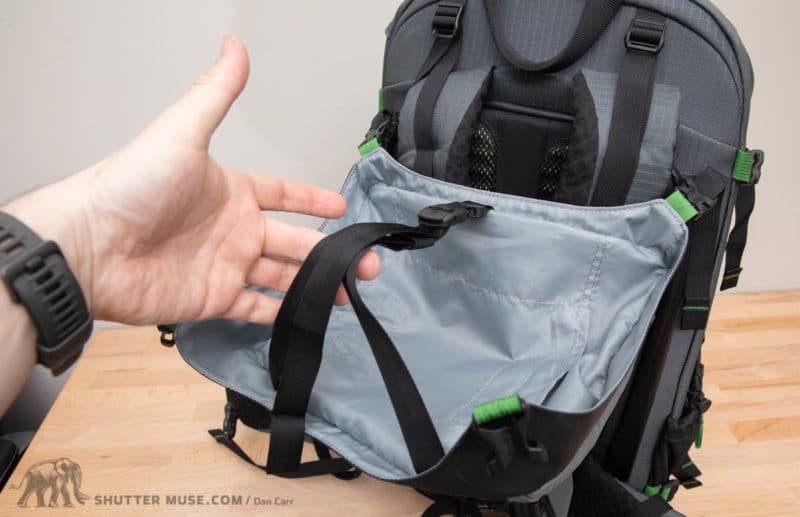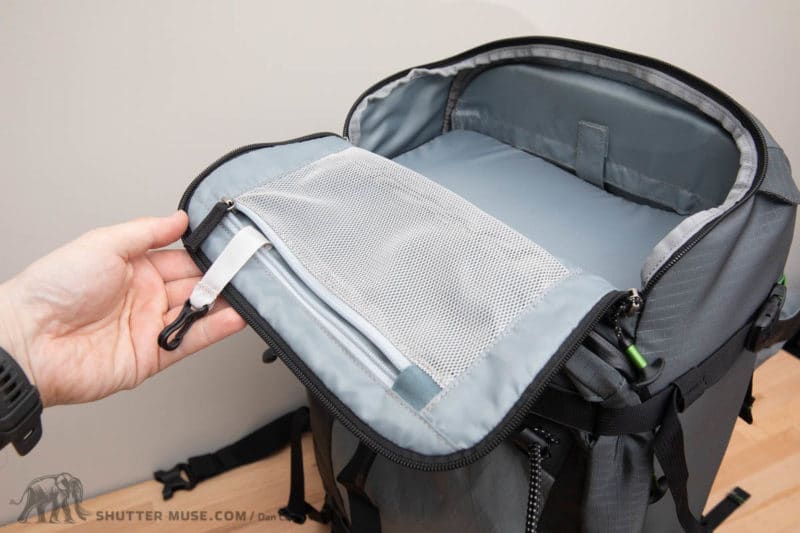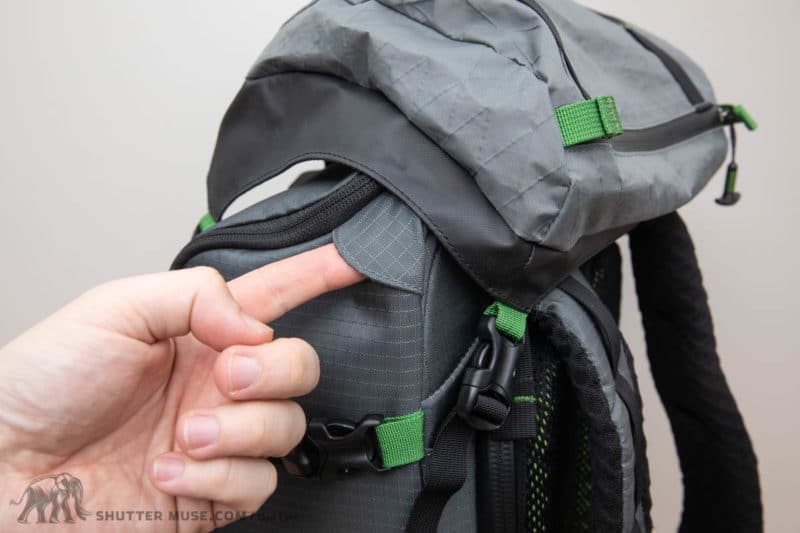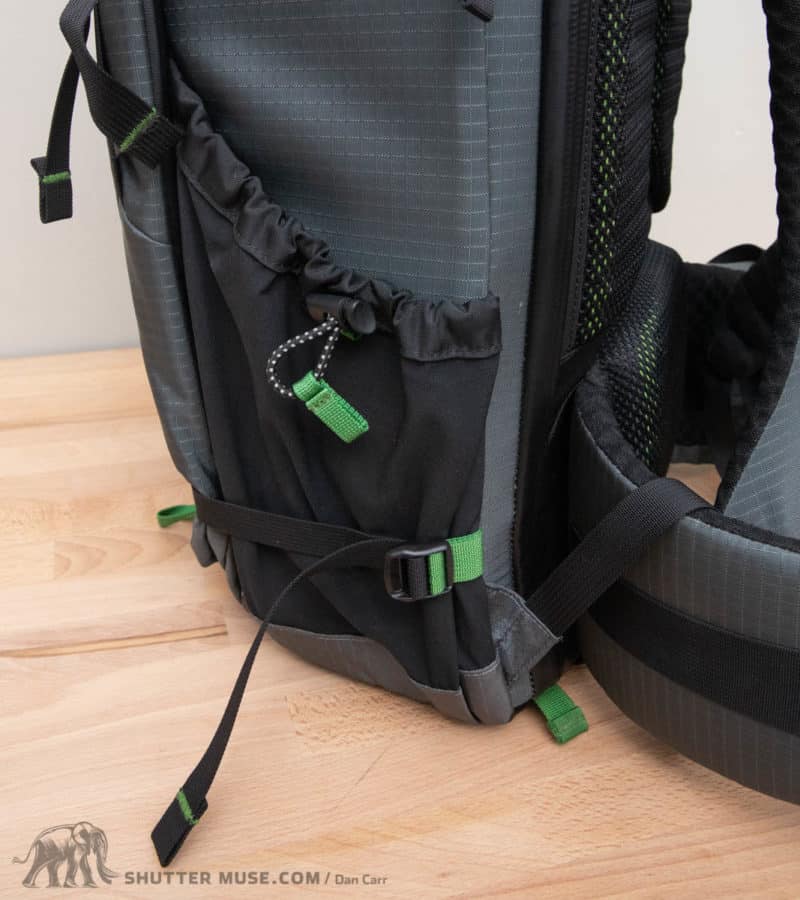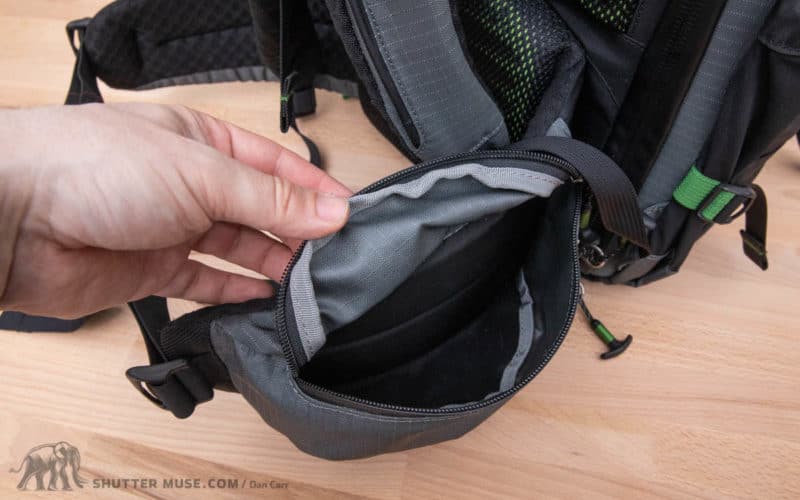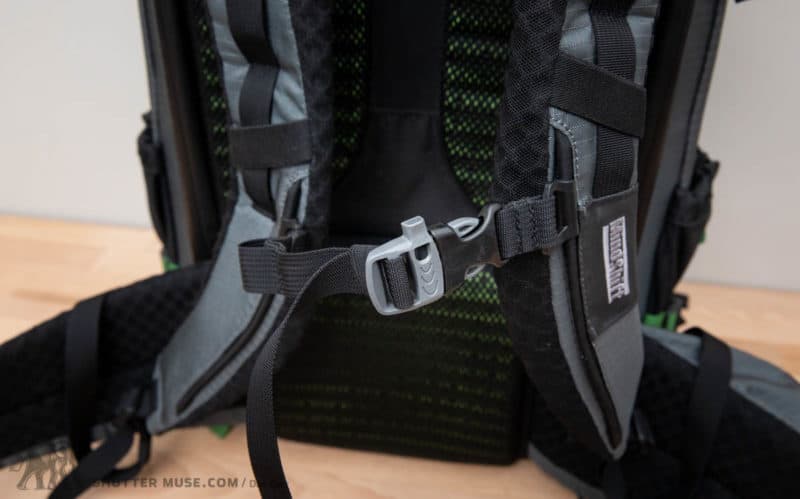 Carrying Comfort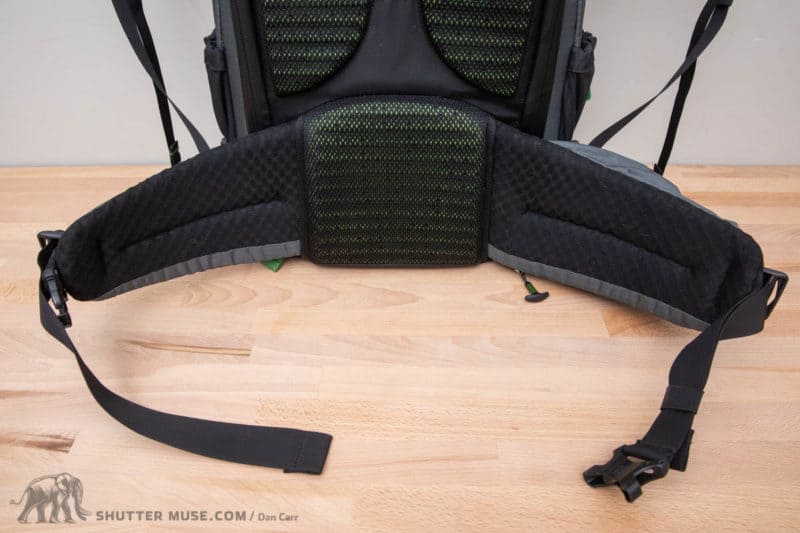 The photos in this section will give you some indication that this pack has really been designed with comfort in mind. More than any other camera backpack I have used, this looks and feels like a high-end hiking pack.
Most back panel opening camera packs from other companies simply have some sort of vague molded foam pattern against your back, but the Elite has huge ridged and ventilated foam panels to create airflow and lumbar support.
And it doesn't stop there. The huge hip belt and shoulder straps are made of a thick honeycomb foam that breathes well, and also delivers comfort.
What you get with all of this is a camera backpack that carries a heavy load far more comfortably than any other camera pack I've ever tested. And it's hardly a surprise when you look back through other reviews and compare the relatively simple harness systems on most camera bags. This isn't just a little better, it's a whole different league!
Finally there is an outdoor photography pack that can be recommended to those people who have always held off buying camera packs because their regular hiking pack is more comfortable, or they would rather ski or snowboard with their ski-specific pack because that is more comfortable.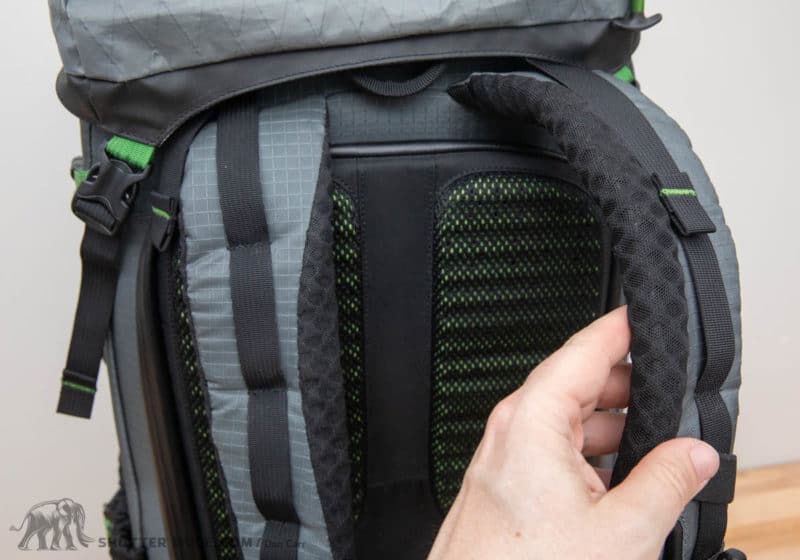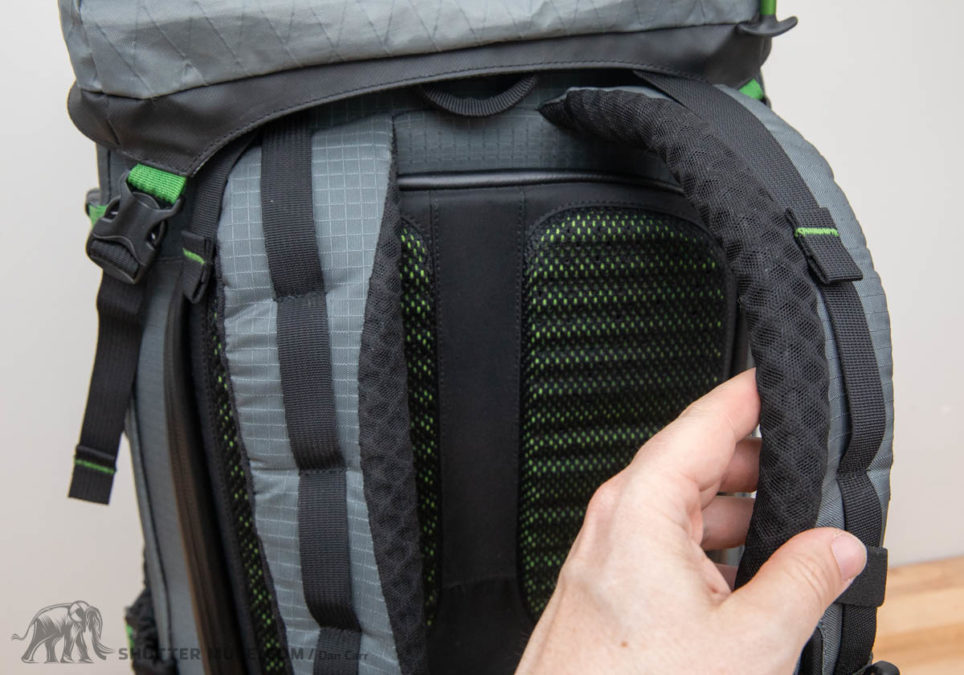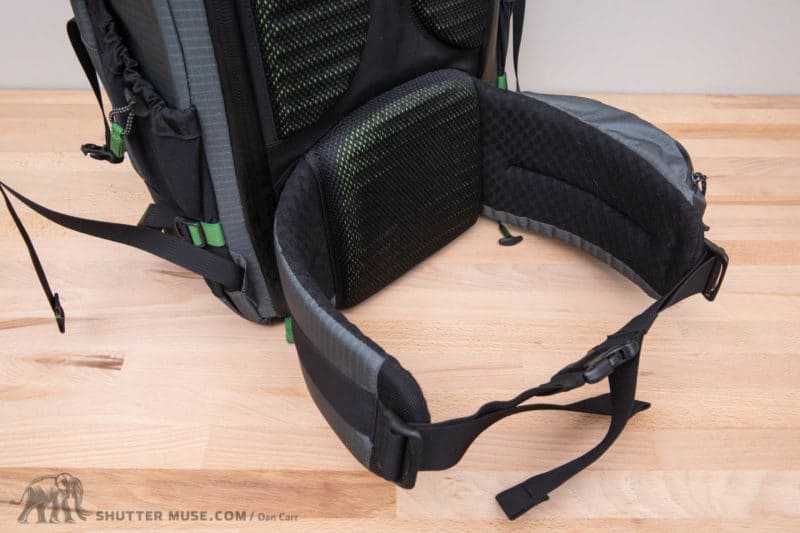 FAQ About Sizing/Torso Length
After initially publishing this review and launching the pack, the majority of people's questions were relating to pack sizing, with some people asking about adjustable torso size. There were so many questions about these things that I decided to add a new section to this review to address them.
Does the BackLight Elite have adjustable torso length?
No, it does not. It's not possible to efficiently add adjustable torso length to a backpack that has a back panel opening design. The back panel of the pack needs to be able to open and move away from the shoulder straps, therefore you can't have the two connected with any sort torso adjustment.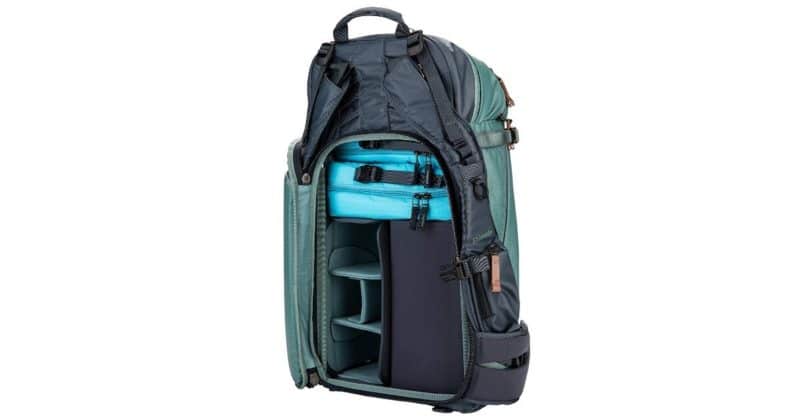 The only way you could make this work is to use a design similar to that which is used by Shimoda on their Explore packs. As the photo above clearly demonstrates, though, this has a dramatic effect on the size of the opening on the back of the bag. It would stop the bag working with large super telephoto lenses, and generally limit the amount of photographic gear in the bag if such a system was added to the Elite.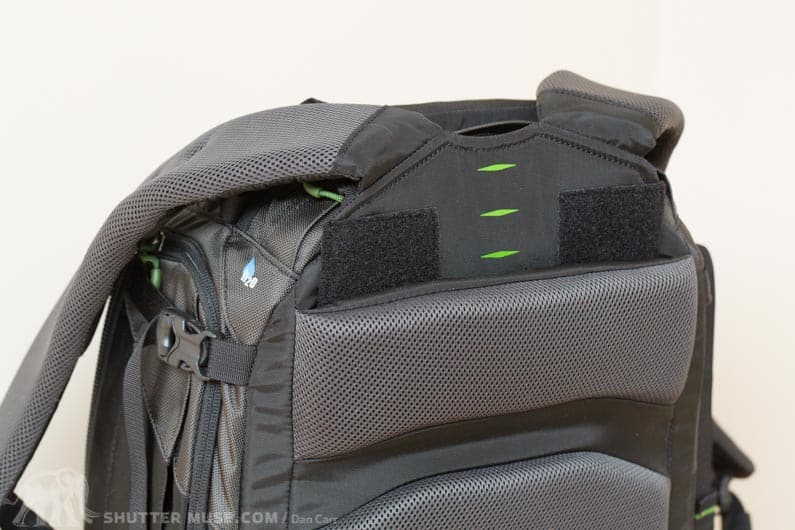 If you want a MindShift bag that does have proper torso length adjustment, that is the FirstLight series. All of the FirstLight packs have full torso length adjustment because they are front opening packs.
Why are there not multiple sizes of the Elite pack, then?
I'm paraphrasing this slightly, but one reader asked something along the lines of "why aren't there multiple sizes of the same pack like you'd get from hiking brands?"
The simple answer is that the high-end photography pack market is many times smaller than the hiking bag market, so it's simply a case of economies of scale. Yes they could make size variations of the Elite, or make a women's version, but the price of the bags would increase dramatically if the sales numbers were split over several sizes. This would then push the bag's price up above the other competitive bags in the market segment and nobody would end up buying it. Then the pack wouldn't exist at all.
How tall are you?
I'm 5ft8.
What is the height range for this pack?
This is a really tough question because human height doesn't necessarily correspond to torso length. Currently my recommendation is to reach out to their customer service team for some more direction on this. I'm only one man and only have one height. They have an office full of people with varying heights and can give you a better answer on this. I think it's safe to say you will have no problems if you are a few inches either side of my height, but have a chat with them if you have concerns.
The good news is that if you buy from Think Tank/ MindShift, you can easily return it if you find the sizing isn't going to work for you.
Back panel length?
The measurement from the shoulder strap attachment point at the top, to the bottom of the lumbar padding is 20 inches.
Carrying a Tripod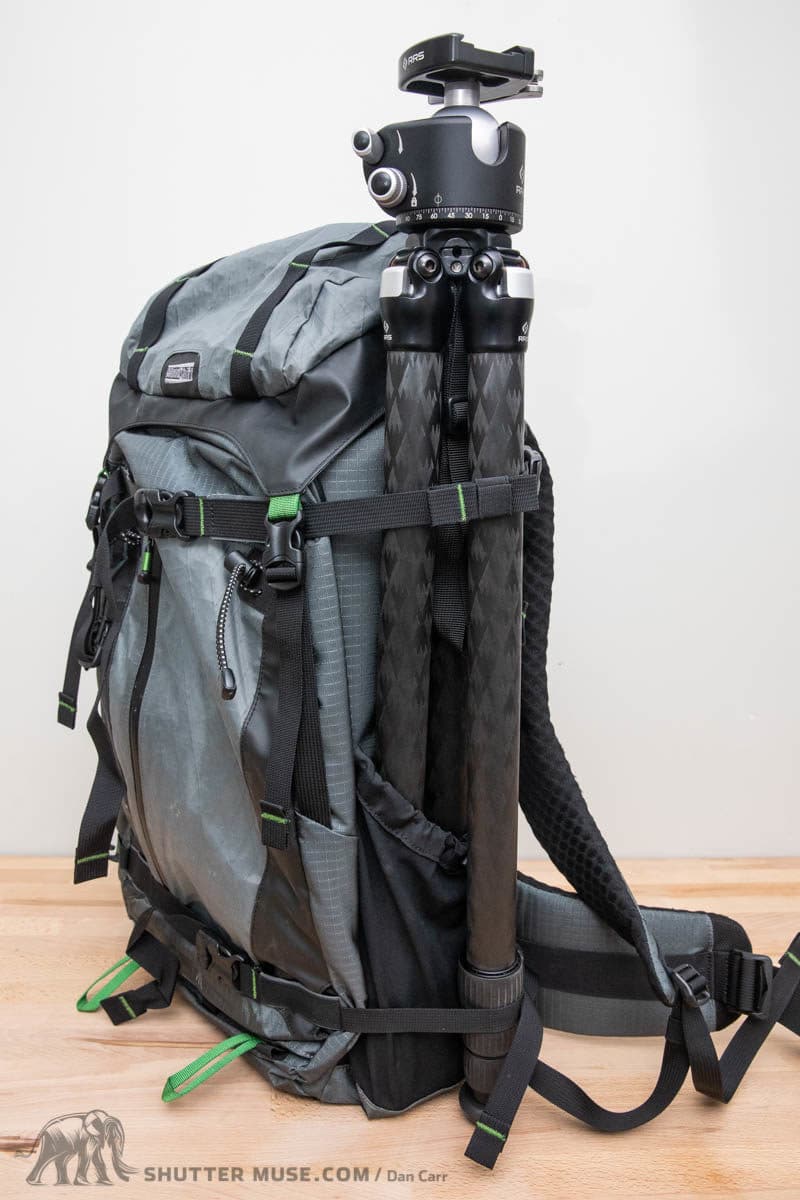 As with any good outdoor pack, there's multiple options for carrying a tripod so that you can pick the best method to balance your load. The large stretchy side pockets are reinforced at the bottom so that they aren't damaged by tripod feet, and a pair of compression straps on each side will secure even the largest tripod.
If you're already using the side storage for another purpose, there's also a fold-away tripod cup on the front of the pack that gives you that rear central tripod carrying ability.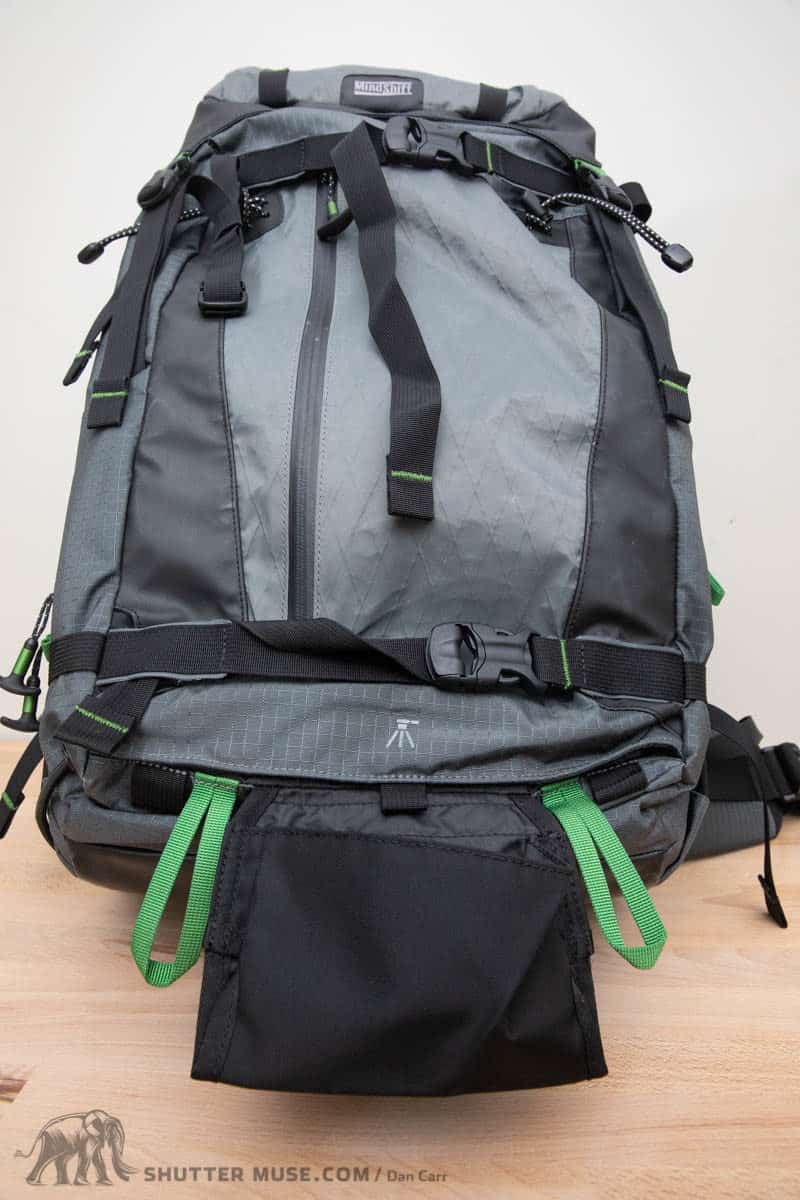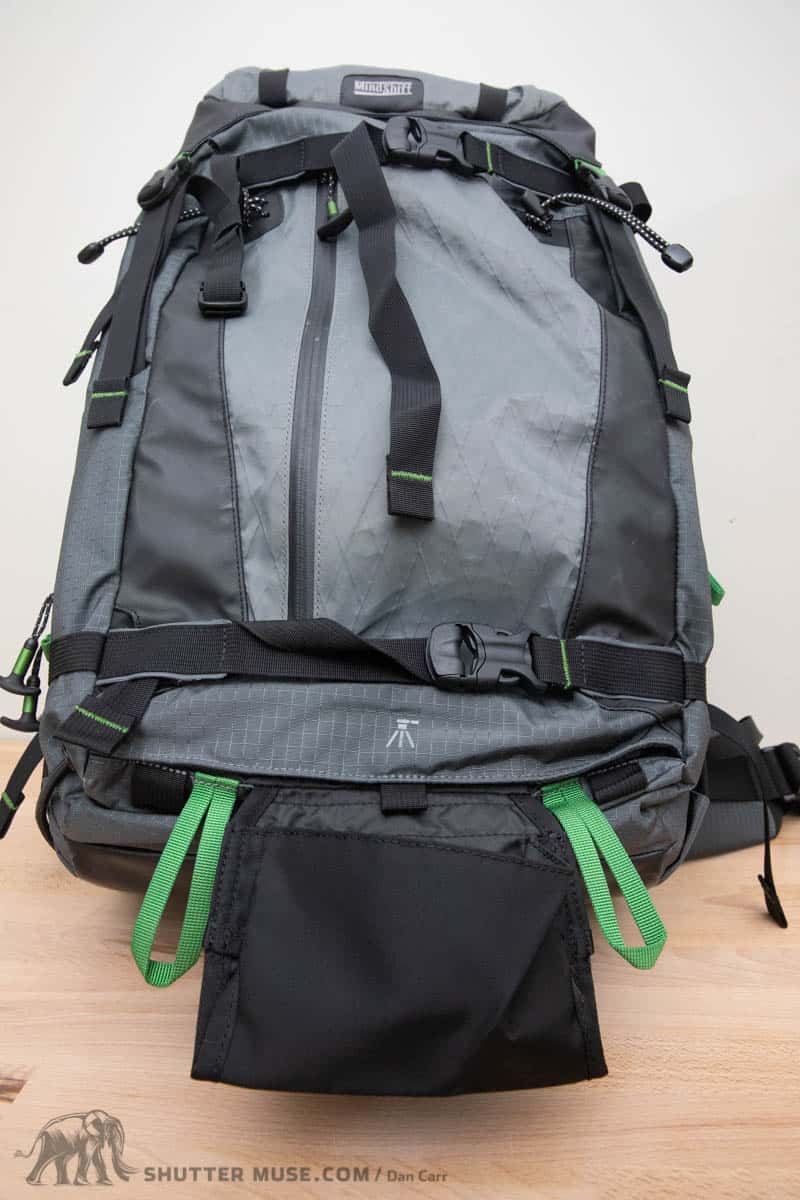 The third method is to use MindShift's optional Tripod Suspension Kit. This clever set of straps helps to direct the tripod's load more evenly onto the shoulder straps instead of pulling you to one side, or pulling you backwards. It's also useful if you are making short hops from one shooting position to the next as you don't have to remove your pack, then fully collapse and secure your tripod.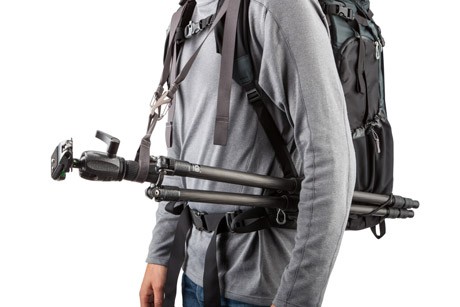 Travelling with the Elite 45L
There's a few cool features of this pack that are designed for those that travel via air. Eagle-eyed readers will have spotted the first one in a previous photo of the internal camera block… backpack straps!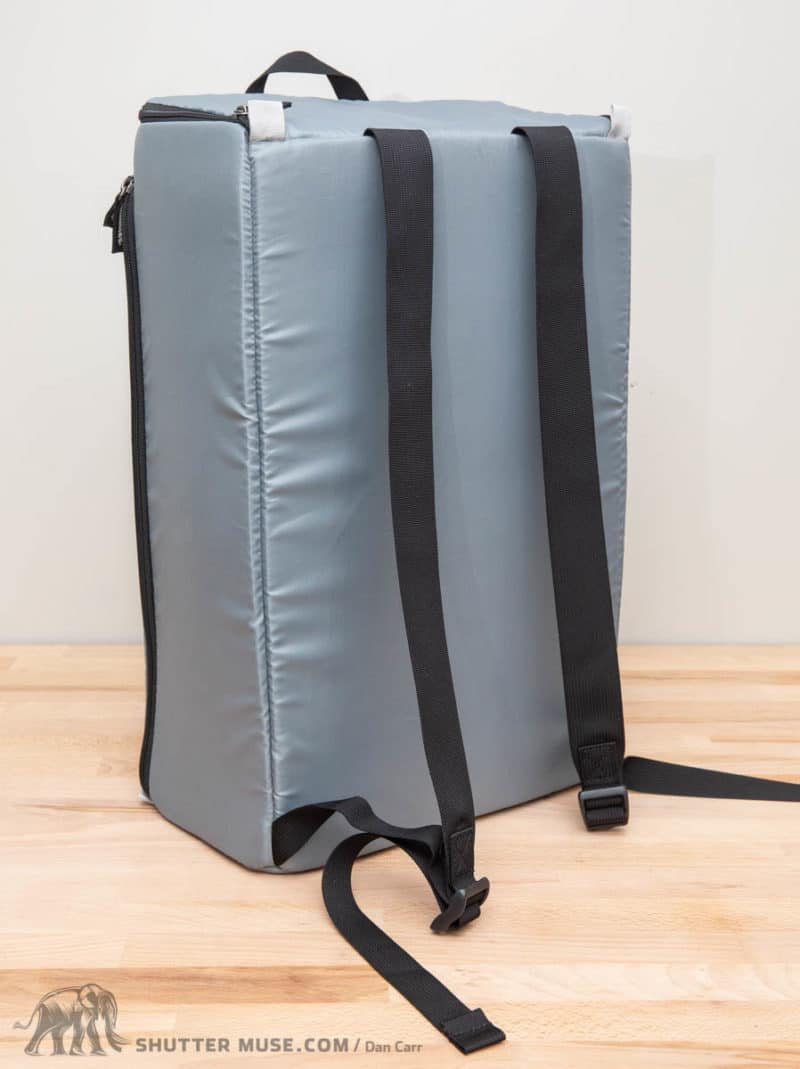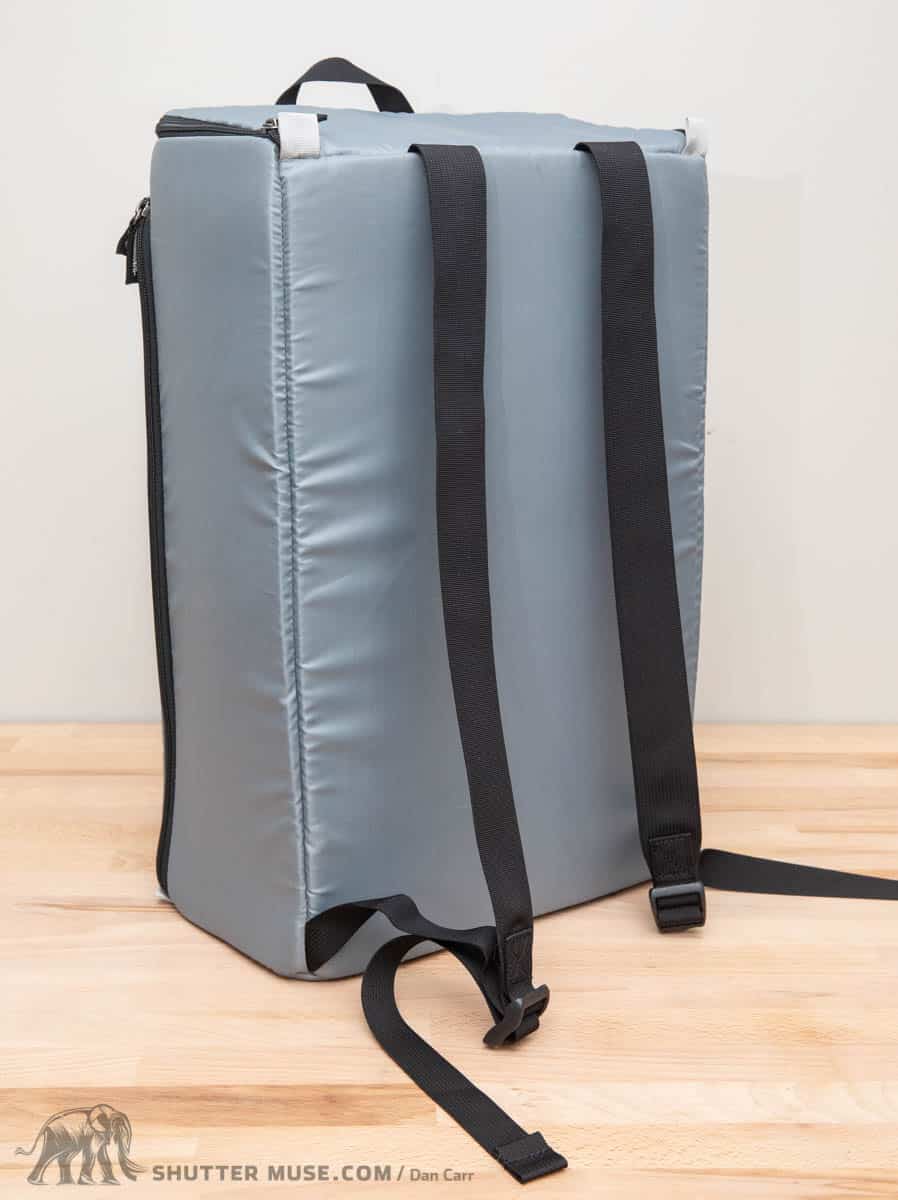 Yes, the removable camera block has a set of ultralight backpack straps on it to help you when you hear the dreaded words "excuse me, I'm afraid that bag is too big, you'll have to gate check it".
If you do run into serious problems getting the pack onto a plane as carry-on, now you have a backup plan which will at least get all of the most important pieces safely onboard with you. How clever is that?!
In the time spent testing my prototypes I probably flew 20+ times with the pack as carry-on, and only had a problem once because the airline weighed it and of course it was well beyond weight limits. The trick to keeping these kind of gate agent encounters to a minimum is to keep the pack looking as small, and simple as possible. The one time I didn't do this was the one time they weighed the bag!
There are several little tricks this bag has to get it into what I call "travel mode" that looks so much simpler and smaller. Firstly the large padded waist belt is totally removable. Take is right off and stuff it into your checked luggage. It makes a huge difference to the bag's profile at a quick glance.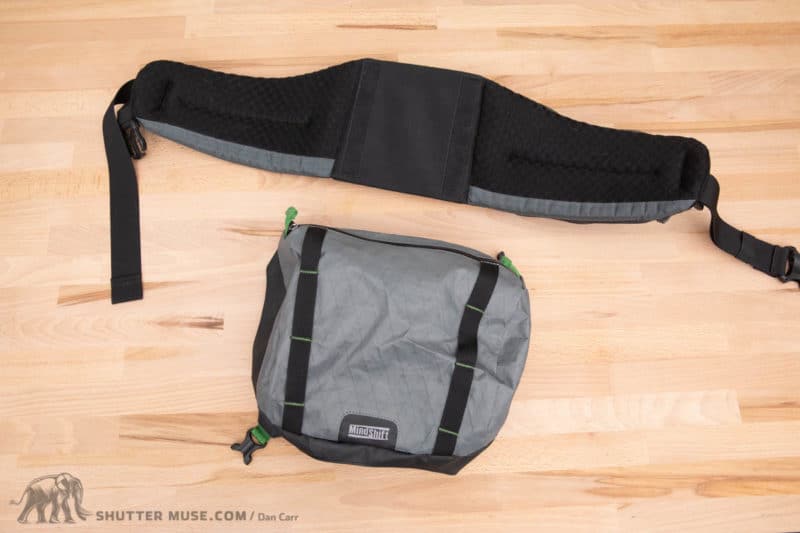 Secondly you'll want to remove the top pocket of the bag as well, and throw that in the checked bag with the waist belt. Thirdly, take all the straps from the front of the bag and tuck them into the small holes that are provided on the front of the bag. Fourthly, take the side compression straps and give them a good yank to tighten them right up. Now finally, take the lower clips that are normally used for securing the top pocket, and clip them into the top buckle the tripod straps on either side of the bag. This works to compress the front pocket of the bag.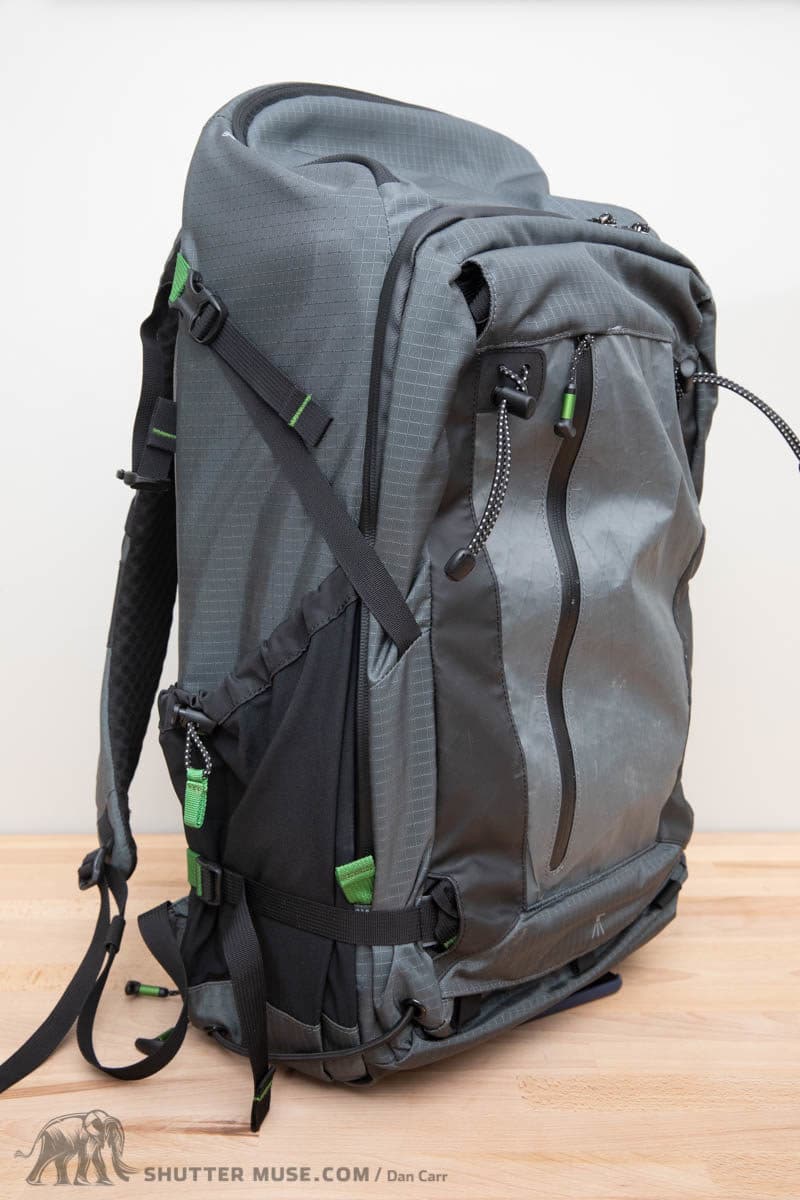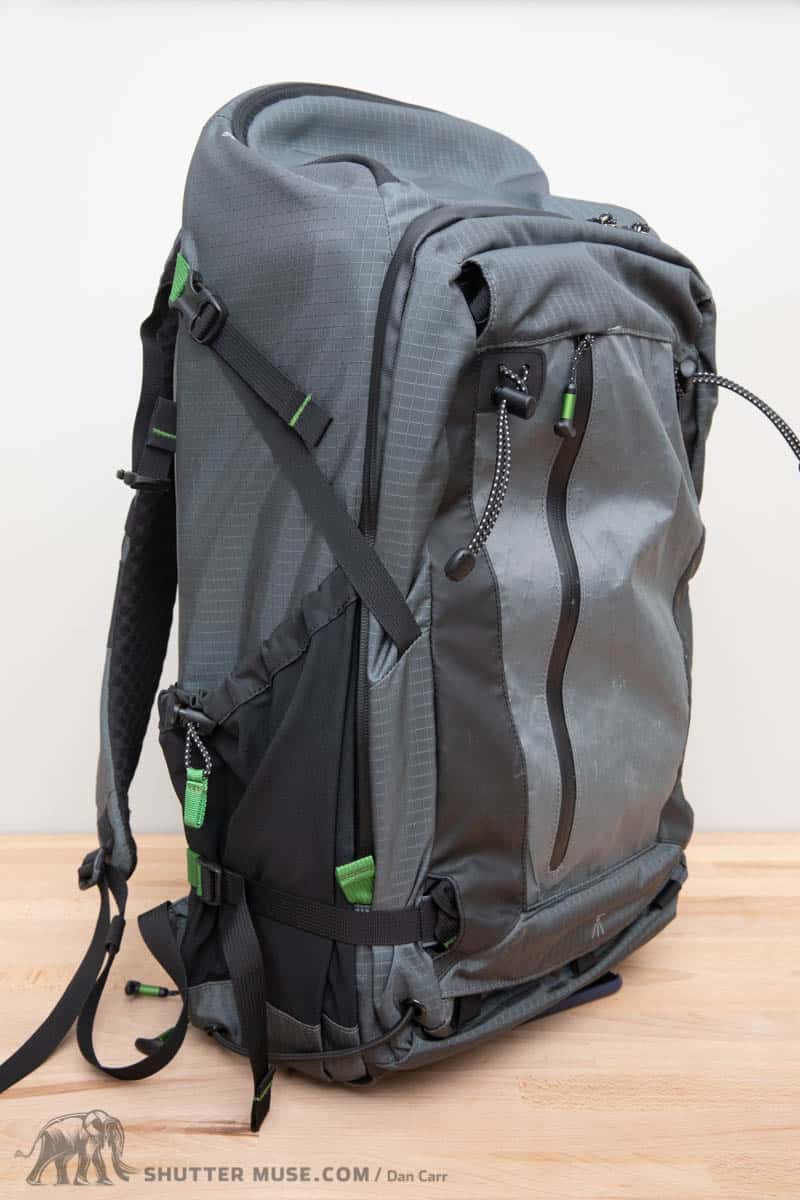 Voila! The bag has been transformed from a huge technical mountain-conquering hiking pack to a relatively svelte looking travel pack. With these changes made, I doubt you'll have much trouble and the bag in this mode will meet nearly all international and domestic carry-on limits.
There are a few airlines that have slightly shorter length restrictions on your carry-on items. If you get asked to put the pack into the size testing cage for one of these airlines, you might need to pull out aluminum frame of the pack which can be done from the inside top of the pack by lifting up the flap. When you do this, you can shorten the height of the bag by about 2 inches and then it'll fit into these stricter regulations. The frame can be easily put into the bag's front pocket at that point.
And of course, if all else fails then you have the emergency backpack straps on the internal camera block. I don't think there has ever been a camera pack that has been so well thought through for travel.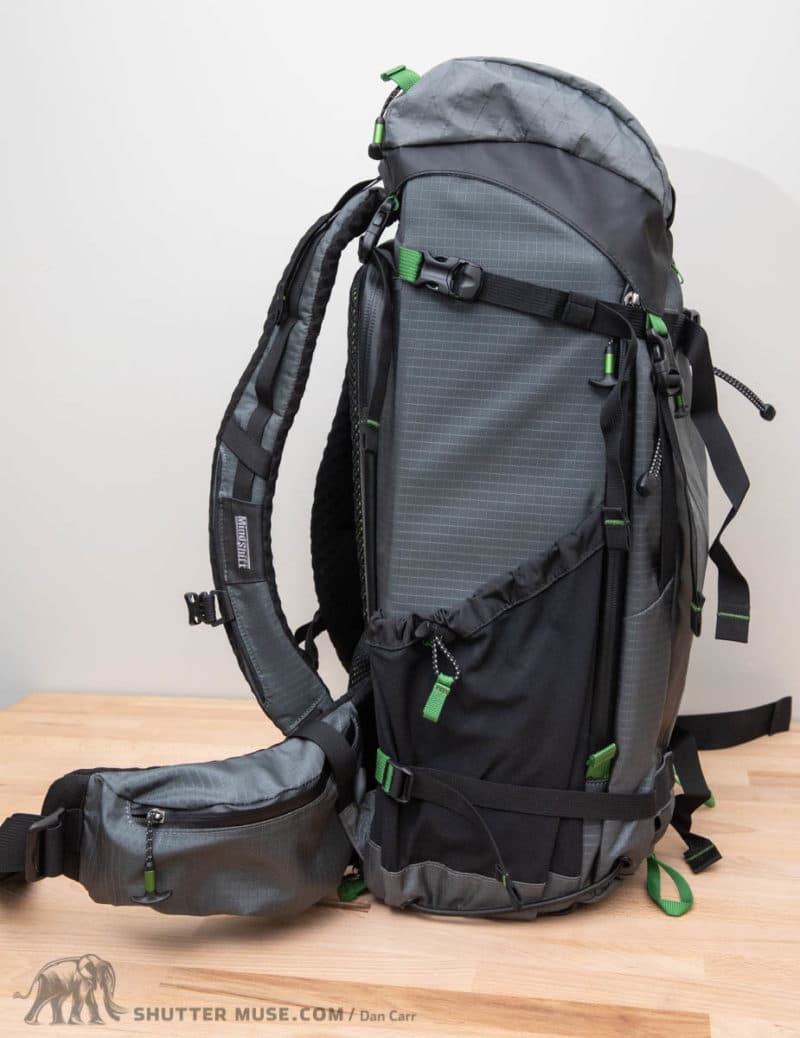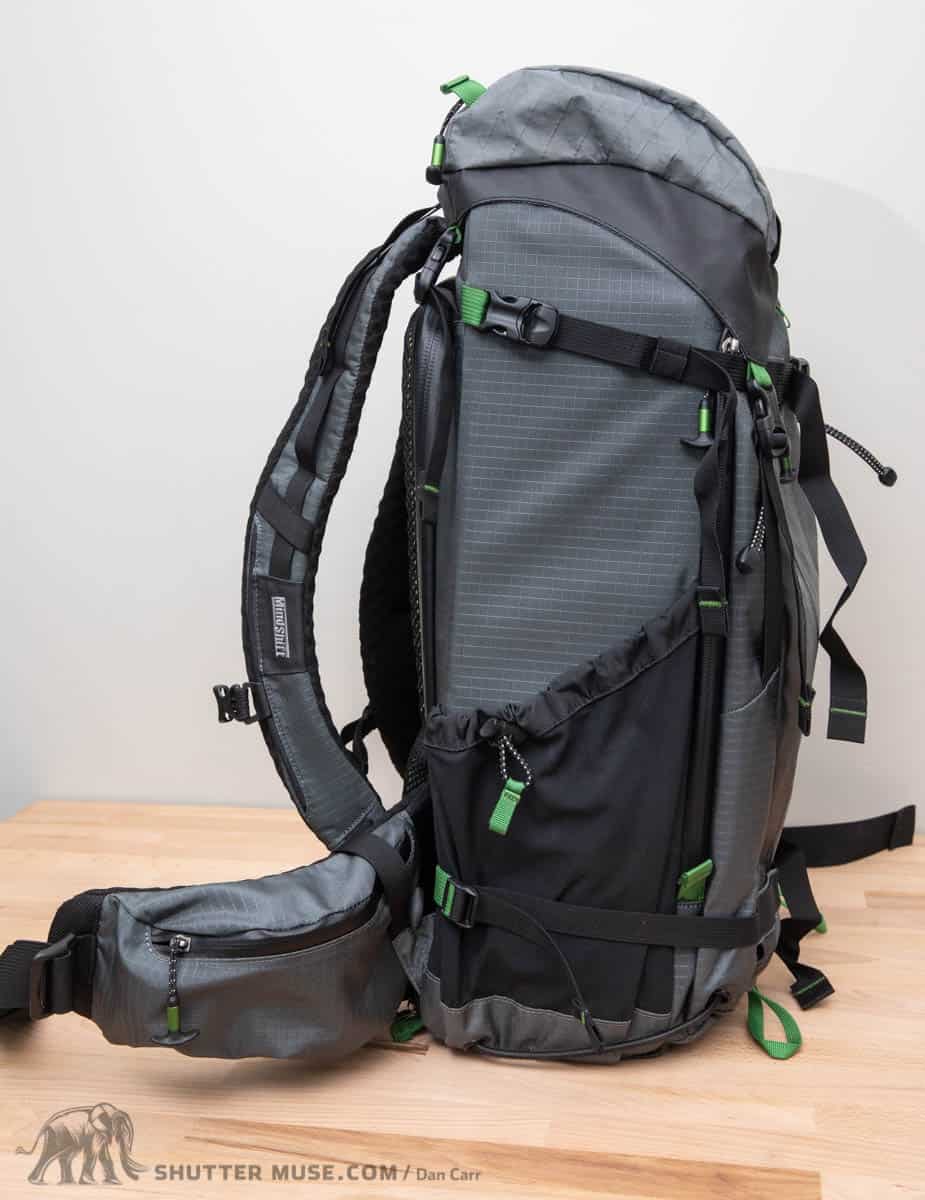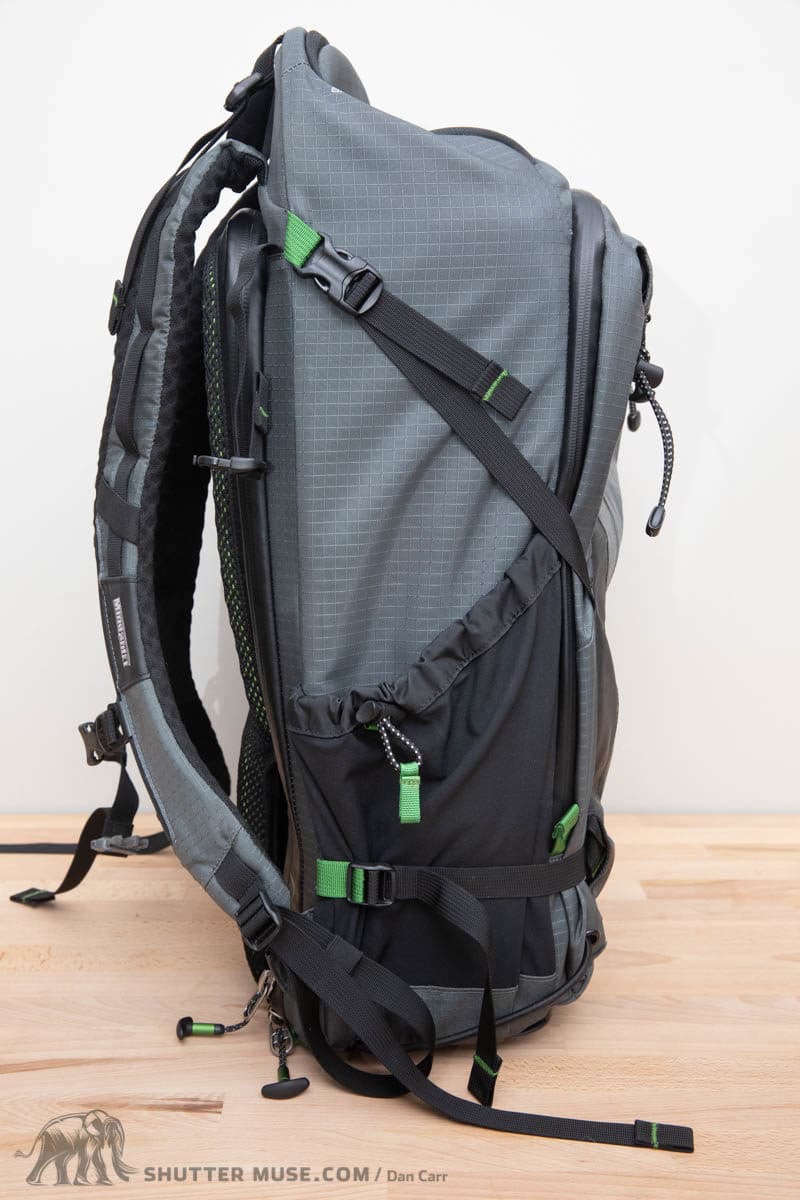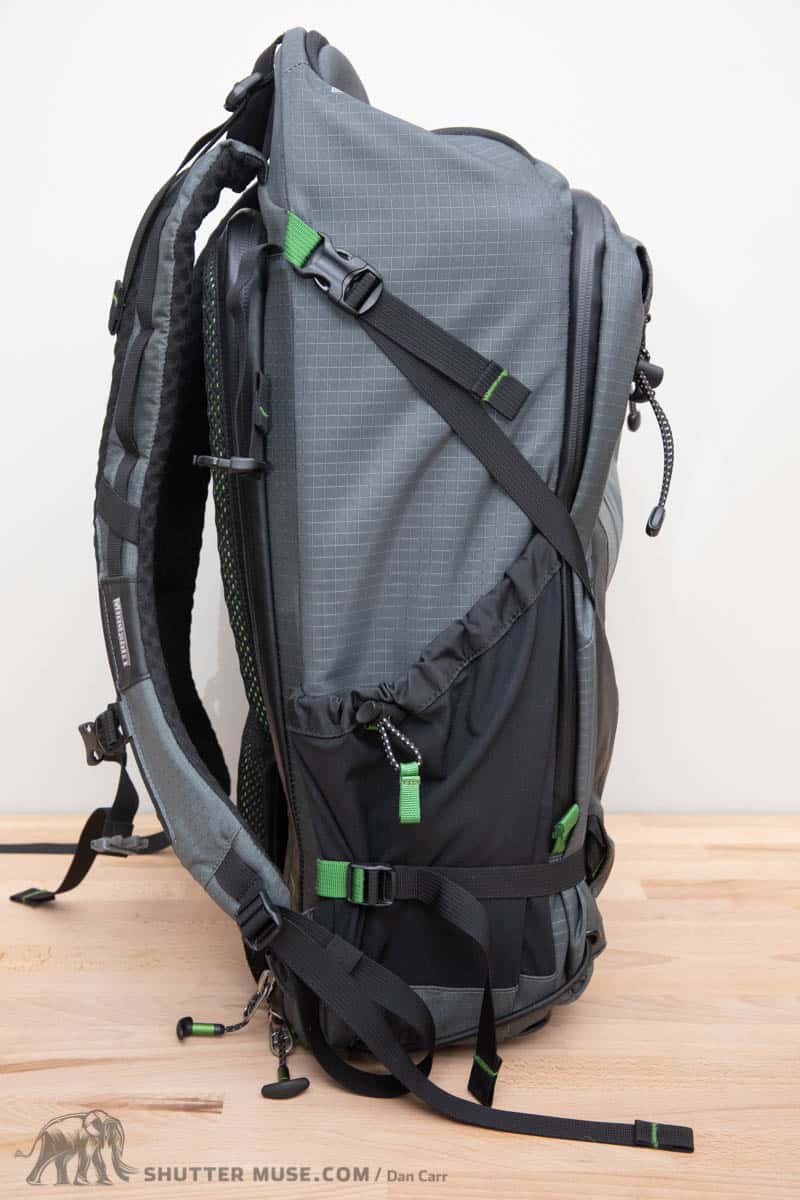 Blending Into the Wild
During the bag's development we had several discussions about the predominant colour and the highlight colour of the bag, and how this could potentially have an effect for its users.
The main problem is that bright flashes of colour and competing panel contrasts can be a good thing for people traveling in the mountains, when you might want to be seen from a distance. But for those wanting to blend into their surroundings while waiting for wildlife, it might cause a problem.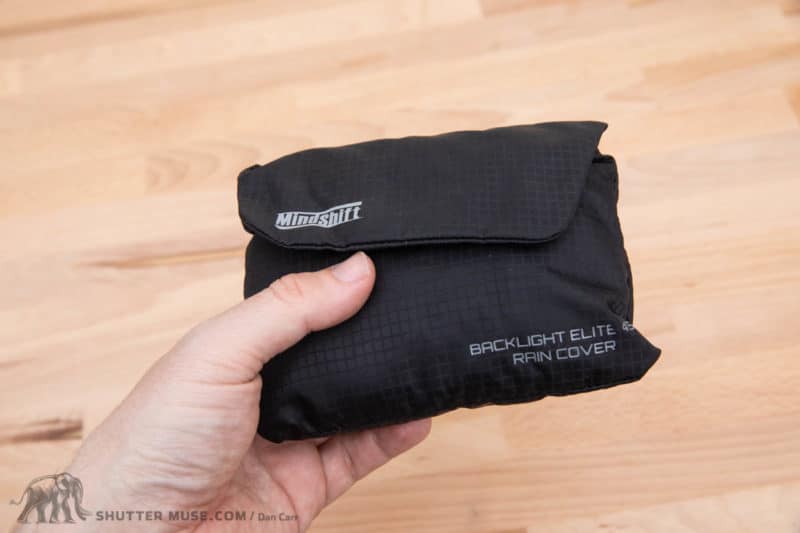 The solution that I proposed was to deviate from the traditional black rain covers that Think Tank and MindShift have always provided, and create one in a more natural colour that can basically be used to cover the bag and hide it when you want to be stealthy. The designers analyzed various camouflage patterns and chose a shade of brown that we thought would be the most universally natural and useful for this purpose.
It's a simple thing, but it shows the amount of thought that went into making this pack as good as it can be for every kind of outdoor adventure you might find yourself in. With the back panel opening design of the bag, even when the rain cover is applied you can still unzip the main section and access your camera gear.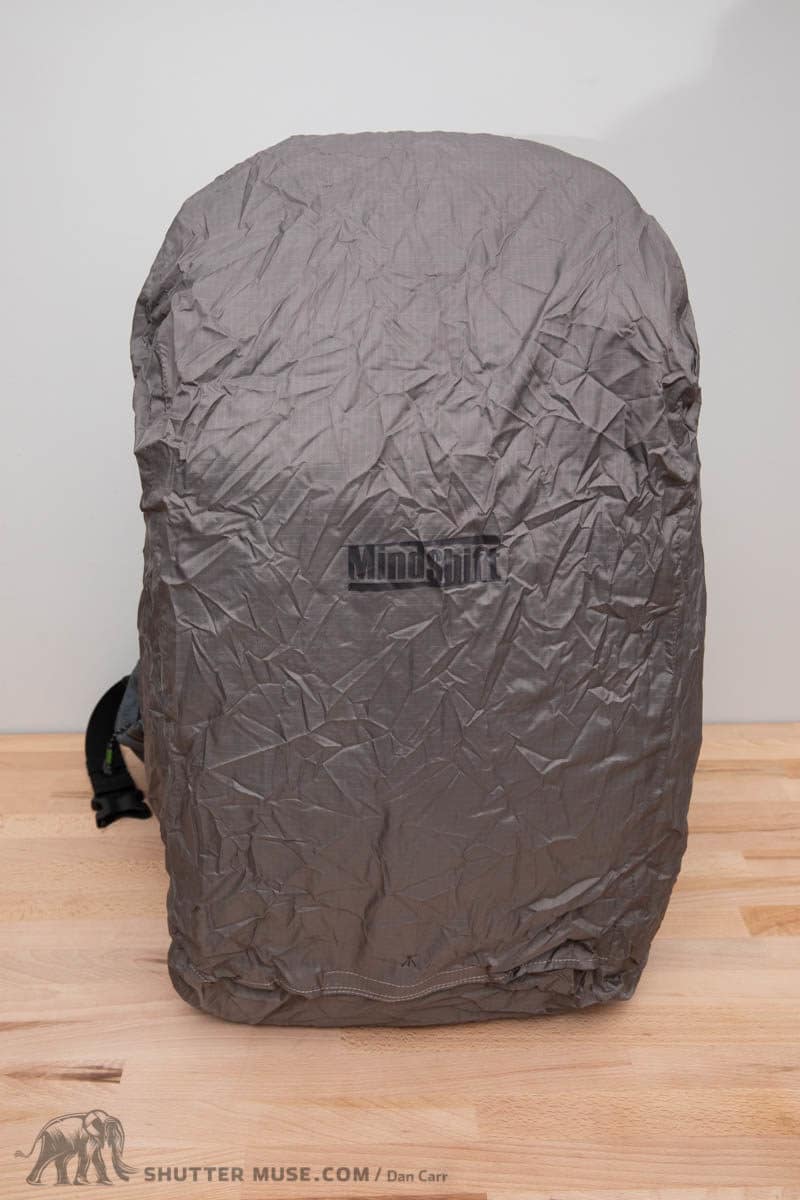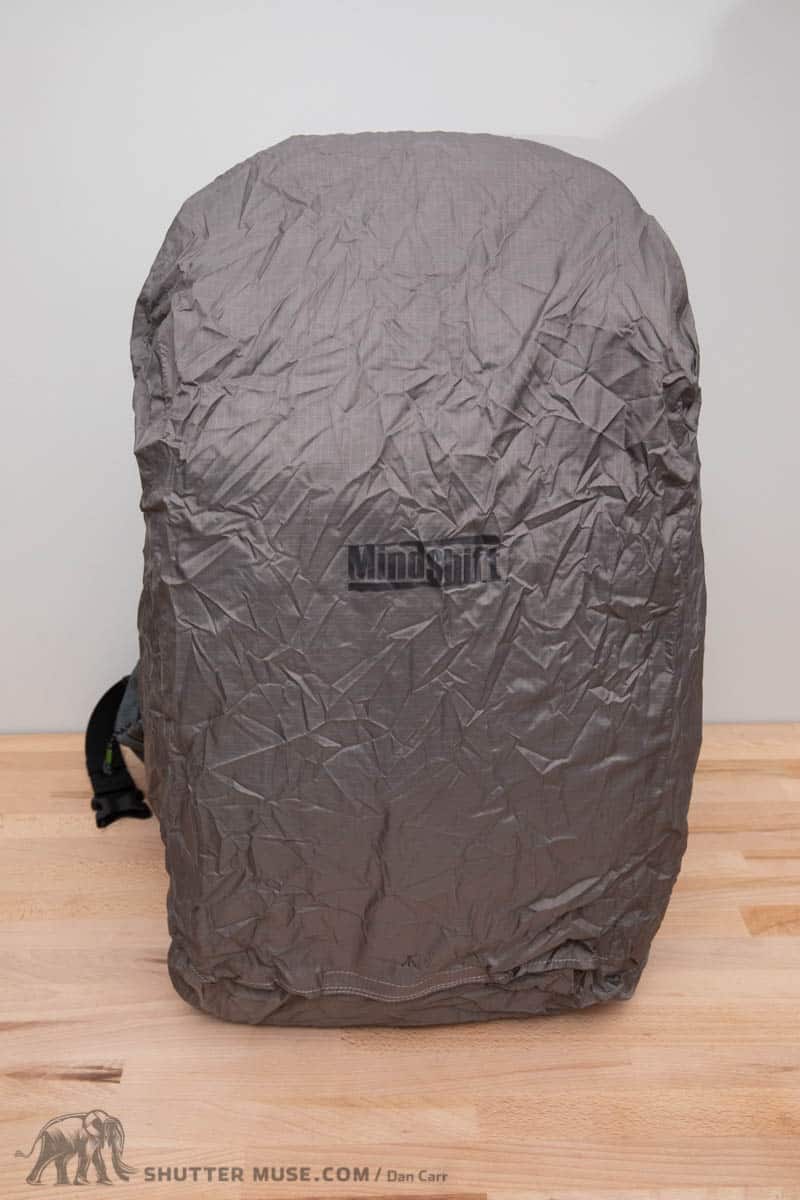 BackLight Elite Accessory: Stash Master 13L
UPDATE: Think Tank has improved and expanded their lineup of Stash Master Photo Cubes. Now, five different sizes will fit in the Elite 45L backpack. All the details are in my review of the Stash Master lineup.
Making the main camera insert for the BackLight Elite removable was always an important feature for the "emergency gate check mode", and also so that the pack could be easily used for a variety of other uses. After all, if you spend a lot of money on a comfortable backpack, it's nice to be able to use it for other things when you aren't carrying all your camera gear.
When I learned that this would be a feature (it's not a feature on the smaller BackLight packs) I started pushing hard for them to create an optional smaller camera insert for the pack that could be used when you don't want to fill the entire bag with camera gear. After a few iterations to the design and size of this smaller insert, the Stash Master 13L was born.
The Stash Master is sized for a pro zoom trifecta so it'll fit a pro-sized body with a 70-200 attached, as well as a couple of larger zooms like a 16-35 and a 24-70. If you have an extender and maybe a small prime you'll be able to squeeze those in there as well with a few accessories.
With the Stash Master in the BackLight Elite you'll find that it consumes about half of the available volume in that main part of the pack. There's plenty of room left for other outdoor gear such a climbing equipment with a helmet, backcountry ski touring gear or even overnight camping gear if you have a nice ultralight setup.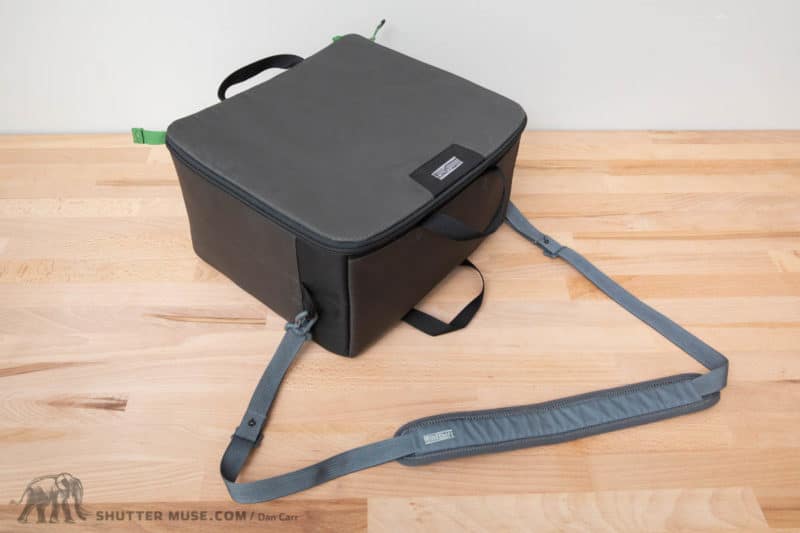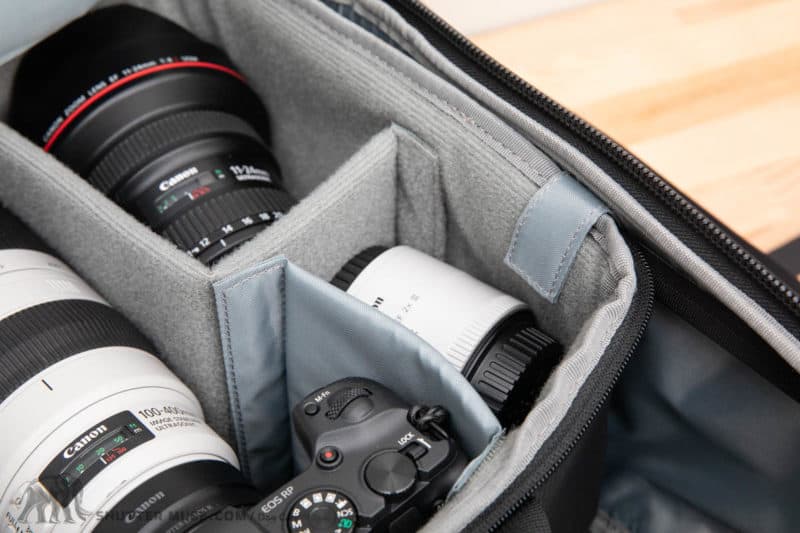 For the general camping setup that was tested I was able to get my stove, Thermarest NeoAir mattress, food and down sleeping bag into the main section above the Stash Master. I added some extra clothing into the front part of the pack, and then used the straps on either side of the pack to secure a 2-person MSR Hubba Hubba tent. Poles on one side, tent on the other. For an overnighter to get you into the right place for a sunrise shoot, this was a more than capable setup and you still have a ton of extra room in the top pocket for things like a hat, gloves and head lamp. On one night whilst filming for a ski resort, I even used the bag to camp out on top of a mountain in the winter and ski down the next day. An overnighter which required quite a lot more clothing and ski gear.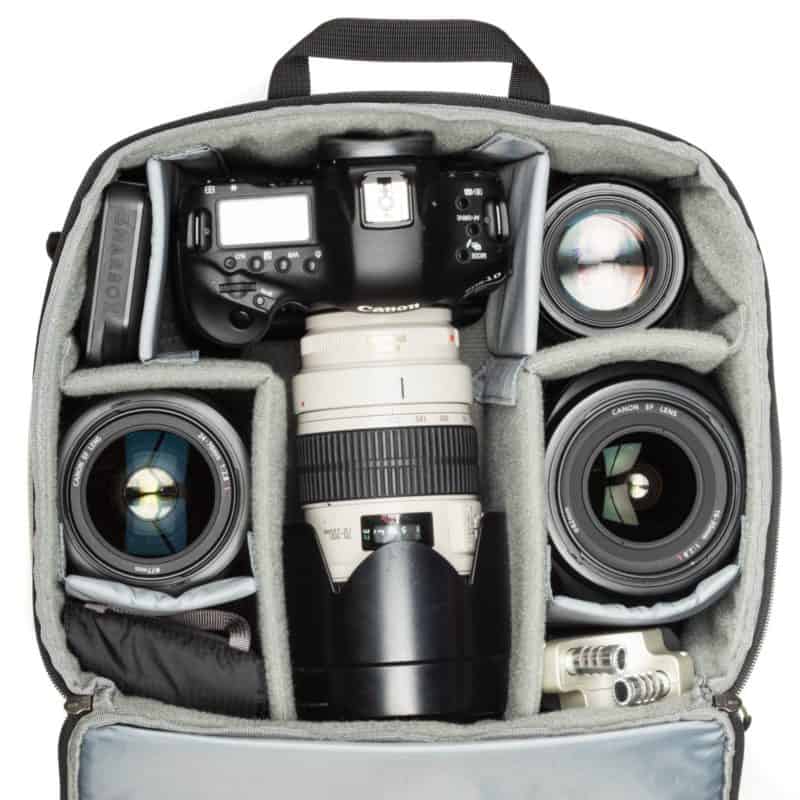 During the last couple of years testing these new products for MindShift, I also put the Stash Master prototypes to good use while I was travelling via air. Although I always put the large camera insert into the backpack as my carry-on item, I packed the Stash Master into my travel duffle to protect any other camera gear that I wasn't taking onto the plane.
Cameras and lenses obviously come on the plane in the pack, but in an effort to shed weight and at least try and get my pack down to regulation weight, I put things like chargers, filters and tripod heads into my duffle. The Stash Master serves as a perfect way to organize and protect that stuff in my duffle, and then I always have it with me at my destination if I want to swap it into the pack to carry a smaller camera load. I can even throw a shoulder strap onto it if I just want a simple shoulder bag.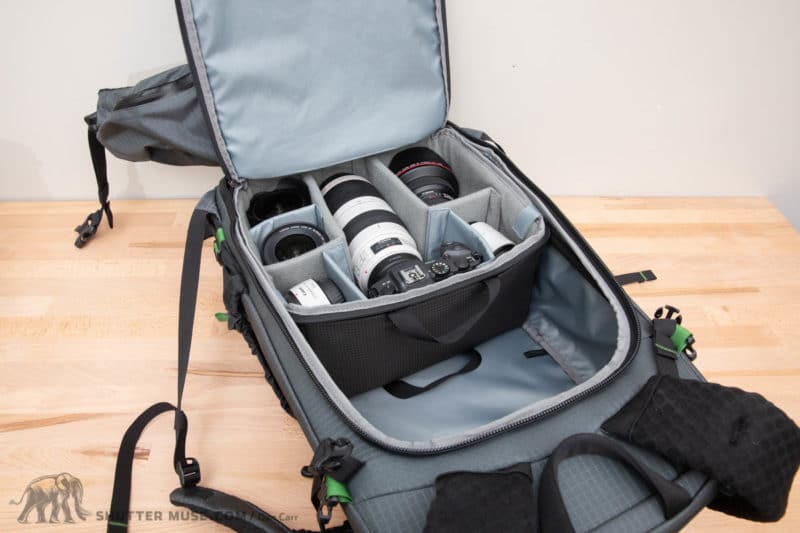 So, should you get the Stash Master with your Elite pack? Pricing for the Stash Master 13L is a more-than-reasonable $59 which is considerably cheaper than the equivalent, well-known camera blocks offered by F-Stop. Features and build quality are absolutely equivalent between the two, so to me that makes the Stash Master a good deal, and a valuable accessory.
While you could always take the time to use the spare dividers to re-configure the large camera insert to just use a portion of its volume for camera storage, who really wants to do that all the time? If you're like me, you spend the first few weeks with a new bag tweaking the internal layout to find the best setup, and then you want to leave it exactly like that for the rest of its life.
Alternative MindShift Backpack Options
I have extensively tested and reviewed every MindShift bag out there and these are the other ones you might consider:
BackLight 36L Vs. BackLight Elite 45L
The BackLight 36L is an obvious candidate for an alternative to the Elite 45L so it's worth discussing the differences and underlining the things that make the Elite a full $110 more expensive than the 36L.
Obviously the Elite had 9 extra litres of storage capacity and this is added in four main areas:
Elite camera section is deeper. More suitable for pro bodies.
Elite front pocket slightly taller. Doesn't make a lot of functional difference, though. Simply a function of the overall taller pack size.
Elite includes removable top pocket. Very useful and quickly accessible storage area.
Elite has space at the top of the pack above the camera section.
It's not just the capacity of the bag that's different, though. For one, the Elite uses much more expensive and durable materials in its construction, such as the waterproof TPU base and the ultralight rip-stop sailcloth. Then you also have an even higher level of carrying comfort on the elite with the harness and back panel that I have already discussed in detail. If you're looking to go backcountry skiing or snowboarding, the Elite has suitable straps to carry your gear, which the 36L does not.
The bag sizes don't answer the question on their own. Even if you think that your gear could fit in the BackLight 36L, the BackLight Elite 45L might still be a better choice for you if you plan on carrying a heavy load over huge distances, or plan on regularly tackling wet/snowy and rugged terrain.
FirstLight 40L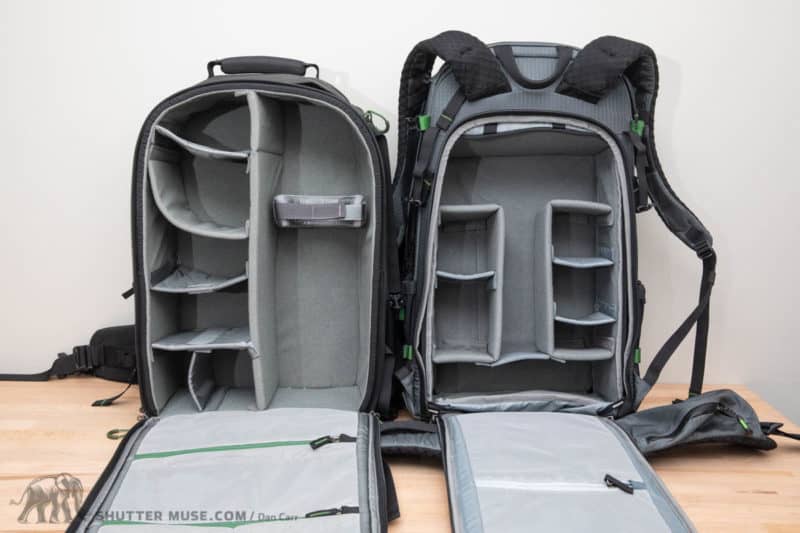 If you're browsing the MindShift website looking for a high capacity backpack then the FirstLight 40L might also catch your attention. This series of packs opens from the front, whereas the BackLight opens from the back.
I've had a FirstLight 40L in my closet since they were first launched, and after that many years I can say it serves a different purpose to the BackLight packs. While there are many benefits to a back panel opening pack like the Elite, you do end up with a smaller opening due to the limitations of zipper placement amongst the padding and pack frame construction. There's just a lot more going on back there.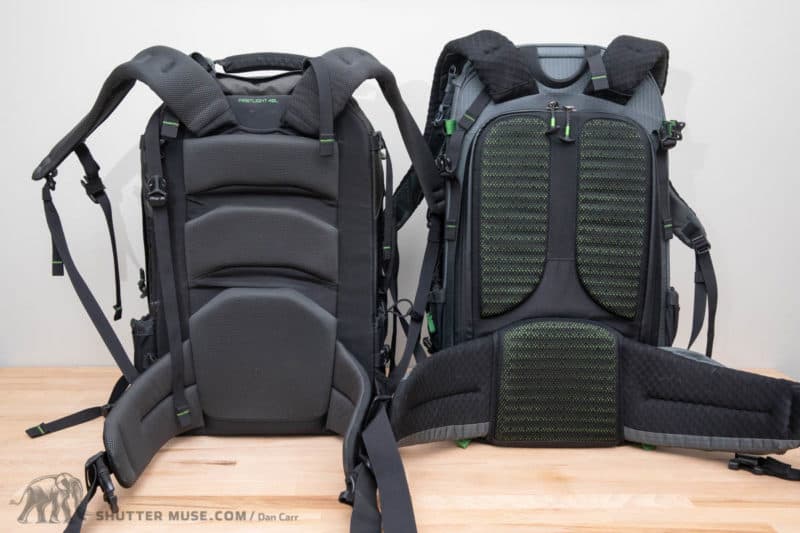 With a front opening pack like the FirstLight, you can really maximize the width of the opening. On top of that, the FirstLight packs prioritize space for camera gear over space for non-photographic items, so there is much more space for cameras and lenses.
While the FirstLight 40L is technically smaller than the Elite 45L, you can get a lot more camera gear in the huge main compartment of the FirstLight pack. In fact, you can actually get two super telephoto lenses side-by-side if you needed to.
The FirsLight 40L is much cheaper at $330, and it'll hold much more camera gear than the Elite, but at the expense of overall pack durability, and carrying comfort. I still use mine when I have to carry my large underwater camera housing because it really swallows up big items like that, but unsurprisingly the Elite is overall a much more capable pack. Albeit with a price tag to reflect that.
Alternative Brand Options
If you're considering this backpack then its very likely you have considered some of these other options:
F-Stop
Credit where credit is due, F-Stop packs have brought a huge amount to this particular market segment over the years, and they used to be my go-to packs for adventure photography work. They even seem to be getting themselves back on track a little after the shipping timeline issues that plagued them for some time.
In the F-Stop lineup, the bags that would be most comparable to the Backlight Elite are the Ajna (40L) and the Tilopa (50L). When you factor in the cost of the internal camera block that is a separate purchase with F-Stop products, the Tilopa works out to be a bit more expensive than the BackLight Elite, and the Ajna works out to be a bit cheaper.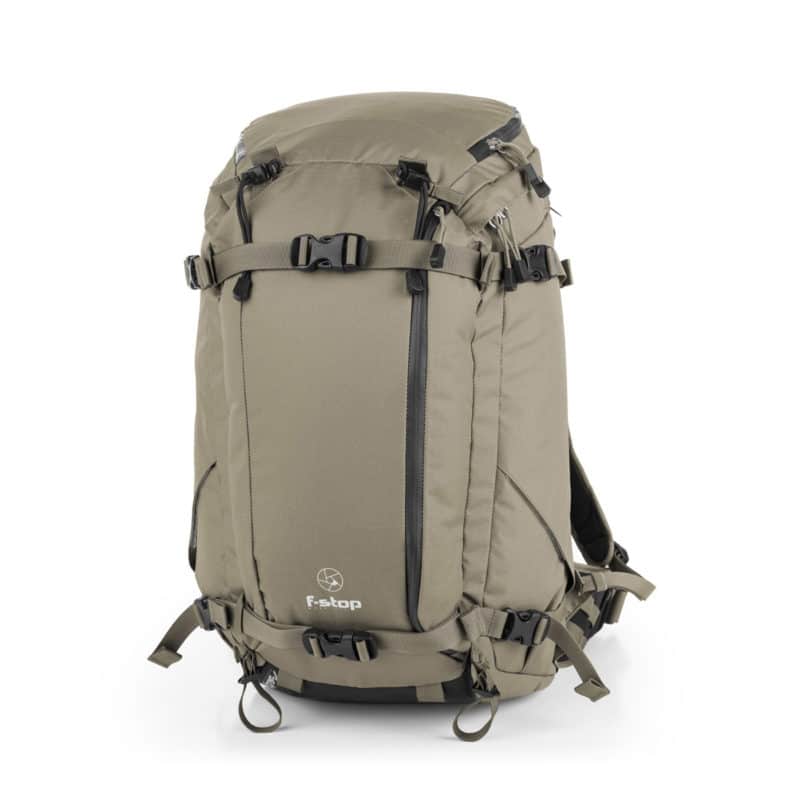 As with the comparison to the Lowepro Whistler packs though, the F-Stop bags simply aren't as comfortable as the Backlight Elite 45L. I know I'm repeating myself a little here, but moulded EVA back panels simply can't compete with the proper back panel, harness and lumbar design of the Backlight Elite. It's the only photography backpack out there that I have used which truly has comfort that is comparable to a high-end hiking pack. It makes a big difference to a long day in the field with a heavy pack.
Aside from the comfort aspect, the removable top pocket on the Elite is another differentiating feature from the F-Stop packs. This pocket gives you an easy way to secure ropes and additional gear or clothing to the top of the pack, as well as giving you a nice removable grab bag that can be turned into a belt pack.
Lowepro Whistler
The Whistler backpack was launched by Lowepro a few years ago and it caught me a little by surprise when it did. In terms of styling, it was quite a departure from previous Lowepro bags and it was made from extremely durable materials. I reviewed the bag in great detail and used it for a long time.
The Lowepro Whistler packs are aimed at exactly the same market as the Backlight Elite 45L. They are designed for adventurers, wildlife photographers and landscape photographers who want the ultimate in rugged protection for their gear. Whilst I found the Whistler pack to be more comfortable than the equivalently sized F-Stop packs, it still uses that same style of simple back panel that basically every other bag in this segment has ever used. In terms of comfort, it can't keep pace with the Backlight Elite 45L and its huge lumbar support, thickly padded shoulder straps and ridged foam channels.
Like the F-Stop bags, the Whistler pack also lacks the removable top pocket of the Elite, and it also lacks the water resistant zippers. From a versatility point of view, it doesn't have a removable camera insert which is a fairly significant feature in all the other bags of a similar type.
Shimoda
I know a little less about the Shimoda Explore 40 pack because I haven't yet had a chance to test one. That said, there's a few things that jumped out at me from the specifications. Firstly, the largest camera insert for the Explore 40 isn't nearly as large as the camera insert in the BackLight Elite. For those that want to carry huge super telephoto lenses for wildlife photography it would immediately discount that possibility with this bag. Even though they make a larger Explore 60 backpack, there isn't a larger camera insert so you still wouldn't be able to carry a 500mm/600mm/200-400mm size of lens.
Similar to the F-Stop and Lowepro bags, the Shimoda bags also stick with the standard basic moulded back panel design.
Pricing for the Explore 40 with the large camera insert (the closest comparable option) is a little cheaper than the BackLight Elite, but there looks to be quite a lot less camera storage available in this overall smaller bag. If you step up to the Explore 60 and add more camera inserts the price quickly becomes a lot more expensive than the Elite.
Simply put…
The Backlight Elite was designed to be the ultimate camera pack in the adventure and outdoor photography market and I'm confident in saying that it more than stacks up against the other key players in this sector. Unless you are particularly drawn to the aesthetic of either the other bags, your money is better spent on the BackLight Elite where you'll get a more comfortable carry, as well as a list of features that the others can't quite match.
Pros & Cons
Pros
Incredibly comfortable when carrying heavy loads
Thoughtful features for air travel
Stash Master accessory expands usefulness
Durable and highly water resistant
Lots of space available for non-photographic gear (including laptop)
Lots of external carry options for tripods, snowboards, hiking poles etc.
Rain cover included as standard (and colored to use as camouflage in the wild)
Removable top pocket turns into a useful waist pack
Cons
Large pack size makes it less suitable for smaller people
No adjustable torso size
High price is inline with competitors, but still a lot for a camera bag
Conclusion
If you've read the review in its entirety then I'm sure you already know my conclusions about this bag, so this is for the people who skipped straight to the end.
Not only is this the most comfortable camera backpack I've ever used, but it's finally a bag that I can recommend to those people that say to me, "I just use a good hiking backpack and squeeze my gear into that because it's more comfortable than a camera bag".
Knowing how much effort went into the development of this pack I'm not surprised how well it turned out. It gives you the comfort, technicality and durability of a high-end hiking backpack, but with the protection and organization that's required for all types of outdoor photography. On top of that you've got a clever set of features that make it easier for airline travel, and the option to add the 13L Stash Master accessory if you want to adjust the size of your camera load. It's a winner on every level.
Get a Free Gift From MindSift & Think Tank (& Free Shipping)
As a friend of this site, you'll get a free gift at the checkout if you spend more than $50 through Think Tank/MindShift's online store, as long as you click through one of the links to their store on this page, like this one. I may make a small commission if you purchase from them after clicking one of these links, but as always, it's greatly appreciated when you use these and it doesn't cost you a penny more.
Purchase Links
The following links will take you to the MindShift Gear online store where you can order and take advantage of the special offer that's described above.
If MindShift Gear don't ship to your country from their online store, your best bet is to use B&H Photo because they have excellent international shipping options, including free international shipping to some countries like Canada. You can find the BackLight Elite 45L on B&H Photo here, and the optional Stash Master 13L camera cube here.
Optional, recommended accessories from Think Tank and MindShift:
Other than the obvious Stash Master 13L camera cube, these are the other MindShift accessories that I use with my BackLight Elite, which you might want to consider adding to your cart as well.