Lithium-ion batteries have decreased markedly in size in recent years, with most cine battery manufacturers now making lines of so-called Micro V-mount battery packs. The Fxlion Nano One is a 50Wh battery that weighs a mere 310g (10.9oz) and can support up to an 8A draw at a nominal 14.8V.
In this review, the photos and opinions are centred around the Fxlion Nano One battery that I purchased myself to use on my own video rig. It should also be noted that Fxlion does make a Nano Two battery that is identical in its features, apart from having a larger 98Wh capacity. The Nano Two weighs 520 g (18.34oz) and draws a little more power at 10A and 14.8V. If you need slightly increased capacity or amperage than the Nano One offers, for a mere 210g weight increase you should consider the Nano Two.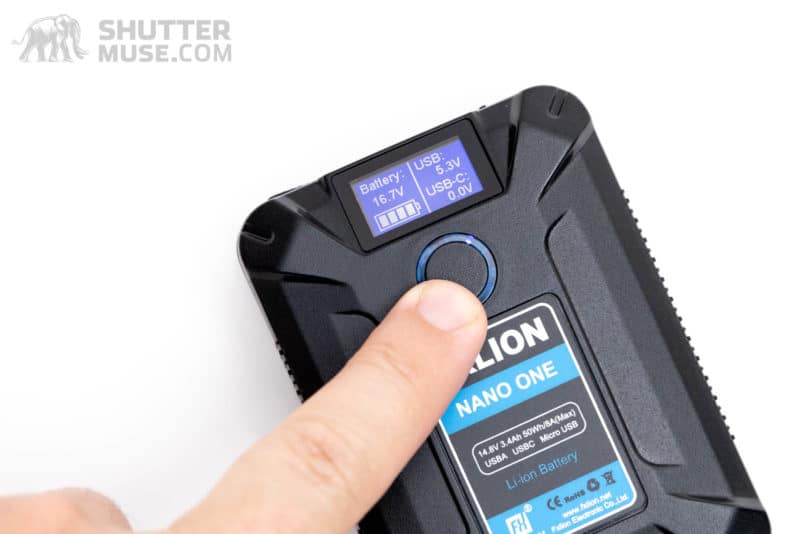 Fxlion Nano One Specifications
14.8V,50wh
D-tap Output: 14.8V
USB A Output: 5V/2.4A, 9V/2A, 12V/1.5A
USB C Output/Input: 5V/3A, 9V/2A, 12V/2A, 15V/2A, 15V/2A, 20V/2.2A (Power Delivery protocol)
Micro USB Input: 5V/3A
Compatible with V-lock charger and cellphone USB charger
40mA minimum startup operating current for USB A. For devices with very low power and operating currents below 40 mA, USB A unstable or not available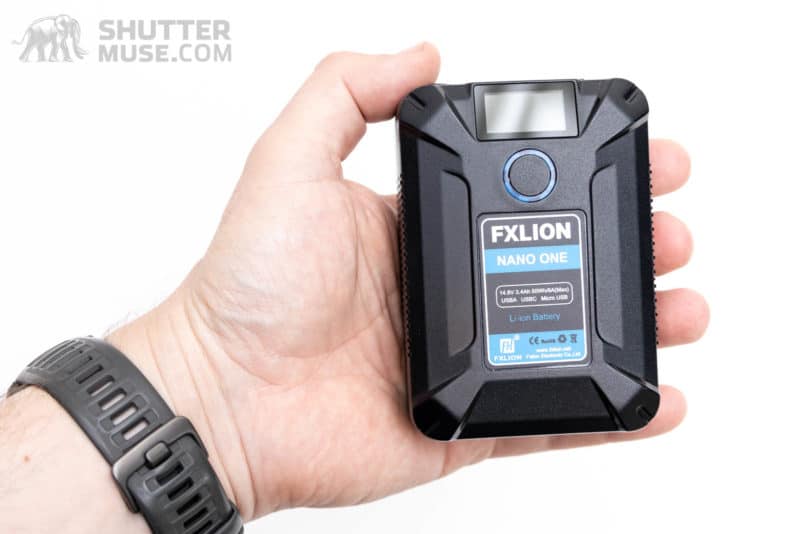 Travel with the Nano One (or Nano Two)
You should always consult the information provided by any airline you travel with, but in general, you will have no issues travelling with li-ion batteries of under 100Wh. The current TSA regulations state that there are no limits on the number of sub-100Wh batteries you can carry in your carry-on, as long as the batteries are all for use by the user and not for resale.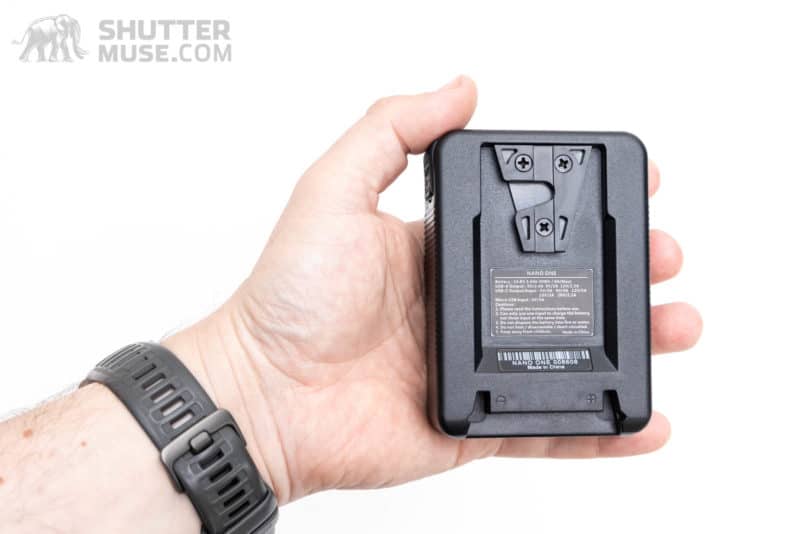 Ease of travel with these smaller capacity batteries is one of the main reasons they are becoming so popular. If you require a larger capacity on the camera you can use one of the many available dual micro V-mount battery plates to run two batteries at the same time.
Fxlion does make a dual battery plate themselves, but it discharges both batteries at the same time so you cannot use it to hot-swap batteries. For this reason, I would currently suggest looking at the pictured Anton Bauer plate, or the Bebob Hotswap.
Another travel benefit is the ability to charge your USB-C powered laptop directly from the battery. The Nano One will give most computers several hours of additional running time.
Powering or Charging Mirrorless Cameras using USB-C with the Nano One Battery
All of the latest mirrorless cameras now have USB-C ports on them for powering or charging. The latest Sony camera such as the a9 II and the a7S III can all be powered by USB-C while in operation, as can many Fuji and Nikon cameras. Plugging the camera into a Nano One battery will extend the battery life by several hours if you are using it continuously for video or time-lapse capture. If you just want to top the camera up between shoots, you can keep the battery in your camera bag and plug it in as needed.
The company that is lagging with USB-C powering is Canon. You cannot power their mirrorless cameras such as the EOS R, EOS R5 or EOS R6 over USB-C while they are in operation. However, with the camera turned off, you can recharge the batteries using USB-C as long as the battery supports the Power Delivery protocol – which the Nano One does. This pack would make an excellent companion to the R5 or R6 camera for in-bag recharging.
Roughly speaking, the 50Wh Nano One battery has a capacity that is 4 times as much as the regular batteries found in mirrorless cameras. To be able to recharge your camera 4 times from such a small battery is pretty awesome, and of course, you could double that again if you used the Nano Two. I'm seriously considering using these batteries for multi-day off-grid camping trips in the future, instead of bothering with solar charging.
Charging the Fxlion Nano One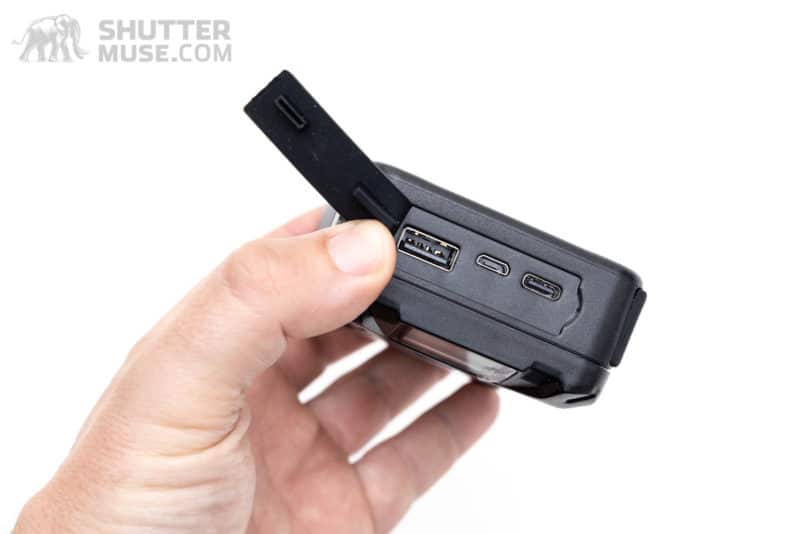 The Nano One (and Nano Two) batteries can be charged in four different ways:
Micro USB Input: 5V/3A
USB-C input: Supports power delivery
V-Lock Charger
D-tap input
While many v-mount batteries have multiple charging options, the Fxlion Nano batteries have the most I have ever seen. The ability to charge them with USB-C Power Delivery chargers is especially useful since most people will already have a compatible cellphone charger that can now pull double duties. Anyone using a newer Apple laptop can also make use of their USB-C charger with these batteries. USB charging is not fast – you should expect a full charge to take over 6 hours – but it's very convenient and I found myself topping up the battery all the time while driving from one location to another.
D-Tap or V-Lock Charger Options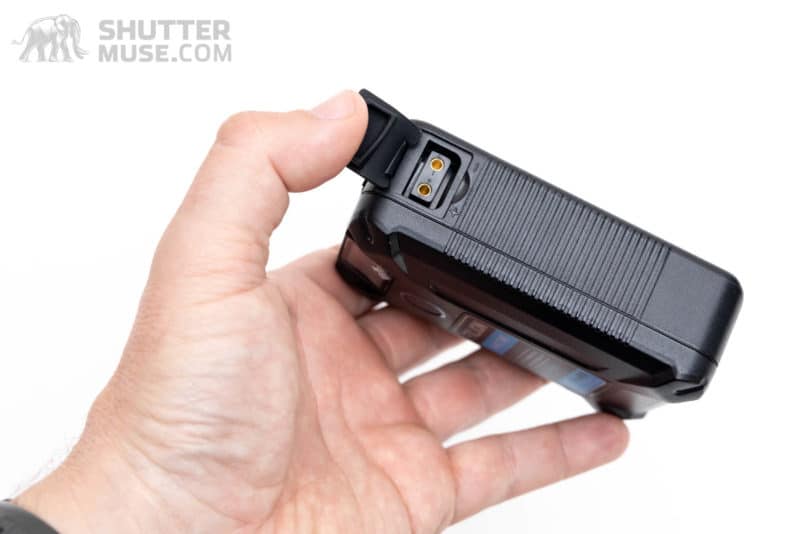 The ability to charge these batteries over USB is great, but using the D-tap or v-lock connections will be significantly faster. Perhaps in the order of 5x faster. The market is full of v-lock chargers, but it makes little sense to use a full-sized charger for these micro-sized batteries. After all, the beauty of these things is the ability to pack a smaller and lighter kit. Strangely, Fxlion does not offer a specific Nano charger for the Nano One and Nano Two batteries, despite making just about every other kind of accessory you could think of.
After a bit of digging around in various product catalogues, two excellent options revealed themselves in the form of travel chargers with d-tap cables. The first is the Bebob S1Micro charger with a 5A output, and the second is the Anton Bauer D-tap charger with a 4A output. The Bebob will charge the battery at a slightly faster rate, but it's also a lot more expensive at $129 vs just $45 for the Anton Bauer.
As you can see from the photos below, these chargers are extremely small, so they would make a great pairing with micro v-lock batteries such as the Nano One. I also like the dual charging option that's available from Bebob. It uses the same S1Micro charger but provides a dual v-mount plate to allow simultaneous charging of two micro batteries. If you want to set and forget a pair of batteries for overnight charging, this would be the way to go.
Conclusion
The Fxlion Nano One is an impressive battery that would be a useful addition to nearly every filmmaker or photographer's kit bag. No other v-mount battery on the market has such a complete range of input and output options, and the whole thing can comfortably slide into your pant pocket.
With its array of different USB ports + d-tap, not only will it power a video rig with various connected accessories, but it'll also power or charge modern mirrorless stills cameras using the USB-C power deliver output. You can even use it to power your laptop if you need extra runtime in the field.
I purchased this battery from B&H Photo and it hasn't left my kit bag since then. In fact, I love it so much, I plan to purchase at least one more soon. I have charged cameras, headlamps, phones, laptops, LED lights and headphones, as well as powering my entire mirrorless video rig with LCD monitor and wireless mic receivers.
While the capacity might be a little small for huge power-hungry cameras like a RED or ARRI, it's a perfect match for smaller mirrorless rigs or even cameras like the Canon C300 series and Sony FX6/FX9 when you want an ultralight setup, or you want to easily travel with a good collection of batteries in your carry-on.
Where to Buy