I just picked up a new Canon EOS RP body from B&H Photo so that I can review the camera, and the Canon RF lens lineup on this site. During the initial launch of the camera Canon are giving away a couple of accessories with the camera to sweeten the already sweet deal of $1299 for a full-frame mirrorless camera.
In the USA, if you order an EOS RP before March 31st you'll get EG-E1 extension grip, and EF EOS-R mount adapter thrown in for free. That's $178 worth of free stuff!
(Note that the free items might vary in different countries. These two items are free in the US, but I know in Canada you get the mount adapter and a second LP-E17 battery for free instead. Personally I wanted the grip extension so even though I live in Canada, I ordered mine from B&H in the US. Free shipping, pre-paid duties, no hassle.)
And these aren't just garbage free items like some crappy cheap camera bag thrown in that nobody really wants. These are two must-have accessories for many people. With the RF lens lineup fairly limited at the moment, many people will be using the EF EOS-R mount adapter to use their existing EF lenses on the EOS RP.
As for the EG-E1 grip extension, I wasn't sure about this until I took delivery of the camera. Now that I have used it though, I'll be leaving it on the camera all the time. For me it's much more comfortable because the EPS RP really is a tiny camera. I think it's pretty neat that Canon has tackled this ergonomic issue right off the bat. Everyone clamours for smaller cameras, but they have recognized right away that with this camera it has probably crossed a boundary for many people. Those with smaller hands might not need it, but hey, for now it's free so you might as well take advantage of that while the deal is on. If you decide you don't need it, sell it later!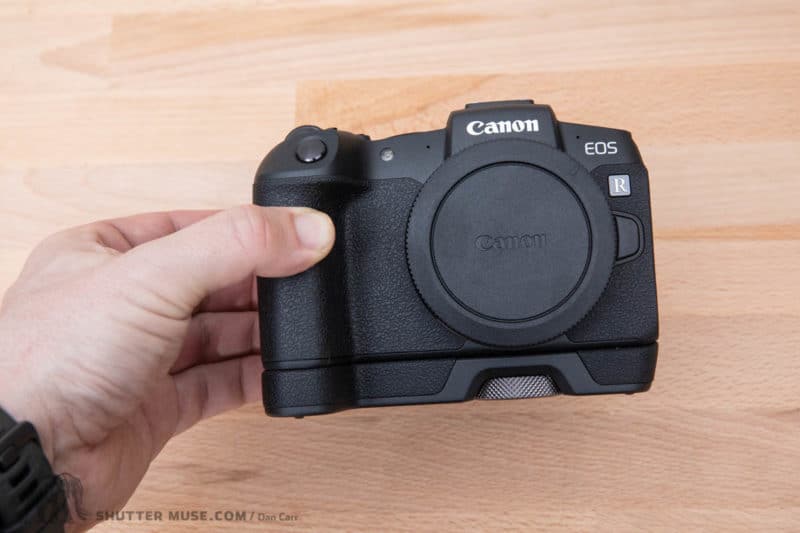 So far I'm really impressed by this camera. It feels much more solid than I was expecting for a camera of this price. All of the dials and buttons have a nice feel and a solid click to them which is reassuring. And I love the full flip out (and around) LCD screen.
This is going to be a fun camera to test. Not don't miss the launch deal if you've been thinking of getting one.