While looking for the best way to carry my camera on a multi-day thru-hike, I came across the Hyperlite Mountain Gear Camera Pod. Famous for their ultralight hiking packs, US brand Hyperlite Mountain Gear specializes in working with the high tech ultralight fabric, Dyneema. Having never come across any other camera bag made from Dyneema before, and being shocked by the low weight of the bag, the purchase was made.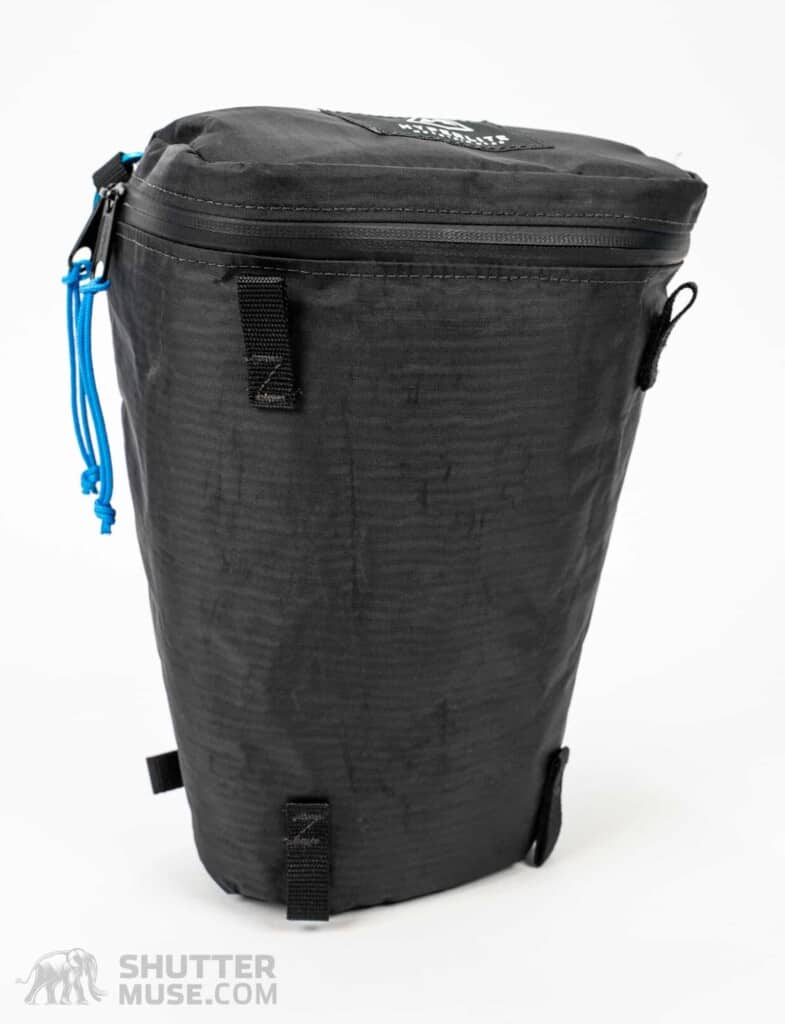 Why Use a Camera Holster?
Camera holsters are one of several camera bag styles that I regularly use. Most camera holsters are designed to be strapped to your chest while hiking with a backpack, and in some cases, they will also feature a belt loop so that the bag can be worn on the hip. There is no belt loop in the case of the Hyperlite Camera Pod in the name of lighter weight.
What is it that makes camera holsters worthwhile, though? Whether the backpack you are carrying is a camera backpack or a regular hiking backpack, extracting your camera from their padded depths takes time. Anyone who has hiked with a camera in their pack will have experienced that moment where you think to yourself, "that's a great view, but is it worth getting the camera out?". Inevitably, you answer "no" to yourself in some instances, and that view is lost forever.
The point of a camera holster is to carry a single camera body, ideally with a general-purpose lens such as a 24-70mm or a 24-105mm. Some people also like to use a 35mm prime or a 50mm prime. When that view presents itself, you don't have to think about removing your backpack. Simply unzip the holster and get your shots without slowing down the pace of your hike. I have proven this to myself repeatedly: when I use a camera holster while I'm hiking, I go home with more photos. It's as simple as that.
How Light Is It?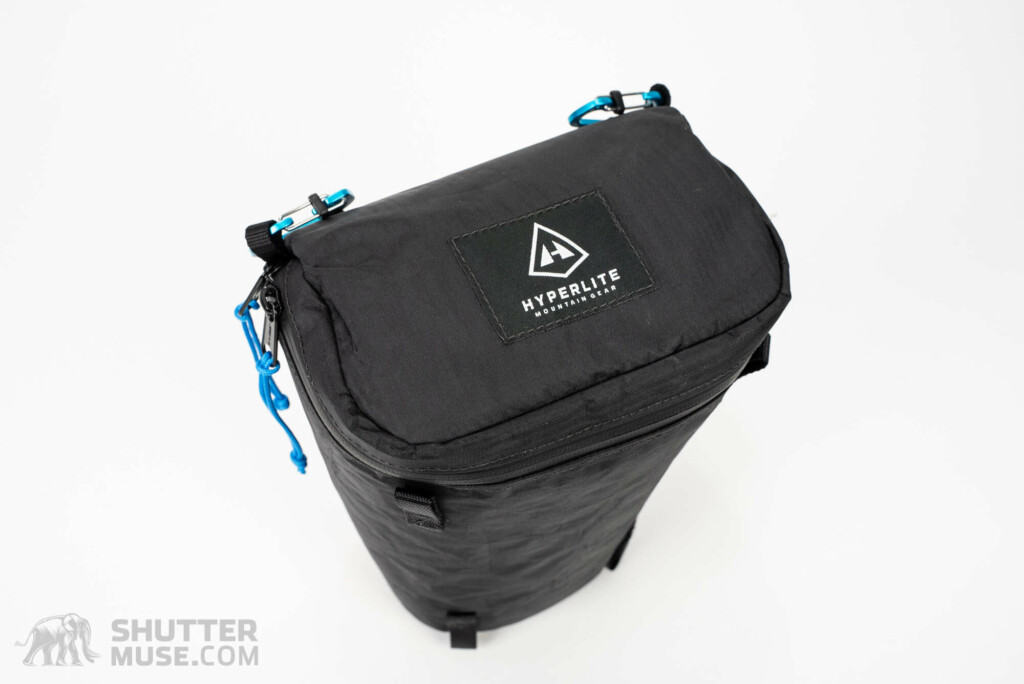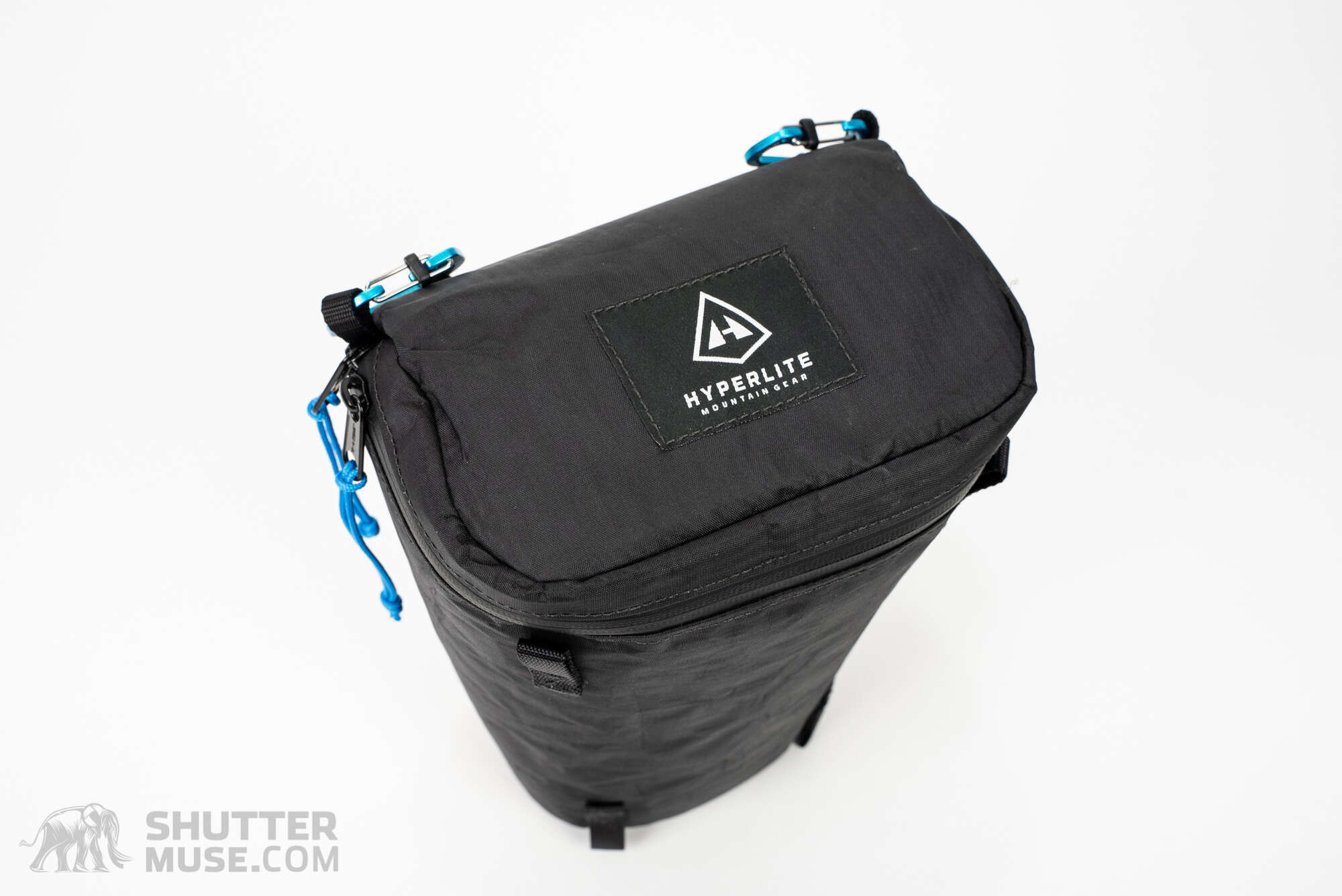 Those looking for a lightweight camera bag will not be disappointed by the Hyperlite Camera Pod. Using high tech, ultralight Dyneema for construction, the regular-sized camera pod comes in at just 2.71oz (76.8g), while the large that you see in the photos for this review comes in at 3.73oz (105.7g). No other camera bag on the market is as light as the Camera Pod.
To put this into perspective, I went back and checked the weights on a couple of my favourite similarly-styled camera holsters. The excellent Shimoda Top Loader weighs 12.8oz (360g), and the WANDRD Route Pack weighs 11.68oz (330g). The Shimoda and WANDRD holster bags have also prioritized lighter weight over extraneous features, yet they are more than three times heavier than the Hyperlite Camera Pod!
Hanging on the front of your backpack harness, that weight difference is noticeable on a day-long hike. On a multi-day trek, where weight considerations become paramount, it could make a considerable difference to your comfort.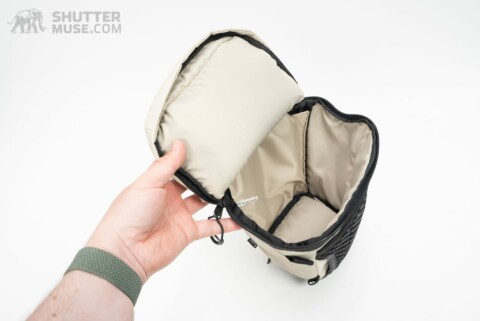 Which Size Is Right For You?
As I mentioned, the Camera Pod is available in two different sizes: Regular and Large. Choose the Regular size if you use a tiny APS-C mirrorless camera (Sony a6000 series) and a small prime lens or very short zoom. The Regular size is also the right choice for point and shoot cameras such as the Sony RX100 series. For most readers of this site, the Large Camera Pod is going to be the right choice, and indeed, it is a Large size that I purchased. The Large Camera Pod will fit a regular mirrorless camera such as a Canon R6 or Sony a7 series. There is plenty of room for an attached 24-70mm f/2.8 or 24-105mm f/4 zoom lens.
How Much Protection Does It Offer?
A thin layer of foam padding is sandwiched between the layers of Dyneema. That padding is sufficient to be considered more than simple scratch protection for your gear, but it is less than what you will find in most camera bags. The padding is enough to protect your equipment when placing your backpack on the ground, but I would not want to drop it from anything more than a few inches onto the hard ground.
In short, it offers a lot more protection than simply slinging your camera over your shoulder on a camera strap, but nowhere near as much as burying it inside a regular camera backpack. I'm more than happy with the amount of protection offered by the Hyperlite Camera Pod for hiking purposes. However, if I were pursuing something a little more physical, such as mountain biking, I would opt to use a camera holster with a little more padding.
Additional Features
I don't need to tell you that this is a simple camera bag. The photos speak for themselves. However, before I wrap this review up, there are a few additional items I want to draw your attention to.
Dyneema is a waterproof material, and Hyperlite has included a waterproof zipper to complete the protective camera cocoon. Although it has yet to rain on any of my hikes while using this bag – the Yukon is remarkably arid – I took the bag into my shower to confirm its credentials. It works very well. There is absolutely no need for a separate waterproof nylon cover for this bag. Dyneema is an incredible material!
The other thing worth pointing out is the number of attachment points. Eight total points around the bag allow you to experiment with the best attachment method for your particular bag or activity. I generally left things in the default as-delivered setup seen below. This is perfect for attaching to the D-rings available on most backpack harnesses.
On occasion, you might consider removing the holster from a chest-mounted position. Usually for activities or moments in a hike that require precision foot placement. Something that a chest pack can hinder by blocking the view of your feet. At this moment, when you want to strap the holster to the outside of your pack, the additional nylon loops prove helpful.
Conclusion
I always enjoy finding a niche product that does its job well. The Hyperlite Mountain Gear Camera Pod is just such a product. I purchased this at the retail price while planning a 7-day thru-hike in British Columbia. Weight will be a concern for anyone undertaking a multi-day hike, and the concern is only elevated when you need to carry a camera and a tripod.
At the time, I was looking for every possible way to shave weight from my load. Knocking 10g off my weight by switching to a new water bottle or saving 20g using a different headlamp was considered a win. When I discovered the Hyperlite Camera Pod and realised I could shave over 200g off the weight of my next lightest camera holster, I was instantly sold, despite the relatively steep Dyneema induced $129 price.
Do you need to carry a camera on your hikes while keeping overall pack weight to a minimum? Are you planning an epic multi-day hike in a beautiful part of the world? If the answer is yes, and you can afford the expense of Dyneema construction, the Camera Pod is for you.
Where to Buy
The HyperLite Mountain Gear Camera Pod is available from the following retailers. I purchased mine directly from Hyperlite and enjoyed a great experience.