Peak Design Anchor Links and Anchor Connectors are an integral part of the company's camera strap range. The Anchor allows any strap to be quickly removed from a camera, accessory or lens when you don't need it, or when you want to swap it for a different kind of strap.
I often use one of Peak Design camera straps, but I have no need for them when my camera is being used on a tripod. In fact, I really dislike having a strap attached to my camera while it's on a tripod. That big dangling loop is just asking to get caught on something, potentially sending my camera crashing to the ground. No thank you!
The system of Anchor Links and Anchor connectors in Peak Design's quick-release system is the perfect answer to this problem. The small Anchors stay on my camera all the time, and one of the Peak Design straps can be attached whenever I need it. If I need a shoulder strap, I can quickly attach my favourite Slite Lite strap. If I just need a low-profile hand strap, I can add the Cuff or the Clutch in just a few seconds.
Anchor Design
The Peak Design Anchor connector has a clever tapered design that allows it to slide easily into the spring-loaded receiver on the end of one of its camera straps. Once the Anchor is inserted far enough, it's impossible to remove unless you put downward pressure on the centre of the Anchor to depress the spring clip. The whole system is remarkably simple and incredibly secure.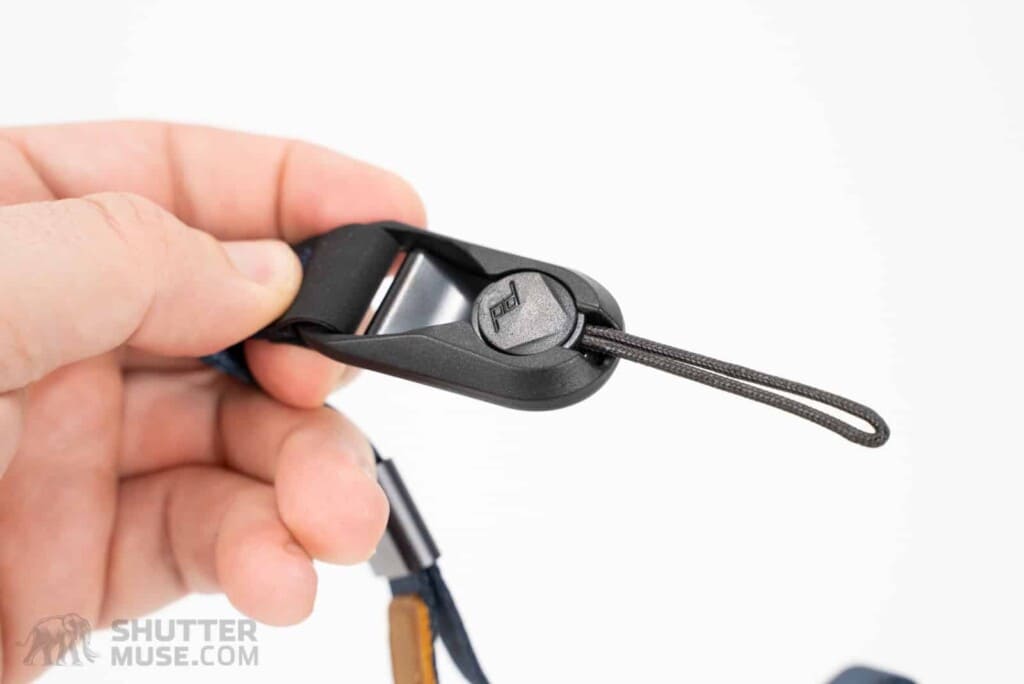 Versions of the Peak Design Anchor
So far there have been four different versions of the Peak Design Anchor. Each new version gets a little stronger and more robust. The original version supported 75lbs, but now this has been increased to 200lbs with the latest V4 design, releases in mid-2018.
Version 1 is easily identified by the light grey coloured cord. Version 2 moved to a braided Dyneema cord covered by Delrin thermoplastic. The chord is much smoother and shinier than version 1, but the actual plastic Anchor piece is still the same. For version 3, the cord was thinned down and the plastic circular piece moved to the new wedge-shaped design that is easier to slide into the camera strap connection. In 2018, version 4 was introduced after it was discovered that the thinner cord in version 3 wearing out too quickly. Version 4 maintains the same wedge-shaped plastic piece but moves back to a thicker, longer-lasting cord.
If you are not using the V4 version on the far right in the photo above, you should purchase some new ones to ensure the safety of your gear. I have never personally experienced any issues with any of the Anchor versions, but for a few dollars, why would you not give yourself that peace of mind? A 4-pack of Anchors is only $9.95.
NOTE: If you purchased a Peak Design Strap in 2017 or 2018, you might be eligible for a free upgrade from the V3 to the V4 anchors. Visit this page on PD's website for more details.
Is The Peak Design Anchor Safe?
The current Anchors have a load rating of 200 lbs (90 kg). They are very safe, and I have never had any issues with them in nearly ten years of use. I even carry my $13,000 super-telephoto lens over my shoulder on a Peak Design strap, supported by these Anchors.
Anchor Safety Warning System
Although the Anchors are incredibly strong, there is always the possibility that the cord could become frayed due to abrasion against a sharp object or surface. The latest Anchors have a layer of red thermoplastic woven into the inner part of the Anchor cord. This red thermoplastic serves as an early warning system for a frayed cord. If you can see this red colour in your Anchor cord, it means the outer sheath has been compromised and you should replace that Anchor immediately.
Yes, They Now Come In Black
For years people have been asking to have these anchors available in black. Now you can buy a 4-pack of black anchors if you want to keep your camera looking stealthy. I think these look better than the red ones, so I did buy a whole bunch of them and put them on all my gear. It would be nice if Peak Design gave people the option to choose whether their camera straps come with red or black anchors, but for now, the black version is only available as a separate 4-pack purchase.
Convert Old Straps With Peak Design Anchor Links
If you have an old non-Peak Design camera strap that you love, but you'd like to use the Anchor quick-release system, you can buy a pair of Anchor Links to convert your old strap. As you can see in the photos of this lovely leather strap above, the process is simple. You simply attach the links in the same way as you would normally attach that strap to a camera. This is a great way to add the quick-release capability to an old strap, and get into the Anchor system without spending money on a brand new strap.
Where to Buy
Anchor 4-Pack
Anchor Links