A holster-style camera bag, sometimes called a toploader, is a useful style of camera bag for when you only need to carry a single camera with one lens attached. While there are a few good camera holster bags on the market for smaller lenses, the Digital Holster 150 from Think Tank Photo is unique in its ability to hold much larger telephoto zoom lenses. This makes it perfect amateur sports photographers who are attending an event and want to safely carry a long lens. Or wildlife photographers who want to travel light when they are out on a hike.
Why Use a Holster?
Holster-style camera bags are useful when you want to get fast access to a camera with a lens already mounted. For wildlife and nature photographers this easy access might help you capture something that you'd otherwise miss if you had to pull your camera out of a regular photo backpack.
Holsters can be worn on a belt, over the shoulder, on the waist strap of a backpack or strapped to your chest in a harness. With the camera access at the top of the holster, any of these carrying options will put the camera right at your fingertips for immediate access.
Although generally designed for a single camera and lens, you can sometimes stack a couple of smaller lenses on top of each other. Most camera holster bags will also include one or two accessory pockets for your spare batteries, lens cloth and SD card holder, keeping everything you need in one self-contained package.
A holster bag is also a good way to carry and protect your camera and lens when using a larger bag that is not specifically designed for camera gear. The most common example is people who use dedicated hiking packs but also want to carry a camera with them. Careful packing of the holster into your bag will leave the opening pointing upwards, thus giving your somewhat easy access to your camera during the day. I have often done this myself when using a sport-specific backpack such as one for mountain biking.
The Think Tank Photo Digital Holster Series
In this review, we are taking a close look at the Digital Holster 150, but there are actually an additional six sizes in the Digital Holster range. The features are very much the same on all the different models, so you could consider this review suitable to draw conclusions about all models. Of course, the sizes are different, so I'll outline the recommended camera capacity below:
Digital Holster 5 V2.0 – Medium size mirrorless with up to a 3.3" (8.4cm) lens attached.
Digital Holster 10 V2.0 – DSLR / Larger mirrorless camera with 16-35 or 24-70.
Digital Holster 20 V2.0 – DSLR with 24-70 with hood in shooting position / DSLR with 70-200 + reversed hood.
Digital Holster 30 V2.0 – DSLR with 70-200, hood reversed or in shooting position.
Digital Holster 40 V2.0 – Gripped DSLR/mirrorless with 24-70
Digital Holster 50 V2.0 – Gripped DSLR/mirrorless with 70-200
Digital Holster 150 – Gripped DSLR/mirrorless with 150-600/200-500/200-600/300pf/500pf
You'll notice the first six models carry a V2.0 designation. The 150 model was not included in the original V1.0 Digital Holster lineup but was added to the range when the first versions of the Holster were upgraded from V1.0 to V2.0.
Digital Holster 150 Capacity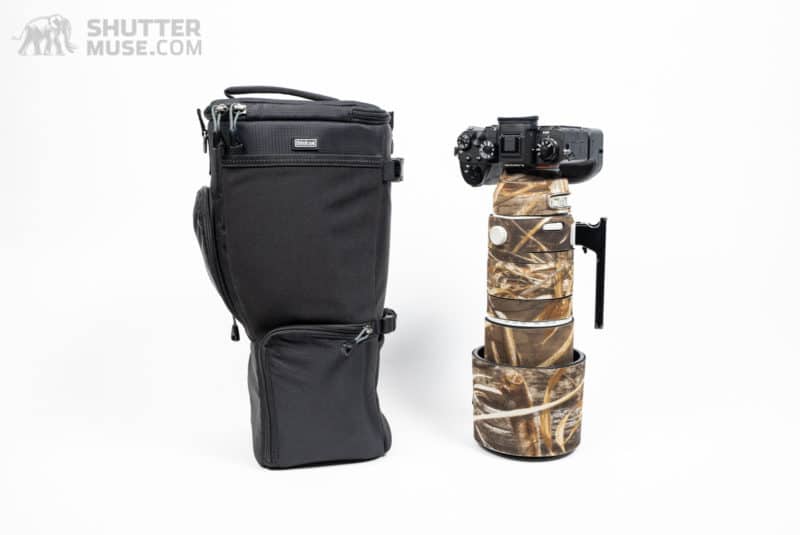 This camera bag was initially designed to pair perfectly with the very popular Tamron 150-600mm lens. After the popularity of that lens, we also saw the launch of the Sigma 150-600, Nikon 200-500mm and the Sony 200-600mm. Happily, all of these lenses will also fit into this bag. Aside from these longer zooms, you can also fit any 100-400mm lens or the Canon RF 100-500mm. With these shorter zooms, you can leave the lens hood attached and they will still fit into the bag.
Some notable prime lenses will also fit nicely into this bag. This includes the Nikon 500mm PF, the Canon EF 300mm f/4, Canon EF 400mm f/5.6, all 300mm f/2.8 lenses and the Canon EF 400mm f/4 DO I or II.
Features and Function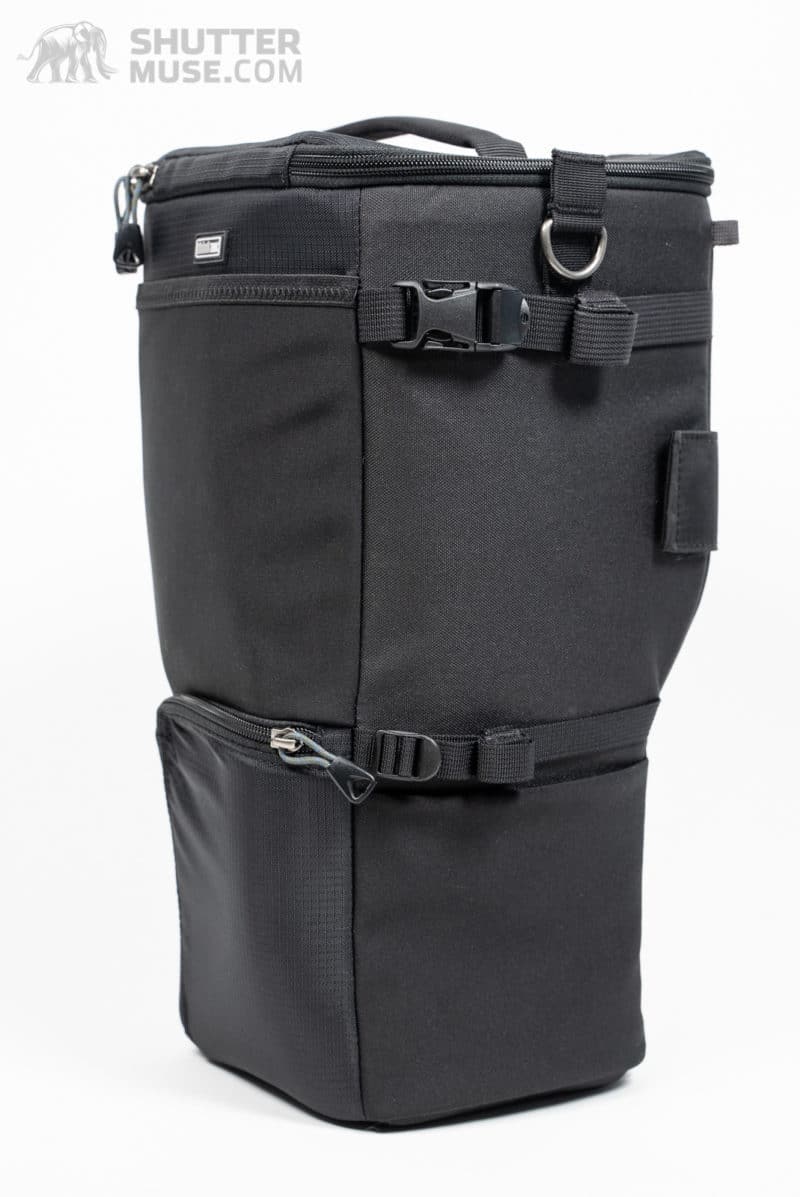 The Digital Holster 150 comes will a well padded shoulder strap. It is much thicker and more comfortable than the other Digital Holster models in the range. If you are on the fence about getting a Digital Holster 50 and using it with the pop-down extension, or just getting a Digital Holster 150, know that this strap is one of the biggest differences, and probably worth the additional cost.
Although the strap is comfortable enough to carry the weight of any lens that will fit in the bag, you might also consider using it in combination with a belt. This can take a little weight off your shoulder from time to time, as needed, but it also stops the bag swinging around too much while you walk. Any belt will do, but the Digital Holster is also compatible with the Think Tank Speed Belt and the Skin Belt from their modular pouch system.
If you want to strap the holster to your chest, you'll need the options Holster Harness V2. For smaller holsters in the Digital Holster range, I can see this being a useful accessory, but in all honesty, I don't think it's a great idea to use it with the Holster 150. It's simply too large of a bag, and it blocks too much of your vision down to your feet, potentially leading to a stumble on uneven ground. I found the excellent shoulder strap and a belt to be a fine way to carry it. Easily allowing you to position it slightly to one side, giving you an uninterrupted view of your feet while maintaining fast enough access to the camera.
On the front of the bag is an elasticated pocket that's actually fairly large on this Holster 150. It's a good spot for your lens cap, but you can also fit some photography gloves in here and some granola bars. Beneath it, you will find a zippered pocket that folds open to one side. This pocket has limited use because it has very little thickness to it. It's a good place for a filter in a plastic case, but not much else.
Spinning the bag around to the side, you'll find a more substantial zippered pocket that is internally divided with an elasticated internal pocket. Upon receiving the bag, this is where you will find the included rain cover, but there's space in this pocket for your teleconverter. or maybe even two if you stack them together.
The rain cover is attached to the bag by a hook and loop tab on the red nylon loop seen in the picture below. If you don't want to carry the rain cover you can remove it, and then this pocket becomes a good place to store a memory card wallet. The best memory card wallets all have tethers on them, so you can hook the tether to the red loop for security.
The next pocket is located in the lid of the bag. I would call this semi-secure. It uses a hook and loop closure instead of a zip, and the closure flap doesn't span the entire width of the pocket, making it a poor location for tiny loose items. This pocket would be another good place for a filter or maybe a lens cloth and a couple of spare batteries.
The main section of the bag features a padded flap that offers extra protection to the back of your camera. If you have a camera strap attached to your camera, you can fold the strap up on top of the flap so that it doesn't rub on the camera LCD. Inside the main section, you'll also find one padded divider. If your lens isn't large enough to consume the entire height of the bag, you can use this padded divider to stash a second lens at the bottom of the bag. For example, you could carry both a 70-200 and a 24-70.
The side of the Digital Holster 150 features a pair of straps and an another elasticated pocket. The primary function of this is to hold a monopod, but it also allows you to attach modular pouches if you want to carry a couple more items. In my testing I found it useful to attach this Think Tank Skin Pouch to the side and use it to carry my binoculars. A rarely go out looking for wildlife without them, so this was a good setup for me.
The only downside was that it slightly offset the centre of gravity from the shoulder strap carrying points. Although you could technically attach even larger pouches to the side of the bag, I would caution against it for that reason. For best results and comfort, limit your pouch-carried gear to something no bigger than binoculars or a 24-70mm-sized lens.
Conclusion
The Digital Holster 150 is the largest holster-style camera bag on the market to date. It's built to the usual high Think Tank standards, and comfortably holds all of the popular telephoto super zooms on the market, as well as a good number of the smaller aperture telephoto prime lenses such as the Nikon 500mm f/5.6 PF.
I expect the main audience for this bag will be wildlife photographers who want to take a simple single camera/lens kit with them on a day of hiking or driving around looking for wildlife in their cars. Using it while hiking will give you the fastest possible access to your camera when wildlife suddenly appears, and the same can be said for what I usually refer to as "wildlife drives", too.
When driving around national parks or other remote areas looking for wildlife in your car, it's important to always keep a camera next to you on the front seat, ready to go. I must admit that I have often done this by strapping my camera into the passenger seatbelt, but the Digital Holster 150 is a much better solution because it also holds the few accessories I might also need: Batteries, memory cards and teleconverter.
Living in the Yukon as I do, every time I take a drive, even just to the gym or the post office, there is the chance that I will stumble across lynx, moose, grizzly bears or even wolves. I usually try to make sure I have my camera in the car with me, just in case, and the Digital Holster 150 is the perfect solution for that grab-and-go kit. If you live in an equally wild place, or often travel to such places to look for wildlife, I think you'll also love using this bag for the same purpose. Regular Yellowstone visitors, I'm looking at you!
Where to Buy + Get a Free Gift
US Customers get a free gift when they spend over $50 in the Think Tank/MindShift online store after clicking this link. For more details, or if you have any issues, see this post.