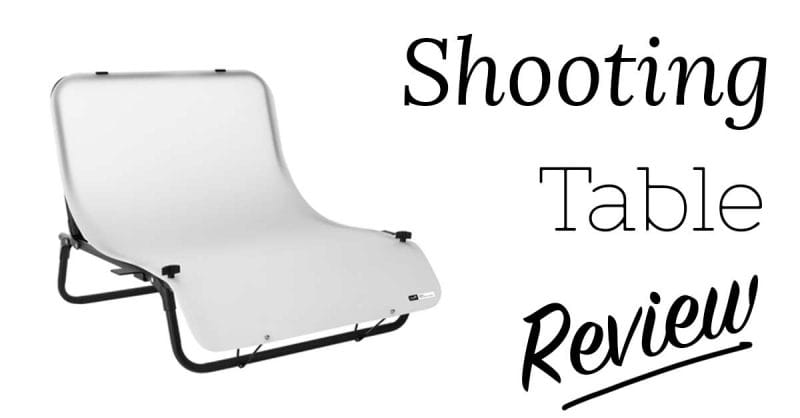 Today we're taking a quick look at a shooting table from Impact. These can be handy for macro photography, or product photography when working with small objects, like jewelry. I often want to take quick photos of small review items, so I've wanted to check out a shooting table for some time. The Impact Shooting Table is only $89 from B&H Photo, so it's an affordable solution, and it doesn't take up a whole lot of space. What's important, is to be able to quickly get that infinite white backdrop, and I was hoping a table like this could do it with a minimum of fuss, and a super simple light setup.
Build/Setup
There's two main parts in the box: the frame, and the plastic backdrop. The assembly process is quite fiddly, and maybe not something you'll want to do that often. The plastic is also prone to scratching, so you'll want to be very careful as you do it, and store it somewhere protected if you plan to dismantle it all the time. Despite coming wrapped in plastic cellophane, there were a few scratches on my backdrop when it arrived, though they don't show up in the photos.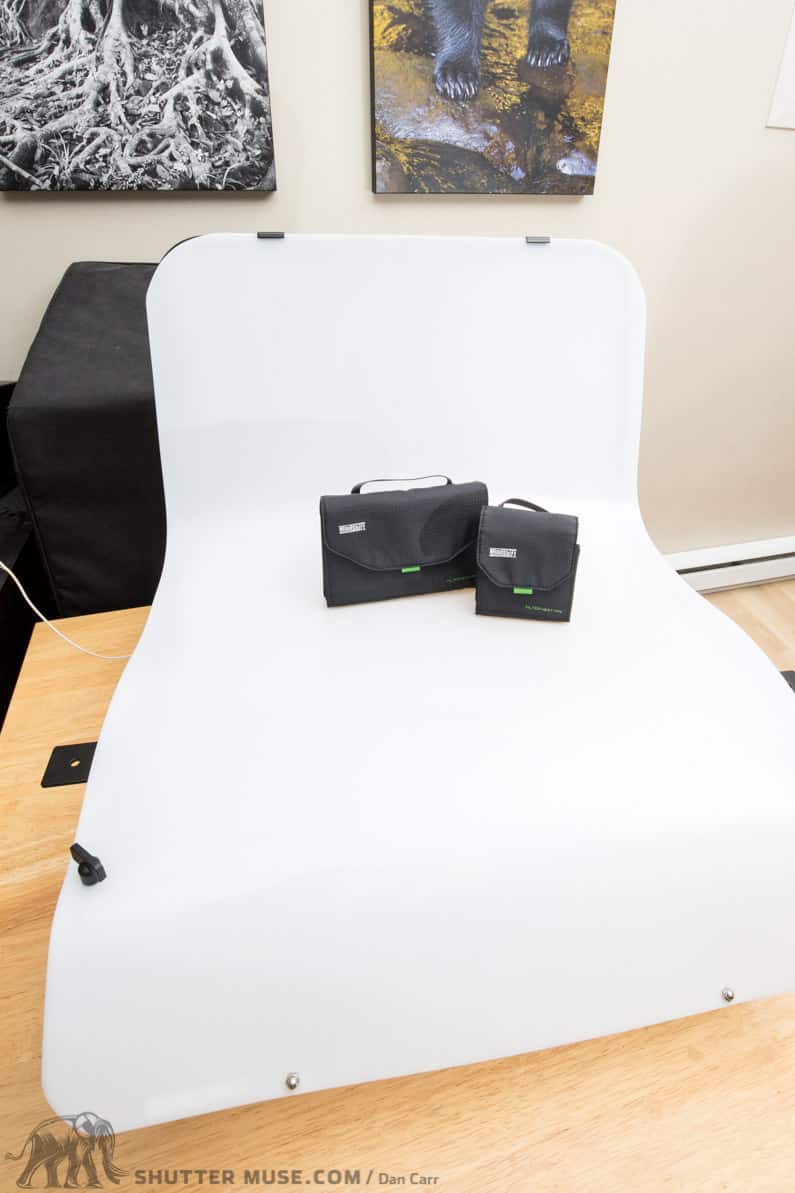 What you'll notice immediately once you've set it up, is that it's not flat. Not even close. As you can see in the photos I've included here, the shooting surface is a curve, and also rides higher at the edges. I can't think of a good reason for this at all, I think it's just a bit of a poor design. For the things I wanted to shoot, it didn't make any difference, but it wouldn't be ideal if you wanted to shoot anything that had a large flat base.
The plastic base is glossy on one side and matte on the other. I found the glossy side is not quite as glossy as some other similar types of plastic that I've used before, and it was hard to get a very good reflection with this table. If you just want a subtle reflection, though, it's an option if you use the glossy side.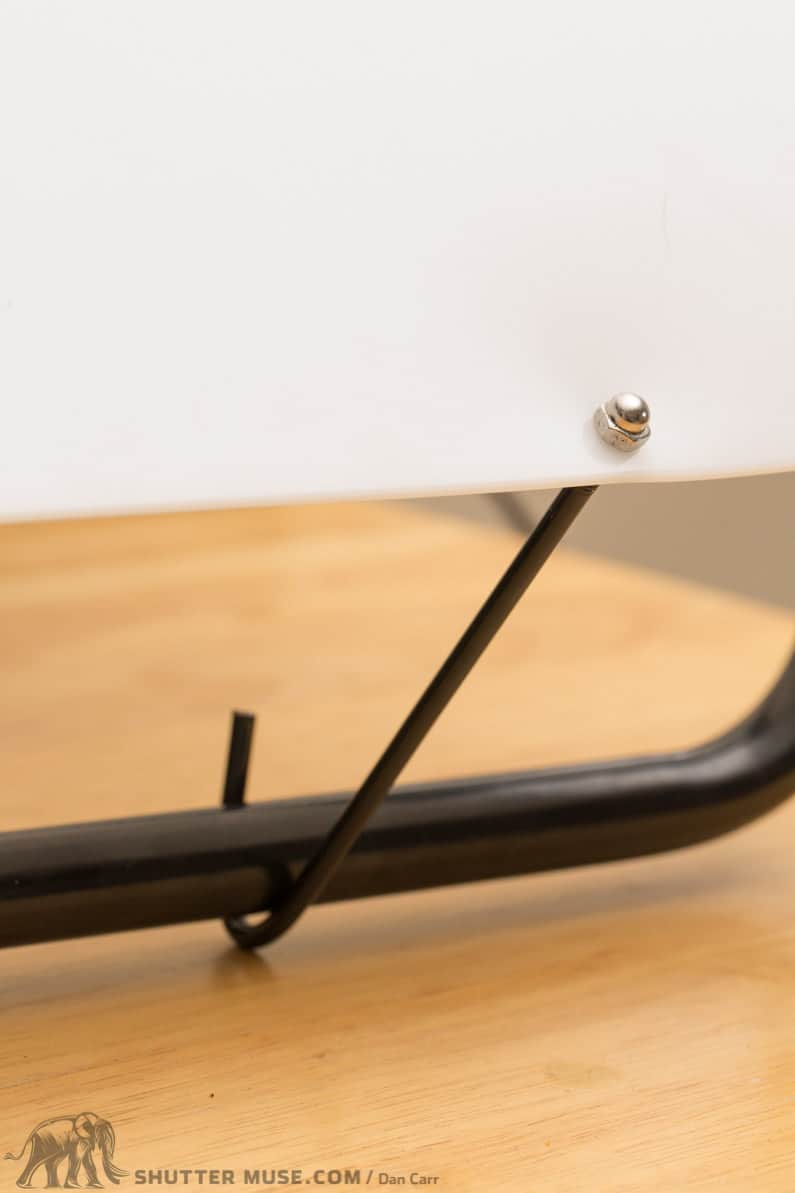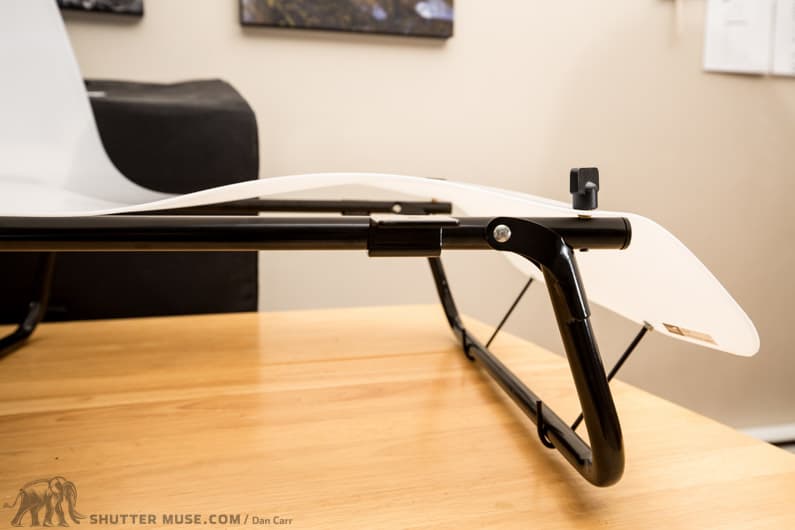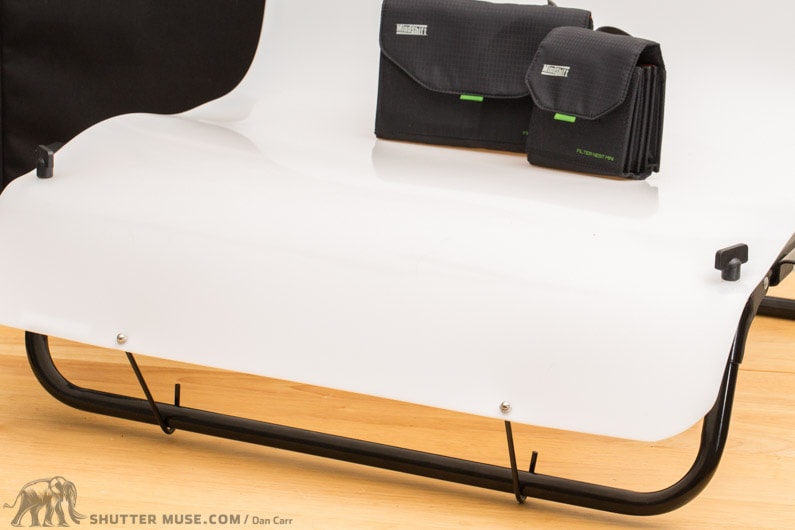 Ease Of Use
If you're shooting a small item, the shooting table provides a simple and instant infinite white backdrop. The tricky thing I've always found with pop-up light tents, which are another popular solution, is that you have to deal with a small fabric backdrop that is often full of creases. You don't have this issue with the Impact Shooting Table, so you can get started pretty quickly, or instantly if you haven't dismantled it. You don't have the surrounding diffusion fabric of a light tent though, so any direct light won't be as soft. If you have softboxes, then this isn't an issue, or you can bounce light off the ceiling which is what I did with the sample images you can see here. All the sample images are simply a single speedlight bounced off the ceiling above the table. I have softboxes and diffusers, but I wanted to demonstrate what's possible with a very simple setup.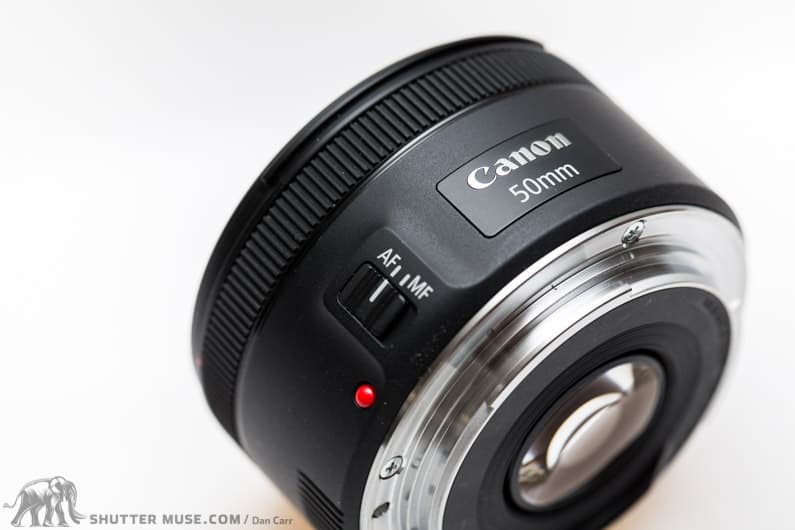 Simple samples with a speedlight bounced off the ceiling.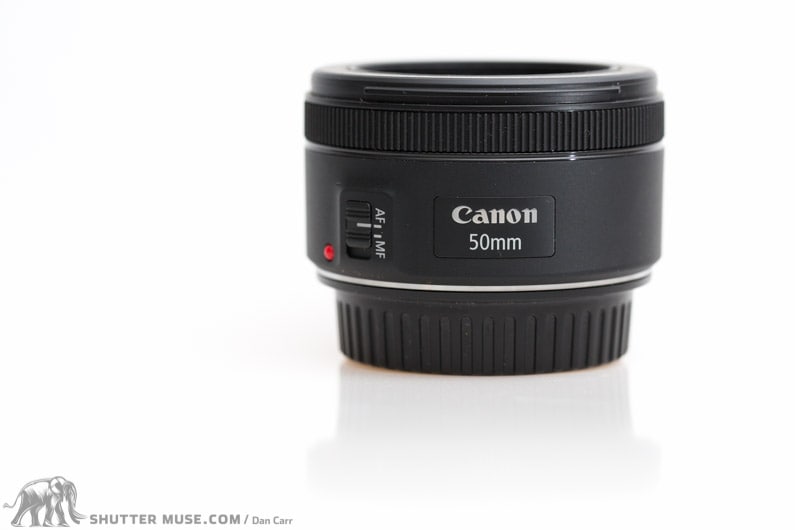 Conclusion
One thing that's always a good sign is if I decide to buy the review product after testing it, which is exactly what I did with this table. It's not perfect at all, the fact that it doesn't provide a flat shooting surface is a pretty poor design. That said, this only affects the shooting of objects with a reasonably large footprint. Small items, jewellery for example, would be no problem at all. It's also a bit fiddly to set up, but the crucial thing for me is the price. I think the $89.99 price point is pretty good, and very competitive when look at all the competitive products. I also far preferred the shooting experience, when compared to using the usual pop-up light tents. Just having easier access to things was preferable to the slightly softer light you get from the tent style options, and you can always use diffusers or softboxes if you do need softer light. I'm certainly going to put it to good use shooting some of the smaller review items that pass through my office.
Where To Buy
Impact is a B&H Photo in-house brand, so this table is only available through them. The good news is that they ship worldwide, and even ship to Canada for free. International shipping to many other countries is made very easy with their ability to pre-pay tax and duties as well, which I really like.