Wildlife photographer Andy Biggs launched the Gura Gear Kiboko backpack ten-plus years ago when he saw a need for camera bags that could more easily carry super-telephoto lenses for international travel to wildlife safaris. The original Kiboko was a big hit in the wildlife photography community, so when I heard they were launching a V2.0 model, I was excited to test it out and find out what had been changed.
For clarity, the Kiboko 30L V2.0 was purchased from a retail store with my own money. When I expressed interest in comparing the additional sizes of the bag to my Kiboko 30L, Gura Gear supplied these other sizes for testing and review. The views in this article are my honest opinions; Gura Gear had no say in the content on this page and did not get to see it before it was published.
Gura Gear Kiboko V2.0 Specifications
Kiboko V2.0 16L
Kiboko V2.0 22L
Kiboko V2.0 30L+
Gura Gear Kiboko V2.0 Sizes
The Kiboko V2.0 backpack is available in 16L, 22L and 30L+ sizes. The "plus" attached to the name of the largest model is a bit of a misnomer. Usually, a camera bag with a "plus" next to its volume would indicate the bag has some expansion feature, allowing it to grow beyond its standard volume. That is not the case with Kiboko 30L+, and I don't understand its usage.
I also note that while the "plus" is used on the label stitched to my Kiboko 30L bag, the bag is not described as such on the Gura Gear website. The bag's name may have been modified simply to Kiboko V2.0 30L after others reported similar confusion.
Regardless of naming conventions, the volumes of these bags don't do their capacities the justice they deserve. In my experience, I can carry much more camera gear in a Gura Gear Kiboko backpack than I can in other camera bags of a similar quoted volume from other camera bag brands.
For example, I can carry more camera gear in the Kiboko V2.0 30L than in the 37L F-Stop Ajna or the 35L Shimoda Explore V2 35. When packing the Kiboko 30L, I feel I have useable space that is more comparable to the 50L F-Stop Tilopa or the 50L Shimoda Action X50. To illustrate this point further, the Kiboko V2.0 30L backpack can carry two 600mm f/4 lenses! Show me another camera bag with a supposed 30L capacity that can carry that super-telephoto arsenal. You can't. It doesn't exist!
The same goes for the smaller 16L and 22L Kiboko sizes. They punch well above their weight regarding actual camera gear capacity. My point is that when considering these Gura Gear Kiboko backpacks, you have to look beyond the quoted volume and examine what can fit into them. The slightly cubic design of these bags makes them incredibly efficient.
Suppose you are hunting for a bag that meets airline carry-on regulations. In that case, it might be tempting to see camera bags such as those above F-Stop or Shimoda alternatives and focus on them purely because they appear to have a larger capacity while still falling within regulation. That would be a mistake because, as we will see in the course of this review, where the Kiboko backpacks shine is useable volume efficiency while travelling.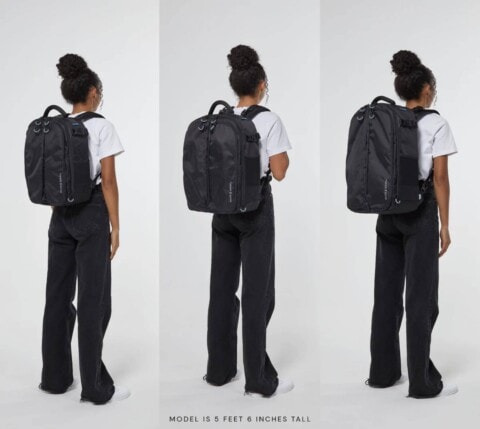 What Fits In a Kiboko?
Kiboko 16L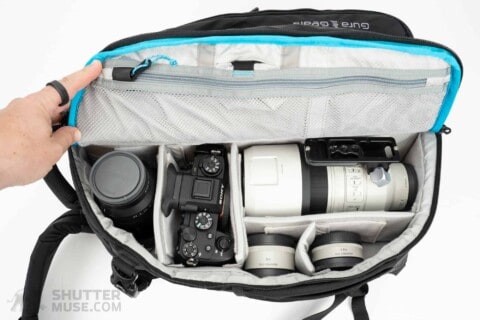 If I want to travel as light as possible with a Kiboko, I'll pick the 16L. This bag is small enough to fit under the seat in front of you on any airline I have flown with, and it will fit in the overhead bins on small commuter planes. This kit consists of a Sony mirrorless camera body, Sony 24-70 f/2.8 GM II, Sony 70-200mm f/2.8 GM II, Sony 200-600mm G, 1.4x and 2x Sony extenders.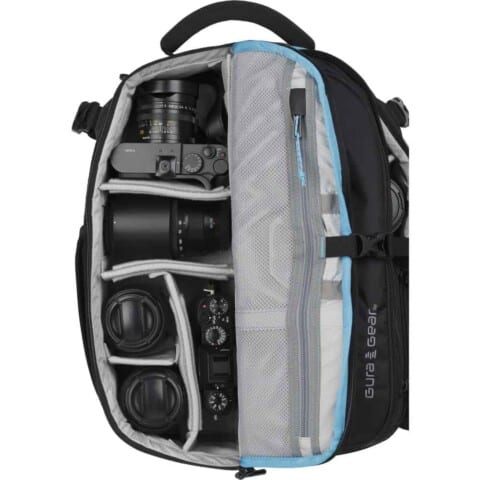 This has me covered for everything from 24mm to 1200mm in a 16L backpack, with room to spare for filters, memory cards, batteries, a laptop and a couple of chargers. If I need to carry a second camera body, I can squeeze one vertically into the slot occupied by the filter case next to the 200-600mm lens. Think about that for a second. 24mm to 1200mm coverage and a laptop in a 16L bag!
One thing to note about the 16L is that it's not designed for gripped or pro-sized camera bodies. However, there is a bit of a trick you can pull if you need to accommodate one. In the photo above, you can see my Nikon Z9 in the Kiboko 16L. If you place the camera in this part of the bag, up against the central divider, you can easily close the bag. It creates a bulge within the corresponding front organization pocket, but other than that, it doesn't alter the bag's functionality. The downside is that you can't keep a lens attached to the camera body when you place it in this position.
Kiboko 22L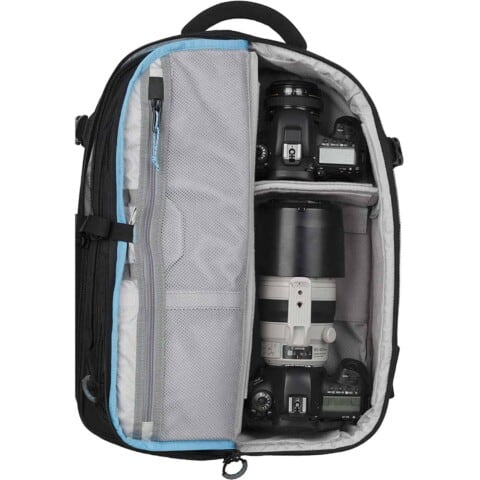 Kiboko 30L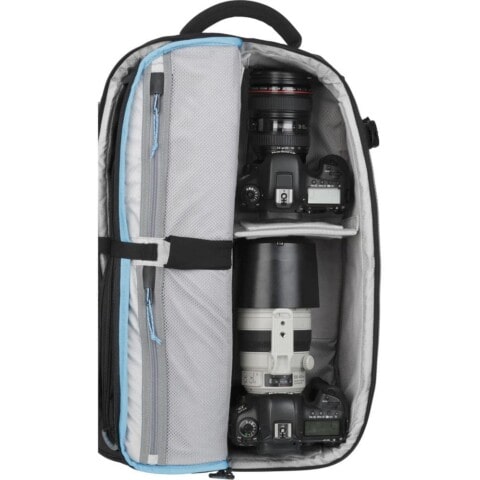 Kiboko V2.0 Design and Features
Materials and Hardware
Gura Gear bags have always taken a no-holds-barred approach to material and hardware choice. They are designed first and foremost to withstand the rigours of adventurous travel carrying heavy loads to rough environments. Choosing to prioritize durability means that Gura Gear bags are not cheap, but they stand up incredibly well to the harshest environments. One of my original Gura Gear bags is over ten years old and was still going strong when the V2.0 bag replaced it.
The key to the Kiboko's durability is using X-Pac VX-21, a sailcloth-inspired laminated rip-stop nylon. In ten-plus years of testing camera and travel bags, all of the most robust and durable solutions I have found have used VX21. This is the gold-standard material for making just about any bag. Not only is it durable, but it is also incredibly water-resistant and lightweight.
To add to the dependability of a VX21 construction, Gura Gear has also used YKK zippers throughout the bag, paired with easy-to-grab and glove-friendly rubber zipper pulls. There isn't a single piece of hardware on this bag that feels like it's letting the side down. Pocket mesh, nylon webbing, harness buckles and interior materials all feel premium and well-considered, and every bit a $300-400 camera bag.
Butterfly Opening
One of the Gura Gear Kiboko's most unique and defining features is its butterfly opening. This design allows you to easily carry super-telephoto lenses in the larger models and multiple cameras with already-attached lenses in all three sizes. The bags were designed this way so they can rest alongside you in a safari vehicle, protecting your gear from the elements while simultaneously offering access to your equipment at a moment's notice.
With the butterfly zippers undone, the "wings" always close when you let go of them, sealing the interior from a majority of sand and dust. When the wildlife wakes up or something unexpected happens, you can quickly flip them up to grab your cameras.
While this design was conceived for Safari vehicle usage, its usefulness can be seen in many other situations. I love to use a Kiboko on the passenger seat of my car while driving around with one eye on the lookout for wildlife or exciting landscapes. The butterfly opening, which I always leave un-zipped in my vehicle, protects my cameras from other gear I may pile on top of the bag, as well as keeping general dust, dog hair (I have a husky that sheds A LOT) and road trip snack-induced crumb contamination from the interior compartment.
The butterfly opening makes so much sense even when I'm using a Kiboko for travel or landscape photography. I can compartmentalise my gear, only accessing what is needed for a particular shot while keeping at least some of my kit protected from the elements. When I set up at a location and wait for the light, I can set the bag down, prepare the camera with the right lens, and then tuck it away beneath the flap while waiting for the sky to pop.
If you are lucky enough to own two camera bodies, you will love the ability to mount them both up with your favourite lenses, keeping them ready to go at all times. Though my most-used Kiboko is undoubtedly the 30L for the types of photography I prefer to do, the 16L comes into its own for travel photography when you have a ready-to-go 70-200mm on a body on one side and a 24-70mm on a second body on the other side.
The downside to the Kiboko's butterfly opening is that you are placing the backpack harness on the ground while accessing your gear (unless you are in a safari vehicle). Most outdoor photography backpacks favour a back panel opening for gear access, as this places the front of the bag in the dirt, preventing the harness from getting covered in mud, sand, snow, dust or whatever other environmental covering you might encounter.
Very few major design choices have no downside, so it's essential to consider the benefits of this butterfly system and weigh them against this negative. Whether this is a deal-breaker for you might depend on the environments that you most often shoot in. For many people, it will be a non-issue. The bag was first conceived for in-vehicle usage, where large back panel openings from other backpacks can be cumbersome. Undoubtedly, it solves that problem with aplomb while creating a great way to segment gear and keep it ready to go.
Carry Handles
On the top of the Kiboko is a comfortable and generously-sized carry handle that is perfectly positioned for that bag shuffle you must do in airport security lineups as you move things forwards three feet at a time. I doubt it was created expressly for that purpose, but it's perfect. This top handle, combined with a similar handle on the side of the larger 30L model, is positioned to easily hoist a fully laden pack into an aircraft's overhead locker or a large safari vehicle.
Pro Tip: Nonchalantly carrying a hugely overweight Kiboko up to an airline gate agent using only the top handle, trying not to sweat, might decrease the likelihood of getting the dreaded "can we weigh your bag, please?" request. Fingers crossed.
Backpack Harness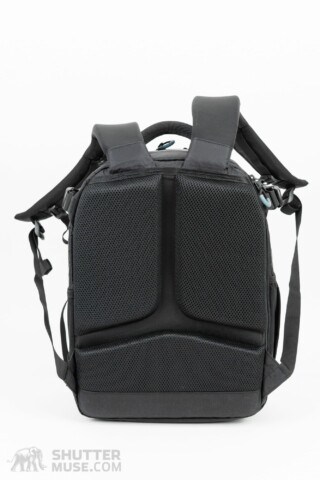 The shoulder straps on the Kiboko 16L and 22L are generously padded and extremely comfortable. Due to the need to maximize available camera gear volume in the Kiboko 30L for those 600mm and 800mm lenses while still keeping within carry-on limits, the shoulder straps on the largest of the three models are thinner.
These lesser padded straps on the Kiboko 30L are less comfortable with heavy weights when hiking long distances with a fully loaded bag. I do not find them unusable, just that they are not as comfortable as the thickly memory-foam padded straps of the two smaller models.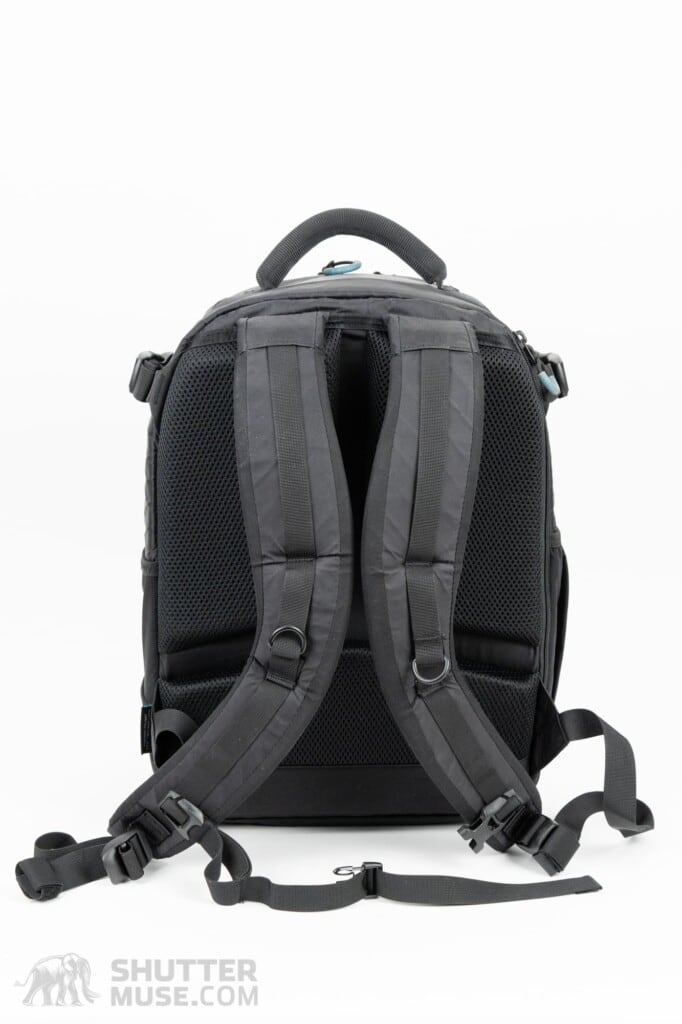 I sympathize with Gura Gear's choice here. Ultimately, with the Kiboko 30L, they wanted to make the ultimate bag for traveling with super-telephoto lenses. It would not be good to have more thickly padded shoulder straps if the bag failed carry-on requirements and never got to your destination. Many photographers use the Kiboko for wildlife safari photography expeditions. The longest they ever carry the bag on their back is the few feet from camp to the safari vehicle every morning. Come to think of it, the walk from their car to the airport terminal before the trip might be longer.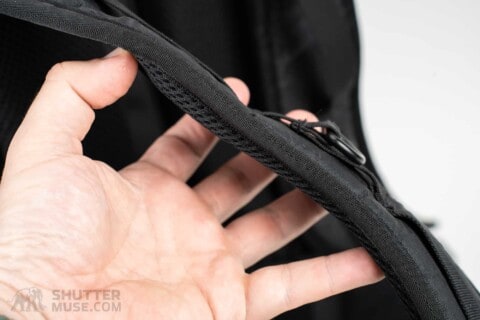 My point is that the Kiboko 30L was unabashedly designed for a purpose and fills a niche not served as well by other camera bags on the market. Suppose your needs align with this bag's purpose; great. On the other hand, if you need to carry vast amounts of camera gear for hours and hours of hiking every day, you should probably look at a bag like the Shimoda Action X70 or one of F-Stop's Mountain Series bags.
Stowable Harness (30L)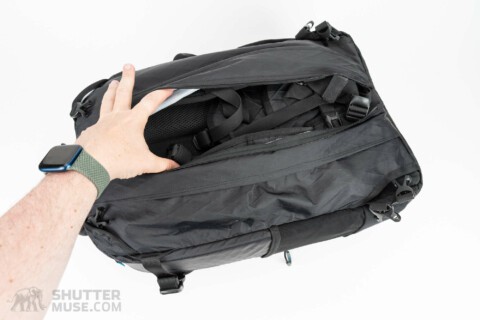 The Kiboko 30L backpack features a stowable harness. Folding the back padding aside reveals a pair of zippered flaps that can be used to encase the entire harness. This helps to more easily slide the bag into tight spaces, such as aircraft overhead lockers, while also diminishing the look of the bag's size. This feature is unnecessary on the 22L and 16L bags which are well below most carry-on size limits.
I have had my fair share of difficulties with overweight carry-on items in years of travelling with camera gear. As much as I can, I always try to enter an airport with the most simplified bag I can. This means that I remove all top pockets from backpacks if they have them. I remove side straps if I can, as well as hip belts and just about anything else that dangles or jingles.
The less "stuff" hanging from a bag, the smaller and less technical it looks, and, in my experience, the less likely you are to be asked to have it weighed or measured. The stowable harness on the kiboko 30L takes this even further and helps to slim down the bag's look considerably. Combined with the black VX21 material, it does a great job of making your heavy camera gear look unobtrusive. I have never had any issues flying with this bag.
Front Pockets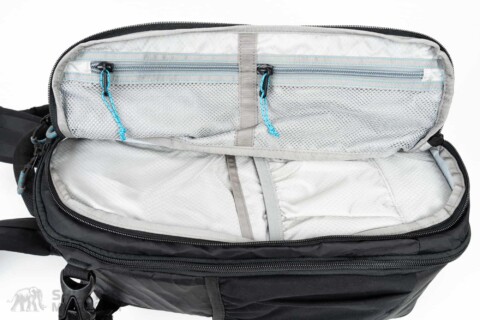 Two zippers run the entire length of each butterfly wing's exterior. One opens the wings to access your camera gear, while the other opens the bag's front organizational pockets. Two zippered mesh pockets can be found inside each organizational pocket. The right-hand pocket also features a small pencil organiser, pockets for flat items such as notebooks or camera manuals, and a tether for your memory card holder. The left-hand side is a little more open but has a couple of open-topped pockets for even more organization.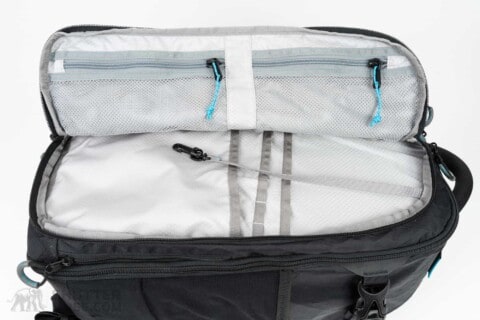 The whole zippered front flap of the bag is both an access point to the smaller internal zippered pockets and organizers and a pocket in and of itself. As I have tried to demonstrate in my photos, these front flaps have a fair bit of extra material, allowing them to expand and hold larger items such as a rolled-up jacket and rain pants, gimbal parts, snacks and lunch for the day or various camera gear accessory pouches. The overall volume of these front pockets varies based on the Kiboko model, but there are several litres to play with.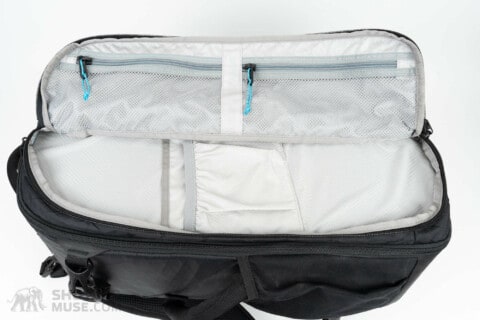 A word of warning, though. When travelling with the larger Kiboko 30L and 22L, it's easy to stuff a little too much in the front pockets, thereby expanding the bags' depth by four inches or more. This can take the bag past airline carry-on limits and contribute considerably to the "big bag" look. When flying, I try to keep clutter out of those front pockets by taking the more oversized items that usually reside in there and packing them tightly between cameras and lenses in the bag's main compartment.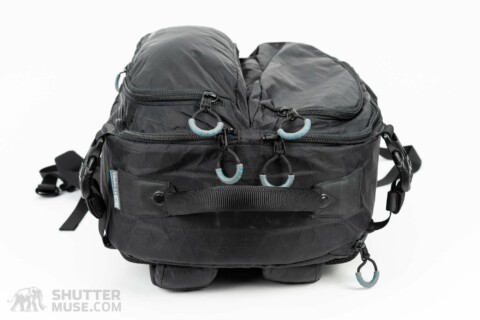 Internal Pockets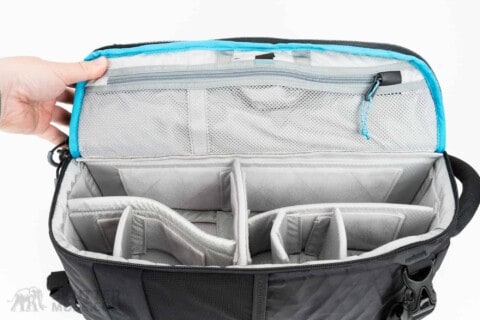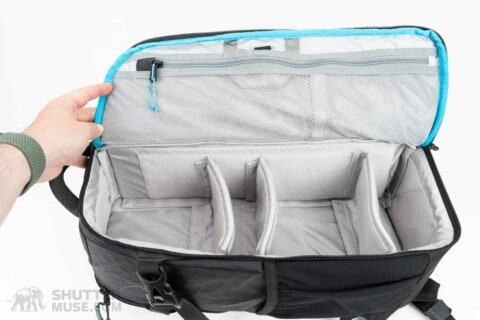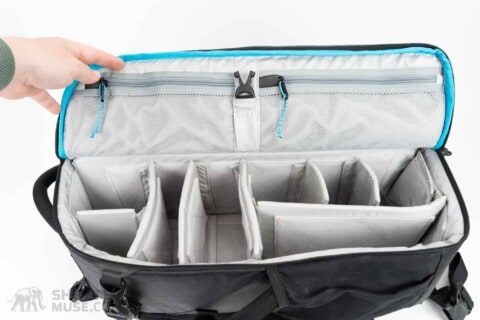 On the inside of both butterfly wings are more organizational pockets. The Kiboko 30L has two separate zippered pockets, while the Kiboko 22L and Kiboko 16L have a single longer zippered pocket divided in the middle by a piece of hook-and-loop. This creates two compartments behind the single zip, but you can also store one longer item by prying apart that hook-and-loop.
More pockets are great, but I sometimes find myself confused between what I have placed in these pockets and what is in the similar-looking pockets inside the bag's front section. Both sets of pockets are horizontal zippered mesh, and on the 30L, this gives you eight similar-looking flat mesh pockets—six on the 16L and 22L. I wonder if something could have been done to differentiate these further. The best practice is to be diligent about storing your accessories in specific pockets every time.
Laptop Carry
The Kiboko 16L and Kiboko 22L have a zippered laptop compartment at the back of the bag between the rear panel padding and the camera compartment. The 16L backpack will hold up to a 13″ laptop, while the 22L will hold up to a 16″ laptop. Neither of these compartments is exceptionally thick, and those that have older, thicker PCs might struggle to make the fit comfortably. These laptop slots are better suited to thinner machines such as the more recent MacBook Pros or MacBook Airs.
It should also be noted that if a laptop is inserted into the laptop compartment, it encroaches on the space within the camera compartment, slightly decreasing the depth you have available in that section. Close inspection of the compartment's internal dividers shows there is an extra section on the bottom of some that expand and contract based on whether you are using the laptop compartment or not.
I'm sure some people will wish it was possible to carry a laptop in the larger Kiboko 30L model. When I asked them about this, I was told that it all came down to carry-on dimensions and the need to create a bag capable of storing 600mm and 800mm super-telephoto lenses with their hoods.
It was impossible to make a bag with the depth to accommodate those large lenses with their hoods and a laptop compartment while still having the length for them and sticking to the maximum allowable combined carry-on dimensions enforced by many airlines. Those that choose the Kiboko 30L and want to travel with a laptop should probably add a Gura Gear Chobe laptop bag to their shopping list.
Side Pockets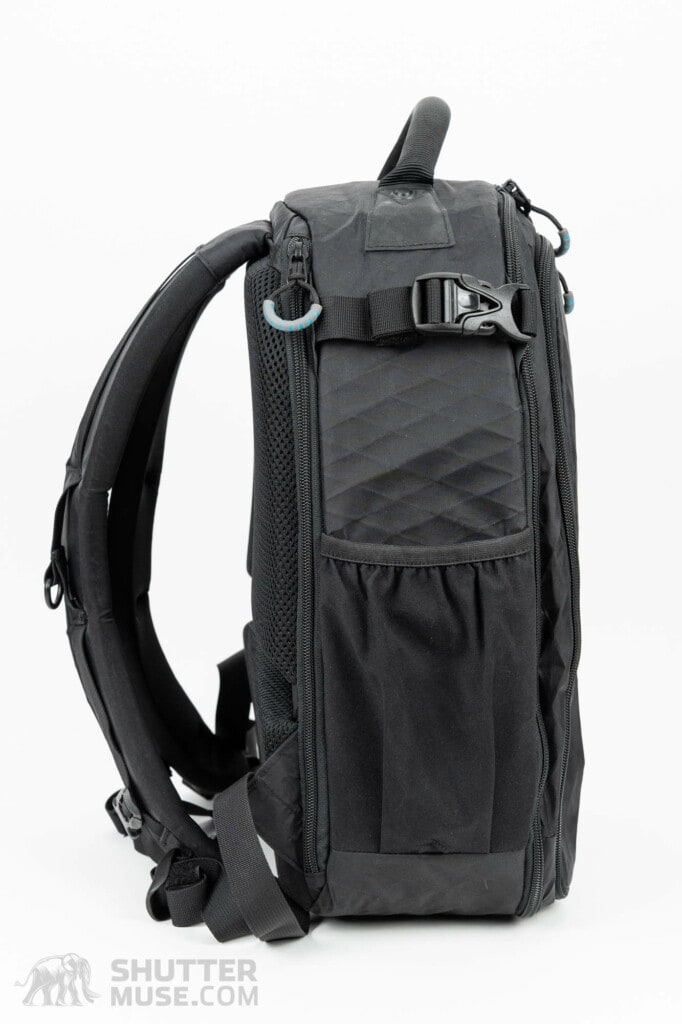 The Kiboko has a strap and a pocket on each side. As you can see, the pockets are both slightly different. On the right-hand side, the mesh is tighter, and the bottom of the pocket is reinforced and contains a drainage hole. The left-hand pocket is pleated to give it more volume.
Tripod Carry
To carry a tripod on the Kiboko backpack, you use the side pocket on the wearer's righthand side. At first, it appears that both sides of the bag feature a suitable pocket and a tripod strap, but it is expressly intended that you use the one on the right. This elasticated side pocket has a reinforced base for those using sharper tripod feet that would otherwise damage the stretchy mesh.
Tripod carry on the Kiboko is good but not great. I prefer it when a bag offers a low-slung tripod "cup" that hangs below the base of the bag. This helps to lower the tripod's centre of gravity. Using a large tripod with the Kiboko can make the pack feel top-heavy, particularly if you also have a heavy gimbal head. I also find that the tripod position raises the ball head or gimbal position to just the right height to occasionally clunk me in the side of the head when crossing uneven terrain.
As the size of the Kiboko model decreases, so does the tripod size that you can reasonably expect to carry on its side. With the shorter side height of the Kiboko 16L, for example, you would not want to be carrying a tall 3-series Gitzo or RRS tripod. The Kiboko 16L pairs perfectly with smaller travel tripods such as the Peak Design Travel Tripod.
Can the Gura Gear kiboko Carry Water?
There is no dedicated water bladder carrying loop as can often be found on camera bags designed for nature photography. However, a 1L or 2L Nalgene can easily be stored in one of the elasticated side pockets. As demonstrated in the earlier sub-section, these side pockets are not identical. One of them expands to a larger size designed to accommodate that 2L bottle. The other side pocket, with the reinforced bottom, should be used for your tripod.
Does It Come With a Rain Cover?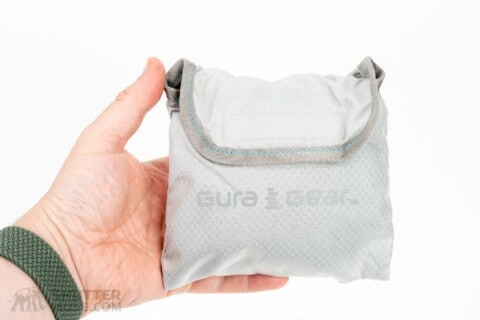 Although the Kiboko's VX21 sailcloth material is highly water-resistant, a rain cover is included with every bag. The weather resistance of the exterior material will protect you in a quick shower, but during prolonged rain storms, you should use the cover to protect from water ingress at the zippers. When the rain cover is not used, it is stored in a small zippered quick-access pocket on the front of the bag. With some camera bag companies not including a rain cover with their backpacks, that Gura Gear includes one with the Kiboko should be considered when comparing prices.
Kiboko V1.0 vs V2.0 – What Changed?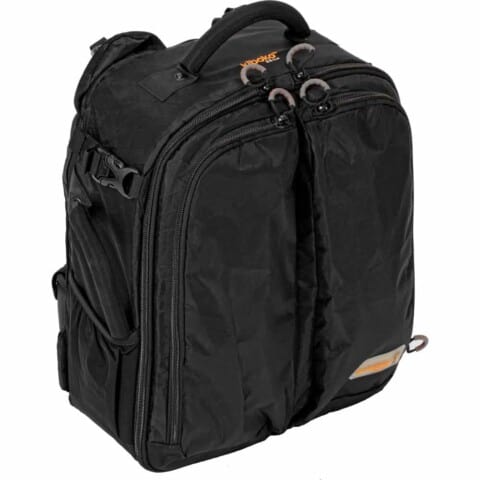 The original Kiboko V1.0 was available in two sizes: 22L and 30L. With the Kiboko V2.0, we now have a third 16L size in the lineup. As you can see from the images above, the bag's interior colour has changed to a lighter grey for V2.0, which improves internal visibility. V2.0 also improves accessory organization, with a tweaked configuration now giving you six more pockets than the original bag. The V2.0 bags also feature the blue zipper liner, a safety feature that instantly warns you if one of your zippers is undone before you shoulder the bag.
In the re-design, the Kiboko bags have also gotten slightly smaller to fall in line with tighter airline carry-on regulations. The external dimensions of the original Kiboko 30L were 14.0 x 21.0 x 8.5″ (35.6 x 53.3 x 21.6 cm) compared to the dimensions of the new Kiboko 30L V2.0 which are 12.6 x 20.47 x 6.69″ / 32 x 52 x 17 cm. Note that despite the smaller dimensions, both bags are still called "30L", which underlines my previously-made point about not fixating on quoted bag volumes and concentrating on what will fit inside them.
The same holds for the "22L" version. The original Kiboko 22L external dimensions were 14.0 x 18.0 x 9.0″ (35.6 x 45.7 x 22.9 cm) compared to the Kiboko 22L V2.0 which is 13.39 x 18.11 x 5.91″ / 34 x 46 x 15 cm. I provide these dimensions specifically for owners of the original Kiboko V1.0 bags so that they can get a sense of the size difference they can expect if they upgrade to the latest V2.0 version.
Despite these size changes, it should be noted that the bags still perform their intended duties of carrying super-telephoto lenses through airports and into the field. The general standards still apply: the 22L will hold up to a 400mm f/2.8, some 500mm lenses or 200-400mm lenses, and the 30L will hold up to a 600mm f/4 or an 800mm f/5.6.
What About the Gura Gear Bataflae Backpack?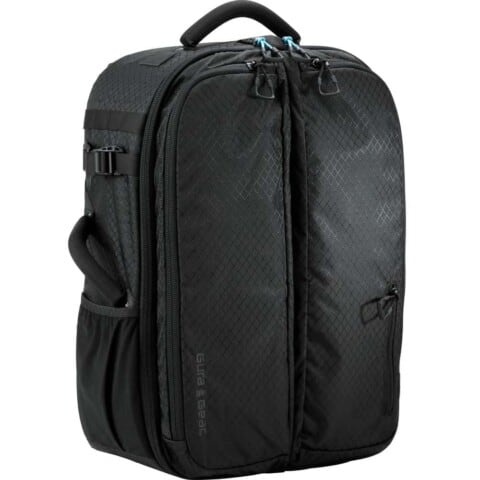 The now-discontinued Gura Gear Bataflae was a similarly designed butterfly-style camera bag launched after the original Kiboko. In some ways, it probably should have been called the Kiboko 2.0 or the Kiboko 1.5. It was available in three sizes, 18L, 26L and 32L. The Bataflae was very similar to the Kiboko backpack, aside from the fact that the entire front (both butterfly wings) of the bag could be opened forwards to allow access to both the bag's sides simultaneously.
The Bataflae pack contained several improvements we now see on the new Kiboko V2.0, such as a lighter interior colour and improved laptop access. I would call the Kiboko V2.0 an amalgamation of the original Kiboko and the Bataflae, although without the Bataflae's full-access front feature. This feature was minimally useful while increasing the bag's weight and decreasing its rigidity. In short, I think the Kiboko V2.0 contains the best parts of the original Kiboko, combined with the best parts of the Bataflae and its expanded 3-bag lineup.
Optional Accessories
EtCetera Cases
Gura Gear makes several camera accessory pouches that match the design of the Kiboko backpacks and are great for organizing chargers, batteries and camera cleaning gear that you might need in the field. The Et Cetera cases come in two cubic variations (1L and 2L) and three zippered pouches (XS, S and M). Et Cetera cases start at just $19.95 and are available in bundles for extra savings.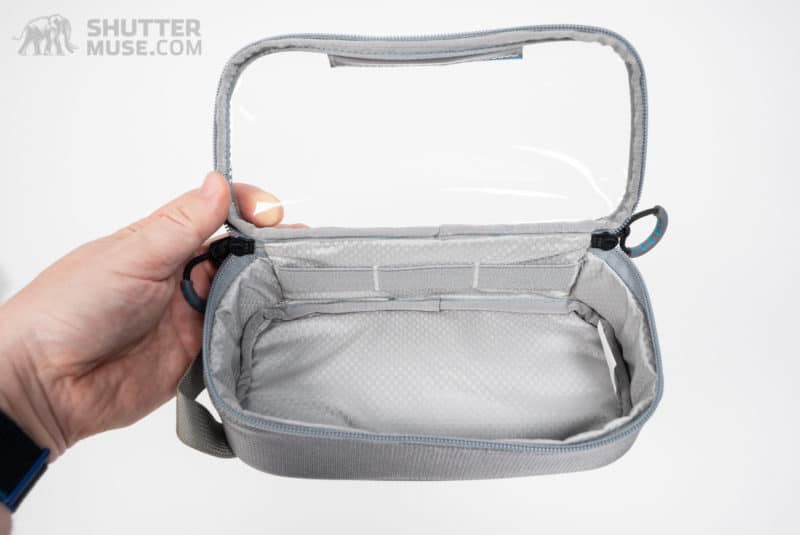 Tembo Card Holder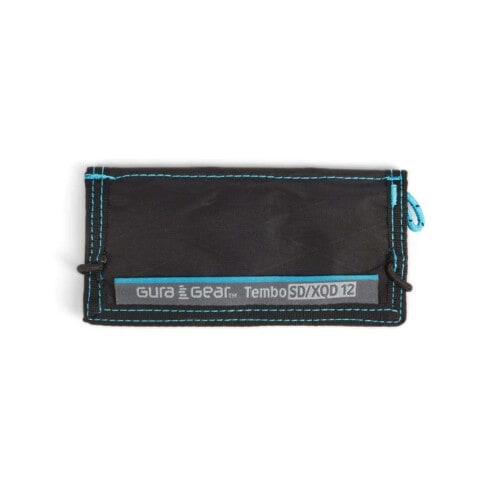 Using the same VX21 sailcloth material as the Kiboko and the same blue+grey colour scheme, the Tembo is designed as the perfect partner to Gura Gear's backpacks. The memory card holder features an elastic closure system ideal for wildlife photographers who do not watch to draw attention to themselves with the noisy hook-and-loop found on other card cases.
The Tembo card holder is listed as an SD/XQD card holder. However, this naming is a little outdated because CFexpress cards have wholly eclipsed the use of XQD cards and, alongside SD cards, are now the norm in mirrorless cameras. Thankfully, XQD cards are physically identical to CFexpress cards, so the slots in the Tembo case are still the perfect size. The Tembo is well priced at just $24.95.
Compared to the Gura Gear City Commuter 18L
After Kiboko V2.0, Gura Gear launched their first roll-top backpack, the Kiboko City Commuter 18L. This backpack is designed as an urban EDC camera bag with a strong emphasis on travel and all the ruggedness and comfort of the standard Kiboko packs for days of nature photography.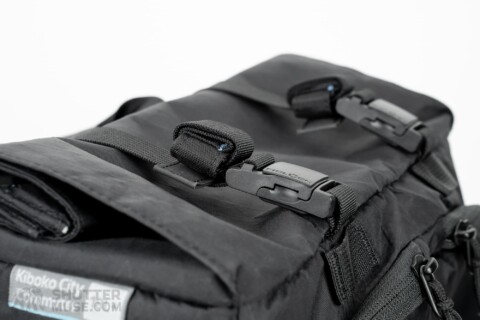 It doesn't make sense to compare the Kiboko City Commuter to the Kiboko 22L and 30L Kiboko packs; the volume difference is just too significant. However, those considering the smallest 16L Kiboko should consider the City Commuter 18L and what it offers. In my in-depth review of the Kiboko City Commuter, I went into detail about the difference between these packs.
Kiboko Backpack + Chobe Laptop Bag- The Perfect Match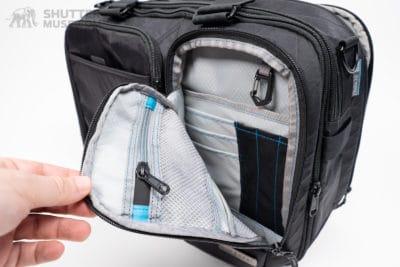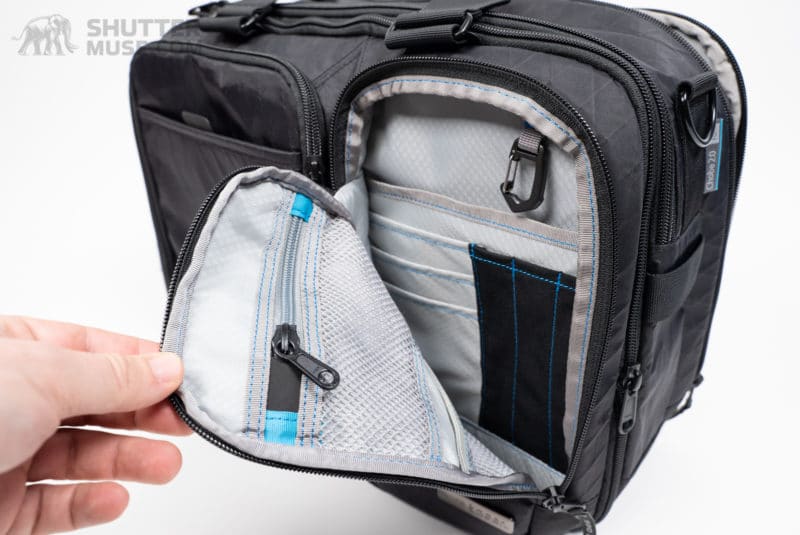 Those that travel a lot with their camera gear know that the key to maximizing what you can legally carry onto a plane is to make good use of that second piece of carry-on luggage, your "personal item". Gura Gear knows this too. The Chobe V2.0 shoulder bag is my all-time favourite laptop bag for photographers. It has all the organization you need for your hard drives, card readers and a laptop, and plenty of extra room to carry camera gear.
The Chobe will discretely carry up to a 400mm f/2.8 lens or a 100-400/100-500/200-600 style lens with a camera attached. Check out the Chobe V2.0 review for more details, and consider pairing this with a Kiboko for the ultimate travel combination.
Conclusion
The Gura Gear Kiboko backpack has long been the best way to travel with super-telephoto lenses, and with the Kiboko V2.0, Gura Gear has reinforced that position by tweaking the bag to near perfection. The 22L and 30L packs are standout sizes designed for wildlife photographers to travel with 400mm, 500mm, 600mm and 800mm lenses.
These bags are designed so efficiently that it is almost uncanny how much gear they will consume while still falling within airline carry-on regulations. Need to carry cameras, a 400mm f/2.8 and a 600mm f/4 in your carry-on? The Kiboko has you covered. Need to take an 800mm lens with two cameras and multiple additional zoom lenses while still passing through the airport without raising eyebrows? No Problem.
The addition of a new 16L size to the Kiboko V2.0 lineup expands the possible uses of the unique butterfly opening concept. While some may continue to use this smaller size for wildlife photography trips with smaller M4/3 systems or shorter telephoto zooms such as the Canon 100-500mm, or Sony and Nikon 100-400mm lenses, prolific travel photographers should consider this smaller version for compact mirrorless travel kits where having multiple bodies with already-attached lenses would be a benefit.
While the butterfly design concept of the Gura Gear Kiboko is exceptional for fast access to gear, the product would not be the same if it wasn't also built like a tank using lightweight but durable X-Pac VX21 nylon and adorned with top-of-the-line buckles and zipper hardware. This combination of intelligent design, bulletproof construction and robust materials makes them an easy recommendation for anyone looking to travel the world with their camera.
Where to Buy – Save 10%
If you buy directly from Gura Gear, you can use the coupon code ShutterMuse10 to save 10%.
If for some reason, you cannot buy directly from Gura Gear, you can also find the bags at B&H or Amazon using the links below. However, you will not be able to use the 10% discount code with these retailers.