If you've got a large telephoto lens that costs many thousands of dollars, it makes sense to have a rain cover for it even though most of them are usually decently well weather sealed. If you're shooting sports and rain doesn't stop play, you'll have to continue to work in the wet, and if you're shooting wildlife then the weather probably won't hold back the animals you're looking for either. For the last four or five years I've been using the Think Tank Hydrophobia 300-600 rain cover and there haven't been an awful lot of other options out there. The Think Tank cover is extremely well made, but it's almost a little too over-engineered. The full covering of the back of the camera can make it tough to view the LCD properly when the plastic fogs up (note: I have now found out how to fix that), and the sealed design requires a dedicated eye-piece for each type of camera you have.
The other thing about the Hydrophobia is that it's quite bulky. It works a treat at a sporting event where you can stroll up with your roller bag to the press room and keep all your gear to hand, but for more remote wildlife work, it becomes a bit trickier. The packed size of the cover is large enough that it's often a pain in the ass to find a space for it in your camera bag. You can't just carry it around all the time on the off-chance that it'll rain, it's just not practical. This means you're forever saying to yourself "shall I take the cover or not? Is it supposed to rain today?". Inevitably, you eventually make the wrong decision.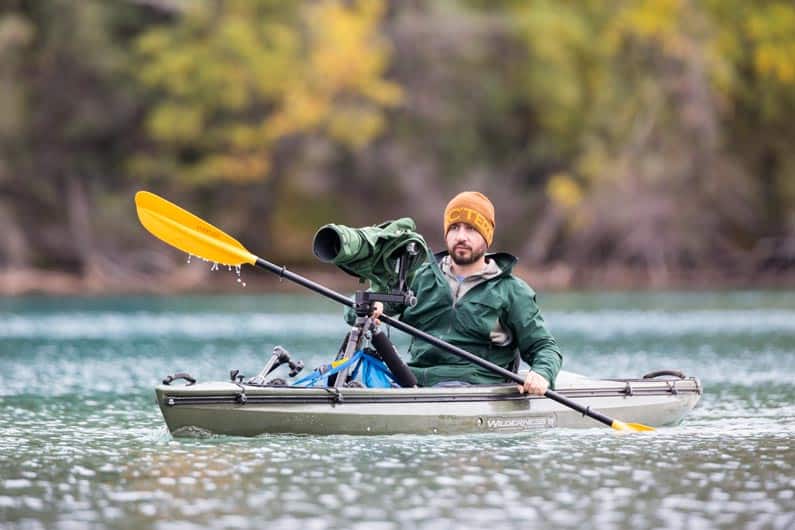 So I've been on the lookout for other options and I thought I'd check out the LensCoat RainCoat Pro 2 when it first came out. The biggest selling point that they make a big deal about is the open back design that gives you easy access to the camera and doesn't require a dedicated eye-pice.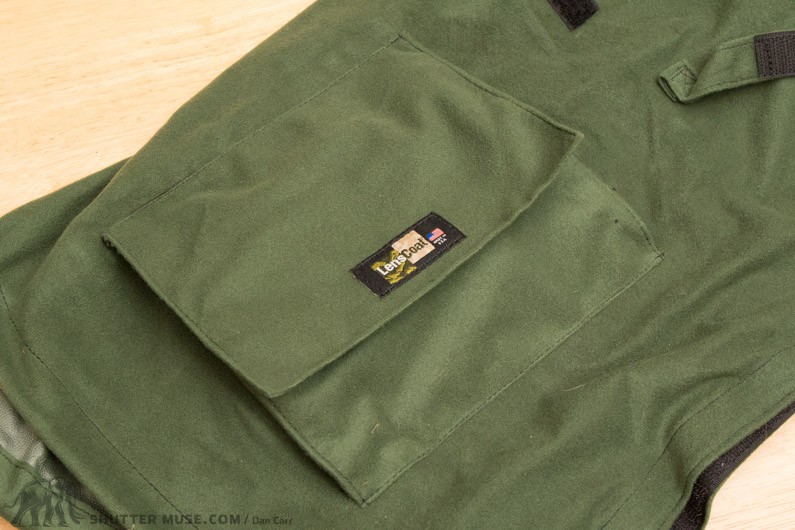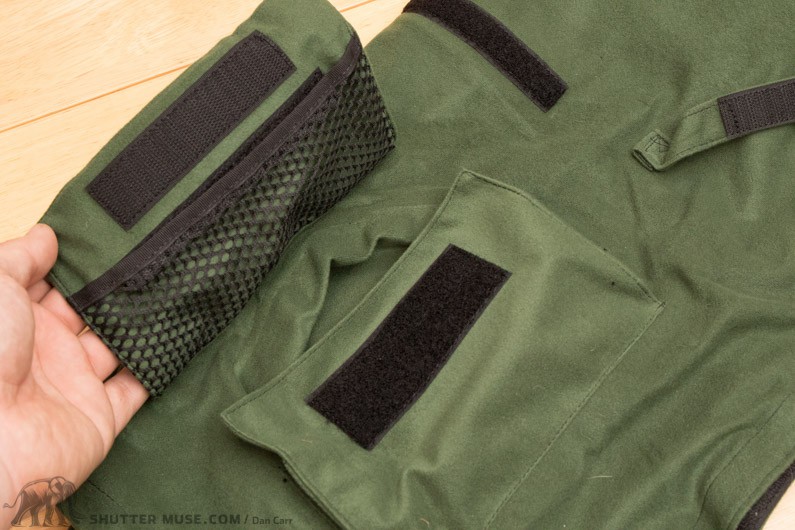 LensCoat actually have a rather bewildering array of different rain covers and I'm not entirely sure I could tell you the different between them all. In terms of the RainCoat 2, there is a Pro and a Standard size. The Pro will fit from a 300mm f/2.8 up to an 800mm f/5.6, where the Standard is designed for 70-200 f/2.8 and smaller. The "2" version of the RainCoat has two arm holes in the cover. One on the left of the lens and one on the right of the camera body. The regular RainCoat only has the right-hand arm hole and they do still sell both versions so chose carefully if you are making a purchase!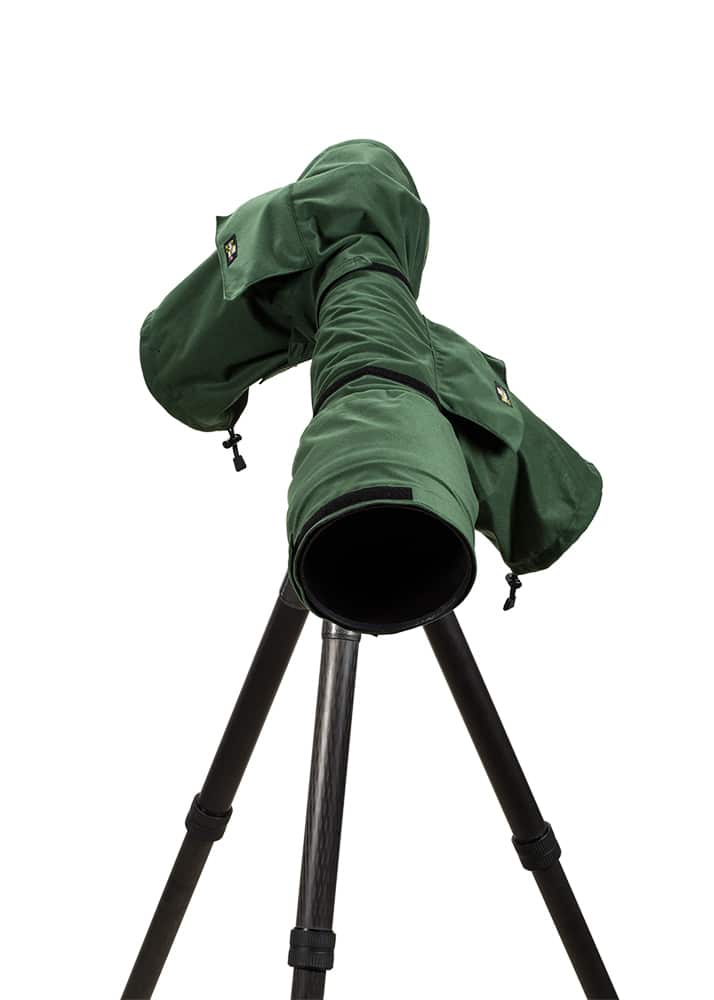 Since the RainCoat Pro 2 doesn't have a full plastic back cover like the Think Tank one, I was sure it would be less bulky. My first disappointment was that it was pretty much the same size, in fact it might even be a little bit bigger! To add to the bulk, the front cover for the RainCoat (which you have to purchase separately for $20!) is enormous! Inexplicably, unnecessarily huge! As soon as I saw how big it was, I tossed it aside and never used it, replacing it instead with the front cover of my Think Tank Hydrophobia which is tiny, but still totally covers the front of the lens. I was also quite shocked at the material choice for the cover. Rather than being a typical rip-stop nylon style, as you might find on a rain coat for human usage, the LensCoat is actually a fury material, presumably because this was needed to get the large variety of camouflage colors that are available. Rather than seeming like a material that would repel water, it feels more like a material that would absorb it, although the inside is coated with a waterproof layer of course. Still, it seemed like an odd choice to me, and it added considerable to the bulk of the cover.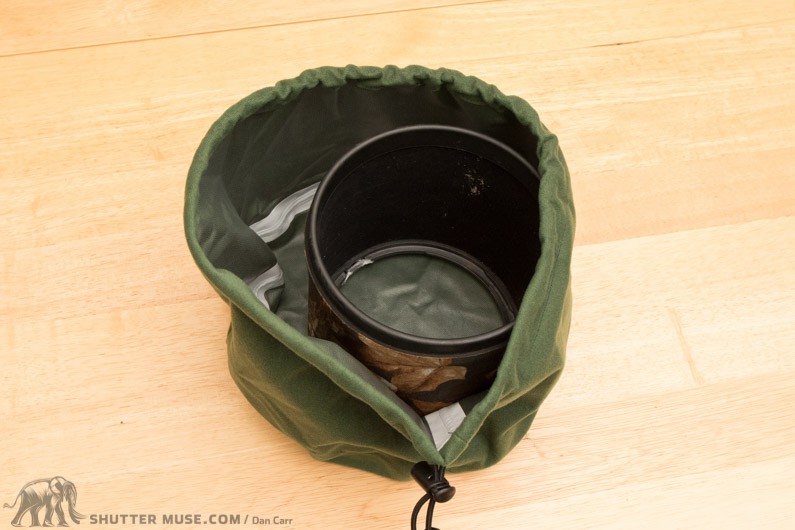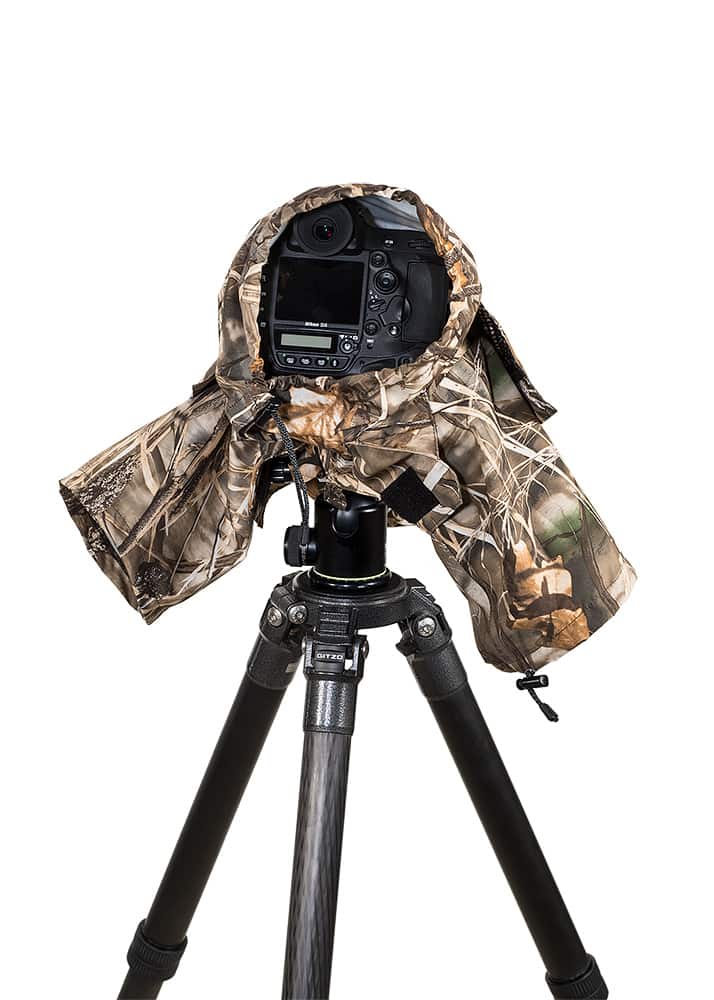 In terms of usage, the cover does work as designed. The drawstring back opening works a treat and there's plenty of overlaps to protect your camera, whilst still being easy to work with under the cover. One operational feature that I would not advice using is the pocket on the side where the arm hole is. As you can see from the photo, as soon as you let the flap drop down, the pocket is essentially upside down. There's no way I'm trusting my memory cards full of photos to a hook and loop closure pocket that spends 99% of its time upside down, just waiting for you to not close it quite right!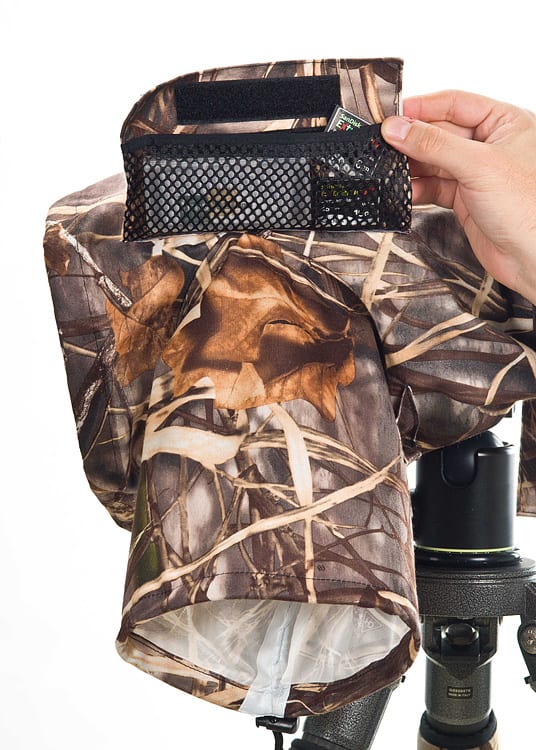 Another problem that nobody has solved yet, is the incompatibility with lenses mounted to side-mount gimbals like the Wimberley Sidekick or the Really Right Stuff gimbal that I use. In order to make the cover work, you have to pass the foot of the lens through the left-hand arm hole, rendering it useless for anything else and causing issue when the camera is rotated into portrait orientation. LensCoat are not alone in this are though… so far there isn't a single camera cover that manages to check this box for some reason.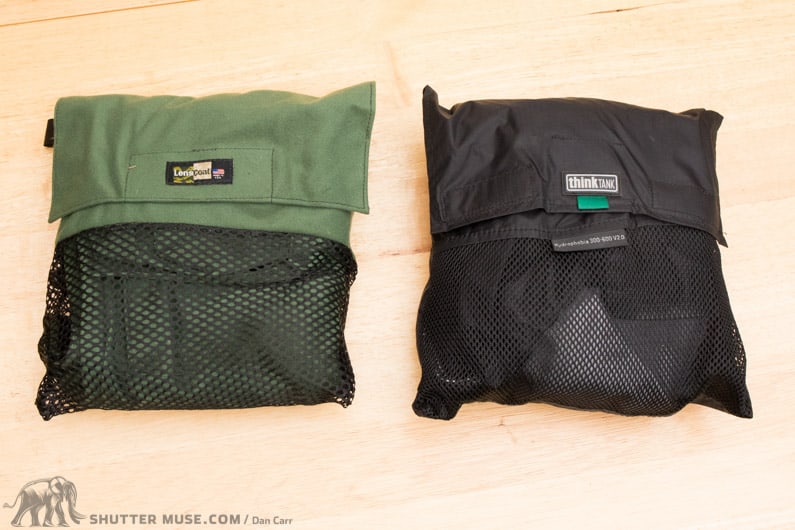 Pros & Cons
Pros
Slightly cheaper than other options
No dedicated eye-piece needed
Camera easily accessible
Quick to install
Cons
No provision for mounting to a camera that's using a side-mount gimbal
Front cap is unnecessarily large
Front cap doesn't come with the cover
Material doesn't shed water well
Cinch straps easily twisted when gathering lots of excess material
Hand hole pockets are upside down and not zippered = added bulk just not wanted
Conclusion
In all honesty, I was pretty disappointed by this cover and my search for the perfect solution continues. These covers are designed to be used with big heavy lenses, I don't want to carry around a hugely bulky cover for it as well. The Overall design is pretty good, but the material choice ruins it for me, and the addition of more bulk from unnecessarily large front covers and silly pockets/flaps on arm holes is a pain. If they cut off all the extras and made something of this design, but built with thin rip-stop nylon, it would be half the weight and bulk and damn near perfect. I want a cover that is small enough and light enough that I can keep it permanently in my bag "just in case". This RainCoat 2 Pro is actually bigger and heavier than the weight of my personal rain jacket and rain pants combined. This shouldn't be the case when those things cover up a whole human being!
I'm going to go back to the Hydrophobia cover from Think Tank. When they launched the newest V3 iteration of the cover they significantly decreased the price and they are now including shoulder straps with the medium and small sizes of the covers, which I think it great. Since I have also now solved the issue of the plastic back getting fogged up on those covers, I'm much happier to recommend them.
I feel like this review was a bit of a downer for the LensCoat cover, but that's the way it goes sometimes. Clearly, as you can see from the lead image in this review, I get out there and test things in the way they were intended to be used. Not everything works as you'd hope it to, and yes, I purchased this cover with my own hard-earned money in order to test and review it here for you guys.
Where To Buy
If you are looking to buy the Think Tank Hydrophobia, you can get free shipping and a free gift for purchasers in the US by following this link here.