As well as opening a vast online store that sells many of the major photo brands, Moment has expanded their camera bag range to include a new sling-style camera bag called the Moment Rugged Sling. The bags use premium materials and hardware to create a quick-access camera bag designed for rigorous outdoor use. In this post, I will walk you through all the features and compare both available sizes in detail.
Rugged Camera Sling Specifications
Materials and Hardware
Body: NorthPak 100% Recycled Polyester Sailcloth & Hypalon Accents
Interior: High-visibility Orange and Gray Nylon
Hardware: Magnetic Buckles & Anodized Aluminum
Zipper: Water-Resistant YKK
Rugged Sling 6L Specs
Best for: Mirrorless street photography setup, a quick-access lens bag, minimal drone kit, or mobile filmmaking.
Tablet Carry: iPad Pro 11"
Weight: 1 lb. 6 oz. (622g)
External Dimensions: 12.6 x 7.9 x 4.7″ (32 x 20 x 12cm)
Internal Dimensions: 12.2 x 7.5 x 4.3″ (31 x 19 x 11cm)
Shoulder Pad Dimensions: 2.5" (6.3 cm) width, 14.8" (37.6 cm) length
Shoulder Strap Length: 52" (132cm) adjustable to 16" (40.6cm)
Rugged Sling 10L Specs
Best for: DSLR, mirrorless or film photographers, drone carrying case, or minimal mirrorless film setups.Mirrorless street photography setup, a quick-access lens bag, minimal drone kit, or mobile filmmaking.
Tablet Carry: iPad Pro 11"
Weight: 1 lb. 12 oz. (790g)
External Dimensions: 14.5 x 8.25 x 5.5″ (37 x 21 x 14cm)
Internal Dimensions: 14.2 x 7.9 x 5.1″ (36 x 20 x 13cm)
Shoulder Pad Dimensions: 3" (7.6cm) wide and 14.8" (37.6cm) long
Shoulder Strap Length: 52" (132cm) adjustable to 16" (40.6cm)
Colour and Size Options
The Rugged Camera Sling is available in Black or Olive. The Black version is perhaps the ultimate stealthy street photography sling. The Olive version isn't flashy, either. It adds some colour but does so in a relatively subdued fashion. I'm a massive fan of the Olive, but I know many people love the Black version too.
The Rugged Camera Sling is available in either a 6-litre or 10-litre size. Both sizes, 6L and 10L, are available in both colours, Olive and Black. Aside from the size difference, the features and hardware are identical on both versions of the bag. They can both hold an 11″ iPad, both have a zippered front pocket, and both have a zippered pocket in the lid, too.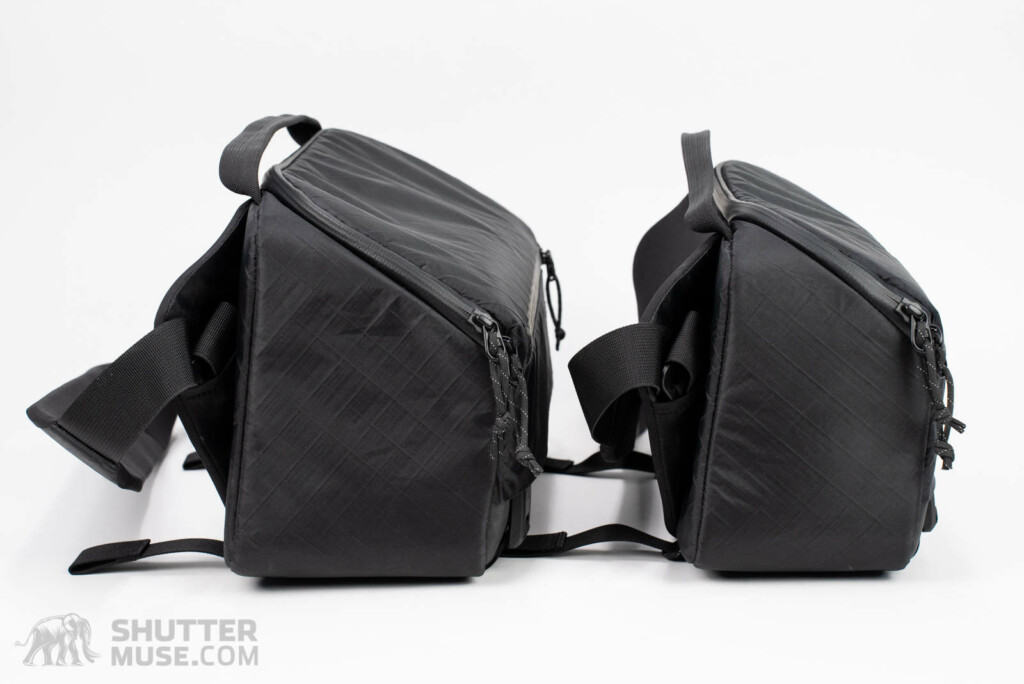 In the photos below, I have roughly divided the bag's internal compartment into even spaces. From this, you can see that the larger 10L model can carry one more lens than the 6L version. The 10L model is provided with three dividers, while the 6L model is only provided with two.
The comparative photos also show the slight depth and width advantage that the 10L sling has compared to the 6L. Most prime lenses will fit just fine in the 6L bag, as will standard zooms such as 24-105mm, 24-70mm or 16-35mm. If you want to carry a 70-200mm lens, you'll need the added depth of the 10L model, as well as the added width for its lens hood. If you want to carry a drone kit, such as a Mavic Air2S or Mavic 3 Pro, I recommend the 10L version.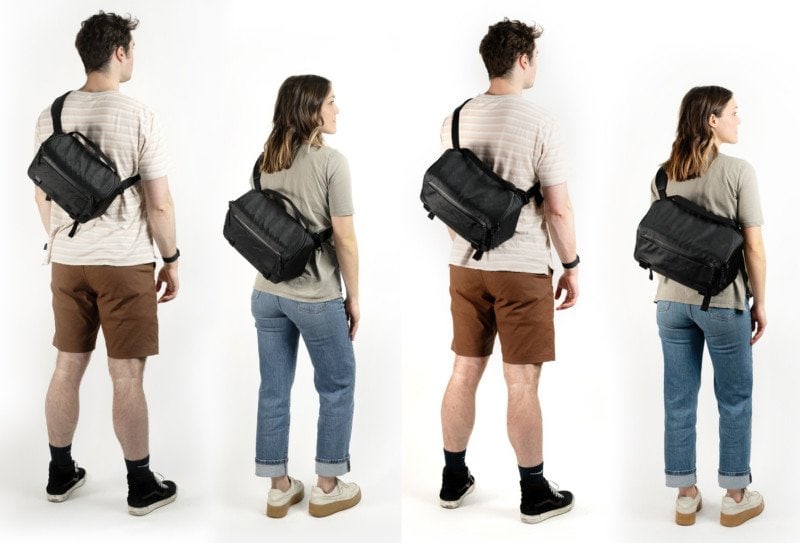 Design and Features
Zipper and Materials
In keeping with the Rugged Sling name of the bag, it is fitted with a large gauge of waterproof YKK Aquaguard zipper. The main body of the bag uses a material called NorthPak, easily distinguishable by its diamond patterning. NorthPak is a 100% recycled material created from old sailboat sails made by NorthSails. This material is waterproof, incredibly durable and almost impossible to tear.
Padded Interior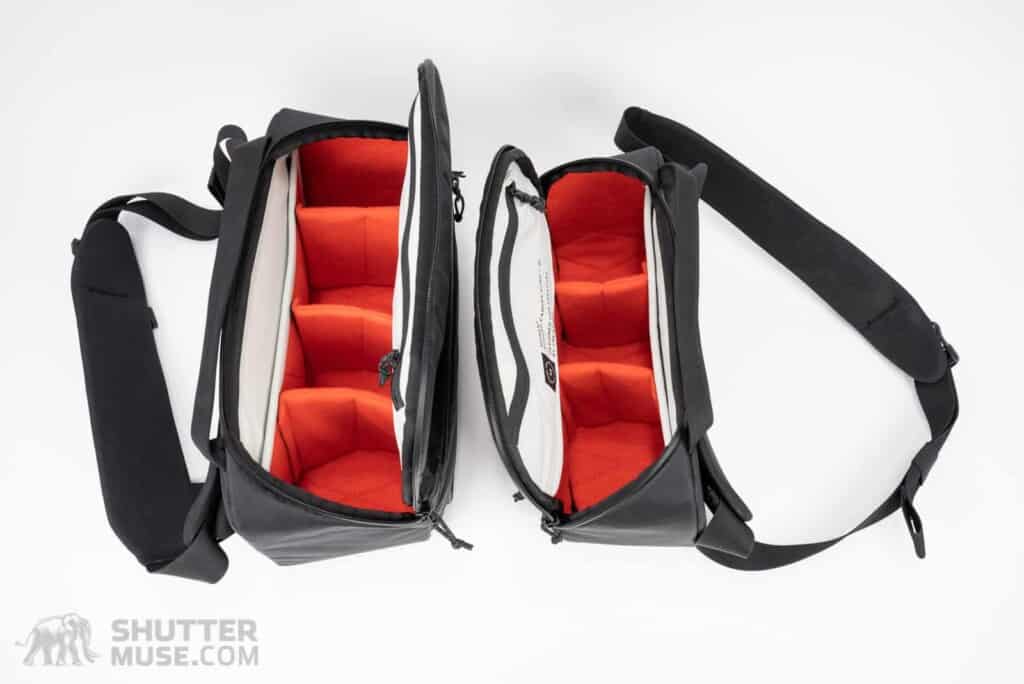 This photo also demonstrates just how easy it is to see into the main body of the bag. The choice of grey and red for the interior colours created a strong contrast with any camera gear you place inside. I'm forever complaining when camera bag manufacturers create dark interiors using all-black padding and dividers. This is how to do it!
Front Pocket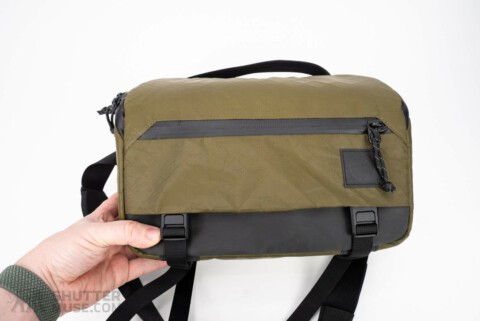 The front pocket uses a waterproof YKK Aquaguard zipper. The pocket profile is slim but has enough volume to hold a large phone, a wallet and a USB battery pack. A key clip is also provided, and continuing the use of quality hardware on this bag, the clip is made from anodised aluminium.
Lid Pocket
Inside the lid of the bag is a zippered pocket. The pocket material has a soft feel and is elasticated. There are a series of smaller elasticated pockets to hold your camera batteries within this pocket. There's just enough room in here for your camera essentials: Batteries, SD card holder, lens cleaning cloth and a few charging cables.
iPad Pocket
Behind the camera compartment is a slim pocket designed to hold up to an 11″ iPad Pro. According to Moment, both sizes of the Rugged sling, 6L and 10L, will hold the same size iPad.
Shoulder Strap
The shoulder strap is generously wide and very comfortable. An optional, removable stabilizer strap is also provided for those times when more vigorous activity might otherwise cause the sling to rotate on your torso. The stabilizer connects to the main shoulder strap with magnets and is a welcome addition for cycling or hiking over rougher terrain. The shoulder strap and the stabilizer can be re-configured for left or right-handed users by simply disconnecting them from the bag and swapping their attachment points.
The rear panel of the Rugged Sling is cleverly contoured on both sides. As the photos reveal, the shoulder strap pulls the back panel away from the body of the bag in the corners. The result is incredibly comfortable as the bag wraps around the sides of your torso. After many miles with both sizes of the sling bag on my back, I have no issues at all with the comfort or stability of these bags.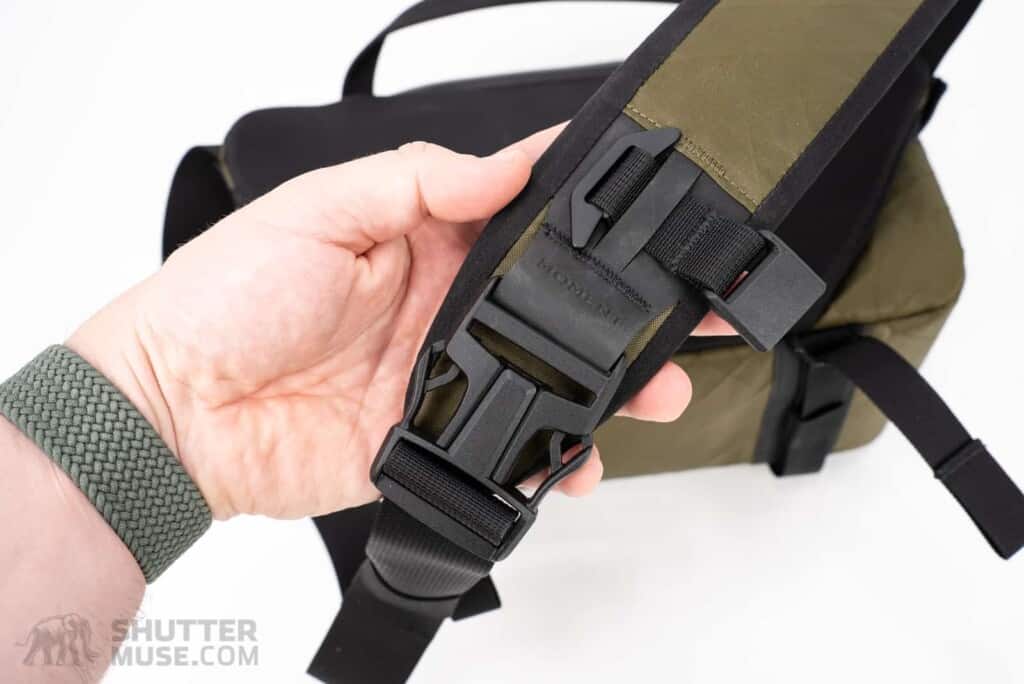 While you can always toss the strap right over your head to put the bag on, Moment also gives you the option of releasing a buckle to split the strap. The buckle cleverly contains a magnet on its underside, making it a simple reattach process. Bring the two halves of the buckle close to each other, and their attraction snaps them into place. Again, more great hardware. Moment went all out on the premium features of this bag.
Tripod Straps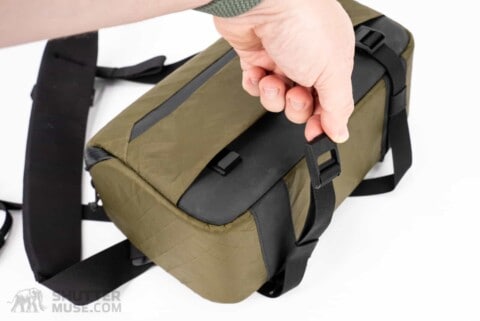 Camera sling bags often have tripod straps on the bottom, and the Moment Rugged Sling is no exception. The tripod strap buckles are magnetic, reconnecting pleasingly with a good click. Although designed for a tripod, I usually find myself using these straps to carry an additional layer while I'm hiking. The weight of a tripod doesn't suit what is otherwise a relatively small bag. For me, a sling bag like this is about going fast and light. If I want to use a tripod, I'll carry a backpack.
Carry Capacity and Setup
Rugged Sling 6L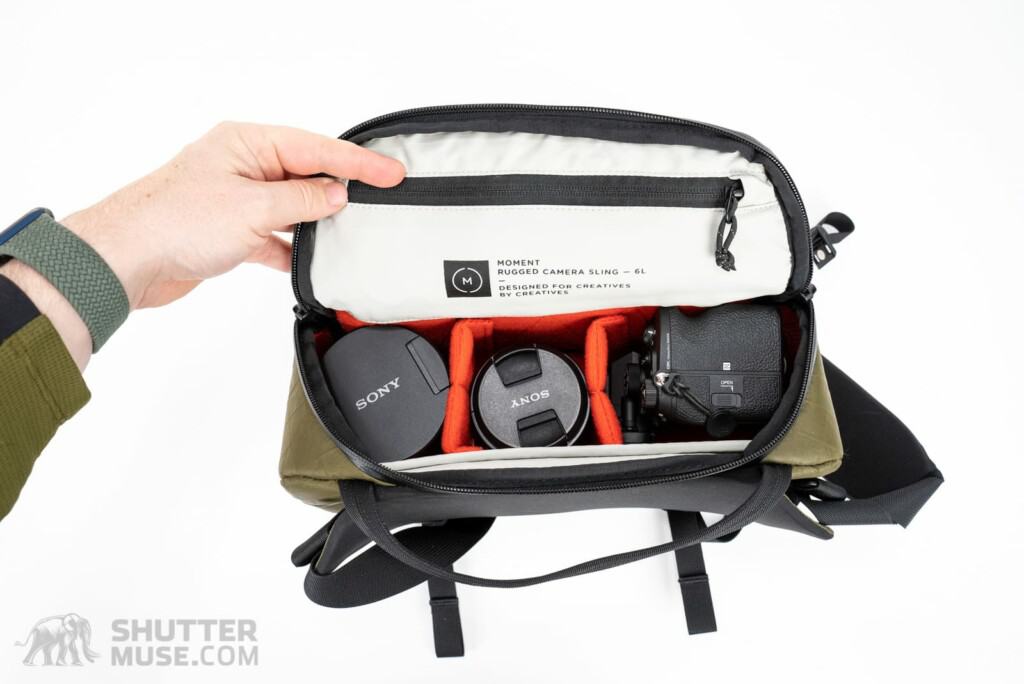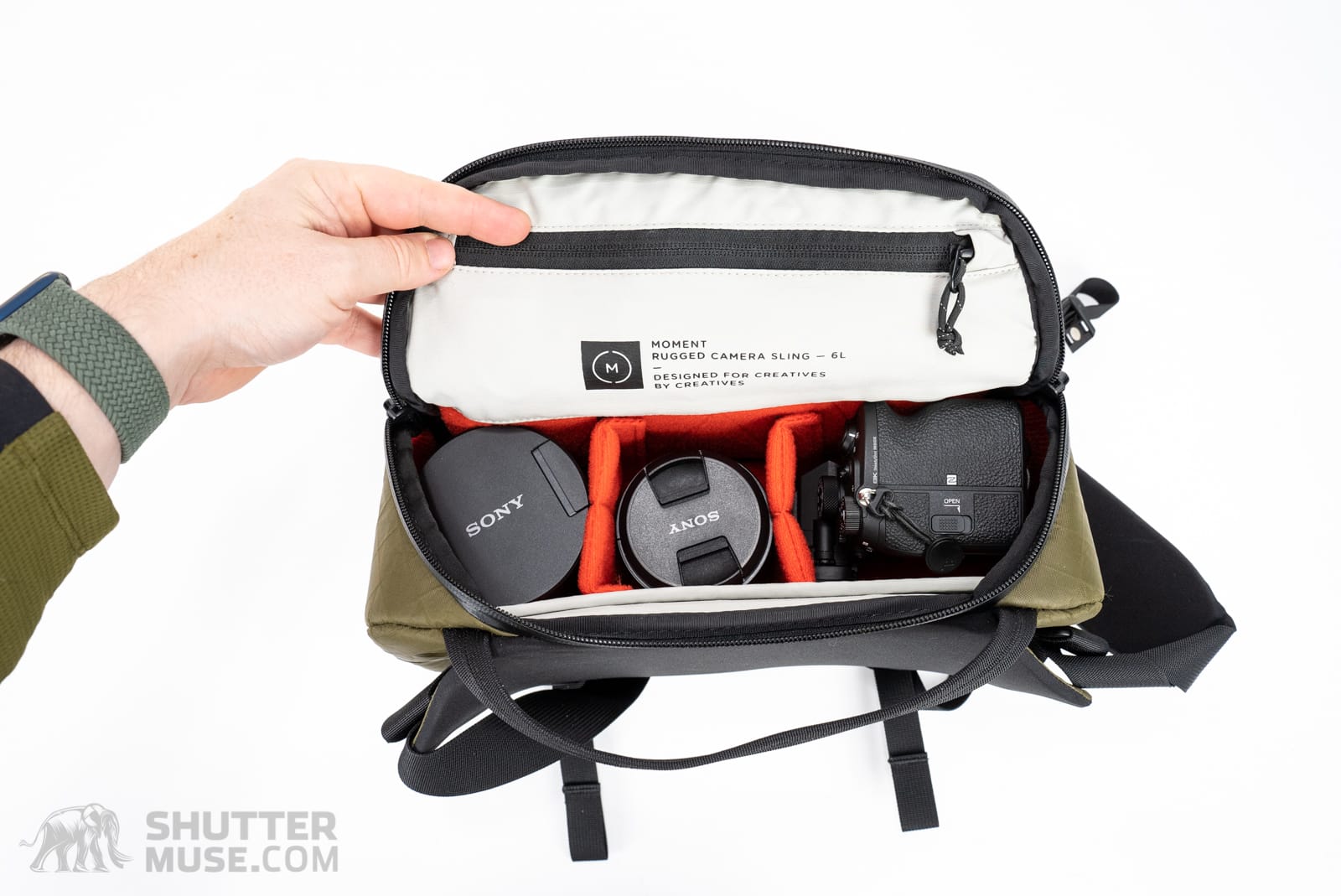 The 6L sling bag suits a 2-lens setup with a mirrorless camera or standard-sized DSLR. As shown in the first photo, you can stack things vertically, but I prefer to keep one lens attached to the camera. I threw a couple of prime lenses in the bag for these photos, but there is plenty of space for standard zoom lenses, such as a 16-45mm. 24-105mm or a 24-70mm.
Rugged Sling 10L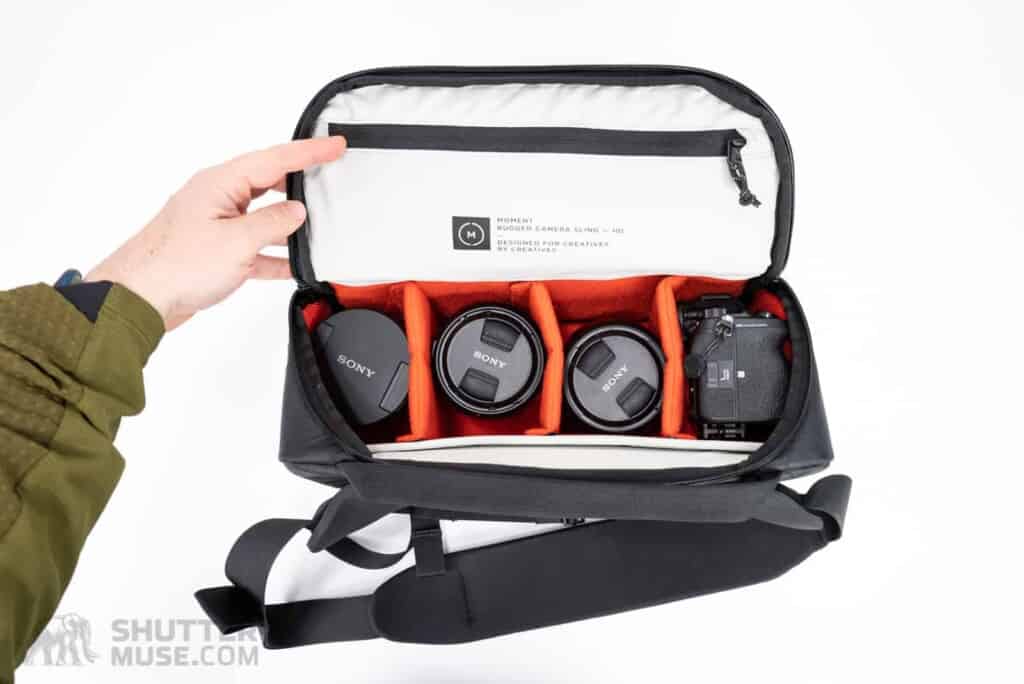 The size of the 10L sling suits a 3-lens kit with a camera. As with the smaller 6L sling, you can leave a medium-sized lens attached to the camera and slot that into the bag alongside the other vertically stored lenses. This is my preferred setup. Also significant is the added height of the 10L sling, which allows one of the vertically stored lenses to be a 70-200 f/2.8. This means you can fit the standard zoom trifecta (16-35, 24-70, 70-200) in this bag alongside a small mirrorless body.
Similar Sling Options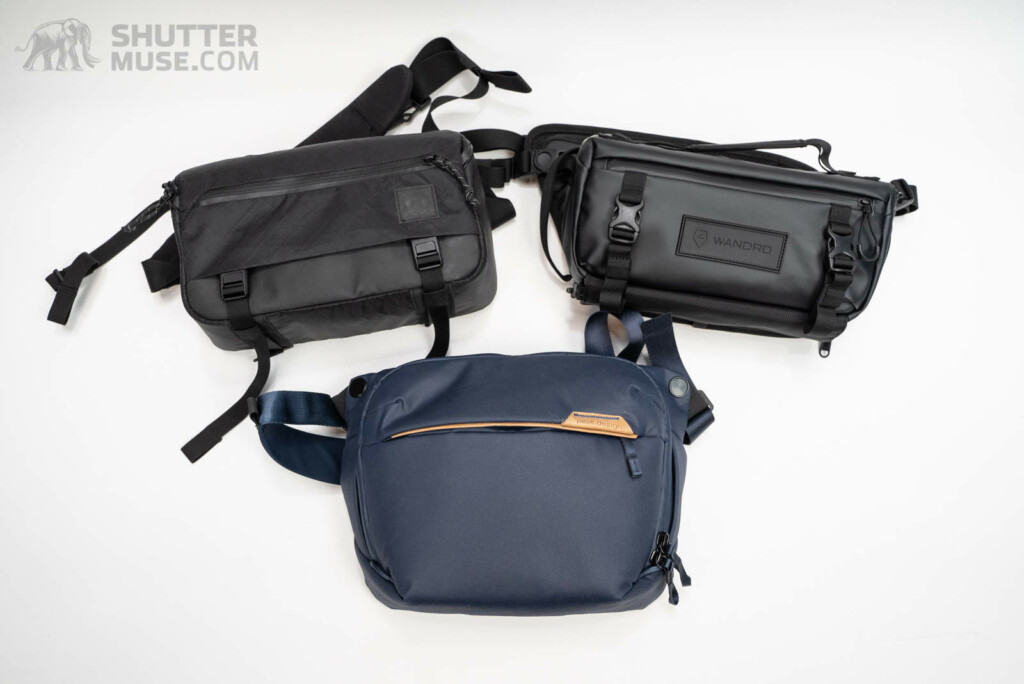 If you're considering the Moment Rugged Sling, it's worth knowing what I would consider potential alternatives. Of course, there are many sling-style camera bags on the market, but in terms of similarly sized and similarly ruggedly built slings, it's the Wandrd Roam Sling and Peak Design Everyday Sling that feel a close match.
Like the Moment sling, the Peak Design Everyday sling is available in 6L and 10L sizes. There's also a smaller 3L size. The price of the 6L and 10L slings is identical to the Moment slings, and the general features are also very similar in terms of pocket layout and organization. Where they differ most is the overall shape. The Moment sling is a boxier design that I find easier to pack, and the contoured back panel makes it more comfortable to carry. The Moment sling also has a much broader, more comfortable shoulder pad. I prefer the Moment sling, but it's a close call.
The Roam sling from WANDRD is another camera sling worth considering. When I reviewed this bag, I noted that it appeared to take some design cues from both the Moment and Peak Design products, but the designers also came up with a few unique additions. Unlike the other two options, the WANDRD sling has an optional laptop carrying accessory, as well as an expandable pocket on the base to hold a jacket or a tripod. The downside is that the 6L version of the ROAM sling is a lot more expensive than the 6L Moment or 6L Peak Design slings.
Conclusion
Moment has done a fantastic job with the Rugged Camera Sling. They look great, carry just the right amount of gear and do it comfortably. This is one of the few camera bags I have reviewed, where I genuinely have nothing negative to say. If you're a fan of cross-body style sling bags, these are as close to perfect as you're going to find.
Do you want to know how much I loved these bags? Yes, Moment provided black ones to perform the initial review. But once they launched the olive green versions – one of my favourite colours – I was so in love with these bags that I immediately threw down my own money and repurchased both sizes in green. If that isn't camera bag love, I don't know what is!
Where to Buy
My recommendation would be to buy the Moment Rugged Camera Sling directly from Moment's website. Free FedEx shipping is available to most countries. The Rugged Sling 6L is here, and the Rugged Sling 10L is here. If you can't do that for some reason, the bags are also available from Adorama. For some reason, at least at review time, the bags are not available from the other usual purchase options of Amazon and B&H Photo.